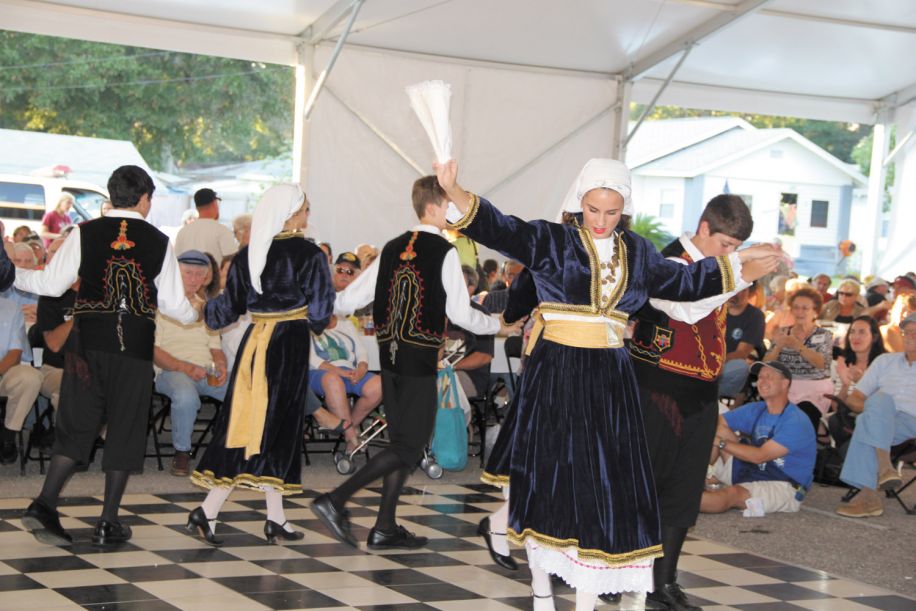 Festival season is upon us. As the weather finally cools, there is nary a weekend that goes by without a fun outdoor activity rife with the smells and sounds of autumn. Few events capture all the fun of festivals and combine it with education and ethnic diversity as well as Greek Fest, now in its 57th year.
It has changed a lot over the years, but suffice it to say that this Pensacola October staple is more efficient and more fun than ever. They've rearranged the food setup so that dinner is inside the hall and the pastries are outdoors, eliminating long lines in the sun. They have also gone to great lengths to make the dancing, church tours and gift tables more interesting and entertaining than ever.
The festival takes place Oct. 7 and 8 from 11 am to 10 pm and Oct. 9 from noon to 6 pm, all at the Annunciation Greek Orthodox Church on Garden St. Throughout the day, you'll hear great bands, witness youth folk dancing and be treated to some traditional Greek cuisine with a local twist.
"Our church families will take the foundation of Greek recipes and add their own tweaks," said Rebecca Pappas, communications director for the festival who has worked with the event as a dancer and cashier most of her life.
Everything from chicken, roast lamb and pastitso to gyros, Greek fries and Greek salads will be tempting festival-goers. Each dish has a distinctly delicious taste, yet they are all tied together with the same attention to detail and familial love.
"It really is a family affair," said Pappas. "We love to educate the Pensacola community and surrounding neighborhoods, raise money for those in need, and share our culture with others."
The church is made up of about 180 families, many of whom begin planning the fest as early as April. Generally, good prep begins as early as July.
"Really, we're in a constant state of planning," said Pappas. "We get about 20,000 people here, so it's a big undertaking."
They even incorporate other churches into the fest, as far away as Mobile. Other churches, like parishes in Jacksonville, have taken note and are starting their own.
Every year's festival has a theme, and this year is no different. The Island of Rhodes represents the overarching subject this time around, after a successful fundraiser last year for devastation in Skopelos. There are over a hundred islands in Greece, and Rebecca says she'd love to have a year dedicated to each and every one of them.
For those who just can't get enough of Greek life and culture, you can of course attend their church, which meets every Sunday morning at 8:45 and 10 am. For the less religious, there are other events throughout the year, such as the Christmas bake sale, that features more of those signature pastries you just can't get enough of. The bake sale is orchestrated by the women's group and acts as a fundraiser for all the church does in the community.
To rep your love of Greek Fest, be sure to pick up a festival t-shirt or some of the organic honey that one of the parishioners sells.
"The festival, like the church itself, is all about family," said Pappas. "We want to share our family with Pensacola."
So come on down to one of the best annual events our area has to offer. The food will fill you up, the dances will delight you long into the evening, and the gifts will serve as a reminder of all the fun you had travelling to Greece for a few hours in Pensacola.