By Gina Castro
Anyone with naturally curly hair has probably experienced explicit bias toward their hair. Whether it's comments like "You look better with straight hair" or "Curly hair is unprofessional," natural curls are burdened with stereotypes. Black people, especially, have received backlash for just wearing their natural hair in the workplace. Recently, California became the first state to outlaw racial discrimination based on hairstyle. Perception Institute's "Good Hair" Study, which is the first study that examines implicit and explicit attitudes toward black women's hair, found that on average white women rate black women's hair as less attractive and professional than straight hair.  
Unfortunately, this negative perception follows curly hair to the salon, too. The majority of hair stylists do not know how to cut and style curly hair. Salon San Carlos is one of the few salons that is certified to cut and style curly hair. Co-owner Pam Garcia attributes stylists' lack of knowledge about curly hair to the hair industry. 
"In our industry, everybody's taught to cut all hair the same way, and you cannot cut curly hair the same way you cut straight hair," Pam explained. "So, stylists have to educate themselves and think outside the box."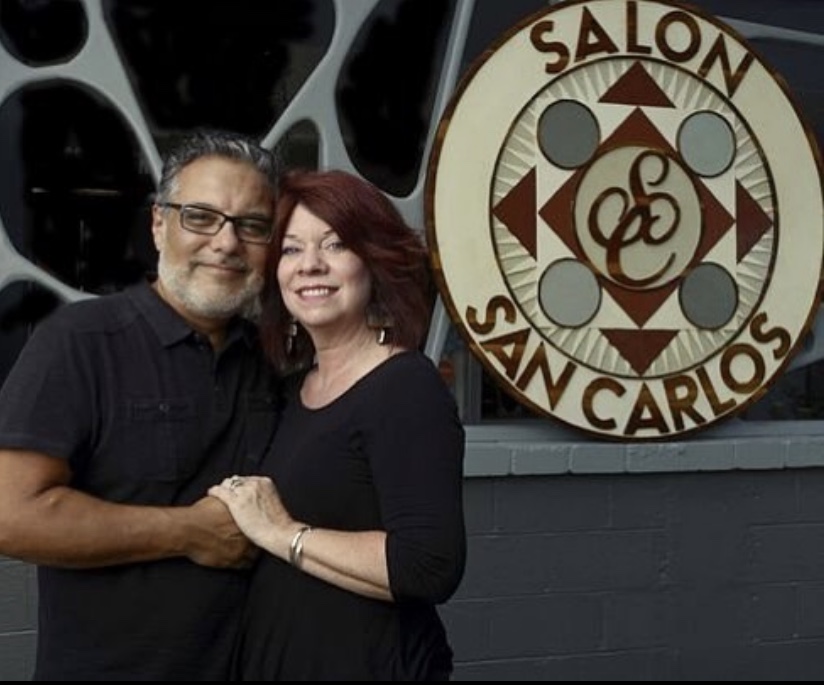 Pam's husband and co-owner Carlos Garcia suggested fear of the unknown as the culprit. "I think some people are just intimidated by curly hair — not knowing how to control it," Carlos said. "So, they steer away from the curly hair. That's why they have to be educated." 
Pam has been styling curly hair professionally for more than 40 years, and Carlos has been in the customer service industry for just as long. Pam discovered her passion for curly hair at 16 years old after cutting Carlos' hair. The two have been together since they were 14. 
"I picked up a pair of scissors in the house, and he was my very first haircut. From then, working with textured hair became my norm," Pam said. "I love it because I think of myself as an artist. When I cut curly hair, it's like I'm sculpting with the curls. Every head of hair is different, so I customize a cut for that client." 
Pam spent the majority of her career working at other salons and acquiring curly clients all while remaining hopeful of the day she and Carlos would open their own salon. In 2009, they opened their salon, which was formerly known as Self Salon. In the salon's infancy, Pam followed a client's suggestion to study a popular curl technique in New York City, which, at the time, fewer than 100 people were certified in. That experience helped Pam discover the focus of the salon: curls. 
"Somebody asked us what makes us different or unique from other salons. That question really bothered me because I knew that I had a passion for what I do, but I wanted something that was going to make us different from all the other salons. That was when it hit me," Pam explained. "Our focus became being a curly hair destination and loving multicultural hair and all different textures of hair." 
Pam is a certified curl expert for Ouidad and Rëzo, both programs train stylists on curl-specific cuts and color courses. Pam is also one of the six people in the country who is certified to teach the Ouidad cut. 
For many curly hair clients, Salon San Carlos is the first positive experience they've had at a salon. "Maybe 90 percent of our clients of color with curly hair have had a not so great experience somewhere else," Carlos said. "It's always great to have them be happy with their natural hair at our salon." 
One reviewer said "There are not many hair stylists here who seem to have mastered the curls which sadly ends up with a lot of neglected women in the area who aren't taken care of. We curly heads don't have a place to go, so we either cut our curls ourselves or just go somewhere and sadly walk away disappointed. This doesn't have to be the case anymore." 
At Salon San Carlos, all curl types are welcome and all of the stylists on staff have experience with curls, and the majority of staff, including Carlos and Pam's sons Alec and Austin, even have naturally curly hair themselves. To see how Salon San Carlos styles a multitude of diverse hair types, follow them on social media @SalonSanCarlos.