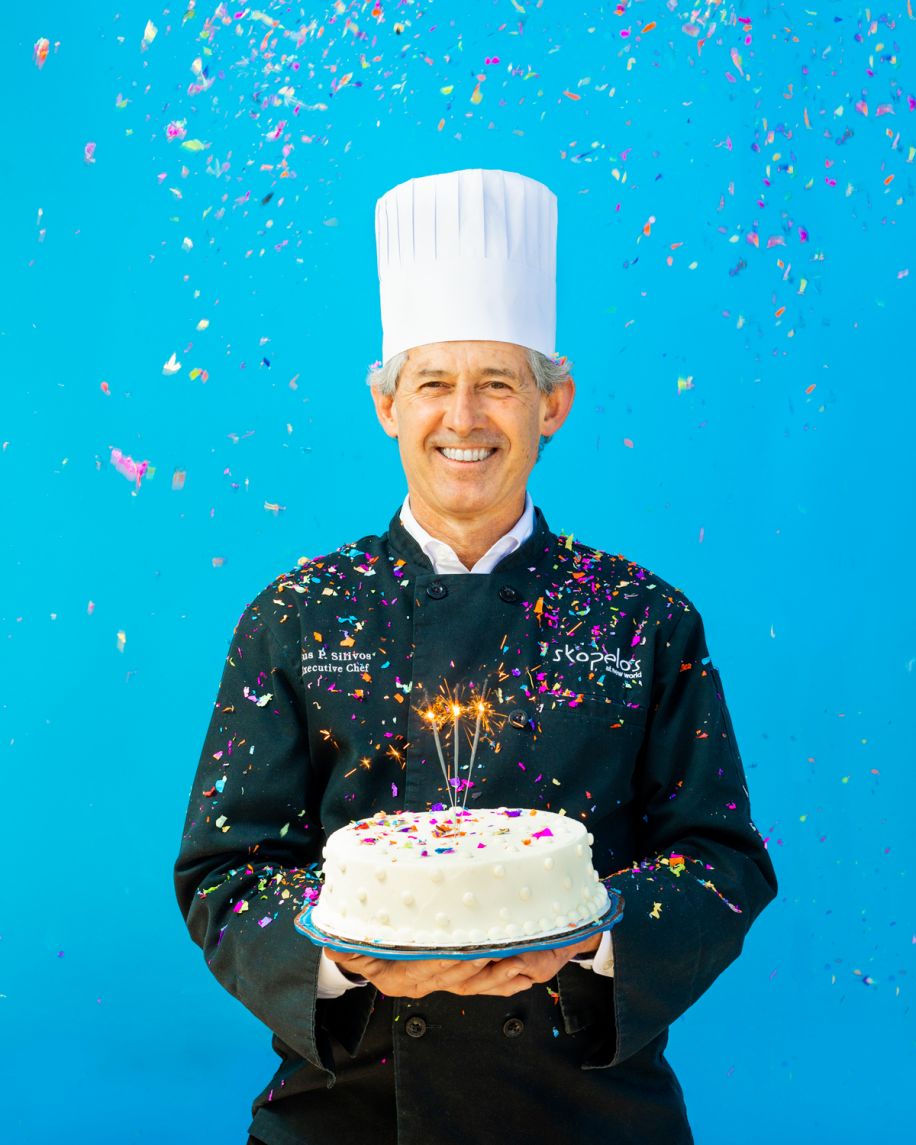 If you've lived in Pensacola for any length of time, you've likely enjoyed the cuisine at least one of Chef Gus Silivos' restaurants. Few local chefs can boast a history and resume as impressive as Silivos, who began working in his uncle's restaurant at the age of 11—fresh from the restaurant's namesake, the Greek island of Skopelos. Young Gus spoke no English at first and found the sudden change of lifestyle more than a little disconcerting. However, he formed a strong bond with his uncle Paul Silivos, who owned Skopelos and later formally adopted Gus and became his father.
After working his way up in both the front and back of the house at Skopelos, Silivos attended Pensacola Junior College and the University of West Florida where he receive a bachelor's degree in business. From there, he was accepted into the prestigious Culinary Institute of America where he earned his culinary degree. Gus then returned to Pensacola and the rest, as they say, is history. Gus eventually took over the family business, purchasing Skopelos and opening two more well-loved local eateries.
This year, Chef Silivos celebrates three important milestones as a restaurateur. His fine dining family restaurant Skopelos turns 60 in April; his iconic and shiny Scenic 90 Café turns 20 in May and the famously blue Nancy's Catering and Events turns 10 in August. To celebrate, each restaurant will offer specials during their respective anniversary months.
In April, Nancy's is giving 10 percent off all in-house sandwiches, entrees and gourmet-to-go orders for the entire month. In May, Scenic 90 Café will celebrate its 20th anniversary with 20 percent off all dinner entrees. In August, Skopelos will celebrate its 60th anniversary with specials and discounts throughout the entire month.
Pensacola Magazine sat down with the friendly and charismatic chef to discuss his life, his career and his love of the Pensacola community.
PM: When and why did your family move here from Greece?
GS: My grandfather actually came to the United States in 1917. He was in Gary, Indiana of all places. He was a brick mason and never had really worked in the restaurant business. He was involved in an accident and was in the hospital for a little bit. He had a friend in Greenwood, Mississippi and they would write letters to each other. His friend said, "Why don't you come down and visit me?" My grandfather said, "I'd be glad to come, but is there any work there?" His friend said "I have a restaurant and if you can utilize and save me all the things that all my employees throw away, it'll be more than enough to pay you." That's how he got started in the business.
During World War II he moved to Pensacola and had a restaurant with a couple other partners right on the corner of Palafox and Gregory Street. It was called the Deluxe Cafe. After the war, he went back to Greece, but in the meantime he had two sons and a daughter. The daughter was my mother. She was actually born in Greece. She lived there and got married to my dad and had three kids. I was one of them. My natural father passed away when I was nine in Greece. My mom had her two brothers here in Pensacola and they had restaurants—one was Skopelos and the other one was the Dainty Dill, which was downtown on the corner of Wright and Palafox Street. There wasn't much opportunity in Greece and being on a small island she just felt it was better for her kids, as well as for her, to move here. So we did—with my grandmother being the translator. She really didn't know much in the way of English. Neither did I or my siblings.
PM: Was it a difficult transition—moving from a Greek island to Pensacola?
GS: Very much so. I was telling somebody not too long ago that I felt like somebody took me and put me in jail. First of all, I didn't know the language, so I couldn't speak with anyone. I had no friends. You had to have a car to get anyone, whereas on the island we walked everywhere. I didn't wear any shoes on the island. My feet were like rubber. So, that freedom just kind of went by the wayside.
PM: When did you become involved in the restaurant business?
GS: I started working at Skopelos, which was then my uncle's restaurant, when I was 11. They felt it was a way for me to get out of the house. You know, in Greece on the island in the summertime it was nothing but a bathing suit and just fishing all day and running around. So they felt like I needed some activity. I didn't have much in the way of friends or anything like that. So, that's how I got started in the business.
The other thing is because I was working as a busboy up front and I wasn't in the kitchen all the time, I got to know a lot of the families in Pensacola—everyone in the community from one spectrum to the other. They treated me like son. It was just a unique experience that I had—more of a grown-up type childhood rather than being out there playing or what have you.
My uncle and I developed a relationship over the years and he ended up adopting me as an adult adoption. That's how he became my dad from being my uncle.
PM: Tell me about your childhood in Pensacola. What neighborhood did you grow up? Where did you go to school?
GS: When we first moved here, we lived on Spring Street in North Hill and it was a culture shock for me coming from the island during the time of segregation and integration and the civil rights movement. As for school, I went to Spencer Bibbs Middle School and as I mentioned, my English wasn't all that great. My mother and her brothers thought that maybe the best thing for me was to go to a private school to get a little more of the basics and also to step back a grade. So I did that. I went to Pensacola Christian and it was a good experience. I think it helped me a lot. I had the math and everything else under control, it was just the language.
Back then in Europe, soccer, or football, was the big thing. So, when I came here and I heard people talk about football, I was very excited. But it was totally different. Nobody played soccer here back then. I did start to enjoy American football, so I went to Woodham High School and played there through high school.
After high school I went to Pensacola Junior College, which is Pensacola State College now. After two years, I went to the University of West Florida. I decided that I really enjoyed the restaurant business. There was a gentleman that used to frequent the restaurant and his passion was cooking. He had even done a summer in France cooking with the Troisgros brothers. He was talking to me about culinary school. At that time there were only three culinary schools in the country and one of them was The Culinary Institute of America (CIA) in Hyde Park, New York. I looked into it and wrote to them. I got accepted and went there for two years.
PM: You received your Bachelor's degree in business and then went on to culinary school. Why those two degrees?
GS: I chose the business path because I really liked business and I enjoyed the restaurant business. I knew from growing up in it what the challenges were. My saying has been all along that, "We work when others play and we play when others work," because on weekends that's where our business is. Quite honestly, going through college and seeing what was available, I could never see myself sitting behind a desk. I always like to move around. I didn't want the same thing day to day. Once I discovered culinary school that was it.
Growing up in the restaurant, I worked in the dining room as a busboy and worked my way all the way up and then I started in the kitchen and did the same thing there. You know, the heat didn't even bother me. Back then we didn't have air conditioning and I can remember having this meat thermometer in my pocket and it registered 120 degrees in the sleeve. So I didn't have any problems with weight. I sweated it away.
I just enjoyed the immediate satisfaction that you get from cooking because people will tell you if it's good or bad right then. You don't have to wait with a project that will develop over years or months or weeks to see the results. I like the creativity, too. I think that's why a lot of times chefs have a problem with the baking side. They want to have that creativity to just put things together—a pinch of this, a pinch of that. There's no guessing in baking. You have to measure. However, I really enjoyed both of them. As a matter of fact, for many years I did all the desserts and the cooking and everything in the restaurant because I thought that was fun.
PM: Culinary Institute of America is one of the best culinary schools in the country. You could have gone anywhere from there and made a career for yourself. Why did you come back here?
GS: I think at the time I was focused on taking over the family restaurant. Obviously, the restaurant was well established. I've always loved Pensacola. I mean, I love New York City and a lot of other places, but Pensacola is just kind of unique in its offerings and I knew this is where I wanted to be.
So, I decided to come back to the restaurant. I started running it and slowly taking it over. At that time, Skopelos was located on the west side at Cervantes and M streets. The population had started to move away to the east side and we found an opportunity to go into the location on Scenic Highway, which had a lot of history. A lot of locals used to go there. It was called the Scenic Terrace. It was a dancing place for teenagers. Over the years we've heard many stories about people having their first date there. Mr. Jordan that owned the place had a rule—if you were a guy, you had to have a date come in. So, what a lot of the ladies were telling us is that they would go in with a date and then go in the restroom, climb out of the window and go back outside and get another guy because the whole reason was to dance with a bunch of people. It was kind of funny to hear all the local stories and be part of that tradition. We were there for about 25 years and I did end up purchasing the business from my dad.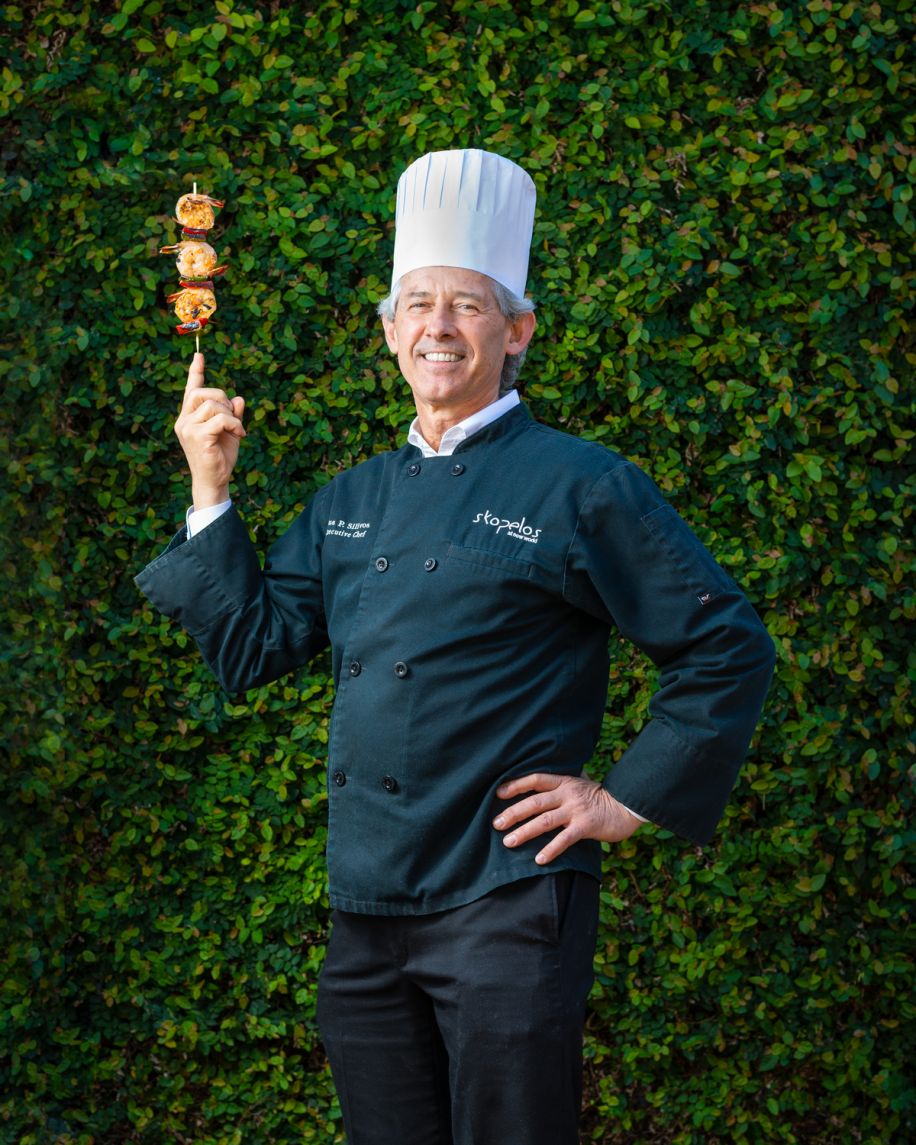 PM: Why did Skopelos close?
GS: I had the opportunity, as part of the agreement, to purchase the land and the building. The year that I was supposed to do that, my dad passed away. So, there were some issues with the family as far as purchasing it, so I decided to close it and just concentrate on Scenic 90 Cafe and Nancy's for the catering.
PM: What was the inspiration for opening Scenic 90 Café?
GS: We had actually taken a family trip up to the Gatlinburg area and we had seen one of the diner style buildings. Of course in the New York and New Jersey area there are Greek diners everywhere and I always loved that concept. One of the things we were looking at with that piece of property was to utilize it for parking, but it wouldn't work.
We decided on the diner and it was unique because it was a prefab building. It was all laid out. We made a few modifications, but basically just had to prep the site. The biggest surprise was the delivery. It was a Monday when the trucks rolled in. The building came in three sections. They actually lifted the pieces off the truck with a crane and dropped them on site and connected them. So, when people went to work in the morning, it was an empty lot. On the way back, it was the biggest rubberneck you've ever seen. It was crazy. As a matter of fact, I think the headline said, "Diner Dropped from the Sky."
It was an instant success and people fell in love with the concept and the whole idea of a neighborhood style throwback to the 50s with the counter and everything. People really enjoy the interaction with our staff and many of them come twice a day. That's what we wanted to be—that type of casual environment with people bringing the families, the kids and grandkids. We have been blessed to see those families grow over the years as well.
PM: How did the idea to open Nancy's Catering and Events come about?
GS: The opportunity came up for this location and we felt it would be a good choice to expand. Also at that time, we were doing a lot of catering from the restaurant. Beyond using it for catering, we felt it would be a good niche to do the gourmet-to-go as well. Often, people don't want to go out, but they want restaurant quality food. They could call ahead, pick it up and take it home. We change the menu every week. It's similar proteins but with different preparations, so it's always something different.
PM: Why did you decide to reopen Skopelos at New World Landing?
GS: About three and a half years ago, the opportunity came up with New World Landing. Of course, downtown has changed tremendously over the years and I decided that a partnership with New World Landing would be good. So, I opened Skopelos back up, which a lot of the people were very happy about. I was pleased and humbled that the reputation was still there, even though it was closed for six and a half years. It's a blessing to be part of the community and to be supported. We have tried to do as much as we can to better the community and the culinary field as well. I can remember when I came back from culinary school, you would ask for some shallots and they would look at you like, 'what is that?' It was a steak and potato town, which there is nothing wrong with that. A lot has changed, though. We introduced a lot of things to the area and were kind of a catalyst for the culinary direction that Pensacola has gone in, which is great. We have a lot of wonderful restaurants and chefs in town.
PM: You've served a lot of well-known people over the years. Do you have a favorite?
GS: President George H.W. Bush would be it. President Bush came to Pensacola because of the plane that they were dedicating at the Naval Aviation Museum that he flew—that actually went down in the Pacific. It was March the 6, 1992. He was at the highest peak as far as his approval rating as a president. It was a surprise visit. We weren't expecting him at the restaurant. He came here for the weekend and there were rumors going around that he might go out to eat. We never had an inkling that he would come to Skopelos. As it was, I guess the Secret Service had already scouted the place and knew all about us. As a matter of fact, when they showed up, one of the Secret Service gentlemen came up and said, "Do you remember me?" They had come in the day before acting as though they were booking a party.
It was a unique evening because anybody that had a reservation was able to come in, but anybody who didn't could not. This was prior to 9/11 and I've never seen anything like it. The Secret Service took over everything. They had Marine Patrol in the bay. They had sharpshooters on the roof of the apartment complexes. They had everything cordoned off. There must have been 400 people out on Scenic Highway just trying to get a glimpse.
Barbara Bush came ahead of the President by about 20 minutes. My dad and I were outside speaking with her. It was like speaking with somebody's grandmother. I mean it was just incredible—the comfort level that both of them exhibited, actually.
So what happened later that night when he was finished dining, they asked for the bill and we chose not to present it. Well, the Secret Service tips based on the total of the bill, but since they didn't get a bill and in the midst of everything, they left without leaving a tip. A News Journal reporter was there and he interviewed us and he interviewed the server. They asked him what it was like and he said it was a great honor and pleasure. The reporter made the comment, "Well, I bet you he left you a nice tip." The server said, "Well, no because the house took care of the bill." Well, that was the headline. CNN had just started. It was worldwide. We started receiving calls from our relatives in Greece. They had seen it before we even had the chance to tell them that they had dined with us.
Back then of course, we all had land lines and my phone number was listed. I started getting calls from WABC, WNBC, WCBS—all in New York City. All the DJ's wanted to know the scoop. Once I started telling them the story, they didn't want to hear it. They hung up. It wasn't scandalous enough. But still, the headlines were all—"President Dines, Leaves No Tip." The very next day, Secret Service comes to the house with pictures and a letter—and a gratuity for the server. It gave me a whole new outlook as far as how everything works. I remember two years after the visit, we would have people come in from abroad and bring newspaper clippings from Germany about it.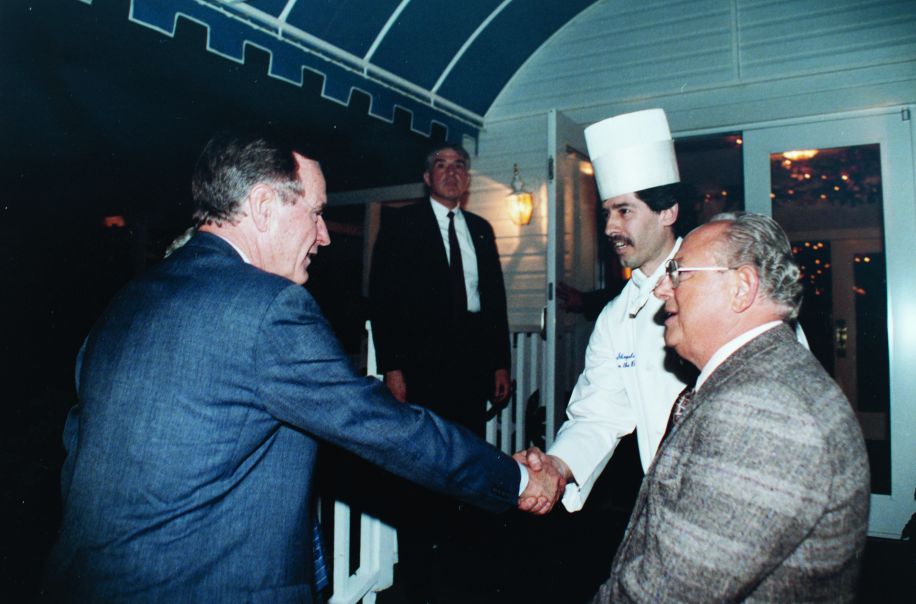 PM: What did President Bush eat?
GS: He had the Scamp Cervantes. After that, it became our number one dish. I remember him asking about the dish. I had a white house chef with me in the kitchen. He tasted everything before it went to the table. He asked about every ingredient. They followed the dish from the kitchen to the table. It was a unique experience.
PM: Although Pensacola has had a couple of vegan or vegetarian restaurants, Skopelos really initiated the idea of fine dining vegan options here in Pensacola. What inspired the addition of vegan items and special vegan events?
GS: I always try to read trade magazines and one of the stories about four years ago was about how college campuses are transforming their food service menus. One of the things that they talked about was how many of the students were becoming vegetarian or vegan. As it happened, Chef Takara came on board with us and she is vegan. She came from California and she knew it was really big out there. I said, "Let's try it," because I have always felt that my job entails pleasing the guests. It's not about convenience to me or inconvenience for that matter.
Unfortunately, I think in our industry many chefs have this hang up in particular. Maybe you've heard about it when it comes to steaks. You have a really good steak and somebody orders it well done and the Chef goes, "Oh, no, I'm not going cook that." Are you kidding me? You're not eating it. You're not paying for it. Why wouldn't you cook it?
So, I've always had this thing that it's all about the guests and how we can accommodate them— whether it was a dietary need or something else. In our discussion we talked about how there were no options in fine dining here. If somebody was vegan or vegetarian, we gave them the steamed vegetable plate or a salad—that was their only option. One thing led to the other and we started testing out recipes and trying it. When we got the Impossible Burger, it was just such a big hit. Now, we see so many families coming to us to accommodate the vegan or vegetarian in the family. Everybody has an option.
PM: Tell me about the Pensacola celebrity chefs. How did you become involved in that? What exactly is it?
GS: Myself, Irv Miller and Jim Shirley got together with the visitors' information center (now VISIT Pensacola) and talked about how we could promote the area—particularly the culinary culture and especially Gulf seafood. That's where the idea came from. Dan Dunn and Frank Taylor came onboard a little later. The biggest impact I think we had was after the BP oil spill. There was such a concern about eating the Gulf seafood in other areas of the country. We decided to go to New York and I feel we made really a huge impact there at the James Beard House. We cooked all the seafood from here. We hauled everything up there and it was a tremendous success. It was actually such a huge success that they invited us back four other times. We did go up there each time and it was such a blast to showcase what we have and to show off our community. It's very unique in our group. It's not about any particular person or chef's ego. We find it very easy to work together. I think that has helped in promoting the business and culinary aspects of Pensacola and the vicinity.
PM: You were instrumental in the development of the culinary program at Pensacola State College—then Pensacola Junior College. Why was that important to you?
GS: Well, it actually got started when I became an adjunct professor there teaching catering. The program was kind of formed from the home-economics side. At the time, they were trying elevate it and to give it a little more identity on the hospitality side. So, it was more of a hospitality program than a culinary program. I decided to get involved with that and then one thing led to another. It developed as the need of the community grew because more restaurants were coming into town and opening up. The labor pool was just not there. I felt that if the school was going to take the lead in forming a culinary program there, it would really help the community. Even for myself, I saw that in order for me to get any kind of a culinary education I had to leave the area. Well, not everybody has that opportunity to go away to school. So having something at home that is manageable and cost effective is really great. In the interim of those two things, I was able to start an internship program here. There are still graduates from that program that are in the business and industry here and many of them have gone on outside of the area to develop and to grow. It's very gratifying.
PM: You're often involved in local charities—cooking for fundraisers and other involvement. What draws you to stay involved in the community in that way?
GS: I think it's one of the blessings of being able to live in the community that you grew up in—to help make an impact. It's gratifying. One of the early charity events I did was called The Ports of Call, which was for the Children's Home Society. All the restaurants would set up tables around the old Bayfront Auditorium and guests would have passports to get stamped at each table. I participated in that and I participated in WSRE from the get-go when they first started the Food & Wine Classic. I just always felt the need to do anything that I could to give back to the community and to help it grow. What impact can we make as individuals? Hopefully we can leave things a little better than we found them.
PM: You have three children and your son Paul is involved in the family business. Are any of your other children involved in the culinary or restaurant industries?
GS: No, I always told them growing up it's my passion, but it doesn't have to be theirs. If it's something that they enjoy and they want to stay in it, awesome. If it's not, I'm not forcing them. Paul actually loves it. He loves the business aspect of work just as much as I do. No two days are the same. But the other two are successful as well. My daughter lives in Atlanta. She actually does similar type of work for a company that brings together top-level CEOs for conferences and things like that. My younger son is an attorney up in New York City. So, they've done well and it's great that they're successful and happy.
I think the most important thing that you can do is to be happy. Over the years, a lot of the kids would come to me and ask me about the culinary field. I've always told them to get a job in the business and find out what it's all about. Of course, they watch the Food Network on TV see all the glamour. Well, it's not like that. If it's your passion, you'll love it and you'll do well. If not, you'll hate it. I've always said to myself that the first day that I hate it, I need to get my butt out because not only will I make myself miserable, I'll make everybody else around me miserable as well. To me, money is great, but you can make all the money in the world and if you are miserable at the end of the day, you'll never be happy. What is that price? You have to balance it out.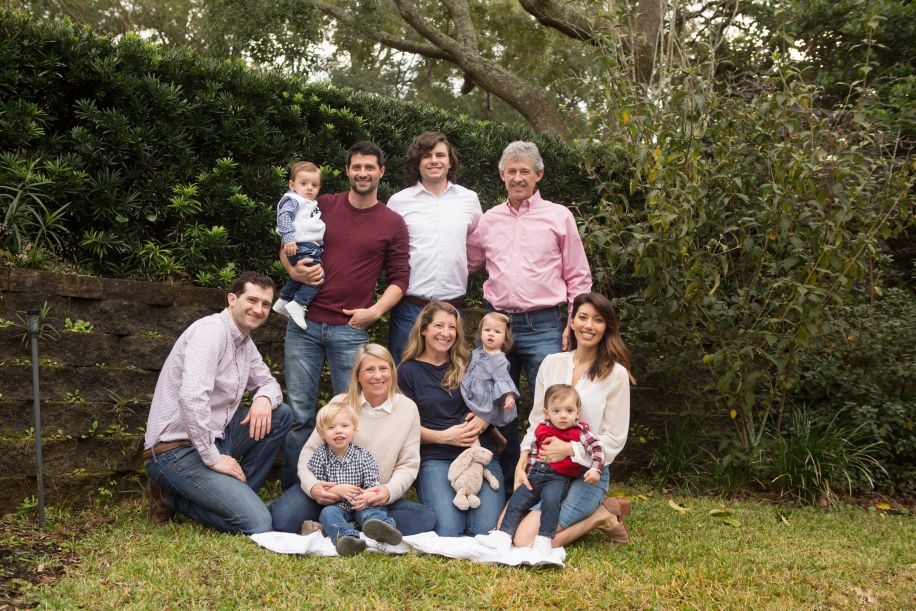 PM: Are you very involved with the Greek Community here in Pensacola?
GS: I am. Having that connection to part of our heritage is kind of unique and different. I enjoy those family values and that community connection and certainly being able to continue things that I grew up doing as a young child—to maintain those traditions. So, come festival time you'll always find me there. I've cooked there and done a lot of things, and I certainly dance.
PM: Do you get back to Greece to visit very often?
GS: I try to. I did for a long time. Obviously we went often when the kids were growing up. I still have family at home. I'm actually blessed to have an aunt that's going to be 104 this year. She's just as spry as anything. I still have first cousins there. So yeah, I try to go.
PM: How many hours a week do you think you work?
GS: That's the crazy part about this business. I guess I'm a little crazier than most people with having three businesses. Sometimes it's as few as 75 hours a week. I remember one time I did 120 hours in a week. I want to do the best I can, but I'm not necessarily a workaholic. I'm blessed to have a great staff. I have one employee that's been with me for 30 years. I have a server at Scenic 90 who has been there since day one, so 20 years. My warehouse manager has been with me since he was 16. He started as a busboy. It's nice to have that support. I'm not one of those micro managers. I enjoy what I do. I try to ask myself, how can I make the place better for our staff? I try to lead by example.
PM: How many employees do you have?
GS: I think at last count it was about 180.
PM: What's your favorite simple dish to make at home?
GS: A seared piece of fish with spinach or any kind of greens. Just a very light dish. I always enjoy cooking on my day off. Most people look at me go, "You cook at home?" It's not a job for me. It's more of a passion, so I don't mind doing it whenever the opportunity arises.
PM: What do you do for fun besides cooking?
GS: Fishing. For many years we used to do surf fishing. Growing up, they would allow four-wheel drives on the beach in Perdido Key before the hurricanes came along. We used to go there on the weekend. We'd park there and pitch a tent and just fish all night. We'd get some fish and bring it home and cook it. Now I just go out there and drop a pole in—just have a little fun. I enjoy the outdoors. I love being in the sun—as I mentioned earlier growing up on an island, it's one of those unique settings as a child. I have fond memories of catching octopus and fishing all the time without a care in the world.