By Taylor Purvee—
Vinyl Music Hall and Pensacon are celebrating the world of Harry Potter and this holiday season with the 2017 Harry Potter Yule Ball. On Dec 16, Hogwarts fanatics can head to Vinyl for a night of magical fun and—even better—support for Manna Food Bank. Chris Wilkes, talent buyer for Vinyl, stated that this is their third year doing the ball, and even though it's on the weekend the new Stars Wars movie opens, they have never seen that affect ticket sales at all (which shows the outstanding dedication of Harry Potter fanboys and fangirls).
Wilkes said he'd heard of people having Yule Ball themed parties at their houses and he assumed that someone, somewhere had done it on a bigger scale, but no one in Pensacola was doing it.
"I love Harry Potter, I love Christmas and I love music…and I have access to a concert hall… so the real question is why didn't I do it sooner?" he said.
The ball will consist of Potter cosplay/costume contest, wizarding world inspired drink specials, photo ops and a video DJ, Mike Ensley, who Wilkes says does a stellar job and has some fantastic playlists. Wilkes also noted there will be a live band, Dumbledore's Army.
He said, "I can't say enough great things about our live band. They're fun, energetic and always rock a ton of great 80's and 90's Muggle Rock favorites."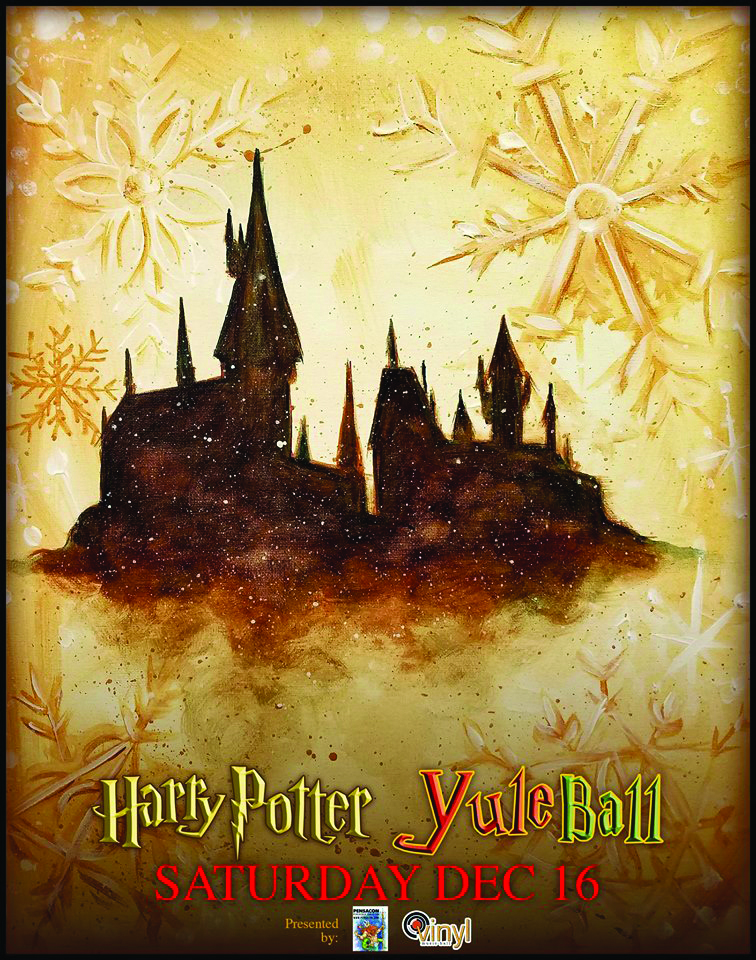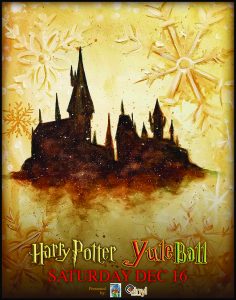 There is no dress code for the Yule Ball, but something Potter-inspired is encouraged by the folks at Vinyl.
"We anticipate people in full formal-wear, other standard Hogwart's school uniforms and robes, some folks in full on character-specific cosplay, some others just sporting their House Colors, many just wearing Harry Potter or Potter-centric t-shirts and also plenty just wearing regular street clothes," Wilkes said.
There will be two very talented live painters at the event as well: Marcy Moon, who designed the Yule Ball poster, and tattoo artist and large-scale mural painter, Gabe Smith.
"Our live painters always add so much to the event," Wilkes said. " Watching them go from a blank canvas to a fully realized, completed Potter-inspired piece of original art- just over the course of an hour or two, is really amazing. And the fact that they both let us auction off those paintings at the end of the night to raise money for Manna Food Bank—even more amazing."
Wilkes said he and Mike Ensley always try to find a way to benefit Manna in every event they do. Luckily the artists at the Harry Potter Yule Ball are on board to do anything they can do to help Manna as well.
When it comes to decorations, Wilkes says they go as far as they possibly and realistically can. He said he doesn't want to give too much away, but they add a little more each year and great things can be expected by event goers.
"Just know that it is highly decorated and we really do pull out all the stops in that regard," said Wilkes.
This is truly the perfect event for Potter fans looking to live out their Hogwarts dream, even if it's just for one night. Head to Vinyl, grab yourself a Butterbeer and enjoy a night filled with amazing music, talented artists and fellow HP fanatics.
The Yule Ball will be held at Vinyl Music Hall on Dec 16 at 7 pm and is for Potter fans 18 years and older. For information on how to purchase tickets, go to vinylmusichall.com