By: Dakota Parks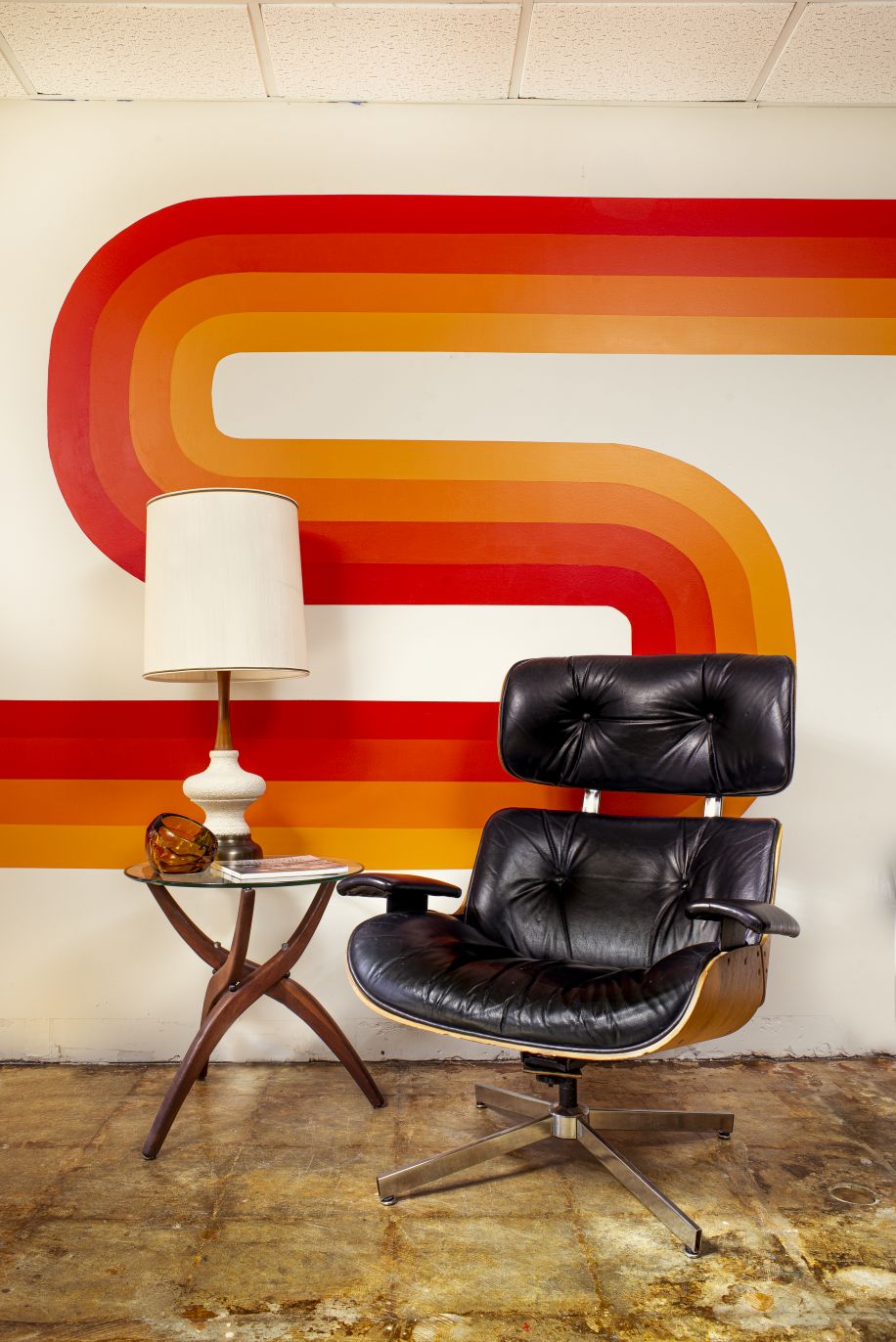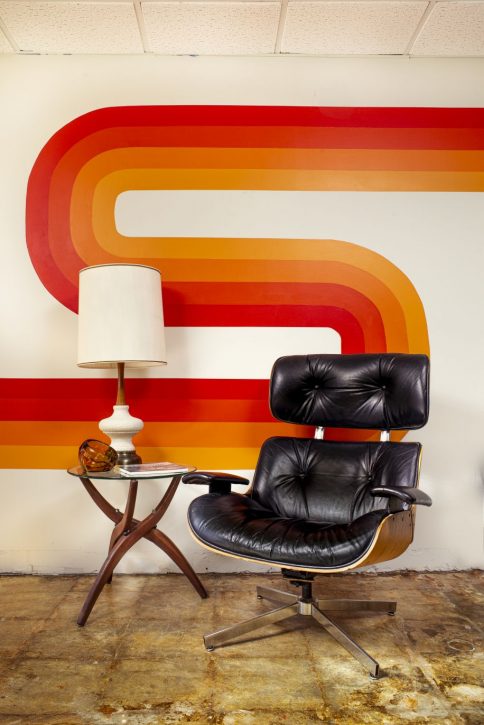 On the side of the curb sits a derelict 80-year-old sofa with fraying, nearly see-through fabric, nicotine stains, mold residue, busted out seats and scratched wood. To the average passerby, the sofa is on its way to the city dump. For a vintage designer and remodeler, the couch is a 1940s hand-carved mahogany camel back couch in desperate need of repair. Unlike the average Joe, most people that work within the vintage scene have a keen eye for seeing the potential in worn out and beat up furniture.
The vintage scene in Pensacola is constantly growing, influenced by the recycling movement, social media and Pensacola's own 'antique alley' running down Navy Boulevard. Designers salvage pieces from garage sales, estate sales, flea markets, antique stores, barns, dumpsters—even the side of the road. They wade through cockroaches, mouse droppings, mold and nicotine remnants and years of abuse to bring life back to the pieces and put them in a new home. They spend months working in their garages and studios. However, for most of them, the love for preserving antiques followed them from childhood.
Zachary Keaton, 29, owner of SuperTouch Vintage on Navy Blvd. grew up thrifting in Atlanta, GA with his grandparents and siblings picking out clothing and band tee-shirts. It wasn't until he began furnishing his own house in his twenties and witnessed how quickly cheap store-bought furniture falls apart that Keaton returned to the thrifting scene. Keaton left his career in the culinary field, where he worked as a chef de cuisine and restaurant manager, when his furniture sales started bringing in more money. Now, he owns and operates SuperTouch Vintage, where he focuses on restoring Danish Modern and Midcentury Modern furniture back to their original finishing using original manufacturing techniques.
"Midcentury furniture is just built so well. I love the clean lines and simplicity of it. Midcentury is definitely popular in the vintage scene because it works so well with everything. Furniture like French and Colonial can only work with certain houses and aesthetics, whereas Midcentury can pair well in most homes," explained Keaton.
Keaton travels all over the country, as far as Texas and Tennessee picking furniture to restore. He is completely self-taught from YouTube and trial and error. For Keaton, the remodeling process starts with a can of Raid and plastic wrap.
"This piece was covered in roaches and a layer of nicotine. It had been completely ruined, as most people would see it, but I could still see the value in it. So, I bring Raid—I always have a can of Raid no matter where I'm going. I had to kill all of the bugs, put it in a plastic bag and wrap it to put it in my van. I bring it back here, clean it, strip it completely, disassemble it and remove the varnish and layers of nicotine from it. Then I sand it, clean it all down again, wait for it to dry, then seal it with a sanding sealer, tone it and lacquer it," said Keaton.
The entire process can take well over a month of labor; however, Keaton explained that he only refinishes furniture with good resale value. If he knows that something is a lower-priced item, he still spends time cleaning it up and ensuring it will survive another 60+ years. Creating a store with both low-income and high-income prices was important to Keaton, who grew up thrifting out of necessity. Within his store, you can find a sturdy chest of drawers priced at $175 and a beautifully remodeled chest of drawers priced at $2,000. The same scale can be seen in his collection of vintage clothing scanning from band-tees to 1950s Levi jackets.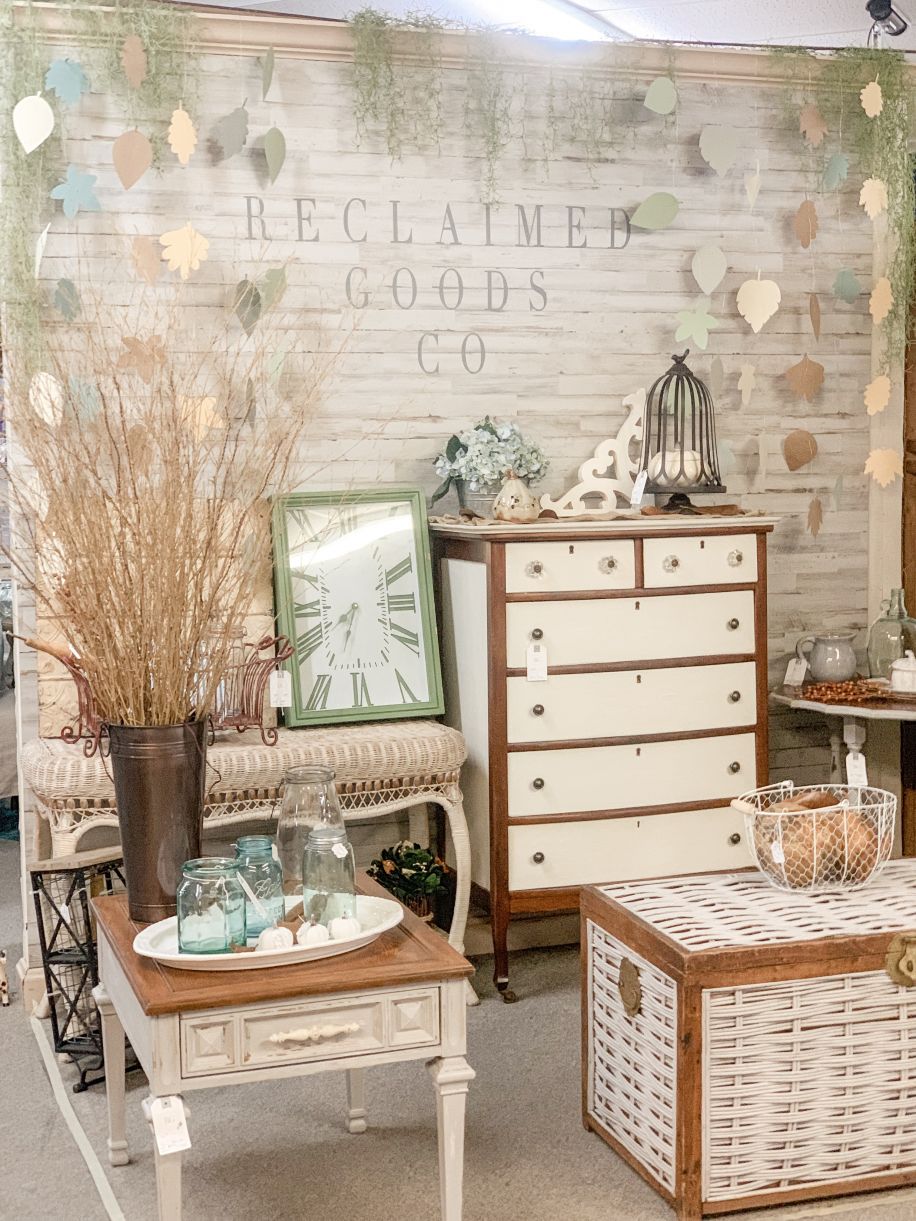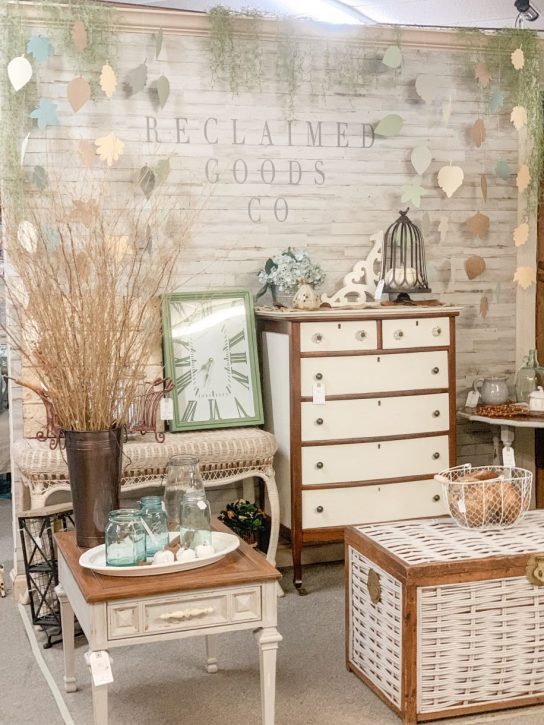 When asked about the diversification and changing demographics for vintage designers, Keaton explained his experiences being young in the scene.
"Single men don't stereotypically take interest in furnishing and designing their spaces. I was raised by women, so it's always been different for me. The vintage scene is definitely run by women. People don't always expect a young kid that looks like me, with tattoos down my arms and on my neck to be into vintage clothing and furniture. It happens a lot when I go to buy a piece of furniture that people will look at me funny like 'why is he buying this?'" said Keaton.
Keaton is not the only young designer in Pensacola. We also spoke to Megan Boyce, 29, owner of Reclaimed Goods Co. set up inside Miles Antique Mall. With over 65,000 sq. feet and 500 vendors, Miles is one of the largest antique malls in Florida. Boyce explained that she doesn't see the other vendors as competition, rather as an inclusive community that has welcomed her. Like Keaton, Boyce grew up around antique furniture and got her start in the scene when she was furnishing her home.
"I grew up around antiques, so it has always been a part of my life. I realized I could make furniture mine, and that made it more personal to me. I feel like a lot of other people are doing that now too. I also think there's an attraction to something that lasts in a world where it seems like nothing really lasts. People love going thrifting and going to estate sales now, and I feel like even a few years ago you didn't see people doing that. I think there are a lot of younger people that are getting into it and finding pieces that can last them a long time," said Boyce.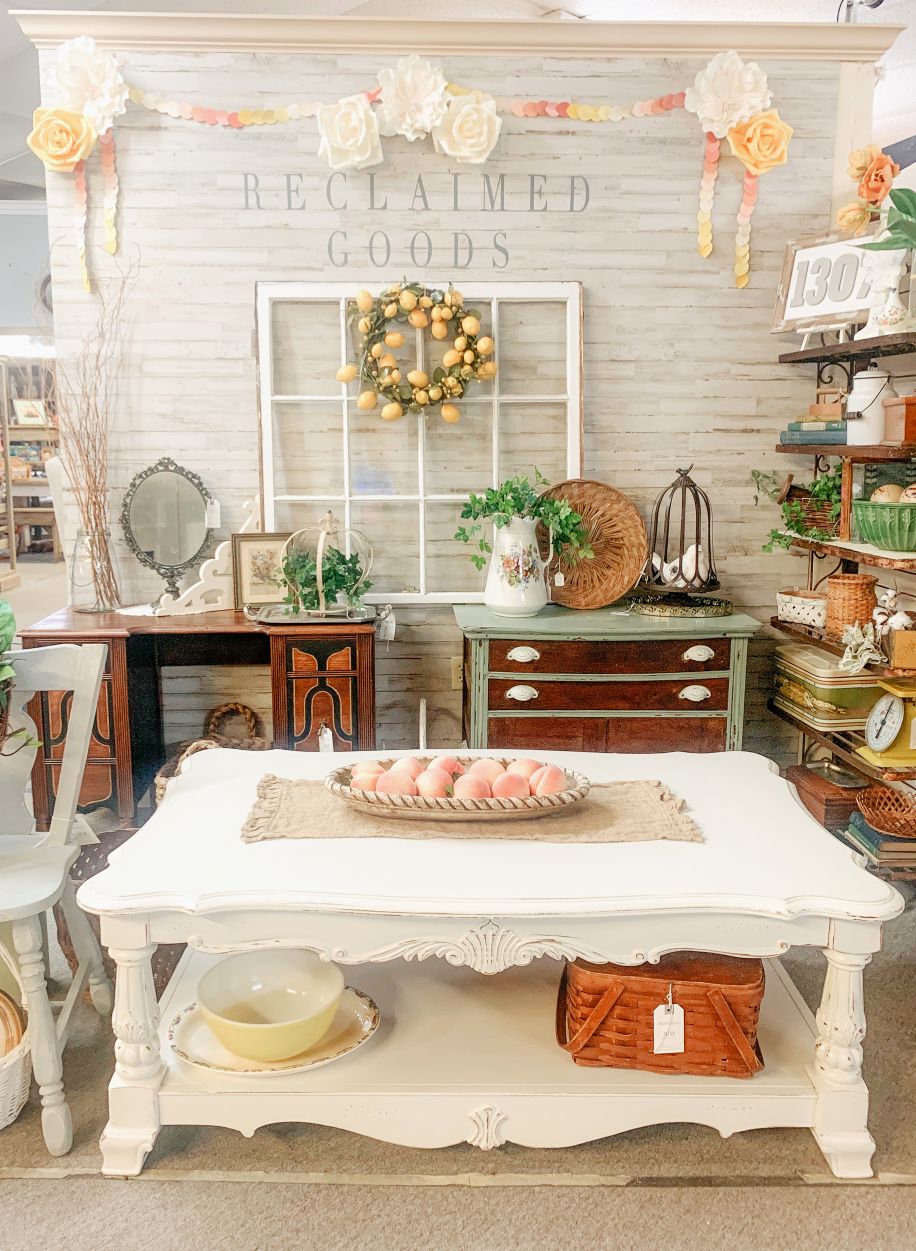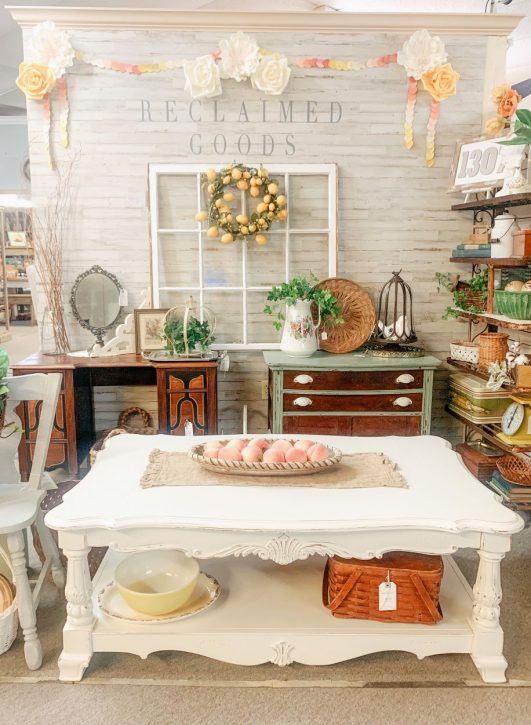 As a full-time RN, Boyce started remodeling furniture as a side hobby. She explained that she keeps several pieces in her garage at a time so that she can work on them as she finds time.
"Sometimes I can only devote thirty minutes a day to them depending how tired I am when I get home. Sanding can take forever. I usually have my headphones in listening to a Podcast, so I'm not just wasting my time sanding, because it can be boring," explained Boyce.
Unlike other vintage designers that are drawn to certain eras of furniture style, Boyce lets the furniture speak to her. She said that if she can see the potential in a piece or fall in love with the bare bones design of it, she will buy it to remodel. While she loves the beauty of natural wood, she also incorporates milk paint into her designs for its ability to crack and chip.
"I would rather paint something that has been neglected so that someone new can start to use it again. I know people that won't touch paint at all—that's just not me. I would rather freshen it up so that someone can use it. I think you have to love it—if you don't love it, you won't keep it," said Boyce.
For Carla Hard, owner and designer at Rock Hard Designs Inc. on Palafox Street, the love for designing furniture started around age 18 and followed her throughout her life. Growing up, she travelled a lot with her family—road tripping across 38 states. Traveling gave her a taste of bohemian spirit and taught her how to make anywhere feel like home. That homey, bohemian spirit can be seen in her current collection, the Bohemian Paris Collection.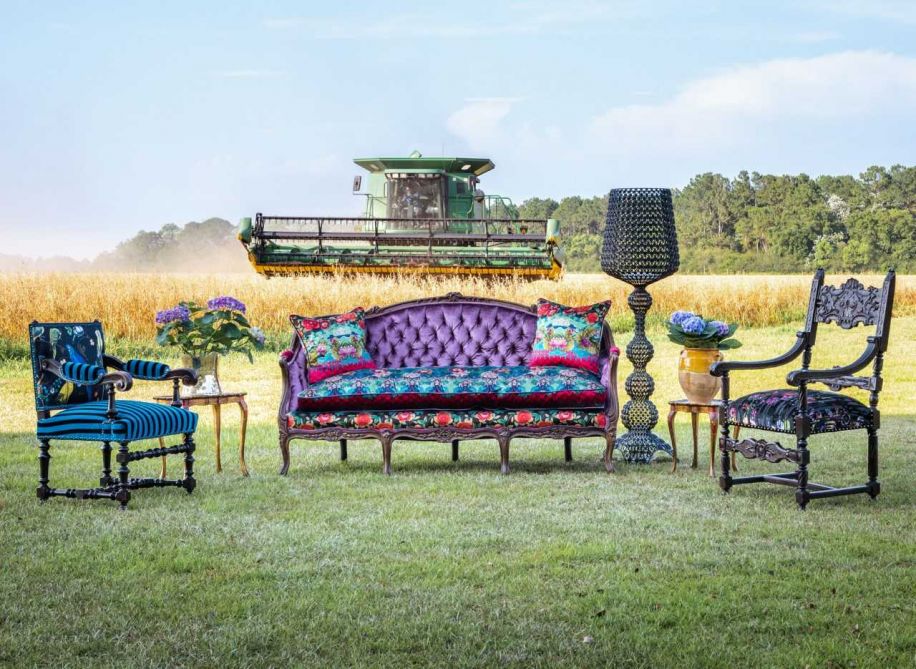 "I think furniture should speak to you, and that you should love it. My grandmother was a traveling art teacher, so I grew up in a garage full of pastels, crayons and paints. We were thrown into that creative space. I like to add color to furniture because it's a great way to add a pop of color to a space without painting the walls. I want to save these pieces from ending up at the dump and find a new life form for them," said Hard.
Hard purposely seeks out and finds antique furniture in the worst condition she can find it—the furniture that otherwise would be sent to a dump. All of her pieces start with a vision and bare bones. From there, she stains and refinishes the wood, hand-selects high-end fabric that speaks to the style she wants to create and has them professionally reupholstered.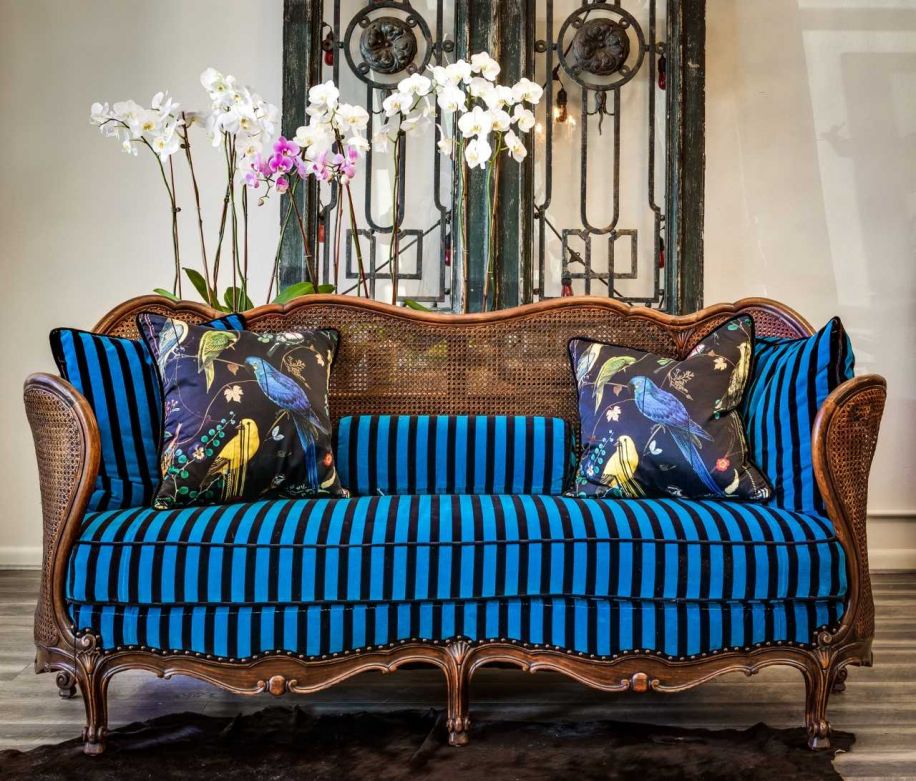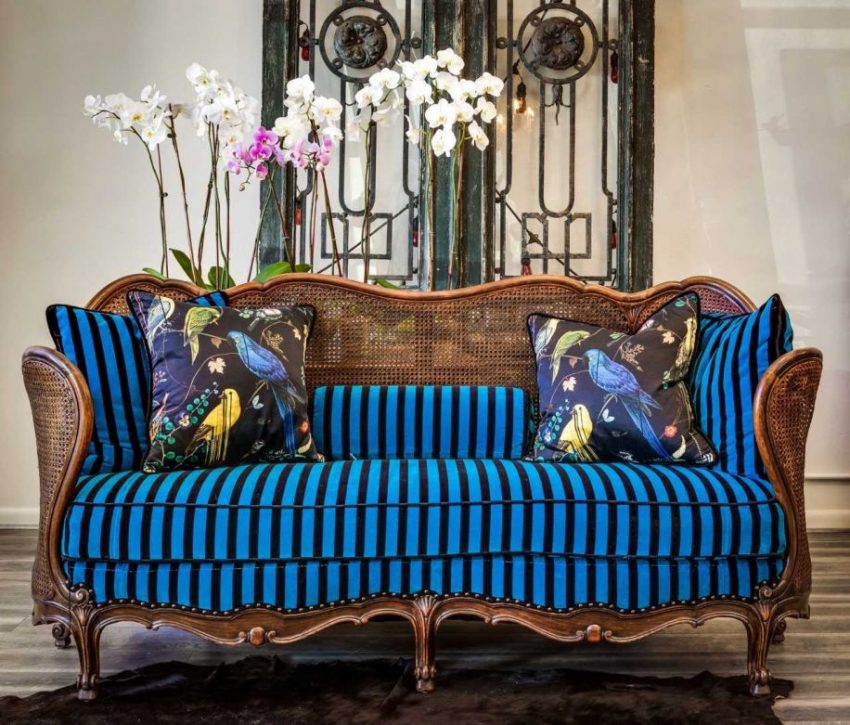 "I always say if you're going to redo a piece, and you know you're going to live a long time with a piece, you need to invest in fabric. Fabric can last a lifetime if you reupholster furniture with the right type. The fabrics I use are with the Designer's Guild. I really like velvet, French and English fabrics. I use high-end fabric so that the furniture wears well. It's also worth the money spent when you look at how long it's going to last. You want to make something with craftsmanship and quality that can withstand time and be passed down to generations as a keepsake," explained Hard.
One thing Hard emphasized was that all furniture can be changed to reflect the style of the owner.
"If people would just sit down and really look at that chair their grandma gave them and see the potential in it, they wouldn't want to give it away. The wood and fabric pattern might not be your style, but you can change that. If you don't like it, at the end of the day, it's your chair—paint it if you want. I know some people say 'DO NOT PAINT ANTIQUES,' but if painting it makes it continue to live with you and makes you love it, then paint the chair," said Hard.