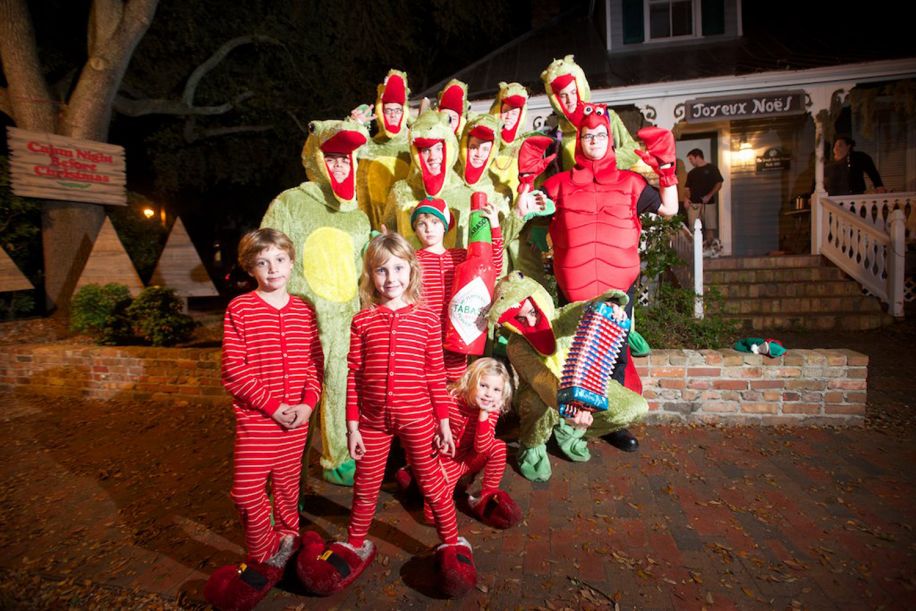 'Tis the season to gather your nearest and dearest and welcome the holidays. A plentitude of local celebrations and events await and they are sure to get you into the holiday spirit. There are musical performances, ballets, and parades that will treat you to the sounds and sights of the holidays. As well as a gingerbread house contest, and several interactive events that invite you to join the celebrations.
3rd Annual Camp Fire Parade of Trees
Nov. 18, 19 & 20
Camp Fire Gulf Wind, Inc. hosts the third Annual Camp Fire Parade of Trees at The Pen Air Federal Credit Union on 40 S. Palafox Street in downtown Pensacola this year. A showcase of decorated holiday wreaths and Christmas trees are sure to delight visitors just in time for the holidays. Local designers and businesses decorate the trees and wreaths. The festive decorations will be on display from 9 am-5 pm the 18-19. On gallery night Friday Nov. 20 from 3 pm-8 pm the decorated wreaths and trees will be available for purchase. Processes benefit Camp Fire youth programs. Contact 476.1760 for more information.
Bodacious Gingerbread House Contest
Dec. 7-12
Back again after a wildly successful first year is the annul Bodacious Gingerbread House Contest. Holiday shoppers will have the opportunity to view all the entries (which will be on display throughout downtown from Dec. 7-12) and vote for their favorite gingerbread houses. An awards ceremony will be held at the Bodacious family of shops following the contest judging. A total of $10,600 will be awarded in prizes between winners of the five different categories: Child Baker, Teen Baker, Amateur Baker, Professional Baker, and the Fan Favorite. Architecture never looked so delicious! This year the contest will support the Ronald McDonald House. The contest is open to any interested participants who meet the contest requirements. Entry forms and fees are due Nov. 30. To learn more about the Bodacious Gingerbread House Contest and view the complete schedule of events visit their website at gingerbread.bodaciousolive.com, email [email protected] or find them on Facebook.
Seville Quarter Wild Turkey Trot 5K
Nov. 21
Lace up your sneakers and get ready to trot with the turkeys. The Seville Quarter Wild Turkey Trot is a family oriented 5K race/walk. This event is a staple for Pensacola, and for good cause, proceeds help Seville Quarter employees prepare and deliver complete Thanksgiving dinners to over 125 families in need in our community.  Visit runsignup.com/Race/FL/Pensacola/sevillequarterwildturkeytrot for more information.
Elf Parade and Winterfest 2015
Nov. 27- Dec. 23
Welcome the holiday season with the most spectacular display of lights, music, and holiday cheer with the Elf Parade. The Elf Parade is the official kickoff event for Winterfest, which transforms downtown Pensacola into a winter wonderland for the holiday season. Join the Snow Princess for tea at 3 pm at the Pensacola Cultural Center; tea guests are encouraged to dress in their Christmas finery. Girls who come dressed as fairies will form the court of the Snow Princess. Winterfest characters will provide entertainment for the Snow Princess and her honored guests. Visit pensacolawinterfest.org for ticket prices.
Following tea is the Elf Parade. Parade Grand Marshall Christian Garman of WEAR-TV will lead the merry crew of costumed elves of all ages, marching brass band, Santa and the Snow Princess from the T.T. Wentworth Museum to Plaza Wonderland at Palafox and Government Streets. The opening ceremony starts at 5pm with a musical revue of Winterfest favorites. The grand Christmas tree lighting ceremony with Santa and the Snow Princess mark the start of Winterfest 2015 followed by the Reindeer Dance Party, Performance Tour and the Dickens Carolers. Starting at 6 pm, Santa will be waiting on his sleigh to greet all the good children and hear their Christmas wishes. For a complete list of Performance Tour dates and event times throughout the holiday season please visit pensacolawinterfest.org.
Zoo Lights
Nov. 27-29, Dec. 4-6, 11-24, 26-27
Enjoy the beauty of the Zoo at night as it's transformed into a sparkling holiday jungle with thousands of lights. Hours for the Zoo Lights are 5 pm-9 pm with the last admission at 8:30 pm. Tickets are $10 for adults and children, and $5 for members. On Friday, Nov. 27 guests receive free admission to Zoo Lights with a Toys for Tots donation. Donations must be new, unwrapped, toys of at least $10 in value. Acceptable toy donations will also be available for purchase in the Zoo gift shop. For more information visit gulfbreezezoo.org
PSC Foundation Holiday Experience
Dec. 1
Pensacola State College celebrates coming home for the holidays with a new Holiday Experience, at 5:30 pm Tuesday, Dec. 1, on the Pensacola campus. The campus will be alight with holiday decorations to bring the sights of Christmas home. The evening's experience begins with cocktails and a winter night sky show inside the PSC Planetarium. Next guests board the PSC Holiday Express for a cozy ride to a delicious holiday meal prepared by students in the Culinary and Hospitality program. Dinner will be served in the student center with holiday music and featured works by the Visual Arts faculty. After your senses are filled with the delightful sights and tastes of the holidays it's time to go to the last event of the evening at the Ashmore Fine Arts Center for a performance and sing-a-long led by the PSC Concert Chorale. Tickets are $100 each. Dress is casually festive. Proceeds from this event benefit the college's Fund for Excellence program that provides support for programs, scholarships and matching funds for grants.
For more information, contact the PSC Foundation at 484.1560 or [email protected].
48th Annual Snowball Derby
Dec. 2-6
Ladies and gentlemen, "Start your engines." The Snowball Derby at Five Flags Speedway is back. The Snowball Derby is the most prestigious short track race in the nation and brings thousands of people to Pensacola for a weekend of family-friendly fun. The Green Flag Party kicks off the event on Dec. 2. On-track activities start Dec. 3 and Sunday the green flag drops and the race begins at 2 pm. For more information and a complete calendar of events, please visit 5flagsspeedway.com.
UWF A Christmas Carol – A Ghost Story of Christmas
Dec. 4-6, 11-13
The University of West Florida's theatre department again this year will present the Christmas classic we all know and love. Get into the holiday spirit with Ebenezer Scrooge in this ghost story of Christmas. For details on times and ticket pricing, please visit uwf.edu/theatre or call 474.2146.
Pensacola Symphony Orchestra Presents Ashley Brown Home for the Holidays
Dec. 4
Guest conductor Brad Haak and vocalist Ashley Brown join for a festive performance with the Pensacola Symphony Orchestra. The show starts at 7:30 on Dec. 4. For ticket information, please visit pensacolasymphony.com
Choral Society of Pensacola Presents Handel's Messiah
Dec. 5
The Choral Society of Pensacola continues its 80th season with a performance of Handel's Messiah. Experience the beauty and majesty of this performance as soloists Carla Connors, Monika Cosson, Thomas Rowell and Patrick Jacobs join the sixty-voice choir and an orchestra comprising some of the area's finest musicians, all under the direction of Xiaolun Chen. Tickets are $30 and $25 and are available through Ticketmaster or at the Saenger box office. Please call 484.1806 for more information as well as tickets.
Pensacola Children's Chorus Christmas on the Coast
Dec. 11-13
Gather to enjoy a holiday favorite performed by some of the most talented young performers of the Gulf Coast. The chorus of over 100 members comprised of elementary, middle and high school students astound guests every year with a beautiful and professional performance. For ticket prices, show times and information, please visit pensacolasaenger.com.
Pensacola Little Theatre Presents Irving Berlin's White Christmas: A Main Stage Production
Dec. 11-20
The musical, based on the 1954 film Irving Berlin's White Christmas, is a Christmas comedy featuring some of the most iconic holiday music of our time. Irving Berlin noted as the most influential American songwriter in history stirs our hearts and imaginations with the nostalgic classic songs such as White Christmas, Blue Skies, and How Deep is the Ocean. Don't miss this holiday favorite that never goes out of style. For tickets and information, visit pensacolalittletheatre.com.
Cox Pensacola Christmas Parade
Dec. 12
With eight bands, nearly 90 entries and the renowned Blue Angles flight team joining a host of organizations from around the region, this years Cox Pensacola Christmas Parade is sure to be exciting. Preceding the parade is the 1.2 miles Christmas Parade Dash, so tighten your laces and get ready to have some fun. All profits go to local high school band booster organizations. Visit coxpensacolachristmasparade.org for more information.
Pensacola Civic Band Christmas at the College
Dec. 14-15
Join the Pensacola Civic Band for a Christmas performance at the Ashmore Auditorium and celebrate the season through music with favorites of the holidays.  Showtime is 7:30pm. For tickets and information visit lyceum.pensacolastate.edu.
Ballet Pensacola Presents The Nutcracker
Dec. 18-20
Join Clara and the Nutcracker Prince on an adventure to rescue the Sugarplum fairy in this beautiful ballet by Pyotr Ilyich Tchaikovsky. Ballet Pensacola brings to life this Christmas ballet that has become a mainstay favorite in Pensacola. Visit pensacolasaenger.com/events for ticket information and prices.
Pensacola Little Theatre Presents Light up the Night
Dec. 26
Pensacola Little Theatre invites you for an evening of dancing, cocktails, champagne and fireworks in a Light up the Night celebration. Come dressed in your party finery and dance the night away. The event will benefit Active Minds and Mental Health Counseling at the University of West Florida. For more information and tickets, please visit pensacolalittletheatre.com.
Pelican Drop
Dec. 31
Join your community for one of the biggest events of the season, the Pelican Drop. The Downtown Improvement Board hosts the event and thousands of people will gather downtown for music, food, and performances starting at 5 pm. There will be plenty of family-fun activities as well as art and vendor booths ensuring you will have lots to see and do while you wait for midnight. When the clock strikes 12 and the pelican drops, the skies fill with fireworks and Palafox Place is filled with confetti and good cheer to welcome in the New Year. For more information, please visit pensacolapelicandrop.com.