by Darien Hardy
It's never too early to get into the holiday spirit, and for more than two decades Winterfest has provided a late November kickoff to the yuletide season. Winterfest returns to Plaza Wonderland at 223 South Palafox Place in downtown Pensacola this holiday season from November 19 through December 24.
This year's event kicks off with the arrival of Santa Claus and the Grinch, both of whom will be available for pictures. Each weekend throughout November and December, the streets of downtown Pensacola will come alive, and the entrance of the downtown courthouse will transform into the magical Plaza Wonderland, providing locals and visitors alike the opportunity to experience the magic of the season. In addition to special performances by Gulf Breeze and Washington High School drama students, there will be three themed trolley tours and a special Cajun Christmas performance starring Papa Noel (also known as the Cajun Santa Claus).
This year, Winterfest organizers have set up a new online reservation system that will allow guests to pre-schedule a time slot to have their photos taken with Santa and the Grinch as well as the trolley tours. Reservations can be made online at pensacolawinterfest.org. Photos with Santa will be a little different this year, too. "Santa photos are remaining socially distanced just like last year. Children will be seated on gift boxes and can talk to Santa who will be sitting in his sleigh. This worked so well last year that we will not go back to the good old days of children in the sleigh on Santa's lap. Adults can get in the photo, too, so now the photos are for the whole family," Winterfest Board President, Denise Daughtry said.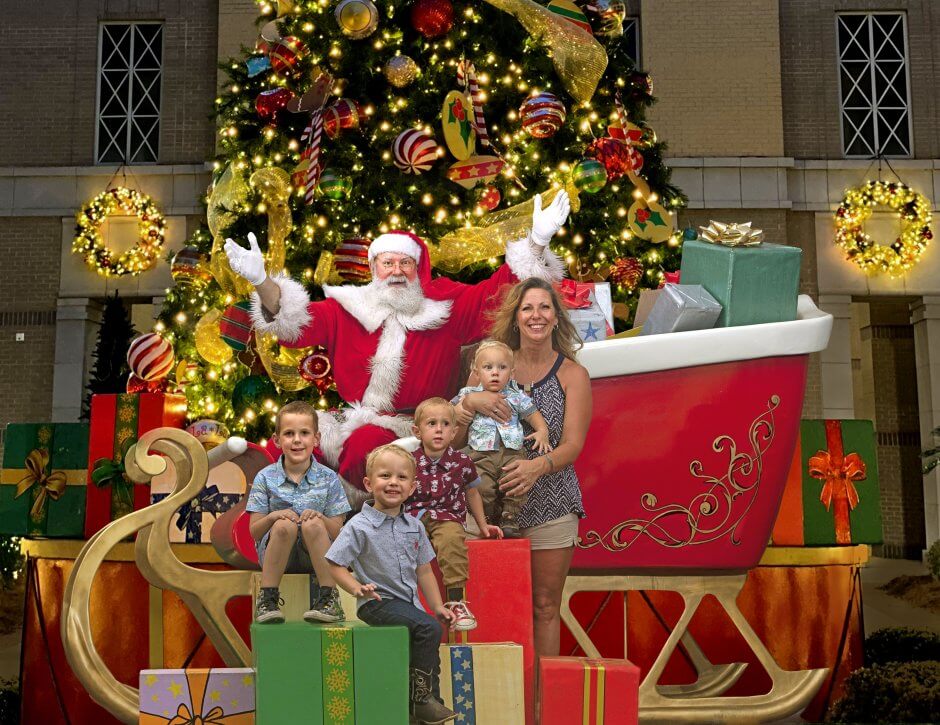 Photos with Santa
November 19-December 20 (Fridays & Saturdays from 4:30 pm–8:30 pm) December 21-24 from 4:30 pm–8:30 pm
Santa Claus is coming to town and will be available for pictures after each trolley tour. Professional photos will be available for purchase and guests are welcome to bring their personal cameras to take pictures or video during their visit. Children can also bring their Christmas letters to give to the jolly man himself, or they can drop them off in mailboxes that will be stationed throughout the event space. Santa and his elves will also host a special holiday cookie competition. Guests are invited to bring six individually wrapped homemade cookies – along with a copy of the recipe, their name, email and phone number – to be voted on by Santa and his Elves. Winners will be selected each week and will receive two tickets to ride the Winterfest train and have their recipe featured in Mrs. Claus's very own recipe book.
Photos with the Grinch
November 19-December 20 (Fridays & Saturdays 4:30 pm – 8:30 pm) December 21-24 from 4:30 pm – 8:30 pm (ends at 7:30 pm on Christmas Eve)
Mr. Grinch sure is a mean one, but Santa's favorite nemesis is begrudgingly allowing Winterfest guests to invade his space for a photo or two. Guests will meet the Grinch at his throne behind Santa's sleigh. Unlike Santa, he likes to ask children what they don't want for Christmas. Guests should take caution, as Mr. Grinch has some tricks up his sleeve and has a special lever that can launch guests out of their seats.
Grinch Tour
November 21, 26-28; December 3-4, 10, 17-19 & 21-24
Grow your heart at Christmas on a wacky adventure on the stolen trolley. Mr. Grinch used all of the trash from Mt. Crumpit to craft the best trolley at Winterfest. Throughout the tour, guests will get to see more of Dr. Suess's beloved characters, such as Cindy Lou Who, The Mayor of Whoville, The Cat in the Hat and many more. As everyone knows, an evening in Whoville is the best way to get in the Christmas spirit. The Who's aren't sure how well this trip will work, but don't worry, the Whoville Fire Department is ready with an emergency exit slide just in case.
Polar Express Tour
November 21 & 26-28; December 3-4, 10, 18-19 & 21-24
Join the Conductor for a magical journey in a life-size steam engine, the Polar Express. Share in the adventure as the Conductor recounts the story of the boy who received the first gift of Christmas: a bell from Santa's sleigh. Onboard the Polar Express Tour, guests will see tap dancing hot chocolate servers and snowy landscapes. Rekindle the wonder of the beloved storybook, along with the belief in the magic of Christmas. All passengers will receive a mini cup of hot chocolate.
Come dressed in pajamas, if you'd like. The tour organizers will award a special prize to the rider with the most festive pajamas on each trip.
Cajun Christmas
November 21, 26-28; December 3-4, 10, 18-19 & 21-23
The holidays are a time to celebrate with family, and no place does that better than Louisiana. Cajun Christmas is a brand new performance at Winterfest that will immerse guests in Cajun Christmas traditions, games and food. Guests will watch an opening show on the courthouse steps before being boarded on a trolley with a delightful guide. Guests will hear stories of how Cajuns celebrate Christmas in the bayou as they take a short ride to the Historic Village. There, guests will disembark the trolley to another performance featuring Papa Noel, the Cajun Santa Claus. While at the village, Guests can explore, visit the museum, wrassle with gators, play a scavenger hunt or dance to music. There is no limit to how long you can stay at the village, but trolleys will pick up guests to ride back to the courthouse every 30 minutes, with the final ride arriving at 8 pm.
Scrooge Tour
December 21-24
Take part in some ghostly fun with the classic tale: A Christmas Carol. Beginning at the steps of the old courthouse for a free to the public pre-show, guests will encounter Ebenezer Scrooge's long-deceased partner Jacob Marley. Marley wears many chains around him with each link representing a selfish misdeed from his life. Marley must make Scrooge change his ways before it's too late when Scrooge will face the same fate as Marley. Soon after, guests will meet the ghosts of Christmas past, present and future as they show Scrooge how he became so callous toward others, what the true meaning of Christmas is and that fortune isn't as important as he thought.
For tickets and photo reservation times, visit pensacolawinterfest.org.