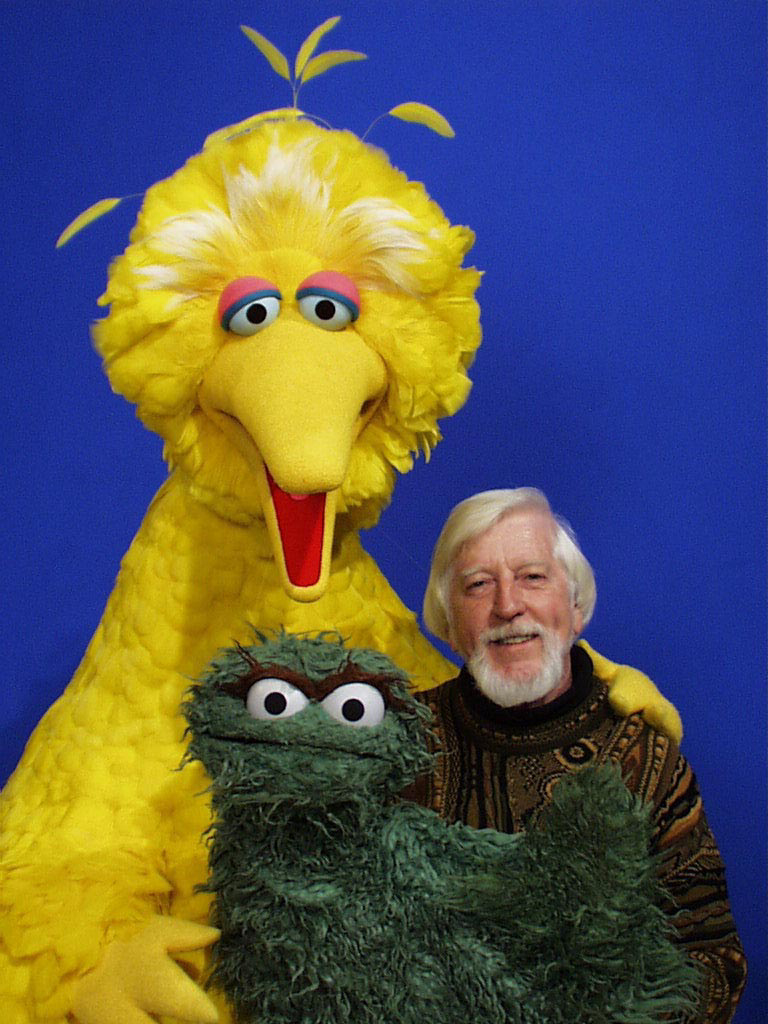 Caroll Spinney has been the man inside Big Bird from the beginning.
In 1969, Jim Henson persuaded Spinney to join the cast of Sesame Street as both Big Bird and Oscar the Grouch. Since then, his characters have been seen on more than 3,900 shows, and Sesame Street is now viewed in more than 150 countries by more than 6 million viewers each week.
Since achieving worldwide renown, Spinney has made guest appearances on many other television shows, always as Big Bird and Oscar. He has performed in specials with Julie Andrews and Bob Hope, starred in his own 90-minute special, Big Bird in China, and marked his motion picture debut in a starring role with Sesame Street Presents: Follow That Bird. He has earned four Emmy Awards, two Gold Records and two Grammy Awards.
Spinney's book, The Wisdom of Big Bird (and the Dark Genius of Oscar the Grouch): Lessons from a Life in Feathers, is an inspirational memoir sharing wisdom gleaned from his work creating and portraying one of the world's most beloved characters. A new documentary, I Am Big Bird: The Caroll Spinney Story, was recently released by Tribeca Films.
Named a "Living Legend" by the Library of Congress, Big Bird has captivated children around the world for more than 30 years. With support from Gulf Power Company, WSRE's Public Square Speakers Series will present the famed Sesame Street puppeteer at 7 pm on Tuesday, Sept. 15 in the Jean & Paul Amos Performance Studio. At the podium, Spinney will discuss how he has helped children reach their highest potential through his Sesame Street characters. Admission is free, but reservations are requested. Learn more at wsre.org/speakers.
KO:  I understand that you wanted to be a puppeteer at a very young age. Were there particular people or other puppeteers that you knew of that influenced you?
CS:  Well, when I was five I saw a show come to school and it was Three Little Kittens Who Lost Their Mittens. I thought it was wonderful and they came out and bowed afterward, having their little puppets on their hands. And I thought, isn't that wonderful to tell a story using little things that you animate, a little bit like stuffed animals except that you could move them. So I found a puppet for 5 cents at a church rummage sale. We had scrap lumber, and my mother always had plenty of cloth because she was always sewing things and she helped me make some curtains. I did my first show in the upstairs of our carriage house, an old barn. I made a little poster because I'm also a cartoonist and it said, "See the puppet show at the Spinney house." And that was 1942. Sixteen people showed up. I was 10 years old and I made 32 cents. In 1942, that was good money for a 10 year old.
KO:  So you continued doing this throughout your childhood?
CS:  Well, the next Christmas, there was this thing leaning against the wall by the Christmas tree covered up with a blanket. When it was time for the presents my mother pulled another blanket away that was covering up some wonderful things down underneath the tree and it was Punch and Judy and the policeman and the baby and hangman and a ghost. She took the blanket away from that thing leaning on the wall and it was a puppet theatre. It had curtains and it was really pretty. So I gave shows a little bit on and off, trying to get used to it. My English teacher at school asked if I would come to her niece's birthday party. She gave me $2 to do the show. Well, that was plenty of money. So I had a theatre and everything. So she picked me up in her car and we went to her house in the next town. And I gave the show and she had to turn pages for my dialogue that was all in a book that my mother made for me—a big book about Punch and Judy.
KO:  So then I understand when you were a young man you joined the military and you had a show that you did while in the military, is that correct?
CS:  It was actually a mother who saw me give a puppet show at the PTA housing area for the parents of children. She said, "You should be on television" and I was stationed in Las Vegas. So one morning she said, "I'm gonna go see the program manager and tell him to give you a television show." So I went in to talk to him and I had already made a television slide for the title: A Rascal Rabbit Show. And I had about 70 puppets my mother had shipped to me, which she had made through the years. So then, I did an audition. He said, "Well, would you work for the station? I'll pay you $2 for each slide." That was actually enough money because I made $60 a month doing that and I only made $80 a month being in the military. I was there until I made staff sergeant. Then I was discharged because my four years was up. And they wanted me to stay in. So I said, "Yeah but I really want to be in children's television." So I auditioned at a TV station. Two years later they called me and the guy said, "We want you to do a summer replacement show." I worked on that for 10 years.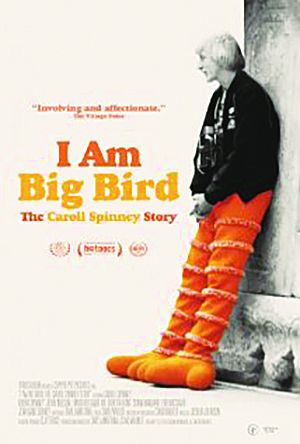 KO:  That brings us up to meeting Jim Henson. Had you ever met him prior to 1969?
CS:  I met him seven years before. He didn't remember that because when you make it other people come and go, but you don't remember who they are.
KO:  So that meeting with Jim Henson, what do you think it was that he saw in you that made him ask you to join Sesame Street?
CS:  The first thing he said to me was, "I like what you are trying to do."
KO:  And you didn't realize he was trying to offer you a job? He said, "come to New York and talk to me about the Muppets?"
CS:  Yeah. So I said, "What do you mean?" He said, "You know, working with me." I thought, wow. I had taken off from The Bozo Show because I wanted to do something more important. It was a fun show to do but it wasn't very educational or important. So it was my chance, I guess it was a case of being in the right place at the right time.
KO:  Absolutely. One of the things that stuck with me so much in your story is how frustrated you were in that first season of Sesame Street.
CS:  Well, the pay was very poor. Muppets were already quite famous in America, but not worldwide. So when he said he would really like to build a large bird around me and a grouchy character, would I be willing to take the job? I said, "Sure. What do I get paid?" He said, "Oh, we have a tradition." I said, "Well, traditions are nice." He said, "You won't like this one, you won't get paid much." Then he proved it.
KO:  I understand it was difficult for you to find your stride in the beginning?
CS:  They made more of that in the movie than I felt happened. I always had a little bit of problem. It showed up to me when I was in basic training in the Air Force and you'd march a lot. I managed to overcome that. I would often miss the first note of a song, so the mouth of the puppet wasn't opening exactly in synchronization with the beginning of the song and each time I would keep goofing that up. Jim was so kind. After he went over it and watched the playback on the third take, I had made the same mistake again. He said, "Garbage!" to himself, but he never said anything bad to anybody. And I said, "Oh Jim, I'm not good enough to be a muppeteer. I'll resign so you can get somebody better." He said, "Oh no, no, no! You're doing fine. If you'll listen there's a little bell just before the first notes of the song. So when you hear that little tiny bell ding, be ready to open the mouth instantly." So I got it and I began to feel much more confident. So it was just that one incident.
KO:  So everyone wants to know, of course, the physical aspects of being Big Bird and how you actually operate the costume?
CS:  Yeah, it's made in parts so it can be shipped. At first, it was like wearing legs that have funny bird feet with uncomfortable shoes inside it. In more recent years they were more comfortable because I bought them myself. I said, "Here, build these in." I used to walk around with a pained look on my face, but no one gets to see your face on TV because you're a puppet. Big Bird was such a large puppet. It was really like a costume up to the neck. My left hand was in the left wing and I could move the right wing with like a little see-saw motion with a piece of string. If I put my left wing down, the right wing rises. Vice-versa. People often wonder how can I move both with just my hand. And then the head, the mouth, the eyes, and angle of the head. By the beginning of the second year I had a monitor so I could see. The first year I had no monitor so the work was pretty poor. I'm surprised it passed for acceptable. The reason he's so tall is his head is in my hand, I have to hold my hand up over my head to manipulate the lower jaw to make him talk and my little finger would control the eyelids. If you raised the eyes he's more excited, lower he's either sad or angry.
KO: I understand that Big Bird was kind of meant to be a goofy, foolish character and it was actually your idea to bring a little bit more substance to him. Can you tell me about that?
CS:  Well I asked Jim, "What do you want me to play him like? I have to have some guidance. Is he funny?" And Jim says, "Well, I've always wanted to make a character that was a funny, silly bird. Think of Mortimer's Third, who was a ventriloquist character. Think of him and play it like that, like a country yokel, who's a bird, too." That was over 45 years ago. I saw him more like a kid who happens to be a bird, who happens to be eight feet tall. Big Bird is the most human character. He's a very complex character. There are other characters who developed their own shows like Elmo. But Big Bird has this great place in a lot of people's hearts.
KO:  I know that you are an advocate for early education and preparing young children for success in school and life. How does the new HBO partnership affect that mission?
CS:  Well, I think it's going to be a great asset. One of the problems that we've had all along is funding. It used to be they got 10 percent from every toy that is franchised by the show. Other than that there are no profits. It all goes totally into production and salaries. We've had competition from other television shows that hurt us a lot. HBO has no shortage of funds and they're very interested in making it bigger and we're happy to do that.
KO:  My understanding is that in terms of being able to continue to produce Sesame Street, the new partnership is a bit of a godsend.
CS:  Definitely. The only advantage they get is they get to show it first. We've found that children are happy to watch things over and over. Little kids particularly.
KO:  In addition to teaching children their ABCs and how to count and math skills and all kinds of great educational things, Sesame Street also dealt with very deep topics—the death of Mr. Hooper, HIV, diversity, obesity, and many more. What show that dealt with one of those themes was the most impactful for you?
CS:  I think that the death of Mr. Hooper because our audience was three or four years old, maybe a little older. But children don't understand much about death. I talked to a young man the other day. His father died when he was seven years old, and that episode helped him out so much.
KO:  Do you often find yourself in your everyday life slipping into Big Bird or Oscar?
CS:  I can think of plenty of things as something they would say. Sometimes I do the voice to someone I've just been introduced to or just because people like it so much. I can think of whatever just happened and I'll throw in an Oscar voice.
KO:  You're 81 and the work you do is physically demanding. But I've read you have no plans to retire, you hope to do this for at least 50 years.
CS:  Yes, I've only got four to go.
KO:  Do you think you'll retire then or keep going?
CS:  I would like to continue as long as I do good work and they want me. We are going to be making more shows now that HBO is involved. We used to make 110. We had to cut down to 26. Now we're going to start going back up again.
KO:  There have been over 4,000 episodes of Sesame Street. Do you happen to know how many of those you've been in?
CS:  I've been in all except maybe 300 or 400 over the years.
KO:  I know that you are well known on the speaker circuit and you give a really good lecture and you'll be doing that here in September, so what can fans expect from you at that upcoming lecture?
CS:  I have so much to say and tell. Part of the thing I do is a question and answer thing. People get to ask questions important to their hearts about what I've talked about.