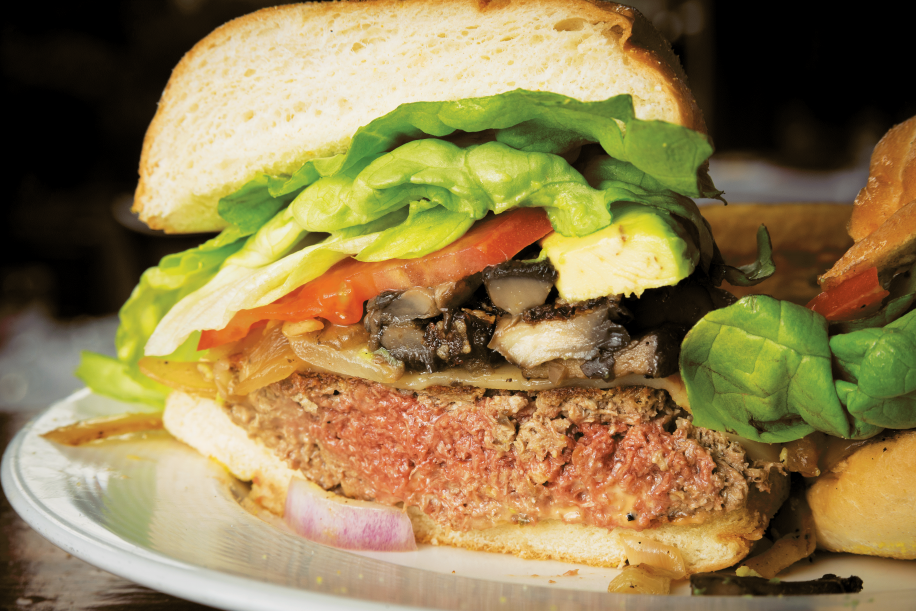 By Will Isern
A few weeks ago, I got an email about a burger that wasn't a burger. That is, it was a burger made from plants, rather than beef. I was told that not only did this plant burger exist, but that it was being offered at Skopelos, which piqued my interest. Surely if the chefs at Skopelos saw fit to put this thing on their menu it had to be good, right?
Well, I wanted to find out so I responded to the email and arranged a time to try the so-called Impossible Burger. Now I wouldn't qualify myself as a burger aficionado, but I've at least had every good burger in Pensacola several times over. Could this plant burger match the meaty satisfaction of a Tops or a Blue Dot?
The Impossible Burger is the creation of a Silicon Valley startup called Impossible Foods, whose stated mission is to "transform the global food system by inventing better ways to make the foods we love, without compromise." The company generated national press last year when it got financial backing from none other than Bill Gates. The Wahlburgers chain of restaurants added the burger to their menus in January.
Impossible Foods got its start in 2011 and spent five years of research and development to produce the nearest possible analogue to beef. That result is a product that looks, cooks smells and yes, tastes, very, very close to beef. The burger's main ingredients are water, textured wheat protein, coconut oil and potato protein. The burger derives its meaty flavor from something called "heme," an iron-containing molecule found in the hemoglobin that turns our blood red, but also found in plants.
Three of us arrived at Skopelos around lunchtime to try the burger. Before we ate, Chef Gus Silivos talked to us about his first time trying the burger and the decision to put a meat substitute on the menu. He admitted to having his doubts, at first.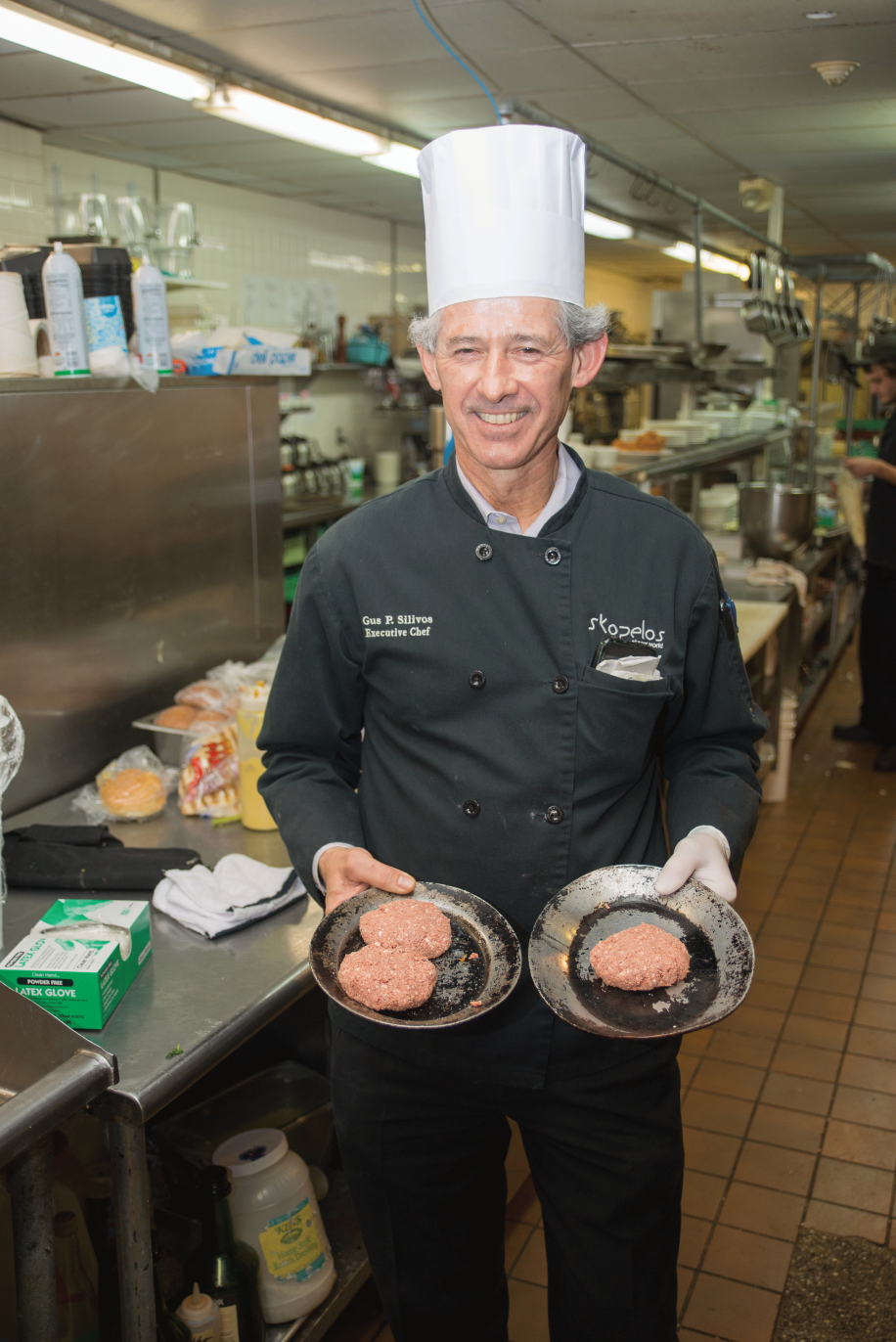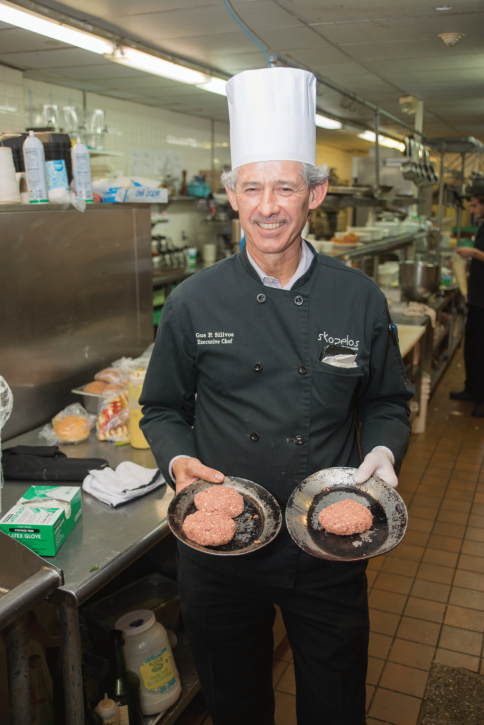 "I was skeptical from the standpoint of the look," he said. "Because, you know, it has all the qualities of beef, except it's not beef. That's really what surprised me, in that you cook it just like you would beef. From rare to well done it looks just like beef. When it's rare, medium-rare it looks like it's bloody. So I was quite shocked by that, as well as the flavor. Over the years I've had the vegan side of burgers, the black bean and all the other ones that ­– they're vegan but they're not satisfying the meat side of flavor and that's what I think this does."
Chef Silivos invited us back into the kitchen where he brought out three pink and plump patties that, to my eye, were indistinguishable from beef. With a drizzle of oil, Silivos slid the patties on the griddle where they sizzled and steamed as promised. After a few minutes, he flipped the patties to reveal the appealing brown crust that had formed.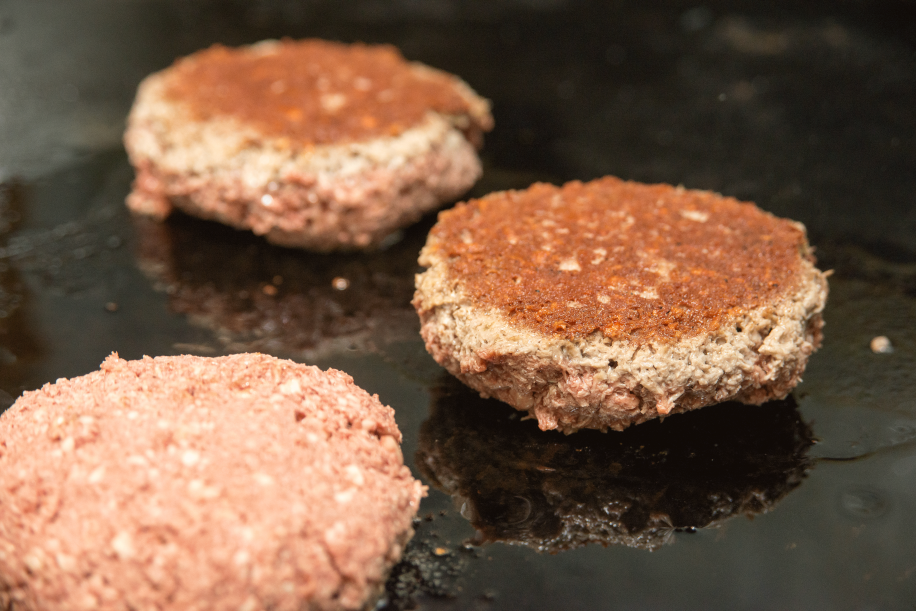 While the burgers cooked, I talked to Chef de Cuisine Takara Smith, who pushed Silivos to get the Impossible Burger on the menu. Smith eats meat when she's working (she has to tastes the dishes, after all) but is a vegan in her personal life. She first heard about the Impossible Burger while living in California.
Smith said she was first attracted to the idea of the Impossible Burger because of the diminished impact its production has on the environment when compared to beef. Producing an Impossible Burger requires just a fraction of the water and land required to produce beef, and generates nearly 90 percent less greenhouse gas, according to Impossible Foods.
"It was super exciting to me because it was like, OK somebody else out there is thinking along the same lines that I am," she said. "So we need to give people the option and give people the opportunity to support these great causes without having to make as much of a sacrifice as going completely vegan. It's hard to ask that of people."
Wanting to see if the Impossible Meat could match beef visually, I ordered my burger medium-rare. The burgers came plated beautifully with sides of fries, chips and the airiest, golden onion rings I've ever seen. After a brief photo shoot, we dug in.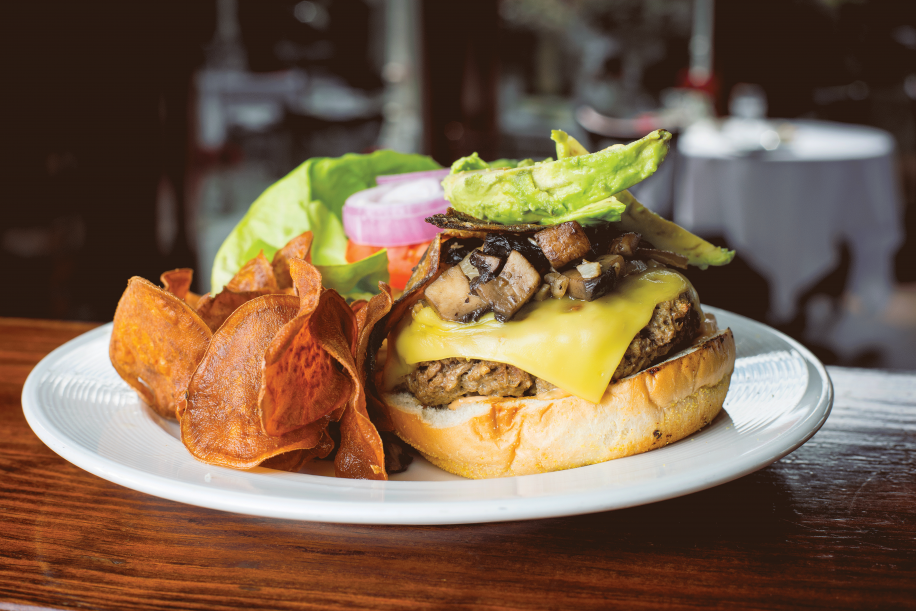 As for taste, my companions and I agreed that had we not known what we were eating, we would not have guessed that the burgers were anything other than beef. The taste was rich and, well, meaty. A flavorful layer of fat lingered after each bite, just like the real thing. The only noticeable difference was the texture, which we found to be lighter than beef, which some diners may prefer. If you are a meat eater, the Impossible Burger will not be the best burger you have ever had, but it's damn good.
The Impossible Burger at Skopelos starts at $15 and comes with lettuce, tomato, onion, vegan thousand island dressing on a Kaiser roll and your choice of side. Additional add-ons are $1 each, and with cheese (vegan or dairy), sautéed mushrooms and "eggplant bacon" (delicious) our burgers probably came in around $18 or $19. (Full disclosure, Skopelos was generous enough to feed us for free. We had already decided to do this story before they made the offer.)
Silivos said offering the burger is about providing an option for every diner that isn't a compromise. Like beef, the Impossible Foods meat is applicable for other dishes. Silivos said they've already used it in a Sheppard's pie and have plans to use it in tacos in the future.
"As a vegan, you usually have to cherry-pick from the menu to come up with a dish that you can eat, so this gives people the option and they're not going to be miserable," he said. "If you have somebody who's vegan and somebody who's not, they have that option and can go either way."
Silivos said the burger is already becoming popular by word of mouth, and that Skopelos serves about 10 each weekday. Analysts at Allied Market Research estimate that the meat substitute market could generate $5.2 billion in sales by 2020 as health-conscious consumers seek out more healthy alternatives to meat.
It's hard to imagine Americans trading in their juicy beef patties for meat substitutes en masse, but you don't have justify ordering the Impossible Burger because it's healthier or better for the environment. You order it because it's good.