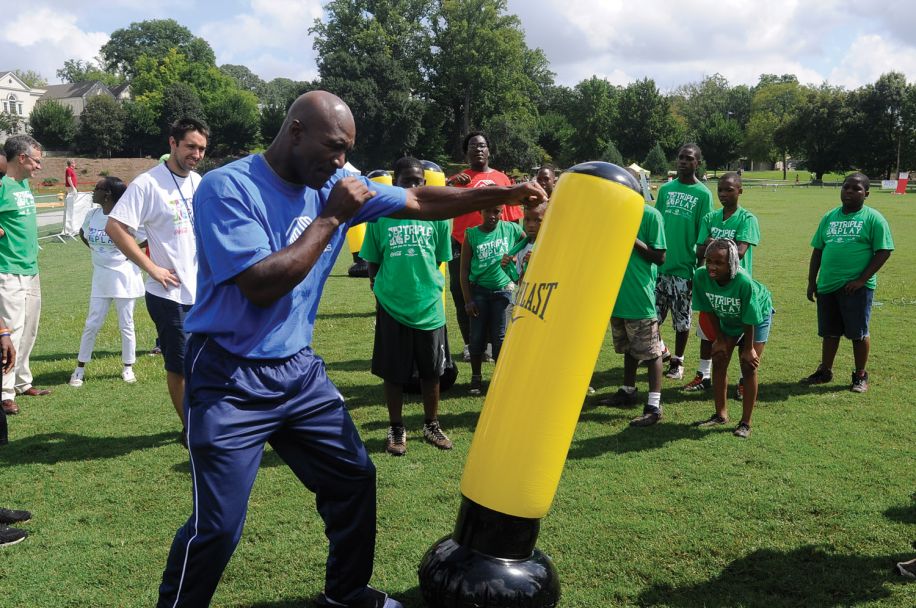 He's been called the greatest of all time and the real deal, but now Evander Holyfield is adding another title to his long career: mentor. The Boys & Girls Clubs of the Emerald Coast recently announced that Holyfield, the five-time Heavyweight Champion of the World, will serve as the special guest speaker for the Third Annual Steak & Stake fundraising dinner.
Holyfield will share his inspirational story on Thursday, September 22nd at the Boys & Girls Clubs of South Walton in Santa Rosa Beach, FL.
Holyfield won the bronze medal in the Light Heavyweight division at the 1984 Summer Olympics, and he is the only boxer to win the heavyweight title five times. His life story began in Atmore, Ala. as the youngest of nine children. When he was four, his mother moved the family to Atlanta, where she'd been born. This is where Holyfield and his older brother made an important discovery that would change Evander's life forever. It was called the Warren Memorial Boys Club.
The Steak & Stake Dinner provides an opportunity for every guest, including donors, community partners and volunteers, to meet with and hear from the direct beneficiaries of their efforts—our Club Members. Youth sit at every table and are given the chance to share their story of how Boys & Girls Clubs of the Emerald Coast has a positive impact on their lives and what the Club means to them. Take a Stake in your community and join the Boys & Girls Clubs of the Emerald Coast for the Third Annual Steak & Stake Dinner.
For more information on sponsorships or tickets, contact Rob Engel, Director of Development, at [email protected] or call 850.862.1616.
Business Climate had a chance to catch up with Holyfield in preview of the event.
You've been called the greatest cruiserweight of all time and have won multiple fights with big names like Foreman and Tyson. To what do you attribute your success?
Having a sense of direction, not quitting, sportsmanship, and being willing to pay the price that's necessary to take care of your body.
Tell me about your mother.
My mom was the breadwinner of the home and whatever she said was so. When my mother allowed me to go to the Boys Club, she said, "You follow directions. Don't get in trouble. You're representing me." Everything I did, my mom would always remind me that I represent her. I joined the Club at six years old and she would say, "When you don't like what they do, you come back and tell me what they've done and I'll talk to them. Don't talk back to them."
At the Boys Club, it was that way anyway, because sportsmanship was a big thing, because if you talked back to the referee, you couldn't play. There was a lot of discipline. When you grow up and have had that disciple from an early age, it's easier to excel to the next level. My mother was the leadership at home and the Boys Club had their leadership there. It was the same song. My career was built on that. It wasn't an overnight thing; I had to adjust using what I learned from my mom and the Boys Club.
I've read that through your Club experiences you were influenced by different people of various races and cultures. Can you tell me how your Club experience expanded your view of the world?
It was large. You have to understand, the late 60s and 70s were a time of prejudice. But my mom told me at six years old, "There's good and bad in every color. We're all the same. We're all poor."
I was at one of the first integrated Boys Club. It was run by white people. I didn't have enough money to get in. It cost a quarter and I didn't have a quarter. But I went there because of the generosity of others. And I got back home because of the generosity of others. I couldn't afford to get back home sometimes, so the ladies who just happened to be white, would pay for me. Now if I was prejudiced against them, they may have never helped me. When you're not prejudiced, it makes things work. My whole boxing career was made possible by white people who paid for everything. I thought boxing was free, then I realized that other people were paying for me because I was such a nice kid.
Share how the Club helped you to prepare and train for the Olympics?  I've also learned you are still very focused on leading a healthy life, what do you do to stay fit today and how did what you learned at the Club influence your approach to health and wellness?
They allowed me to train there. They would make sure the gym was prepared for me. I was sort of like a hero to them. They realized, "Here's a kid who came through our program. He don't drink or smoke." I had a great reputation. They gave me a home away from home. They had everything necessary to be successful.
Even today, I still train. I still spar. I get up to run. I've learned to have my balance and consistency. All these years, I've had the same thing to eat over and over so the discipline still factors in.
You famously went back and forth on retirement. What motivated you to finally retire?
I was going to be the heavyweight champ of the world again, but I realized that each generation is going to take it to another level. I was the only champ at that time, but part of being the champ is knowing when to stop. My biggest problem was that I let people know what I was going to do, and most people want you to lose before you go. So I figured I'd go ahead and fight and then stop on the win. I did that.
How has the game changed? The Mayweather-Pacquiao fight was widely criticized.
The game is always changing. Each generation is supposed to do better, and the only way they can do better is when you as the champion show others how to do it. I watched Frazier and Ali and learned how to do what they do, then I took it past that.
As far as the biggest change, when they took boxing off of television, that hurt the game. Kids aren't watching the game and getting a young start anymore. While boxing is about power, it's also about knowledge, and that knowledge is missing now. You have to compete skillfully, not just with pure exertion. If you do it properly, you realize it's a technical game.
You are outspoken about your faith. Describe your faith's impact on your life.
Well my faith is my life. It would've been hard to do anything apart from that. You become this great athlete and you become great at this sport, but that doesn't make you a great person. Faith, on the other hand, humbles you and makes you a great person. Everything that God gives you to do leads to success of some kind. You can't be great at everything without God; there's not enough hours in the day. So I've focused my greatness on God. Don't lie to yourself thinking you can be great at everything. There's a piece of God in everybody, and that's why everybody has skills, but we have to work together.
Tell me about your life outside the ring.
I truly feel that it's my job to be a part of what made boxing good. And now I want to explain that to young people and help. When boxing's over, boxers get a pension; they get money. But people don't realize that a lot of these people get dependent on drugs and alcohol, and they lose that money. They may look successful, but they may not have had a good education or a good upbringing, but they still need help. Earlier in their lives, though, there wasn't anyone to talk to them. So I want to talk to them when they're young, teach them the value of hard work and disciple, and teach them how to box. These fans give their heart and their soul to watching us, and it's time for us boxers to give back to the kids.