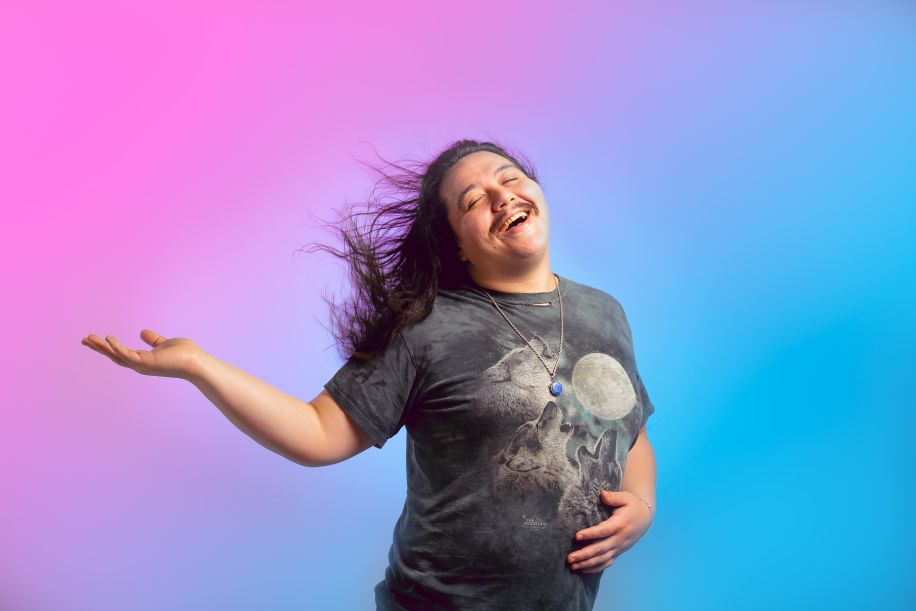 By Gina Castro
Have you ever wondered how an interest, an experience or even a color becomes something for only men or only women? Did a single person make this decision and we all just decided to follow? Consider the colors blue and pink. People today use the color pink to signify that the sex is female and blue to signify that the sex is male, but it wasn't always that way.
In 1918, the trade publication Earnshaw's Infants' Department declared that the color pink was for boys because it was a stronger color, while blue was for girls because it was more delicate and dainty. Earnshaw's wasn't the only one. In 1927, Time Magazine created a chart of sex-appropriate colors for boys and girls based off of the leading clothing stores: Filene, located in Boston; Best & Co., located in New York City; Halle's, located in Cleveland; and Marshall Field, located in Chicago. The chart indicated that pink was the ideal color for boys and blue was best for girls. The narrative didn't change until the 1940s, which is the time of the baby boomer generation.
Society has taught us to divide ourselves based on our sex, but there are no set rules. The world will not end if we break down those boundaries. Although divison based on sex does have it's reasons, such as professional sports, someone's sex should never be a limitation as to what a person can accomplish or experience. Since International Women's Day is March 8, we decided to focus this spread on how sex-based stereotypes often get in the way of men enjoying some of the services these local women-owned businesses offer. We also used this spread to open a discussion about the challenges around men embracing their feminine side.
America has made numerous strides for women's rights, and society is becoming more conscientious of sexism against women. Even a lot of the negative connotations surrounding feminism have subsided. However, there is still a way to go in understanding how feminism isn't just a women's thing. Feminism is the equality of the sexes, so in today's world where it is okay for a woman to be CEO or the breadwinner, it should be just as acceptable for men to be stay-at-home dads, drink a daiquiri or call themselves a feminist. We hope this issue helps start discussions about sex-based stereotypes. Follow us on social media to join the conversation @DowntownCrowd.
Mellow Out, Man.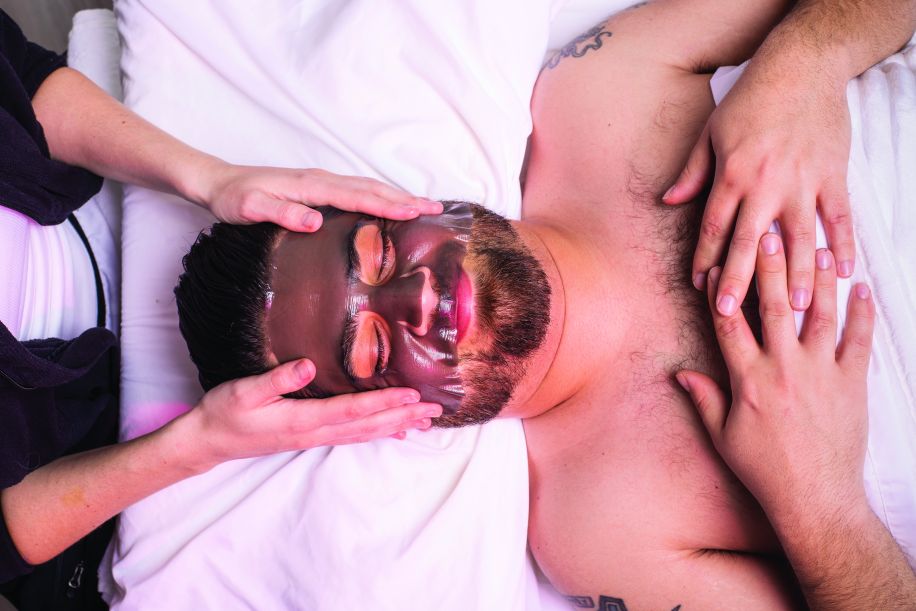 A study from Promundo and AXE found that men ages 18 to 30 feel pressured by society to fit in "The Man Box," a social construct of male identity that teaches men to prove their masculinity by ignoring their need for self care and mental health. In 2019, Male-centered brands such as Gillete and AXE have made advertisements as an effort to call out this toxic masculinity, but there needs to be more of an effort to change that narrative.
Joellen Rich, the owner of Jo Rich Beauty Bar located downtown, said that despite the fact that the majority of her services are gender neutral, her clients are mainly women. "They can benefit from everything we have. Men can benefit from facials, chemical peels and hyaluronic injections," Rich said. "It's important for them to take care of their skin just like it is for women. A lot of men don't even wear sunscreen, and that's so important." A study by CDC found that men are less likely to put on sunscreen than women are. Rich said that estheticians are trained to be able to spot issues like melanoma on the skin.
Jo Rich Beauty Bar offers a wide range of facials that men can benefit from such as an anti aging facial, a brightening facial and even the bar's specific men's facial. "Honestly, I think it's because men don't look at it like something masculine to do. It's always been kind of a women's thing to treat herself and to care for her skin," Rich said. "I think that's why we don't get a lot of men here. I don't think men have a lot of education on it."
Kevin Deschenes tried a facial at Jo Rich Beauty Bar for the first time, and he said that he found the experience really relaxing and that he would like to do it again in the future. "A lot of guys don't do anything to their skin, and that can lead to aging faster," Deschenes said. "I feel like most men don't realize the importance of skin care."
Rich also explained how the bar's facials and massages can help people unwind from life's daily stress, which is important for self care. "It doesn't matter if it's labeled a feminine thing. It's just self care," Rich said.
The study from Promundo and AXE found that many men don't discuss mental health because they believe it's not masculine. Felipe Muñoz, the owner of Empathic Practice, a local business focused on an alternative take on wellness and well-being, said that he believes the reason that the majority of his clients are women is that men are taught to ignore their feelings. "Men are taught by society not to be in touch with their emotions, to not be sensitive, and to power through their emotions," Muñoz said. "There is a lot of prejudice against men who take care of themselves."
Empathic Practice has teamed up with other wellness providers to organize a schedule of events that offers a relaxing activity every day throughout the month of March. "I'm putting together this challenge to raise awareness around how we all should be in touch with our feelings, our body and be more aware of our surroundings and relationships," Muñoz said.
To learn more about Jo Rich Beauty Bar, visit jorichbeauty.com. To see the complete schedule of Empathic Practice's March Mindfulness, visit www.empathicpractice.us/MarchMindfulness.
Do You Even Pilates, Bro?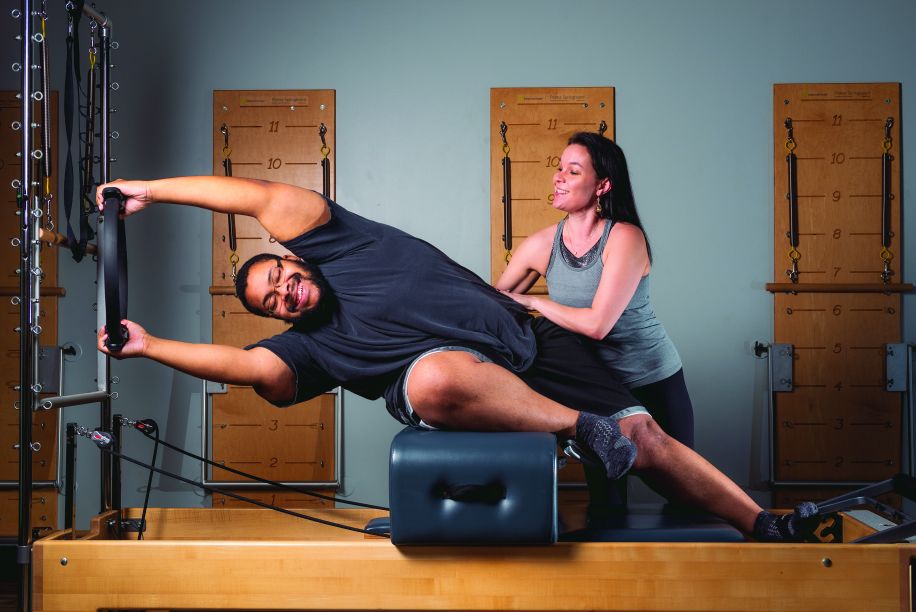 Pilates was created in the early 20th century by German immigrant Joseph Pilates. Pilates struggled with asthma and other illnesses, so he dedicated his life to improving his physical strength. He became a major athlete through gymnastics, body-building, boxing and jiu-jitsu. Pilates believed that mental and physical health were interrelated, so he created pilates to strengthen the human mind and body. Despite the fact that pilates was created by a male athlete, pilates managed to become an exercise predominantly practiced by women.
Even just a quick Google image search of "pilates" will show you dozens of photos of women doing pilates, with the exception of a few men. If you search "pilates" on YouTube, you will also see predominantly female youtubers teaching pilates. In fact, Downtown Crowd isn't the first publication to notice that pilates has been somewhat labeled as "a woman thing." The publication Very Well Fit made the point to include that pilates isn't just for women in its "Top 5 Myths About Pilates" article. SparkPeople, the largest online diet and healthy living community, wrote an article specifically on how men can benefit from pilates.
Susan Waters, the owner of a local pilates studio called Pure Pilates, said that the majority of her clientele are women. However, Waters said that she does have male clients, but they are more likely to do one-on-one sessions than participate in class sessions. "In general, most of the men who come in are mid 50s up to their 70s coming from post injuries," Waters said. "We have some guys who come in who are runners and they want to stretch and get better run times. We have another population of men that have a list of surgeries, back pain or bad posture and are doing rehab."
Waters believes pilates has become more popular among women because when Pilates moved to the U.S., he opened a pilates studio and trained a lot of dancers, who happened to be mainly women. "After he passed away, those original students moved across the country spreading the message, and they were women," Waters said. "He did work with a couple men and that helped spread the moment. It just developed into something that's more for women."
Waters explained that pilates is beneficial to anyone no matter the body type or sex. Pilates is a low-impact exercise that aims to strengthen muscles while improving flexibility and targeting the core. "You have to be able to have a balanced muscle development pattern to stay strong, so doing something that's a little less impact and focuses more on balancing the posture and muscle tone is only going to help whatever sport you are in," Waters said. "You are only as strong as you are flexible."
"I think men have to get over the stigma that it's a female thing," Waters continued. "There are so many famous, nationally known athletes who do it. Kobe Bryant was one of the very first people who ever took a viral picture of him doing pilates, back when he was rehabbing his ankles. Tiger Woods has done it, Shaquille O'Neal has done it. A lot of people have made it famous, especially the NFL players."
University of West Florida graduate student and Pensacola local Nyralda Lindsay-Bradley tried pilates for the first time with Waters at her downtown studio. Bradley said that he found pilates intense and challenging. On a scale of 1 to 10, 10 being the most challenging, Bradley rated pilates a 10. "It was a new experience that I quite enjoyed despite my initial hesitance," Bradley said.
If you would like to learn more about Pure Pilates, visit purepilatespensacola.com.
Treat Yo'Self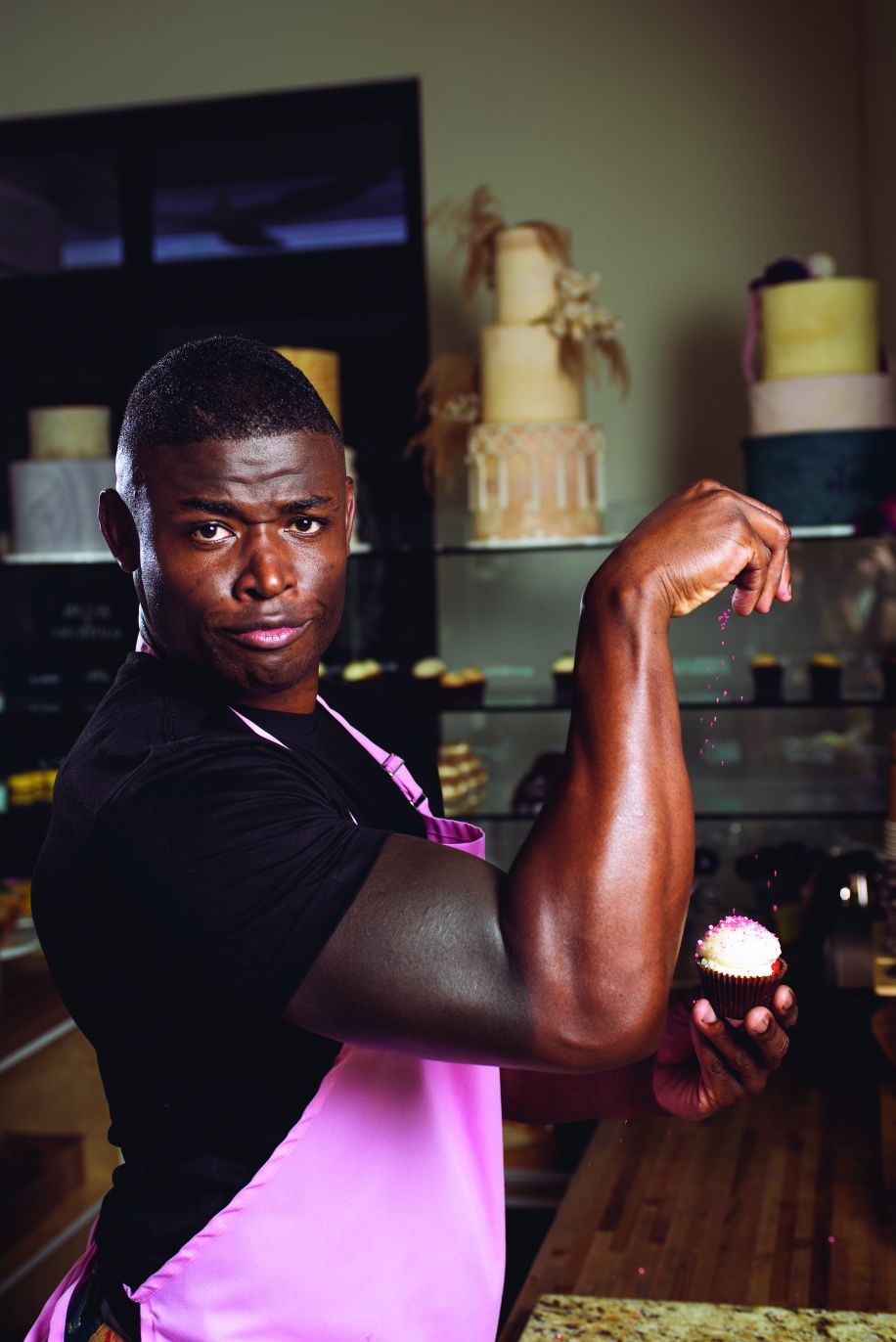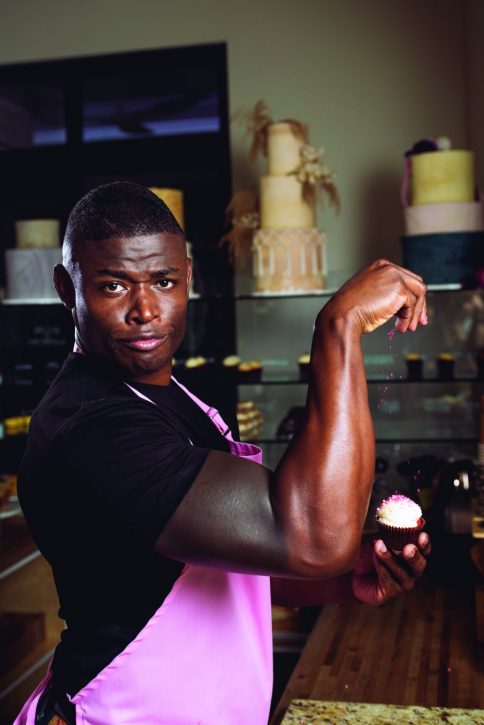 In everyday homes across America, women are more likely to do chores like cooking and grocery shopping than men are. The Bureau of Labor Services found that 80 percent of women are the usual meal prepper and grocery shopper. However, when it comes to cooking at a professional level, men tend to dominate the field. The Census Bureau found that 77.6 percent of chefs and head cooks are men.
"Every professional kitchen is dominated by men," Justine Gudmundson-McCain, the owner of the local bakery Bluejay's Bakery, said. "There is a very old school stereotype that women belong in the kitchen unless they are getting paid for it, then it's a man's job."
The Census Bureau also found that the average male salary for head chefs and cooks is $38,992 and the average female salary is $27,843, which is a difference of $11,149. There is also an issue of representation of female professional cooks on popular cooking shows such as Chef's Table, which is a television show on its sixth season about the most renowned chefs in the world. Up until season five of Chef's Table, only 12, out of the 42 chefs on the show, have been women. However, Chef's Table's season five and season six have made an effort to include more women and people of color.
In recent years, there have been more women enrolling in Culinary Institute of America than men by just 51 percent. McCain said that she believes this slight change is a reflection of the younger generation changing the narrative. "It's only recently that women have become more prevalent in the cooking field, and it is more socially acceptable that they be a part of the pastry world than the culinary world," McCain said.
Change can also come to the at home cooking dynamic. Although men seem to be more drawn to barbecuing and grilling, men can also try their hand at cooking other meals. There are several cooking classes through Bodacious' So Gourmet at sogourmetpensacola.com.
Drink Whatever You Want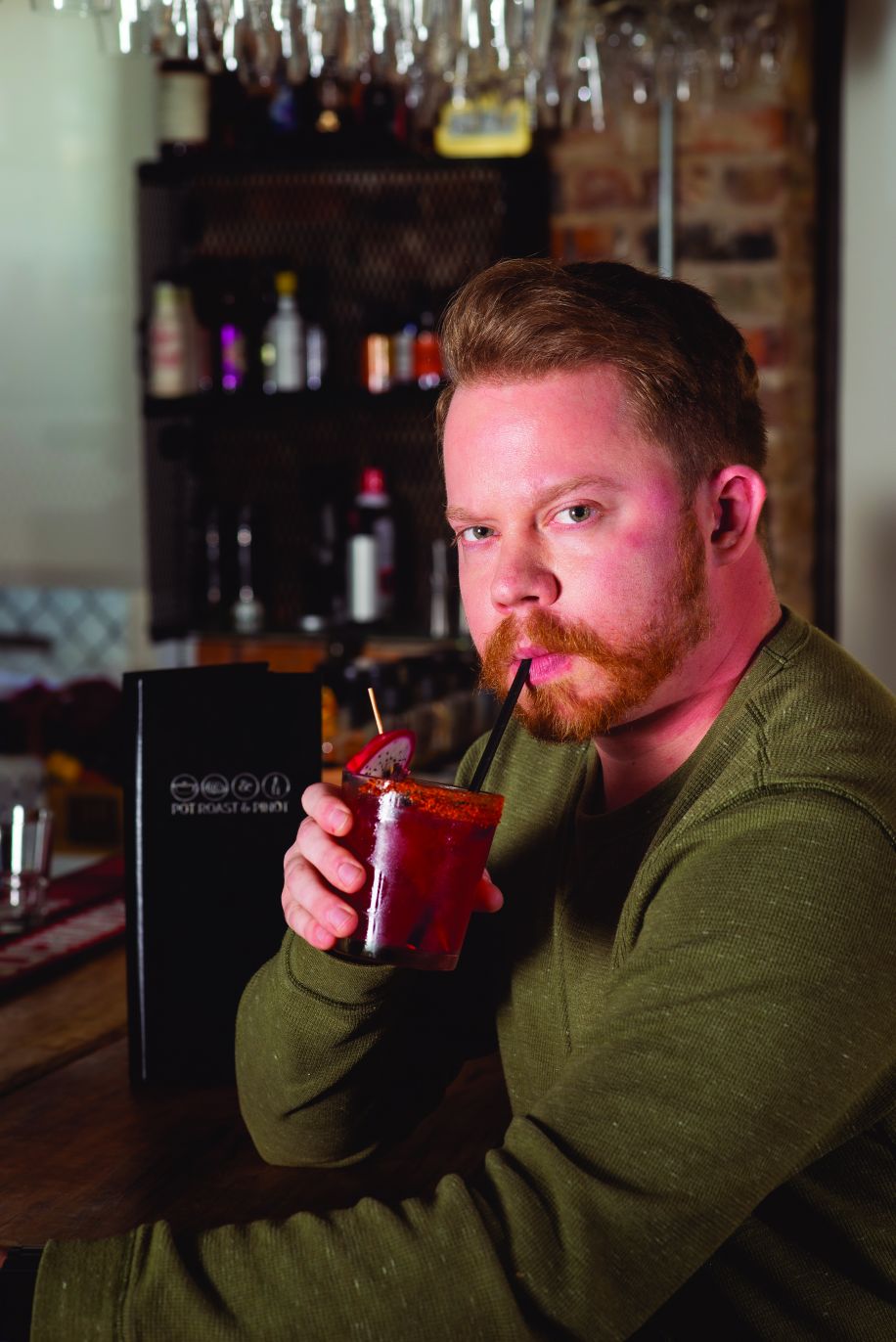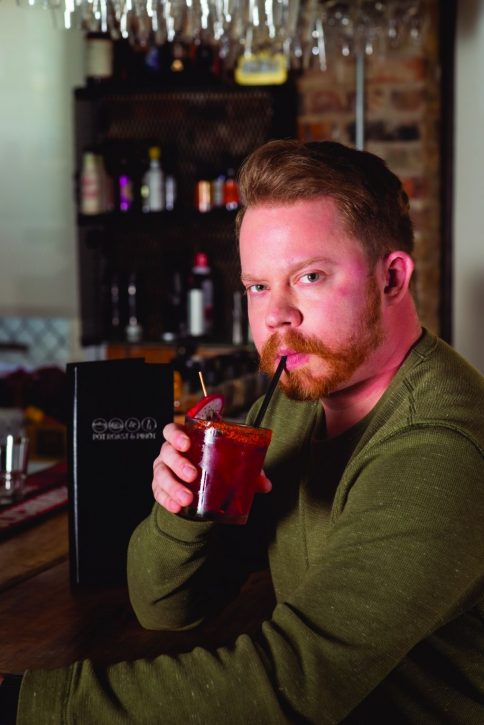 Stoli, a popular vodka brand, conducted a study of 1,475 legal drinking age American consumers as part of its #DrinkWhateverYouWant campaign, which encourages millennial men to drink whatever they please. The study found that 74 percent of the men claimed to enjoy flavored cocktails, but 63 percent said they avoid them in public because they are afraid of being picked on by their peers.
Zachary Kemmler has been a bartender for the past 15 years, and a bartender at Pot Roast and Pinot for a few months. "From a general standpoint, men order beer and then women look for something like a cocktail," Kemmler said. "However, that's definitely changing. I think women are starting to order more beers and IPAs, and men want to experience the flavor of a cocktail."
Kemmler said that the bar's spiced hibiscus margarita is ordered only by women. "Definitely women. Probably for the color of it, the way it's presented, the garnish on it," Kemmler said. "More women see it and think, 'Oh that's pretty,' so they order it."
Upon asking a handful of men in the community about their drink choices, University of West Florida student Josh McGovern said he orders either a beer or a rum and coke because that's the drinks he sees his brother drink. Local artist Ron Bigley said he sticks to beers or gin and tonics. "Women drinks tend to be more complicated with extra toppings and colors, but I guess I could order a girly drink," Bigley said.
On the other hand, local artist and our pastry chef model Gregory Pierre said he drinks whatever he wants. "I'm not your typical guy. I'm bisexual, so for me, I choose what I like, personally," Pierre said. Pierre believes that once he discovered his sexuality, he broke free from what a stereotypical man is and couldn't care less what society thought about him. "I don't know the 'world,' so I owe the world nothing, when it comes to me expressing myself," Pierre said. "As long as I compose myself as a gentleman and honor my family, if I want to drink a Kiwi spritzer, who is the world to judge me?"