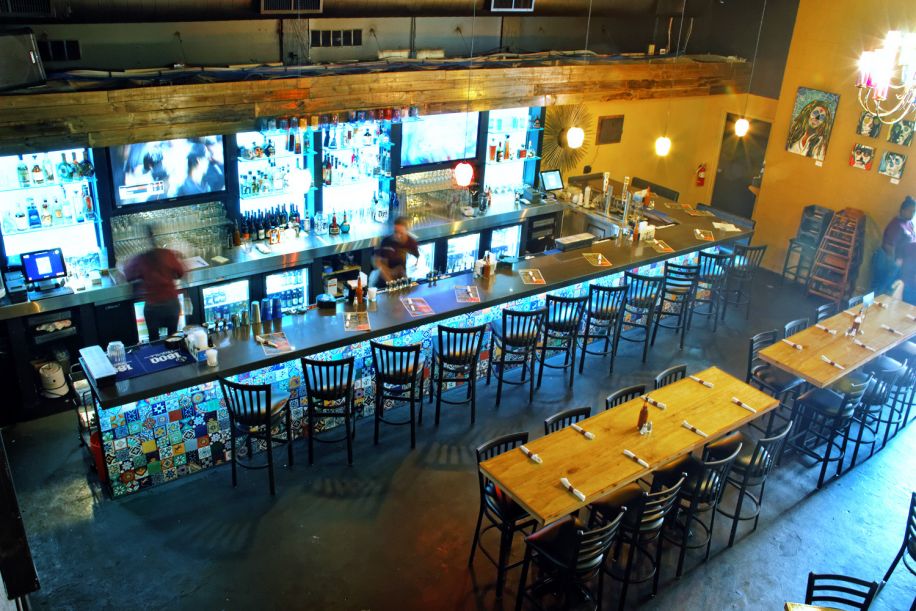 Sometimes, you just need a taco—and some tequila to wash it down with couldn't hurt. The sumptuous food is comforting, delicious, portable and customizable, so why not outsource your next taco night with the hottest new joint in Downtown, Taco Mez?
The taqueria and tequileria is located at 21 W. Romana, in the location of the old Twenty-One West. The restaurant is the brainchild of Joe Abston, owner and operator of such Downtown staples as Hopjack's, The Tin Cow, and Pot Roast & Pinot. With this latest venture, he brings his signature twist of classic dishes to the salivating mouths of tortilla- and guac-lovers everywhere.
The idea came to Abston after he visited Mexico for a Day of the Dead celebration. The regional tastes of the area instantly inspired him, and, after taking some tortilla-making classes, he fell in love with the flavor possibilities and realized that this culinary resource was missing Downtown.
After months of planning and tweaking, Taco Mez was born.
Abston and his team are quick to point out that this is not Tex-Mex. Pensacola already offers plenty of options for those who like their Mexican food with a distinctly Southwest flavor. Taco Mez is something different entirely. In the same way he reinvented the burger with Tin Cow and southern comfort food with Pot Roast & Pinot, Abston is resuscitating everyone's favorite ethnic food.
Taco Mez currently offers please-all menu items like moderate-appetite street tacos with chicken, pork, chorizo and more. But they are also inviting patrons to try something a little different, like specialty tacos featuring triggerfish, octopus and chilled blue crab. Other south-of-the-border staples like soup and tableside guac are coming soon.
Remember the first time you tried Hopjack's signature duck fries? Maybe it was a side with a pizza or an anchor to ground you after a late night of drinking. Regardless, it was likely life-changing. Well, Taco Mez is offering up a similarly unique new addiction—pork fat fries. Top it off with some cheese and guacamole and you may have just found your new favorite Downtown food.
For those who do not care for Mexican but still want to enjoy the Southwest street style of the restaurant, Taco Mez will offer more American fare like burgers and wings, as well.
And we have not even touched on the adult beverages. With a drink list that includes 75 different types of tequila, as well as some of the best cocktails you're likely to sip north of the border, Taco Mez is replete with options for fun of the more mature persuasion.
The location, which is slightly off of Palafox, has been problematic in the past, but Abston and his team are confident that Taco Mez will serve up enough of a temptation to lure people off the main drag.
"Joe was here before there was anything Downtown, so he knows a thing or two about creating an atmosphere and further developing the boundaries of the area," said Renee Legere, who handles marketing for Abston's family of restaurants. "And with free parking just two blocks from the location, there's really no reason for people to not come out and have a good time."
Taco Mez also features a revolutionary answer to the age-old problem of never having enough time for lunch. With their Mex Express option, time-pressed patrons can sit at one of a handful of designated tables and receive fast service, a to-go cup, and a check that comes with the food, which is out in no time. The busy attorneys and business-owners of the area have no excuse to not enjoy some delicious Mexican on their time-crunched lunch, and neither do you. Mex Express is available from 11 to 3 Monday through Friday.
With vegetarian options and an atmosphere situated comfortably between street party and upscale restaurant, Taco Mez is guaranteed the same followership that Hopjack's and Tin Cow have created. So take a walk off the beaten path, Pensacola; your new favorite restaurant is here.