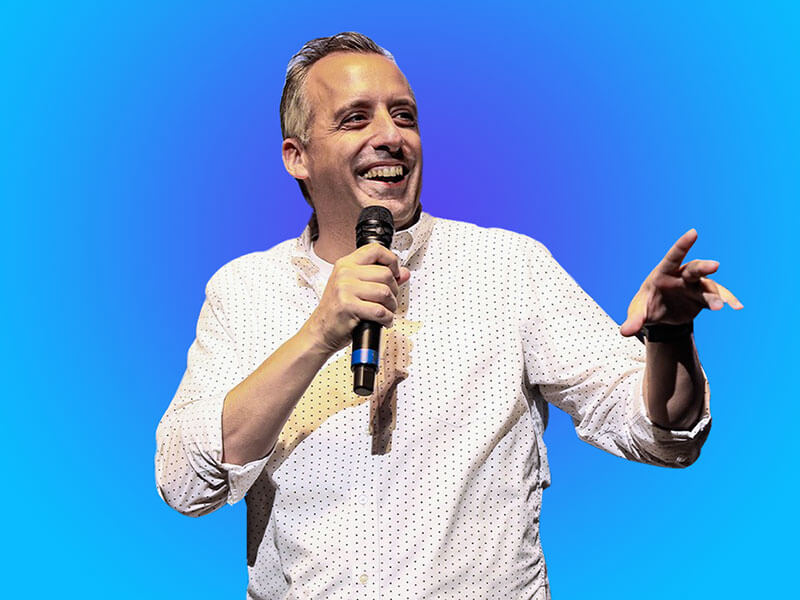 Joe Gatto is a comedian, actor and producer, best known for his role in the wildly comedic television series, Impractical Jokers . The hidden camera reality show features Gatto and three of his lifelong friends as they compete against each other by performing various pranks on strangers in public places. The hilarious prompts, skilled improvisational techniques and insane reactions have garnered the show a massive fan base.
In 2021, after nine seasons of the hit show, Gatto announced that he would be stepping away to focus on his family and other aspects of his career. Since departing from the show, he continues to focus his family, his animal rescue nonprofit Gatto Pups and Friends, his Two Cool Moms podcast and his current Night of Comedy tour, which will be making a stop in Pensacola on October 21 at the Saenger Theatre. We had a chance to catch up with Gatto to learn more about his career, personal life and comedy tour before his stop in Pensacola later this month. For more information and to purchase tickets, visit pensacolasaenger.com.
DTC: You've continued to do comedy throughout your career, but it seems like you've really begun to focus on stand-up over the past year. Can you tell me about your decision to make stand-up a larger focus in your career?
JG: After I left Impractical Jokers, I was trying to handle my life and affairs. I needed a way to pay the bills and find something that I could do. I thought about how I've been performing live for quite some time in my life. I first took the stage in 1999 doing improv. Then touring with the boys doing our live show for the past eight years. So, my team and I got together, and they were like, "Have you ever thought about trying stand-up comedy?" And I said, "Yeah, I could try it." So, I started doing it. It was kind of like a band-aid in the beginning, to be honest—I still wanted to make people laugh. I still wanted to be in front of people. I still had to pay the bills. But I started to really enjoy it. Quickly, the crowds got a little bit bigger, and I started moving up to theaters instead of comedy clubs. I was like, "Oh, wow, I'm onto something here." Before I knew it, I had my hour of stand-up comedy that I was proud of and that people seemed to like. When that happened, I was like, "This is fun! I can enjoy this, embrace it and make it something special." It was a little bit of a challenge too because I've never been up on stage by myself; I've always been part of an ensemble. I was like, "Okay, let's see how this goes." And it really went well. I've enjoyed the past year and a half of doing it. I look forward to the future and continuing to get in front of people and make them smile.
DTC: What can people expect from your live comedy show?
JG: It's terrible. It's terrible, haha. The show is a lot of fun. Everybody knows me from Jokers, so I have many stories to share from my time with Jokers but also so much more, including stories from my life—growing up with a crazy Italian mother, all my rescue dogs, and now being a father. There's been some craziness that's happened in my life. I'm 47 years old now, and I'm very fortunate to have some crazy stories that I get to share with everyone. Things like hanging out with the guys, some stories that didn't end up on TV and stuff from our real friendship, because I have known them for over 30 years, which is crazy to say out loud. That's really what it is. If you got to know me in the show—because that was me, I wasn't playing a character—and you enjoyed me, now you get to know even more about me.
DTC: What is your favorite part about touring?
JG: Getting in front of the fans, meeting people and hearing their stories. I get to meet people at the meet-and-greet after the shows. I get to talk to people and realize how important it is to laugh and that I can help them with that. I get to provide people with an hour to forget the craziness that is life because look—we all know life is terrible, and sometimes you need to laugh. So to be a source of that for people, I take pride in it. I want to put on a good show so people can come out and have some fun. That's probably my favorite part—getting people in the room together, forgetting about all the BS that's out there and laughing together.
DTC: How has your tour been recieved, especially with people knowing you from a television show that's different from your stand-up comedy?
JG: Two comments I get that are kind of backhanded compliments, which is pretty funny to me, are "Oh, you're not as fat as you are on TV." People also say, "Oh, you were really funny!" And I'm like, "Well, you expected me not to be?" I think the big thing that I have in my corner is that you were watching me on television, you weren't watching a character; you already know what you're getting when you come to see me. You've got a sense of my comedy and my energy. I think that's a big part of it. There's been a great reception, and I'm fortunate and thankful that my fans come along with the journey. It's been great.
DTC: Is there anything else that you want people to know about your comedy show?
JG: Come; it's going to be a fun time. I really just want you to be in the room laughing and having a good time. I'm not a political comedian. I'm not super edgy. I just want people to come out and have a good time, and I hope they do!