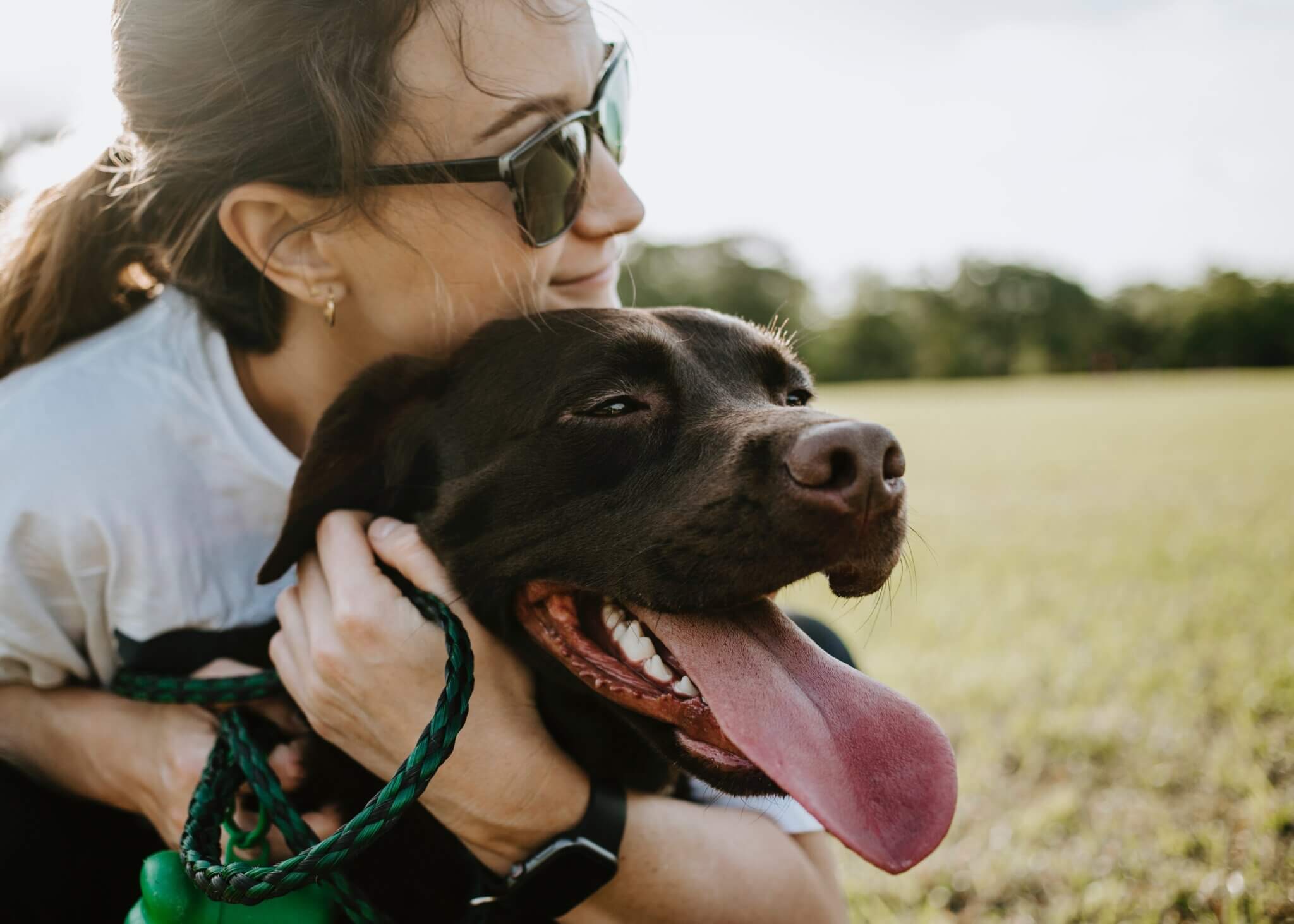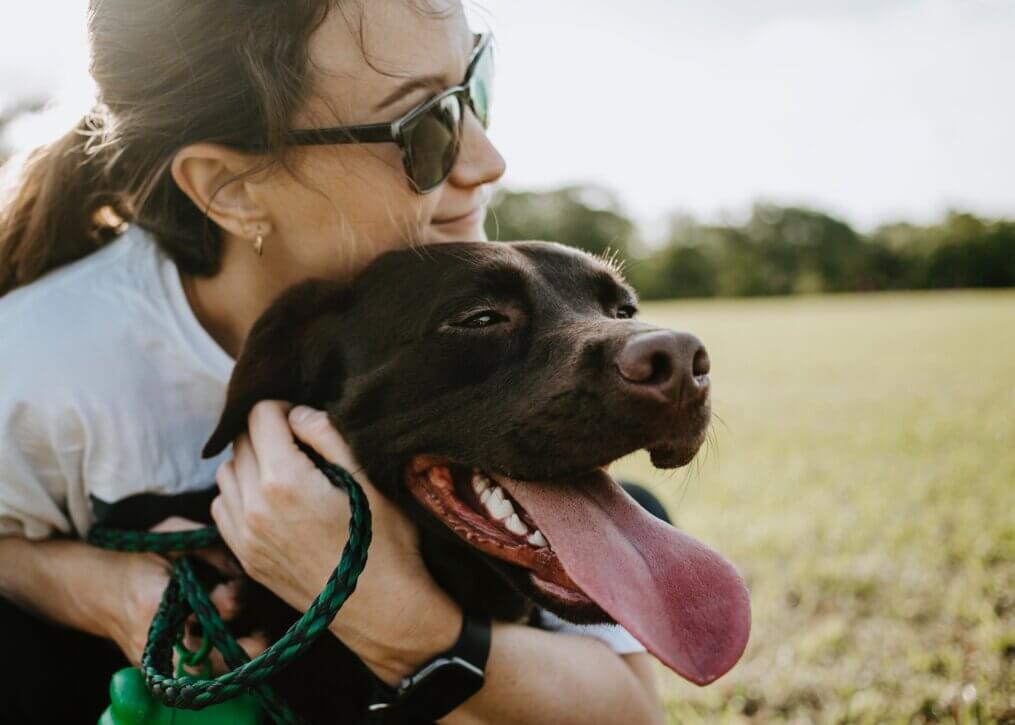 Pet loss is a devastating thing to think about, but it is something that every pet owner has to face at one point or another. Our pets become a huge part of our families, and losing a part of the family is crushing. However, your pet's memory does not have to fade when your pet crosses the rainbow bridge. When every pet owner's worst nightmare/fear inevitably occurs, there are a variety of things that you can do to honor your pet and keep their memory alive.
From keeping a piece of your pet with you through a necklace to planting a tree in their honor, there are many creative ways to remember your furry friend, some of which can be accomplished while they are still with you. Whether you're currently grieving the loss of a pet, or want to be a prepared pet owner, consider these unique ways to memorialize your pet.
1. Place a Memorial Stone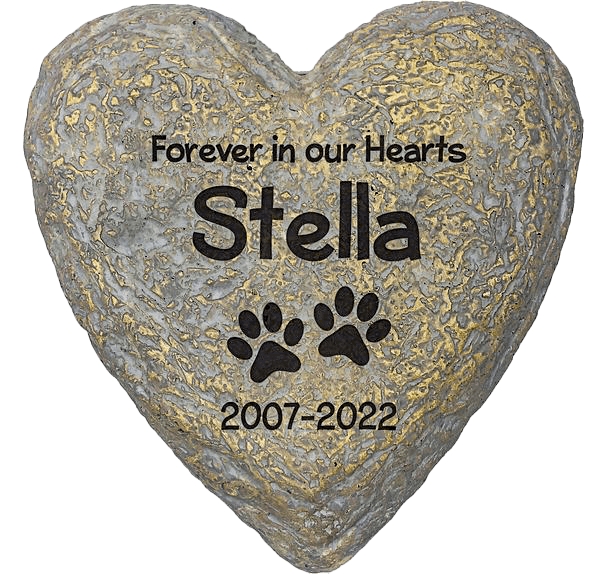 If your pet was a fan of the outdoors, consider keeping their memory alive with a memorial garden stone. Perhaps your pet had a favorite spot where they liked to sunbathe or relax after a game of fetch; pay tribute to your pet by marking one of their favorite hangout spots with a custom garden stone. There are many options for memorial garden stones, so you can make your stone as unique as your pet. Chewy.com provides some great options for this type of memorial, offering a wide variety of memorial stones in all shapes and sizes. The stones can be customized to include things such as your fur baby's name, date of birth, years of life or even a photo of your late pet. Whichever stone you choose, marking their favorite spot is a thoughtful way to remember all the sunny days you spent with your pet.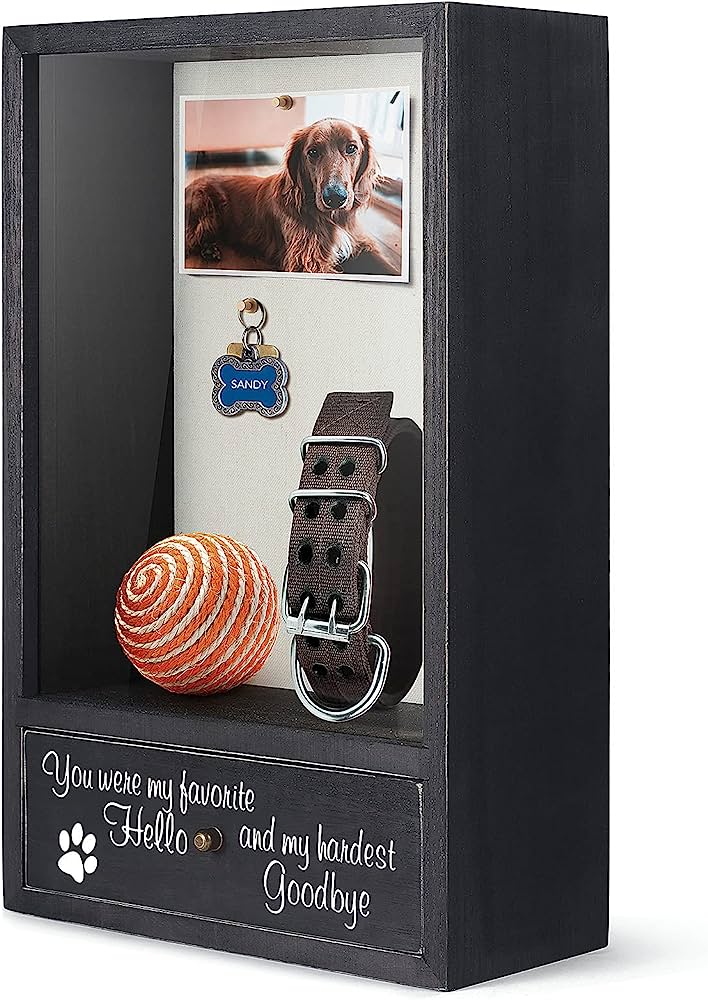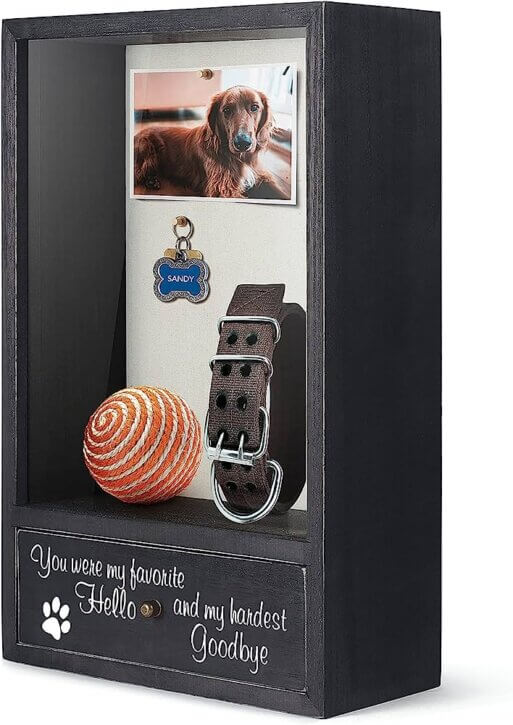 2. Capture Their Memories
A custom way to create a touching memorial for your pet is to capture their memories in a shadow box. Shadow boxes are hollowed-out frames that allow you to decorate and insert and attach items inside the frame to put on display. Memorial shadow boxes can serve as a unique and eye-catching way to contain some of the items that made your pet uniquely themself. Some of the things that pet owners include in their shadow box memorial are their favorite photos of their pet, the pet's name written in beautiful calligraphy, ink paw prints, collars and more. Stores such as PetCo and Michaels offer shadow box frames in a variety of sizes that are specifically made for pet owners to be able to attach photos and hang things like collars and tags on display.
3. Plant a Tree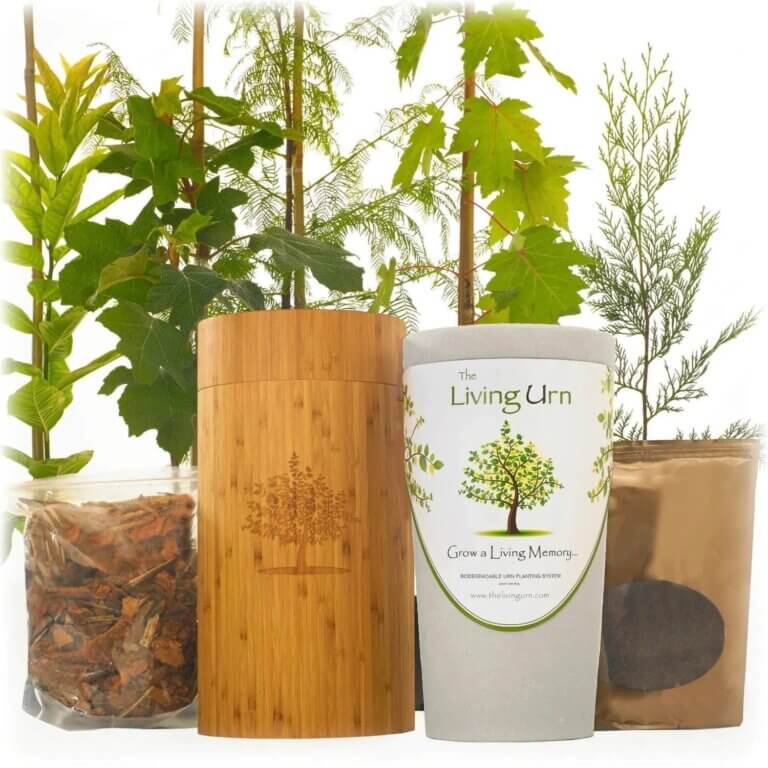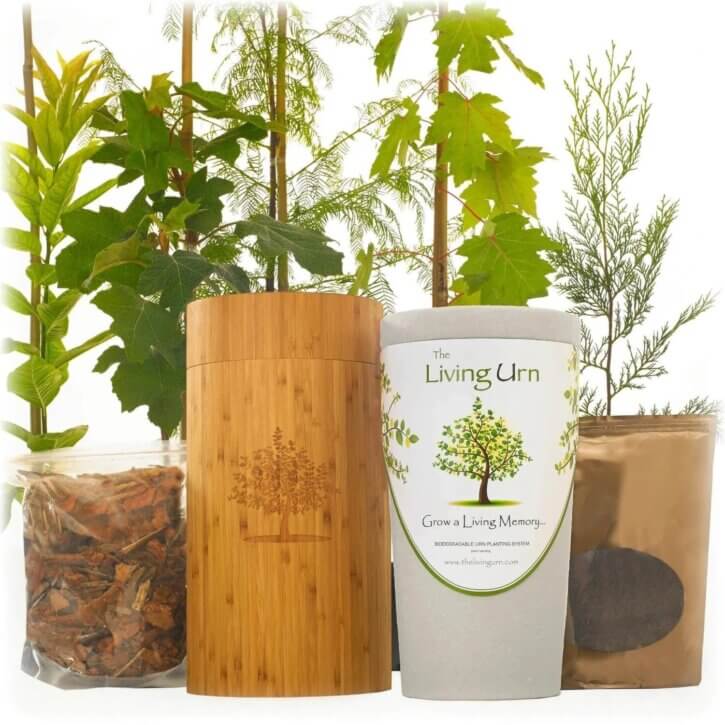 A natural way to remember your pet is to plant a tree in your yard. This organic memorial serves as a reminder of your pet anytime you glance out of the window or take a step outside. Plant memorials can begin from scratch with the planting of a seed, or the replanting of a potted tree or plant. If you want to take the memorialization a step further, you can even incorporate your pet's ashes in the planting process. There are companies that allow you to grow a tree, plant or flowers from your pet's ashes. For example, The Living Urn provides pet parents with a fully biodegradable system that comes with everything you need to turn your pet back into the earth. The Living Urn allows you to insert your pet's remains into their specially-designed BioUrn®, add in the other provided ingredients and plant the urn into the ground. The company allows you to select from a variety of plants and flowers that grow best in your area based on your ZIP code. This product can be found at thelivingurn.com.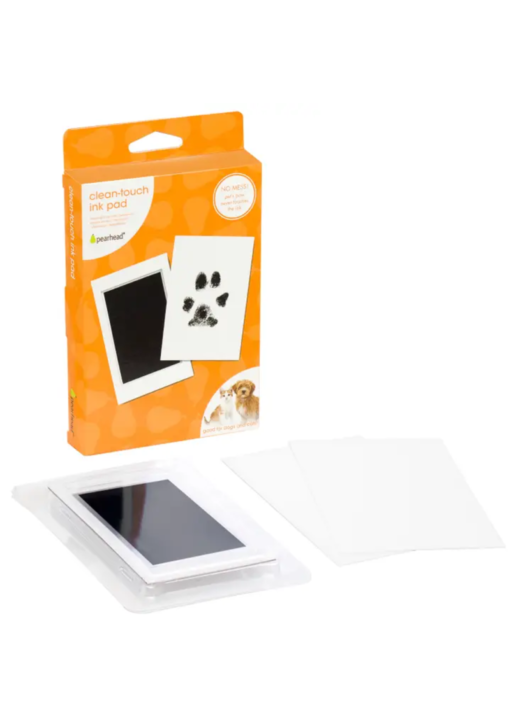 4. Make a Print
Whether your pet is still right beside you or with you in spirit, their paw prints remain in your heart. One way to permanently keep a piece of your pet is to create a print of their paw. Paw prints can be captured in a variety of ways, but are most commonly captured by ink or clay. Gulf Breeze boutique Prim In Proper sells a simple and easy-to-use kit that can be used to capture the paw prints of your cat or dog. This paw print kit is completely mess-free and pet-safe, and your pet never comes into contact with the ink. The kit can be purchased online at priminproper.com. Another option to permanently save your pet's paw prints is through clay. Family Pet Memorial & Cremation is a Pensacola business that offers a variety of pet memorial options, including clay paw prints. Once your pet's paw print is captured in the clay, you can display the print forever. Family Pet Memorial & Cremation can be found online at familypetmemorialandcremation.com.
5. Wear Custom Jewelry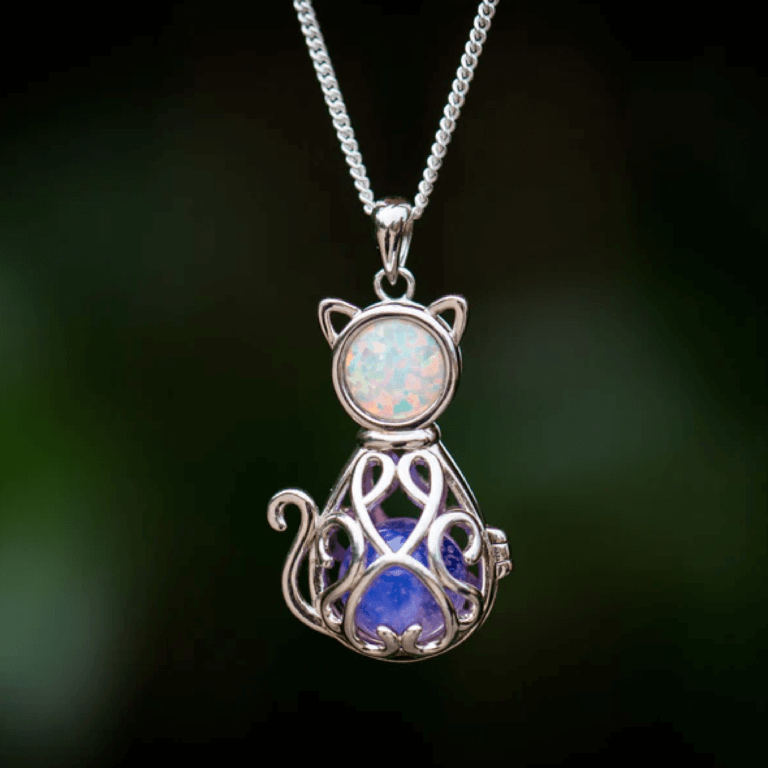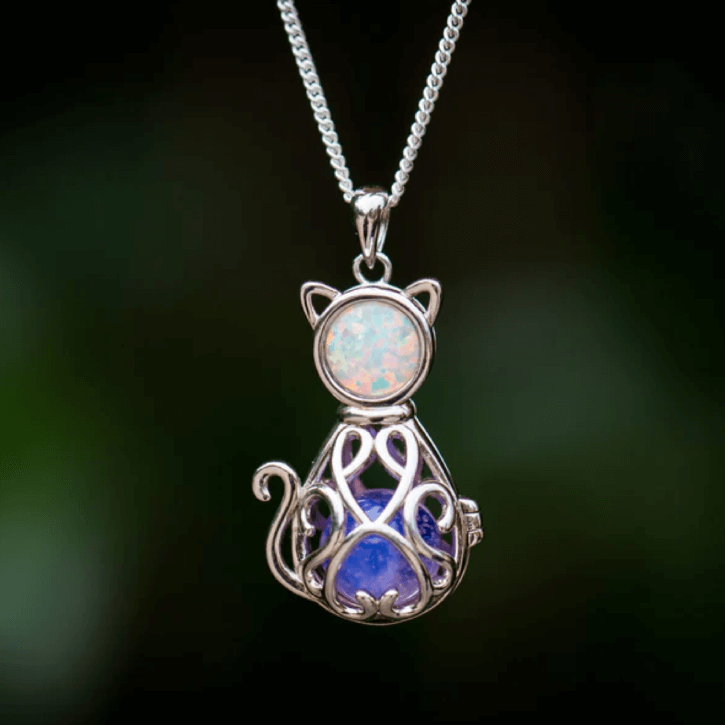 One way to keep your pet close to you each and every day is to wear customized jewelry that honors your pet. As jewelry is already extremely customizable, there are countless options available for you to create the piece that best suits you and pays honor to your pet. For a minimalistic and modern option, consider getting a necklace that displays your pet's name. If you are a fan of vintage-inspired pieces, consider a locket with your pet's photo in it. If you want to make your piece even more personal, you could incorporate your pet's ashes into the jewelry piece. Companies such as Spirit Pieces (spiritpieces.com) offer jewelry pieces that are created by mixing your pet's ashes with UV activated resin that encapsulates the ashes in a beautiful and unique way. Spirit Pieces also offers urn pieces that allow you to carry a small amount of your pet's ashes with you every day. With so many customization options, memorial jewelry is unique to both the wearer and the late loved one. Whatever piece you choose, there are many jewelry options available to keep your furbaby close.
6. Make a Look-alike
While hanging photos on your walls is a simple and easy way to remember your pet, there are options that allow you to bring your pet's likeness to life in a creative way. Companies such as Cuddle Clones and Petsies allow pet owners to turn their pets into a stuffed animal or bobblehead figurine. Each plush or figurine is completely customized to look like your pet—from your pet's fur and eye color, to their collar and even their pose. Simply upload an image of your furry friend and your custom pet "clone" will be to your doorstep. Stuffed animals and bobbleheads are a great way to keep your pet's memory alive in a fun and cheerful way. This memorialization option would be an excellent choice for families with children grieving the loss of their pet. If you are interested in creating a look-alike of your beloved pet, consider checking out reputable companies like Cuddle Clones at cuddleclones.com or Petsies at mypetsies.com.