By Gina Castro
So you've survived a global pandemic, grappled with hurricane season and wore a face mask in 90 degree weather— normally, I would suggest a strong drink, but if your quarantine was anything like mine, I get the feeling that probably lost its effect on you. So, Pensacola, we think you could use a laugh. 
You know what they say, "Laughter is the best medicine." The REX Comedy Theatre's grand opening is this month. Follow us on social media @DowntownCrowd for a chance to win two tickets to the comedy club's grand opening. The grand opening weekend is Oct. 23- 24. Friday night will feature stand-up comedy (comedian TBA) and Saturday night features a comedy magic show by THE ILLUSIONIST. 
Each weekend, the historic REX Theatre will host a variety of live entertainment shows from stand-up comedians to magic shows. Tom Coverly The Illusionist is the Booking Promoter for the comedy club.
"We've all heard that laughter is the best medicine, right? We've all been through hard times this year and times where we've been ready to give up and throw in the towel," Coverly said. "When you think of businesses who are just struggling during this and the people in our city who are financially hurting— laughter is something that just has a way of healing emotional pain, or, at the very least, give us a night where we can take that off of our minds for a bit. That's why we believe now's the time, more than ever to open." 
When Coverly moved to Pensacola in 2018, he looked for the local comedy scene and was disappointed when he discovered that there weren't any permanent comedy venues in Pensacola. There are occasional comedy nights at Seville and other places downtown. Chizuko, which recently announced it's permanently closed, featured performances by local comedians.
"We have a great local comedy scene, but nothing on the national scale. Right now, there are comics who do shows in New Orleans and then they skip over us and go to Tampa, or Jacksonville," Coverly. "We just want to be a dumping ground for big name comedians."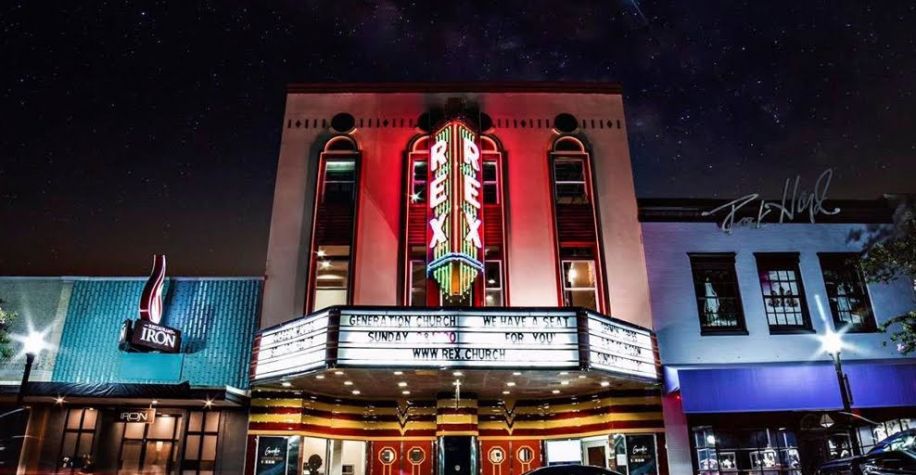 So when Generation Church, the owners of REX Theatre, reached out to Coverly about using the space for entertainment on the weekends, he instantly thought to create a comedy club. 
Coverly is a magician, comedian and motivational speaker who has performed all over the nation and several countries. He and his wife Tiffany Coverly run the nonprofit One Goal Productions, which focuses on bullying and suicide prevention. Usually they are on the road, but due to COVID-19, they had to cancel their U.S and Australia tours. 
Coverly's experience has connected him with talent from America's Got Talent and nationally known comics. He hopes to use this space to feature an assortment of local talent, national talent, adult humor as well as shows for the family.
"I'm going to do a family oriented show most weekends, and on the opposite night, we're going to have nationally known stand-up comedians come into our city, so we're excited about that," Coverly said. "Just because it's owned by the church, it doesn't mean we won't have adult rated shows, too. We'll have a variety of entertainers in there."
Coverly also plans to keep ticket prices affordable so that everyone can enjoy the show. He will be using sponsorships from local businesses to keep prices affordable. A portion of the funds from sponsorships will go toward One Goal Productions. 
"I speak in schools about bullying and suicide prevention, but I want to be able to do it here at home. So when a school calls here in Pensacola, I want to be able to say, 'Man, because of the REX Theatre and the generous businesses in this area, we're coming for free,'" Coverly said. "So a portion of those sponsorships are going to go toward being able to provide bullying and suicide prevention assemblies in schools in our area. That's our purpose. We want to make a difference."
To make sure that guests are able to practice social distancing, the REX Comedy Theatre will be at 50 percent capacity, so only 200 guests per event and face masks are required. They also are considering doing temperature checks at the door. 
"We want to take every precaution, but we also realize we need laughter badly in this city. It's been a rough six months for a lot of people," Coverly said.
The club is recruiting national acts now. Performers with booking inquiries can contact Coverly at [email protected]. To keep up with REX Comedy Theatre, follow them on social media @REXPensacola.