By Kelly Oden—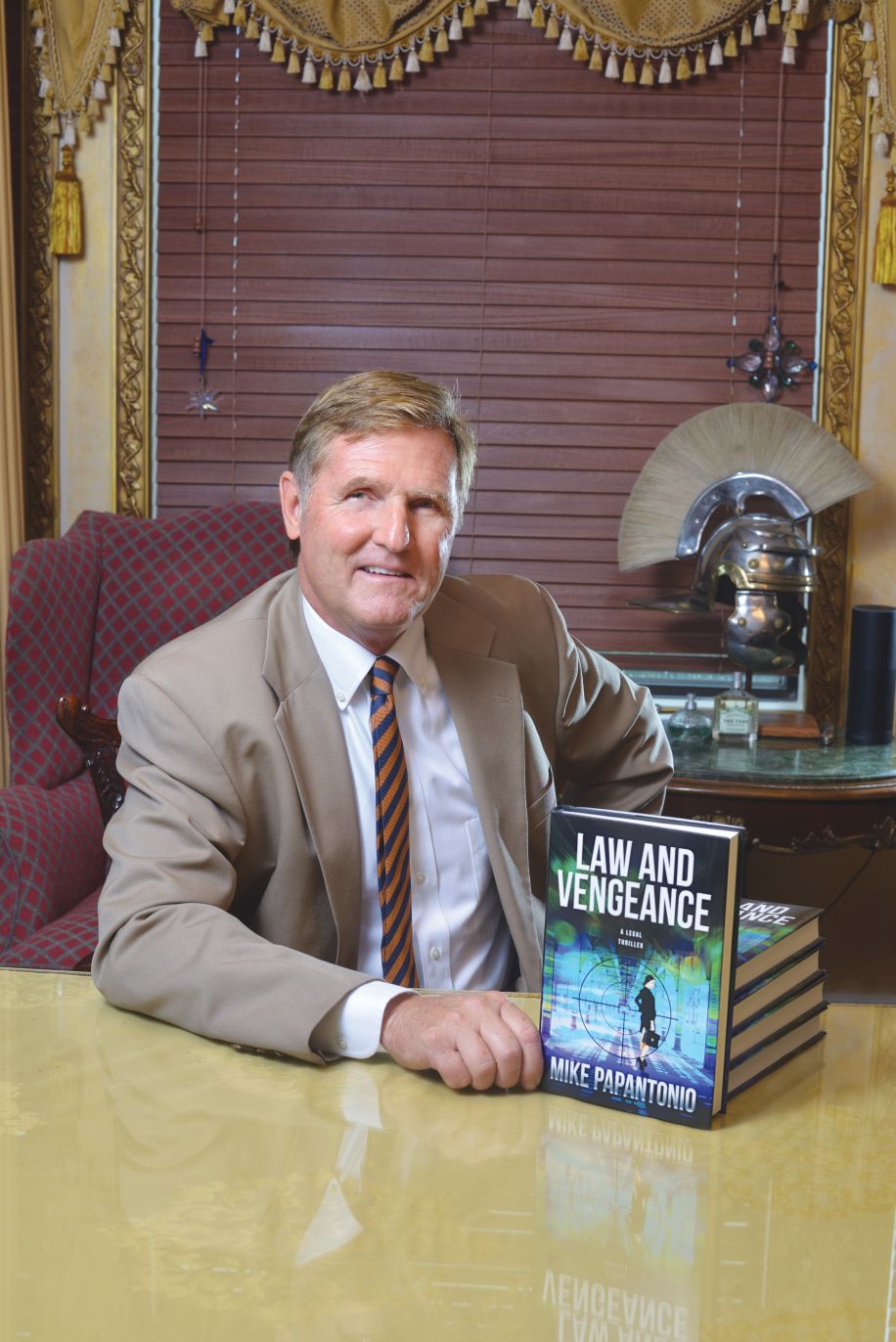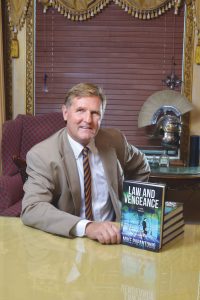 Most Pensacolians know Mike Papantonio as a senior partner at Levin Papantonio, one of the nation's largest plaintiff law firms. Elected in2012 as president of the National Trial Lawyers Association, Papantonio has received numerous awards for his legal work and was one of the youngest attorneys inducted into the Trial Lawyer Hall of Fame. Papantonio is the host of the nationally syndicated radio show Ring of Fire with Robert F. Kennedy Jr. and Sam Seder. He also hosts America's Lawyer on the RT America network and has appeared as a political commentator on MSNBC, Free Speech TV, RT America Network and Fox News. He is the author of numerous books, including the legal thriller Law and Disorder, and a co-author of the New York Times political bestseller Air America: The Playbook. In his second novel, Law and Vengeance, Papantonio takes on the arms industry.
After a whistleblower comes forward to defend a soldier wrongfully charged with murder, the attorneys at Bergman-Deketomis realize they have a class action suit on their hands. But what seems like a regular torts case snowballs as witnesses start disappearing during the discovery process.
Pensacola Magazine sat down to talk with the local author about his life, his career and his writing.
Your professional career is well documented. What can you tell me about your upbringing?
Well, I was raised by a lot of different families, so it's an interesting thing. I was raised primarily in Florida. I was born in New York, and I think I came to Florida when I was six weeks old or something crazy like that and I've been in Florida all my life. I was raised around Arcadia, Bradenton, Sarasota, Ft. Myers, Tampa, and St. Petersburg by different families and it was a great way to be raised because you learn so much. From every family you take something different. One family, somebody in the family was an artist and they taught me how to oil paint. In another family, music was very important and they helped me become a musician. Another family got me interested in writing. With another family, I lived with a WWII flight instructor and he taught me how to fly at a very early age.
I understand you were a journalism major as an undergraduate?
Yes, I was a news editing major at University of Florida and I intended to work in the area of journalism. My goal was to be a foreign correspondent and I was setting up for that, actually. I guess the last thing I had to get was command of a language. Back then everything was happening in South America. You had issues with conflict in about five areas in South America so foreign correspondents were going there. I figured that's where I'd end up, but it didn't work out. I ended up going another route.
Why did you choose to go to law school?
I had some friends in Arcadia that said 'Maybe you ought to think about law,' so they introduced me to a man named Perry Nichols who is known as the "father of torts." He was a very significant trial lawyer. They have awards in his name, as a matter of fact, in Florida and other places throughout the country. He kind of engineered the whole notion of demonstrative evidence—how to try a case, here are the parts, here's how these parts come together. He really made huge leaps when it comes to lawyers trying to better represent their clients. So they asked, 'Why don't you go meet him' and I went and I met him and it had a huge influence on me. I said, 'Well, I guess if I want to write, I can have a law degree and write as well.'
You're married and you have a daughter. Tell me about your family.
My daughter is in law school at Stetson down in central Florida in St. Petersburg, which has become the premier trial school. My wife and I have been married going on 30 years. She was an air traffic controller and I was a pilot and we met that way. I was taking off from the airport and she was in the tower calling traffic and I said 'Well I don't see the traffic' and she called the traffic three times. One o'clock, half-mile and it said no traffic and she gave me a vector back to the airport and as she did the other plane came screaming across my wing. She got me out of there just in time; I'll put it like that. Not long after we were both at a bar and I was telling the story and she came up and asked me if I was the idiot who ran into the airplane. Both of us concluded that we were supposed to be married.
What got you interested in writing legal thrillers?
Great question. Well, you know, for a long time I've worked in media. I was probably the only liberal on Fox News for a while, then I did MSNBC and all along, whether it was CNN or whatever, I realized that these stories can't be told. Written media typically doesn't have the national advertiser problem. But when you have, say MSNBC, and they've got eight pharmaceutical advertisements an hour and you want to do a story on Bayer because their product, Yaz, has killed women between the ages of 18-35. You would think the producers would say, "This is an important story," but unfortunately the power of money, especially in television and cooperate media is overwhelming. You can't tell the stories.
So what's happened is, in order for people to hear these stories, sometimes this is the only kind of vehicle they can have. They can read a good thriller and hopefully it's going to be an entertaining thriller for them, but then they can walk away and say "Well, what did I learn?" In these books they learn an awful lot about the dysfunction of the Department of Justice. They learn how predatory the pharmaceutical industry is, they learn that everything is stacked against the whistle blower. So I think it opens some peoples' eyes along the way. The vehicle of the book gives me many things to talk about. I think it's kind of incumbent on a lawyer that's writing about issues that they're aware of to understand that maybe nobody else is aware of them and to try to get those stories out.
To what extent are the legal issues and happenings in your books factual?
Entirely. When you're reading what happened in the case, it's going to be accurate. Obviously it's dressed up. There are some murders involved which didn't take place and there are some fictional characters that you create.
Why did you choose to make your protagonist a woman?
Gina Romano was created because I'm really kind of outraged about the way women are handled in the practice of law. It's ridiculous. You'd think it's the last, best haven for progressive thinking and there should be no distinction in how we treat women in the courtroom. It's a very real problem, so Gina Romano, to me, is based on a composite of the best trial lawyers I've worked with and she is faced with the same problems that female trial lawyers are faced with. And, you know, having a daughter that intends to practice law, I tend to take it very seriously.
Tell me about your writing process.
The characters are so important. There are two things that I think really are important, especially about a legal thriller. One is the concept of show me, don't tell me. In order to get there you've got to create the character because how does the character show you anything unless you know who the character is. It's even hard to visualize a dialog and so I think the time spent on the character is important. I have a big advantage because I have so many unusual characters around me day to day, so I just borrow a little bit here and a little bit there. Add it all up and I come up with a character that I like. I genuinely like Gina Romano and I like Nick Deketomis and Martin Bergman, you know, they're people I'd want to hang out with. I'm always looking for back stories. And sometimes it's just a nuance. Maybe something that everybody thinks is an affectation, but actually it's a fairly well-engrained characteristic of the character. And so I'm always looking for that. I keep notes on my telephone and so the notes section on my iPhone is always jammed up with little thoughts.
Who are your favorite writers?
Steinbeck. Unquestionably, it's Steinbeck. You know, I mean they're odd writers. Kafka, you know The Trial. Who's read Kafka? It's those types of books that at a very early age taught me a sense of social responsibility. I was entertained. Tortilla Flats, you know, you read that and you love Doc. You love the characters surrounding Doc. They're all miserable failures by American standards, but you take a look at them and they all offer these interesting things and you think, 'Wow I would just love to spend an afternoon with that person.' How would you not want to say, 'Doc, let's sit here and talk a while?' So those are the kinds of writers generally that move me. I read peculiar things growing up. I genuinely liked the classics. Even today, I'll pick one off the shelf and reread it and I'll say, "Wow that was great."
Sometimes I'll interview a young lawyer and I'll say, "What do you like to read?" and I'm lucky if I get a "John Grisham." And I'll say, "Well did you ever read any Hemmingway?" Not to say that I'm a great Hemmingway fan, but what is it that you grew up with? F. Scott Fitzgerald? Did you read any of that? There's a lot of important stuff there. You know this guy Perry Nichols that I told you about? His message to me was that the way that you become a great lawyer is to read and borrow from different cultures and different ideas. Borrow from concepts that might be totally foreign for you. And then you're able to take all that material and you can write a great closing statement, and you can do a great cross examination. Because the jury wants more depth. The jury is there sometimes for two months. They like depth. They don't want to see a shallow show. They want to see meaningful cross examination where they can say, "Oh, I see where he is going with this cultural idea." It's not just about the case for them sometimes. So, in order to do that you have to arm yourself with great literature.
 You plan on writing two more books in this series, right?
I'm working on the third one now, it's Law and Addiction. It's actually developing as the case is developing. I know what it's about in my head. I've got some really interesting characters in this book. You're kind of torn both ways because it involves drug addiction and so many people are so judgmental about drug addiction they're not willing to dig and find a way to understand. So what it does is, it takes some of those people and it's like taking layers off an onion. It may be a pretty ugly character but let me show you where it started. It started in a dentist chair where they were given 70 OxyContin. They were a brilliant student, they were wonderful in their community, they had all these positives and all of a sudden they emerge and evolve into something else and they live in Zombie Land. There are actually parts of the country that are called Zombie Land. If you get into this opioid crisis, read Dreamland. It is a spectacular book.
Interested in Law and Vengeance? Join celebrated Pensacola attorney and best-selling author Mike Papantonio who will be signing copies of his new legal thriller, Law and Vengeance at Barnes & Noble on Saturday, November 4 from 12 pm – 2 pm.