By Kelly Oden
Alexis Leader is an art consultant, curator and the principal of Leader Art Consultants LLC. Prior to opening the firm in 2016 she was the Director of Curatorial Affairs at the Pensacola Museum of Art. Alexis holds an MA in Art History from the Savannah College of Art & Design and a BA in Art History from the University of West Florida. She has over ten years of experience within museum administration, both nationally and internationally. Alexis is a member of professional fine arts organizations including the Association of Art Museum Curators, the American Alliance of Museums and serves on the board of the Visual Arts Association of Northwest Florida, Inc. She is also a proud member of the Pensacola Bay Area Impact 100 organization.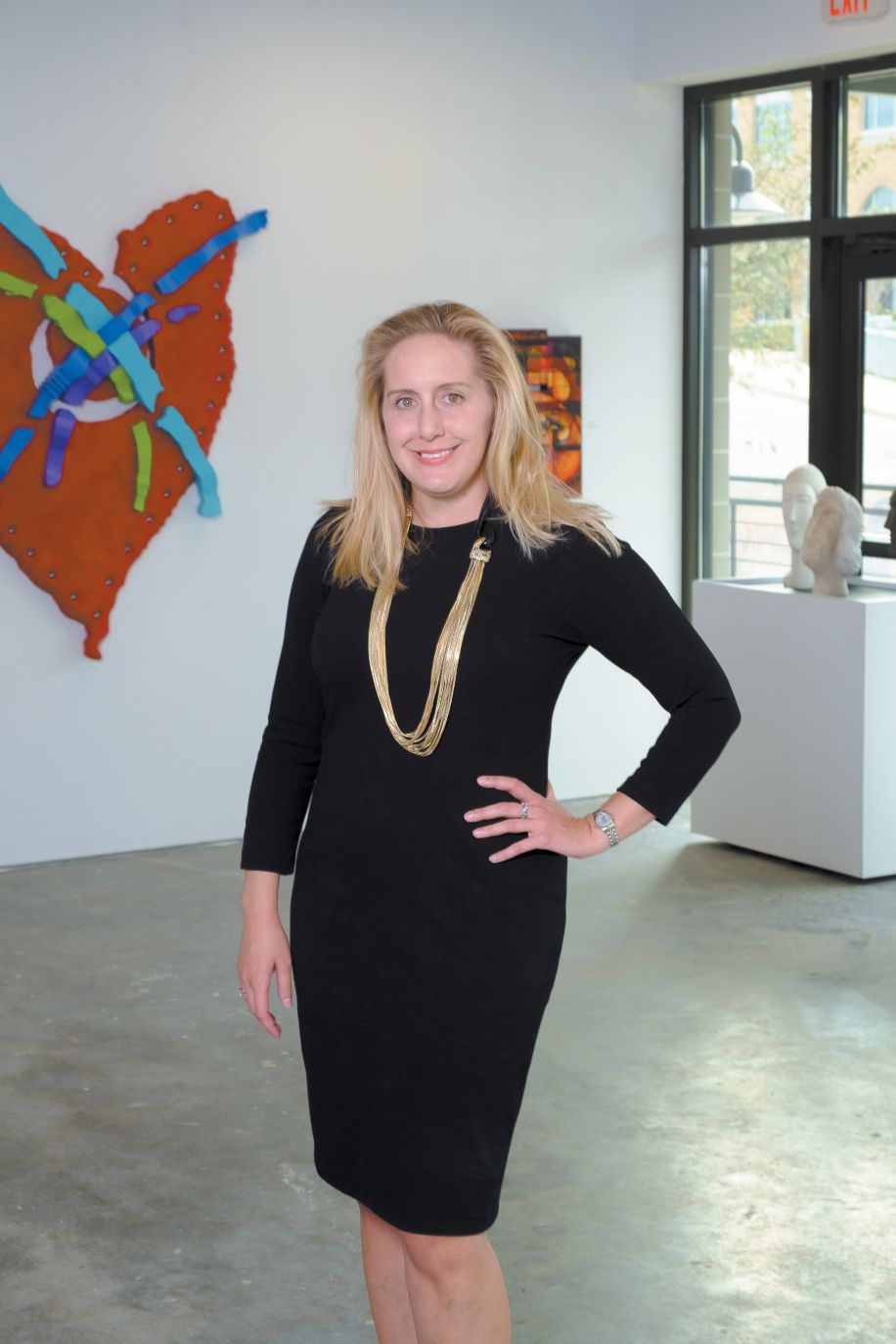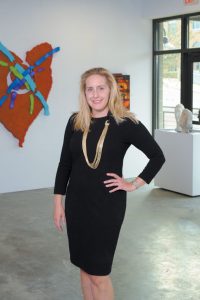 What inspired you to start an art consulting/advisory firm?
The inspiration stemmed from wanting to create an opportunity for artists and collectors within our area. I wanted an advisory firm that would not only assist individuals and businesses seeking to start or grow their collection but one that would also advocate Gulf Coast artists.
What do you look for in an artist's work when considering who to represent?
LAC serves both corporate and residential clients. In such, I look for artists that can fit a wide variety of possible tastes. I do trend toward contemporary artists as I feel these works are underrepresented in our area and work well in a variety of settings. Representing an artist, particularly as LAC is not a commercial gallery, takes a good deal of faith on my part as a curator. There is no foot traffic or permanent gallery space to showcase their works. I have to believe in the artist and hustle to find the perfect collector for them. It keeps me on my toes and passionate about my work.
How does the business work?
LAC is unique in that it serves both artists and collectors. The dual nature of the firm came from my decade-long background in museum administration. Curators are trained to work with artists as well as source artwork. This is the skill set that I bring to my clients.
I work with emerging and established artists seeking career guidance within the commercial field. The services provided are dependent on each artist's individual goals. I assist with anything from consulting on exhibition opportunities to developing one's portfolio, marketing or curatorial assistance.
As an art consultant I help collectors identify and purchase artwork for their home and/or office. The idea of building a collection can be daunting. I navigate the art market, be it through the LAC network of artists or sourcing works through galleries, auction houses or art fairs. It takes pressure off of the collector allowing them to enjoy the process and enables them to pick from the best possible options for their goals and budget. I essentially serve as a treasure hunter but also consult on framing, lighting design and conservation management. The firm also provides artwork installation and a corporate loan program.
What is your geographic range for potential artists?
LAC uses the hashtag #curatethecoast on social media because I strive to do just that. I look to artists along the Gulf Coast: primarily Louisiana, Mississippi, Florida and Alabama. Pensacola is my hometown so it's an honor to build a network of artists within this region. I believe it will attract long overdue attention to the talent and range of artists working within this area.
What do you hope to bring/add to the art scene in Pensacola?
Opportunity. I think to continue downtown Pensacola in its current path of development it is important for the visual arts to have a strong voice. I believe myself, along with other artists, philanthropists and arts advocates in the area, can create change and shake up the local norms of what is expected. As a consultant the bulk of what I do is behind the scenes. My galleries vary anywhere from hospital hallways and boardrooms to bedrooms and office lobbies. It is one of the reasons I enjoy hosting PopUp Galleries. The galleries enable me to place Gulf Coast artists directly in the public eye and create a buzz. You never know where we might pop up next or when. It's exciting.
Are you an artist?
No. I am an art historian. My undergraduate and graduate degrees are in art history and it's an element that I feel plays into my decisions as a consultant. It is important to learn the entire scope of artists, movements and history within the visual arts. Particularly when navigating the art market. It enables me to make informed decisions without the bias an artist might have in a particular style or process. I am currently completing coursework, through the International Society of Appraisers, to become a certified fine arts appraiser. This is just another step to ensuring that I offer clients the highest quality advice in regards to their collection.
Who are some of your favorite major artists?
Louise Bourgeois. Mark Rothko. Helen Frankenthaller. James Turrell.
How can we as a community help to promote/grow Pensacola as an art town?
Support regional artists. So many collectors look outside the area to purchase work with the feeling that they cannot find what they are looking for within our area. I have artists that work with me that have held national and international solo exhibitions, belong to multiple museum, private and corporate collections and yet feel more respected outside of our city than within it. Collectors "in the know" can locate fantastic Gulf Coast artists. However, those without that inside track relying strictly on commercial and co-op galleries lose out. It's a balance that LAC hopes to help adjust.
In your opinion, who is doing the most innovative/interestingwork in Pensacola?
I've really enjoyed watching the progress on the Jefferson Street parking garage mural by local artists, Ashton Howard and Evan Levin. I've lived in cities like Savannah, GA and Toronto, Ontario where public art is prominent. It creates an attachment to your community. To drive by the Jefferson Street mural and see treasured images like the Blue Angels, Fort Pickens and other symbols of Pensacola connects people. I'm looking forward to seeing their finished project and what they may collaborate on next.
You recently held a Pop-Up Art Show. Tell me about that process. Do you plan to do more?
The LAC office is located on Garden Street downtown. I occupy a space within a law firm that enables me to have an office and conference room. This is perfect for my day-to-day of work particularly as a majority of my time is spent at artist studios, client homes and offices. The PopUp Gallery was designed to provide me with a space to showcase select artists within the network and engage the community. For our first PopUp I was fortunate to work with Beck Partners and One51Main. As gallery sponsors they provided me with an unused commercial retail space for me to transform. We did everything from painting the drywall and installing temporary LED fixtures to curating an exhibit with a contemporary focus all installed within two weeks. The PopUp Gallery was on view for 3 days. Following the last day we packed everything away and returned the space exactly as we found it. The temporary nature of the gallery lends to its energy and appeal. We were thrilled that the December PopUp opening reception had nearly 200 visitors that came out to support LAC. For a temporary gallery that wasn't located in the hub of Garden Street Gallery Night events the numbers were encouraging. LAC looks to host PopUp Galleries throughout the year in varying cities along the coast, with an emphasis on our home base of downtown Pensacola.