By: Dakota Parks
In 2009, the national nonprofit organization Little Free Libraries (LFL) was formed to showcase community book exchanges. They quickly spread like wildfire as book lovers, schools, community centers and homeowners decided to build them. People embraced the idea of increasing community literacy, spreading the joy of books and even providing books to children and people in need. After building a library, people can register them on the national library website to become an LFL steward, receive a plaque for their library and add the address to the website map. It's hard to miss the libraries driving around Pensacola now as dozens exist within walking distance. To celebrate September's National Literacy Month, we decided to track down some libraries and talk to library stewards about them.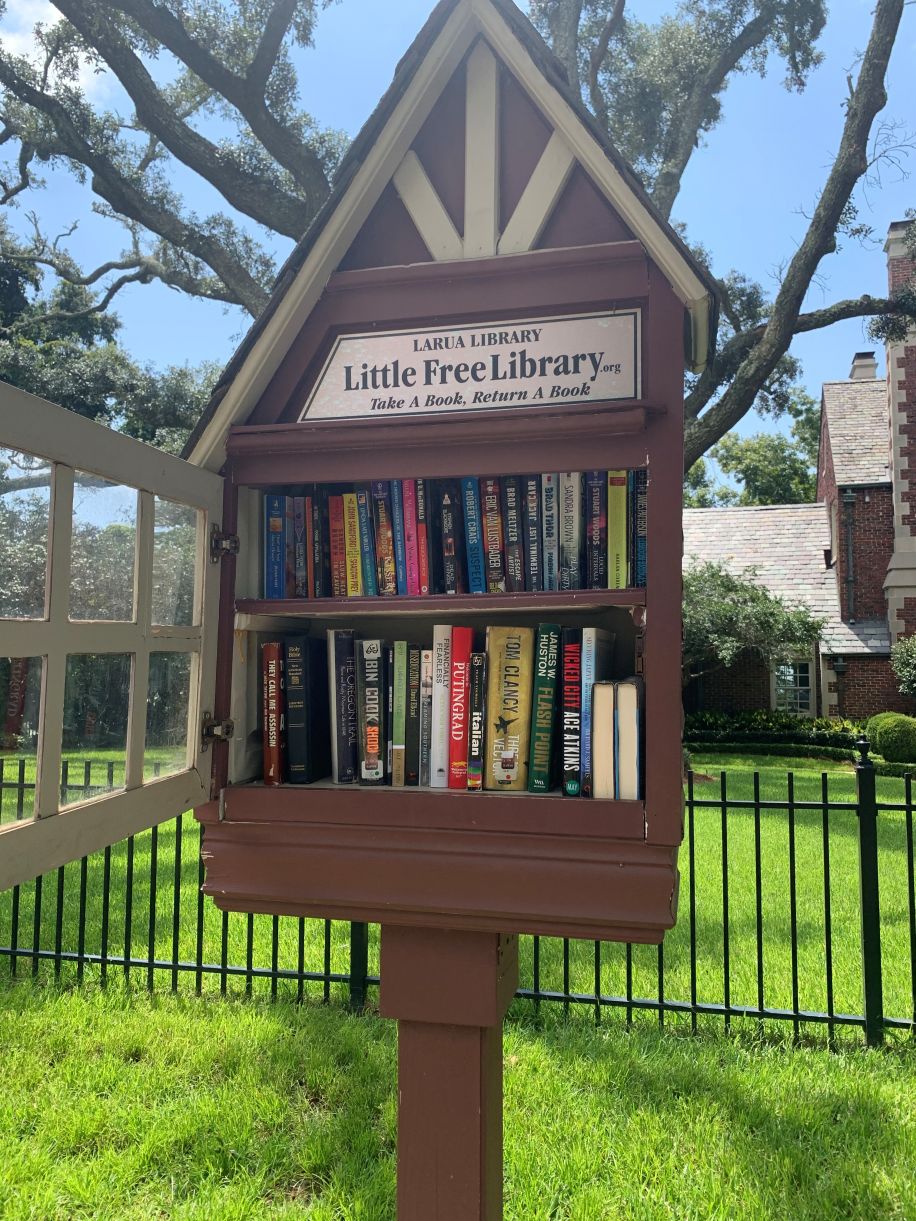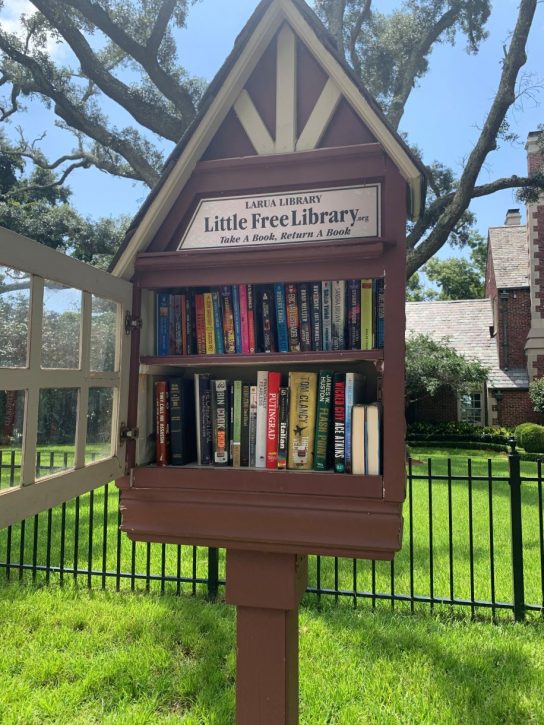 Around 2014, Carolyn Appleyard heard about LFL on Facebook and set out to help bring them to Pensacola. After speaking with local government about building them in parks and making sure the city was aware of the project, she and a group of friends spread the message. She even helped start the Facebook page "Pensacola Little Free Libraries" to help people connect and showcase new libraries. 
"It's been one of the easiest community projects I've ever been involved in because it is so grassroots and the cost is nominal," Appleyard explained. "It's amazing how self-sustaining they are. Mine is almost always full, and I notice the books are constantly changing too. One of my favorite things is seeing delivery drivers drop off a package and go check out the library to take a book. It just makes me happy. It's been a great resource for neighbors too that are looking for something safe to do during COVID."
Appleyard's first library was created by repurposing an old metal newspaper box. Libraries can be built economically using a wide variety of resources. After hearing about LFL on an NPR segment in 2014, Lisa Common set out to build her library at 1728 North 13th Avenue using recycled wood from bookshelves, cabinets and home improvement projects. 
"We had a bunch of scrap wood we were getting rid of, and I thought it would be perfect for the library. They're easy to build and they don't have to be fancy. I decorated the library using old buttons that I collect," Common said. "I've met a lot of people through the library. If it ever gets low on books, I'll go by a book sale or a thrift store to stock up. Sometimes people leave bags of books on my porch for it."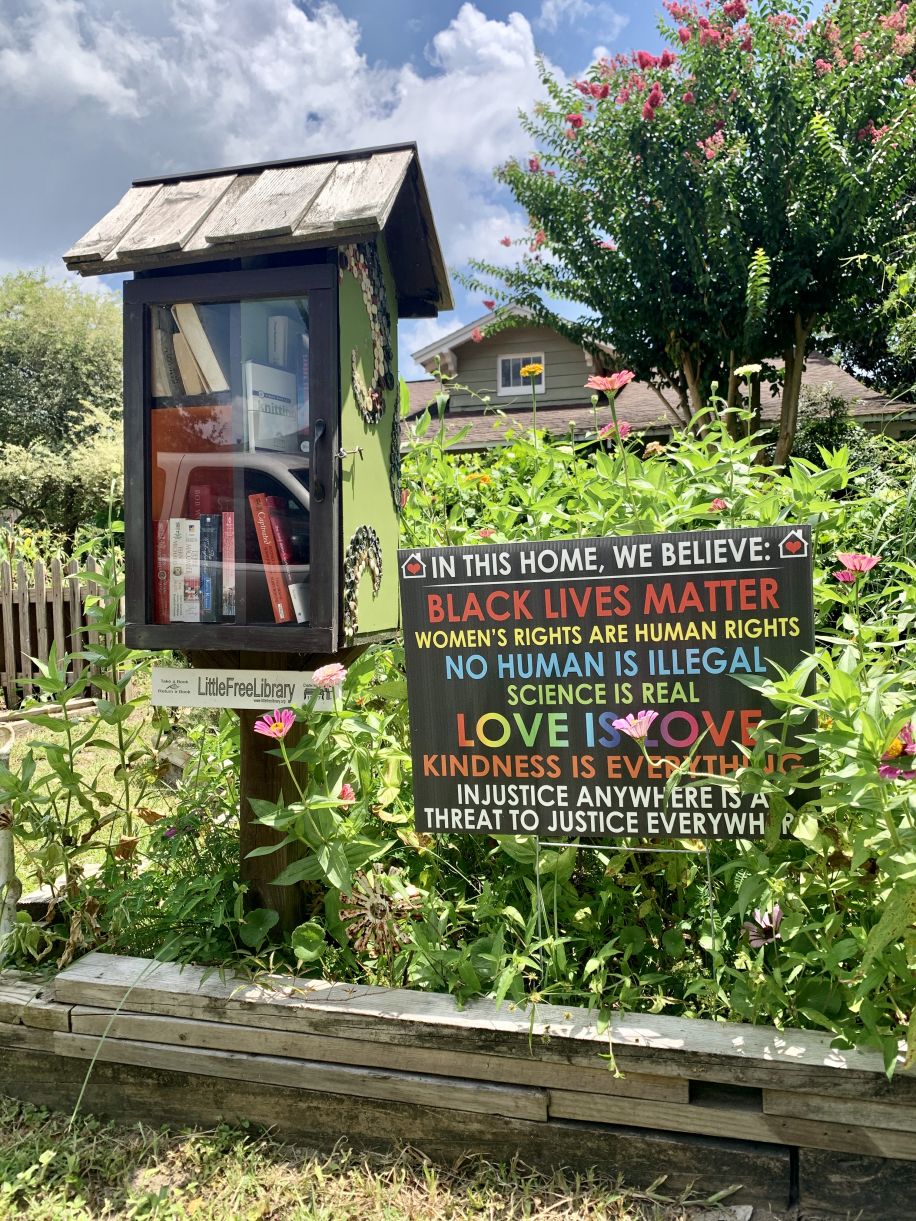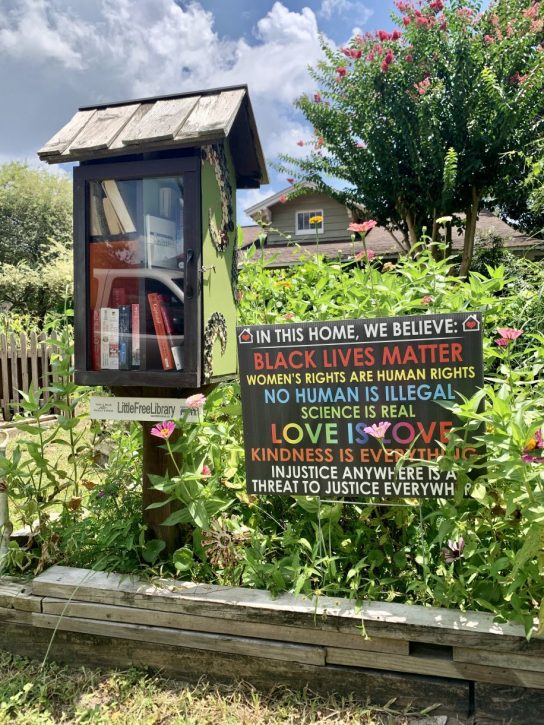 Artists around Pensacola have also been commissioned to create libraries. When Melissa Welch moved out of a condo into a house, she knew she wanted to build a library. It wasn't until she befriended local ceramic artists Peter King and his wife Xinia Marín that she commissioned them to build her library at 1716 E Hernandez Street.
Made out of 100 percent locally sourced clay and hand carved over a four-month period, the library is adorned with intimate details special to Welch and features a small house sitting atop a stack of books. 
"I just wanted it to be colorful. I told them a few details I wanted. I'm a cyclist, so I wanted a bicycle on it. I also wanted there to be a hidden 'Despicable Me' minion on it, which you can find if you look on the back of it," Welch explained. "It was their idea to build a stack of books as the base to the library. It became really special because I asked my boyfriend, friends and family for a list of their top three favorite books, then I chose from them to title the books on the library. I've actually read them all too."
Welch explained that people also leave other things in her library: canned food, small works of art, jewelry and even children's toys. Many libraries around Pensacola are dedicated specifically to providing children's books to the community.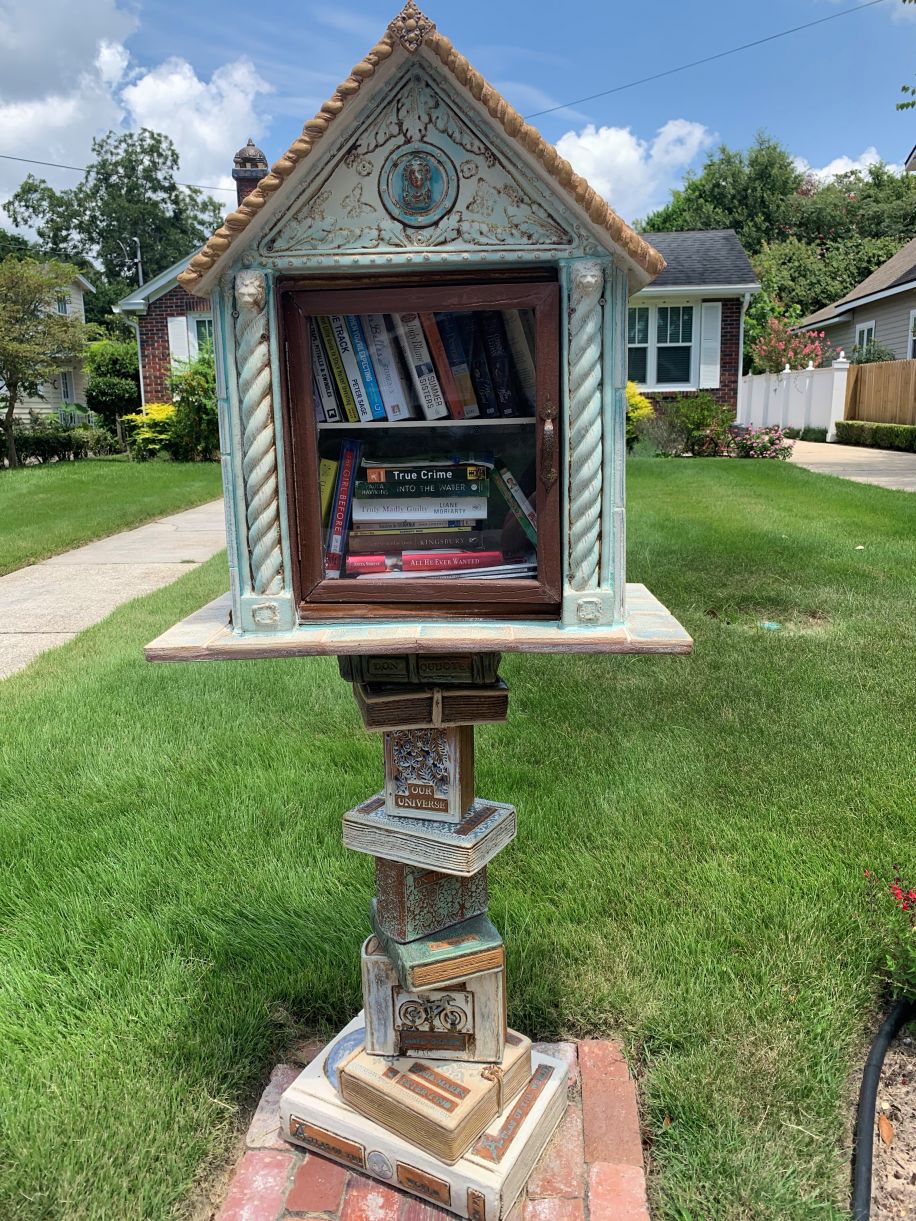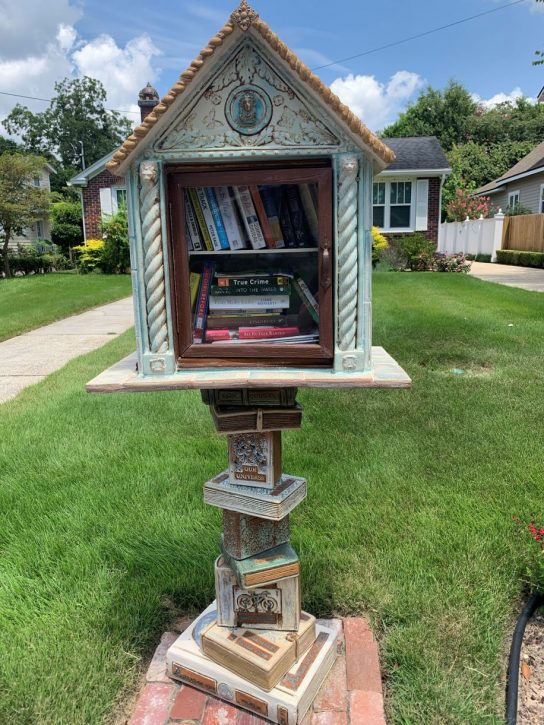 Vicki Pugh, the program improvement director for the Early Learning Coalition of Escambia County has played a big role in providing children's books to LFLs. 
"The coalition is a workforce agency with a heavy emphasis on early education and care," Pugh said. "We not only take care of children, but we also get them socially and emotionally ready and assist with pre-emergent literacy, math skills and some science skills to get them ready for school. So, the agency oversees school readiness, which is a subsidy program and voluntary pre-K. We distribute free books to the community over summer break, including local LFLs." 
Anyone that is interested in stocking their library with children's books may call Pugh at 850-607-8547 to set an appointment to pick up books. Most of the books they provide are for ages birth to five years old. 
Local public libraries are also an invaluable community resource. Library cards are free to county residents. Both the Santa Rosa Public Library and the West Florida Public Library systems offer a wide variety of book clubs for children, young adults and adults—many of which are open to online platforms for social distancing measures.  
Complete list of Little Free Libraries in Pensacola:
1911 East La Rua Street

1219 N 19th Ave 
1218 N 17th Ave. 
1716 E Hernandez St.
2041 N 20th Ave.
1728 North 13th Ave.
Mcllwain Memorial Presbyterian Church 1220 E Blount St. 
North Hill Preservation Association 401 W. Gonzalez St. 
1625 E Maxwell St. 
N 12th Ave. and E Bobe St