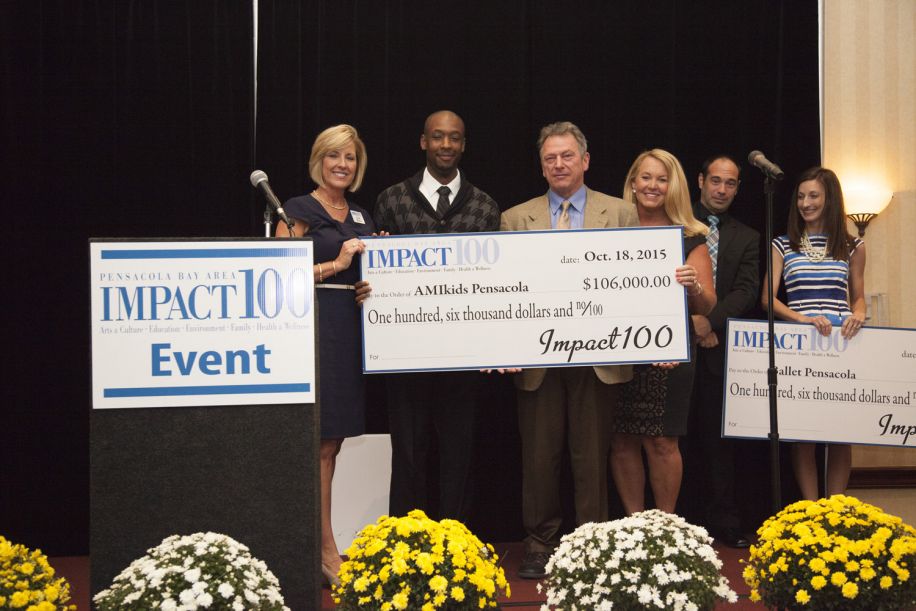 The Pensacola Bay Area IMPACT 100 announced over a million dollars worth of grants at their annual meeting on Oct. 18. Each of the ten recipients received $106,000 toward a particular project or initiative that will positively influence the community in some way. As a result, countless people, artists, kids, minorities and more will benefit from these grants through the services these grant-winners offer.
Started in 2003 by four local women, the Pensacola Bay Area Impact 100 has become the largest Impact group in the country. The idea behind Impact involves recruiting at least 100 women to donate $1,000 each and pooling those resources into one big grant for a qualifying non-profit. In the 12 years since the Pensacola chapter began, the women of Impact 100 have donated a cumulative $7.23 million to charities and non-profit organizations such as Manna Food Bank, Autism Pensacola, ARC Gateway and Pathways for Change. The local chapter is the also the world's largest.
Before winning the grants, 15 finalists were separated into categories like Arts and Culture; Education; Environment, Recreation and Preservation; Family; and Health and Wellness. This year, the group was able to reward a record-matching ten grants, two per category, many to first-time recipients. The winners were announced at the Impact 100 annual meeting on Oct. 18.
Ballet Pensacola won an Arts and Culture grant to improve their lighting and production infrastructure. Their current equipment is 24 years old, inefficient and expensive to repair and maintain. Ballet Pensacola's grant will be used to purchase a mobile state-of-the-art lighting and control system, along with computers, televisions, software and storage. This technology is usable for the next ten years without maintenance and 20 years with maintenance. This will make the crew able to work safer and faster while still providing the quality performances and compelling choreography the company is known for.
The second Arts and Culture grant was awarded to an organization right across the street from Ballet Pensacola: the Pensacola Museum of Art (PMA). The organization plans to really stretch their grant by completely renovating its existing permanent collection vault and even build a second secure collections storage area on the second floor. The PMA will also seal its roof and construct two major, large downspouts. They will also upgrade the HVAC work in the facility to better manage humidity levels. Finally, they will purchase cataloging software that allows staff to keep track of all art with pictures and descriptions.
AMIkids Pensacola, Inc. won for the Education category. The organization focuses on career training for in-demand industries that ultimately result in certification. The IMPACT grant would allow for the implementation of construction and food services programs. AMIkids will build a separate facility for the construction classroom to accommodate hands-on training. They will also renovate the existing kitchen area to put into operation an improved food services program.
Learn to Read of Northwest Florida, an all-volunteer literacy organization serving Escambia and Santa Rosa counties, has been in desperate need of funding for a long time. Now, with the second Education grant at their disposal, they plan to conduct a public awareness campaign to increase the number of adult students who can receive free one-on-one literacy instruction. They hope to recruit more volunteers, enroll more students, reach new target markets and encourage additional donations to sustain their operations. The marketing campaign will utilize a multi-platform strategy that includes television, radio, print media, billboards and more. They also plan to upgrade unreliable office equipment to increase efficiency.
Coast Watch Alliance, Inc., better known as the Gulf Coast Lionfish Coalition, received the first Environmental grant to help manage the recent influx of the invasive and venomous fish species. It is believed that lionfish present a clear and imminent threat to reef species and game fish in Gulf Coast waters. "Research to Restaurant" is an initiative to develop and implement a sustainable seafood fishery to capitalize on this influx. Funds will be used to purchase a van for gear and transportation for ecotourists, equipment and gear to outfit a dive boat, travel expenses to attend lionfish conferences, and marketing and promotion to raise awareness of dive packages for area visitors.
The second Environmental grant went to the Veterans Memorial Park Foundation, a collaborating partner with the City of Pensacola to raise awareness of the veteran presence and related needs in the area. With stormwater an increasing concern for much of downtown Pensacola, this IMPACT grant would fund a pump and grinder system to help improve stormwater infrastructure. The project would also add a low-profile grass stage at the center of the Memorial Wall to accommodate public events. They also plan to make certain parts of the park more consistent with ADA guidelines.
The first Family IMPACT grant went to Children's Home Society of Florida, the state's oldest and largest child welfare organization. They plan to use grant funds to build a playground in what is traditionally a crime-ridden and poverty-stricken area of the city. By constructing a fully functional, durable play structure with picnic tables, benches and trash receptacles, they hope to create a safe environment where members of the community can come together, play and create lasting relationships with one another.
Lutheran Services Florida, Inc. is a statewide human service agency dedicated to helping all people, regardless of religious affiliation. They are also the recipients of the second Family grant and plan to use funds to purchase two new vehicles for their Currie House Shelter for the transportation of clientele from the Currie House to school, medical appointments and court appointments, as well as recreational, volunteer and cultural enrichment activities.
The last grant category is Health and Wellness, and the first winner was Bay Area Food Bank, Inc. With IMPACT funds, the organization, which provides nutritious food to people who have gone hungry as the result of a crisis or disaster, will expand a loading dock to optimize trailer loads and add a covering. This will allow the food bank to help the over 80,000 people struggling with food insecurity in Escambia and Santa Rosa counties by decreasing loading and unloading times and allow them to work regardless of weather. When the branch was constructed, they were built to accept and distribute four million pounds of food. Today, they handle over eight and were in desperate need of this grant to help manage demand.
The final grant of IMPACT 2015 was also a Family grant, which went to Re-Entry Alliance Pensacola, Inc., or REAP. This non-profit helps individuals returning from incarceration to be self-sufficient and crime-free. Their IMPACT grant will expand re-entry services to include both federal inmates and 30 additional men, women and children returning from years of state incarceration. Funds will be used to provide basic resources like housing, food, medical and mental health care and transportation. The project will also fund tuition, course fees and books for an ongoing Learn to Read program. Finally, REAP will stretch their grant to provide a living stipend for the first 30 days after release from incarceration.
With this record-breaking year, the women of IMPACT 100 are making a tangible, lasting difference on our community, one that will be felt for generations to come. But they will not rest on their laurels, and hope to have another record-shattering year in 2016.