By Lilly Paradise | Photos by John W. Cary
Southern hospitality, delicious seafood and sparkling blue water are things you can expect to see at the Marina Oyster Barn here in Pensacola, Florida. Since 1969, Dale Rooks has made it his mission to serve genuine smiles and locally caught oysters to his guests. Rooks began shucking oysters when he was 16. "Back in high school, my father and uncle taught me. My uncle used to shuck them barehanded, which is tough," Rooks said.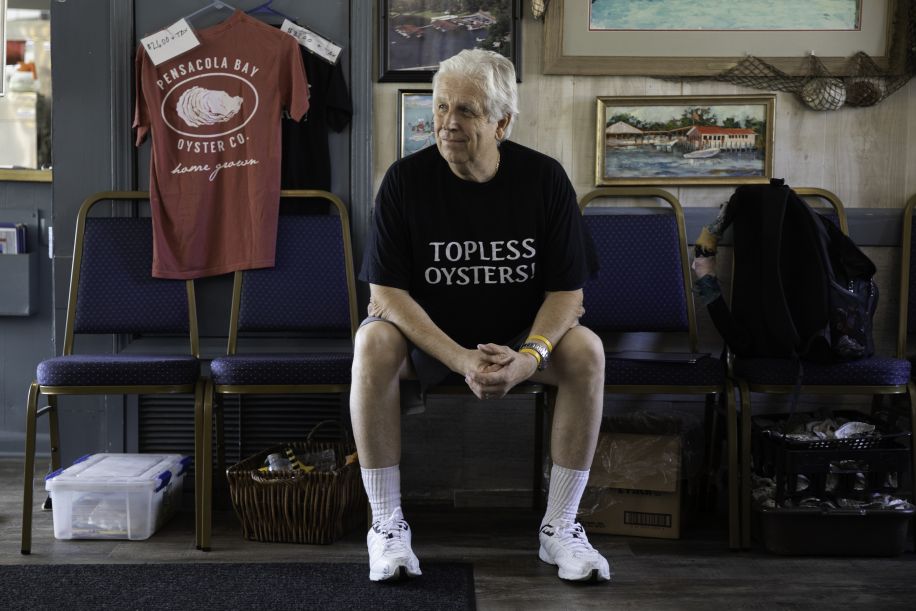 Rooks took over the restaurant after his mother's death and continued to offer excellent customer service in honor of the amazing woman who raised him. Celebrating 51 years of business, Rooks explained the history of the restaurant and how this local hidden treasure has grown over time. "My mom and dad opened it in the early 60s. It was a marina and they sold fish, tackle, and stuff like that," Rooks said. "We had oysters for 80 cents a dozen, gumbo and then had a bar on the weekends. It just took off from there."
If you've been to the Marina Oyster Barn, you know the phrase "Topless Oysters" are found throughout the restaurant on t-shirts and koozies to signifying the restaurant's main dish. "My dad was always a little corny, but back when I was about your age, my dad had a sign up that said 'Topless Oysters', but some college kids stole it, and we haven't got the sign back. Since then, that phrase has just been a part of our restaurant," Rooks said.
The Marina Oyster Barn endured hurricane after hurricane over the years. Since the grand opening, Rooks made sure that no matter what came his way, he would protect the business at all costs. "We've been through a lot like the oil spill and Hurricane Ivan which was the worst. We were closed for three and a half months," Rooks said. "Every time water comes in here from a hurricane, it leaves a ring around the building where the water recedes. I kept a record of it in my books of how high each hurricane was."
Just picture it, an entire restaurant almost underwater from a category 5 hurricane. When you walk in, there is a display of how high each hurricane was on the wall. Rooks described how scary the situation was and how hard it was to come back from such a destructive storm. "I will never forget my mother crying after seeing the damage," Rooks said. But with the help of his supportive staff, they survived one of the most dangerous hurricanes to ever enter the Gulf of Mexico.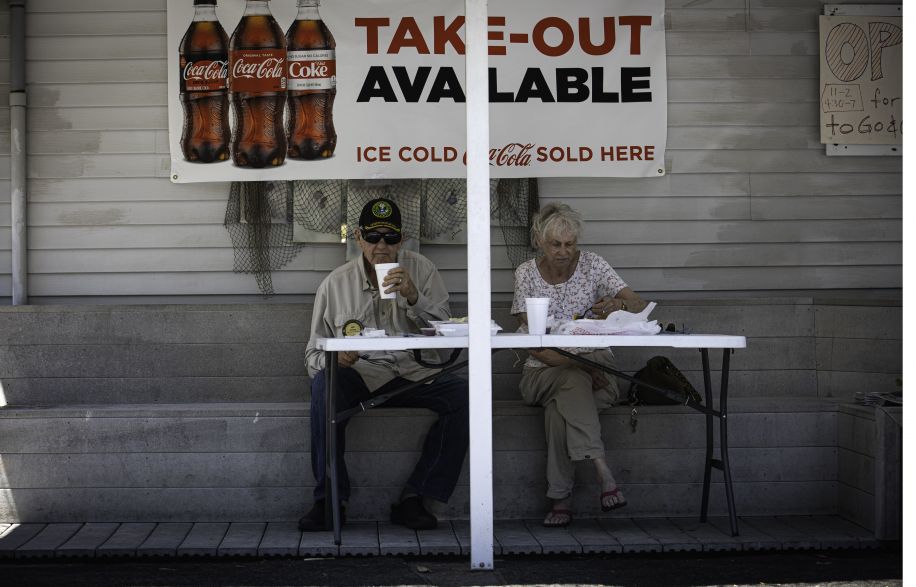 Little did they know, another storm was brewing. COVID-19 put a pause on business and tested everyone's patience, especially regulars who couldn't get enough of the mullet. A hurricane let alone a pandemic was not going to stop Rooks from keeping his humble abode alive. Rooks made it his priority to re-open the business in the safest way possible. With time and cooperation, the business was up and running again, and to-go orders were skyrocketing.
As a restaurant owner, Rooks does whatever it takes to make the people who dine in feel like family. Regulars come in weekly and never get tired of the fresh seafood and endless generosity. "We have had a lot of customers over the years, but you know with older people, we tend to see some pass away which is very sad. They just love the place," Rooks said. What makes this local spot special is the connections made with guests. Getting to know the people who sit at your booths not only contributes to the growth of a business but also adds authenticity and sparks conversations that can make a guests' day.
Antique photographs and seashells cover the walls of the Marina Oyster Barn, encompassing a relaxing laid back environment. Everyone that works here, loves what they do, and takes pride in friendly customer service. "We don't have much turnover with servers here, which they like because they end up making a good amount of money," Rooks said. "One of the girls that just left here went to work at Yellowstone Park. She had been with us for a while and said she had never seen such a compassionate crowd that would come into a place like this, and that if you're in Pensacola this is the place to go."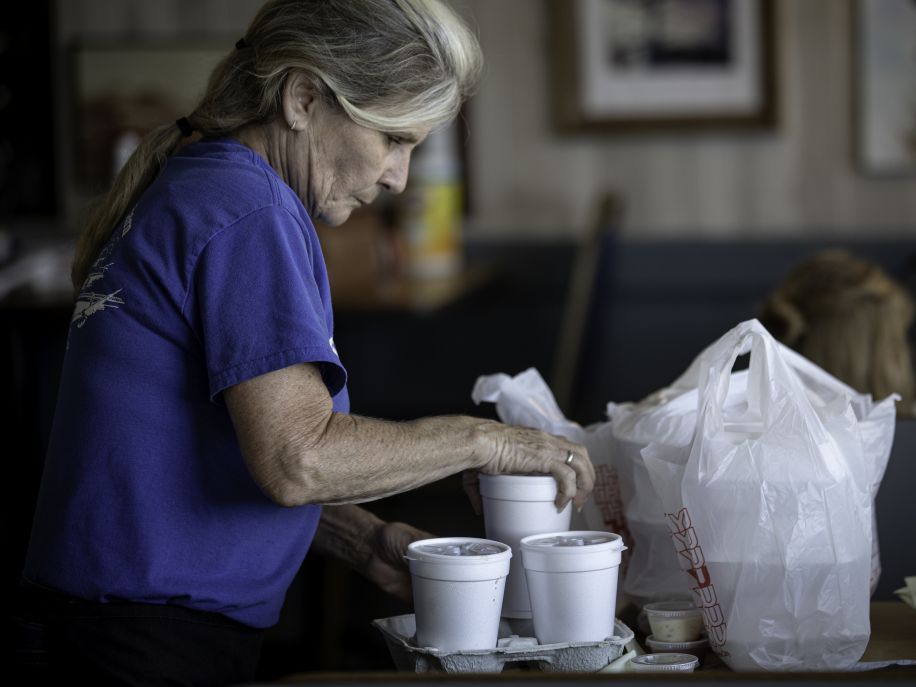 Kim, a waitress that has been working at the Marina Oyster Barn for 24 years, expressed how rewarding her job is. "I get a lot out of being a server, I can't imagine doing anything else," Kim said. "I like when the people have babies and then get to hear about it and see them grow up."
One thing that makes this restaurant authentic is the old photographs that cover the walls. Each photo has a background story and contributes to the local feel people love. "My favorite thing in this restaurant has to be the picture of Miss Jane because she owned this place and passed it on to Dale when she died two years ago," Kim said.
John W. Cary, a photojournalist based out of New York and Florida, has been a photographer for forty years. He was raised in Pensacola and has been friends with Rooks since he was a kid. Cary remembers going to the Marina Oyster Barn before it was even a restaurant. "It's a family thing. When I was young I would go there and his father would be working in the bait shop, and we would get snacks and hang around there," Cary said. "Dale is a very nice, very happy, long time friend, he is just a wonderful person and we have a good time."
"I left New York because of the coronavirus and I wanted to get away, I told Dale I wanted to shoot some photos of what was going on down there," Cary said. "I want to capture the unobtrusive moments." He captivated smiles, laughs, couples outside eating during quarantine, and even Rooks granddaughter dressed as a princess.
As a guest in Rook's restaurant, Cary never gets enough of the delicious oysters and superior customer service. "It's a small intimate southern restaurant on the bayou, you don't find these types of places outside the Gulf Coast region," said Cary.
The Marina Oyster Barn is open Tuesday through Thursday from 11 am to 8:30 pm. and Friday through Saturday 11 am to 9 pm. Dine-in and takeout are available during business hours. If you have any questions or want to place an order, call 850-433-0511.