Although food trucks have been a part of the hipster and foodie lifestyle for decades in other major cities, Pensacola's food truck scene is a relatively new trend. While food trucks have been staples at local festivals for years and the Al Fresco concept at Palafox and Main brings a different twist to the genre, mobile food trucks, particularly those with a diversity of menu options (i.e. no funnel cakes or bloomin onions here) are few and far between. That said, we are excited to see a handful of interesting concepts pop up and we hope the trend continues. Although current ordinances make it difficult for mobile food trucks to set up shop on downtown streets, these six foodie entrepreneurs have found ways to keep the movement alive in Pensacola by partnering with commercial property owners and offering private food truck catering experiences. Bon Apetite!
NOMADIC EATS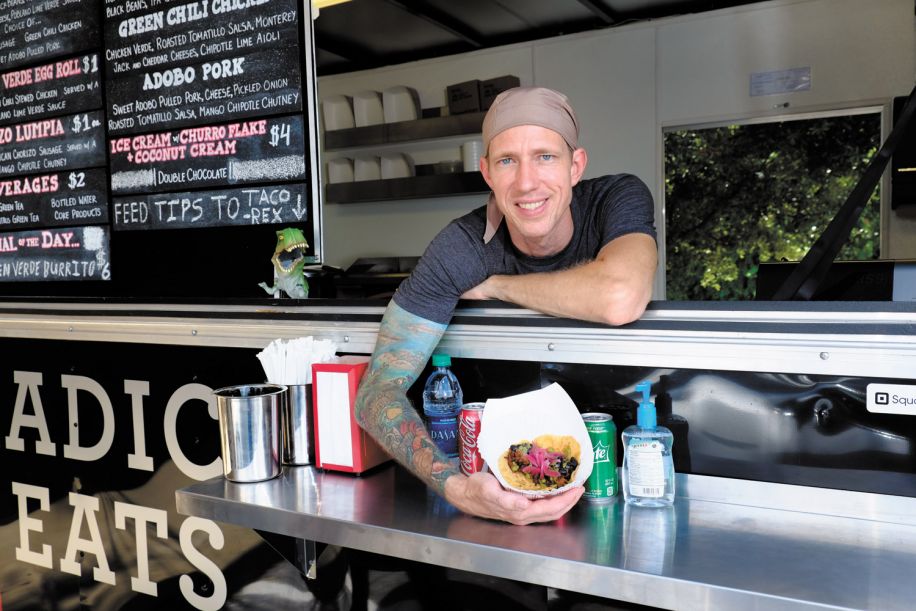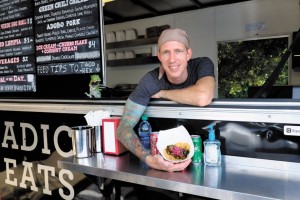 Where/When: 1014 Underwood Ave,  Mon. – Fri. 11 am to 3 pm
Price range: $1 – $7
Catering/Delivery: Yes/Yes
Must try: Adobo pork taco, chorizo sausage taco, sweet mint green tea, lemon grass citrus tea
Contact: 850-375-5696 • nomadiceats.com
Randy Russell is the operating owner and chef of Nomadic Eats, a food truck that has gained renown with Pensacola locals despite being only a few months old. Although he did not attend culinary school, Randy has plenty of hands-on experience as a chef in the Pensacola area, hving cooked for restaurants such as East Hill Yard, World of Beer, Red Fish Blue Fish in Pensacola Beach, The Grand Marlin and The Fish House. His travels to Southeast Asia and Central South America inspired Randy to create a fusion of Asian and Latin dishes, which became the menu for Nomadic Eats.  Randy and Steven Chang are the two-man team who run the food truck, and food preparation is done daily to ensure everything is ready to go for the next day. They buy ingredients as needed, so food is always very fresh with a quick turnover rate, and everything is cooked inside the self-sufficient truck. Nomadic Eats offers its service to private parties and offers catering as well as delivery services, which includes driving box lunches to offices and large groups of people. Although Randy is looking into getting the food truck approved for participation at Gallery Night, right now they focus on main operating hours at their location on Underwood Avenue, as well as catering services.
JORDAN VALLEY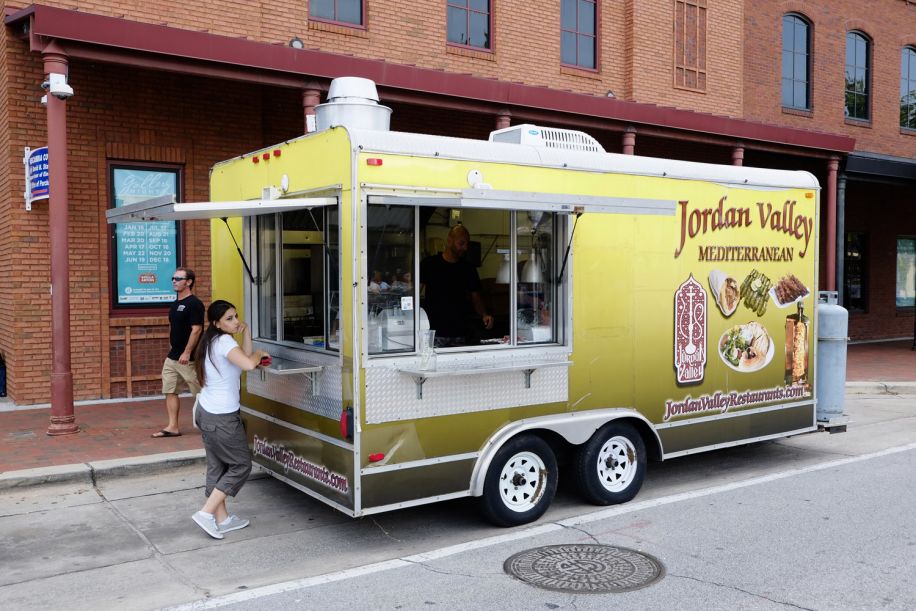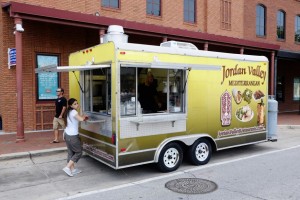 Where/When: Downtown Pensacola, Friday Gallery Nights
Price Range: $4.99 – $14.99
Catering/Delivery: Yes/No
Must try: Fish kabobs,  stuffed grape leaves
Contact: 850-450-1761
The Jordan Valley food truck may be small but it offers all the big flavors of the Mediterranean. Three years ago, Tommy Ghboun decided it was time to get the word out about Jordan Valley's downtown restaurant and decided to try something new by starting a food truck. Most of the special spices and meats come from the nearby cities of Jacksonville and Atlanta. Although you can find the truck at events such as Movies at the Maritime and Gallery Nights in Downtown Pensacola, Tommy is working on getting a permanent location for the truck, so you can pick up a serving of gyros or grape leaves any day of the week. Jordan Valley also offers catering services for any private events from weddings to graduation parties.
MIMI'S KITCHEN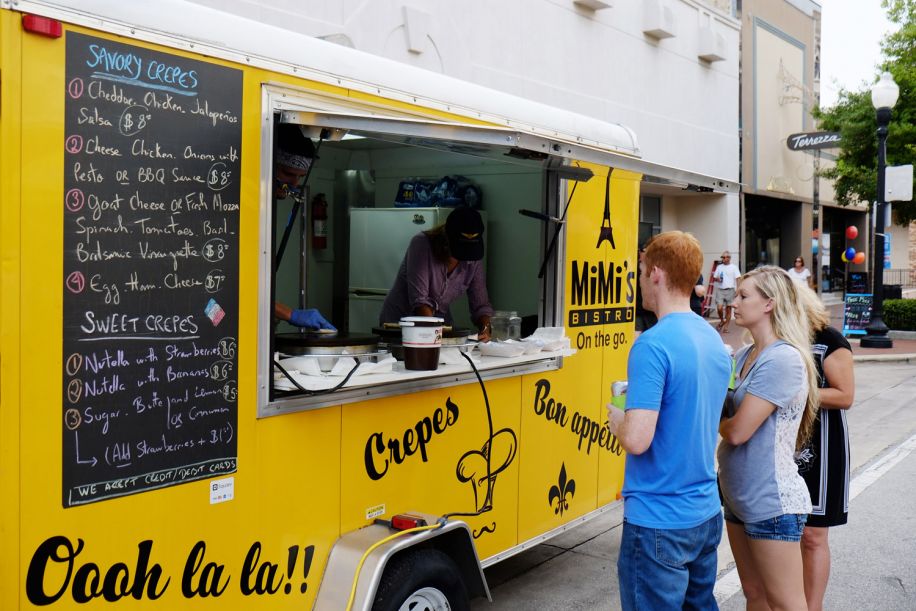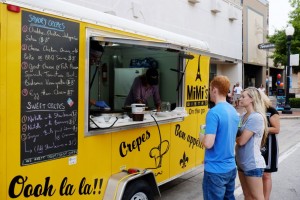 Where/When: Downtown Pensacola, Gallery Nights @ 5:45 pm
Price range: $6 – $8
Catering/Delivery: Yes/No
Must try: Goat cheese-spinach-tomato-balsamic glaze crepe, chicken-pesto crepe, Nutella crepe
Contact: 850-723-9158 • mimisonthego.com
Mimi's Bistro began with Christina and Milan Brunet-Saestia, who decided to open the first creperie food truck in Pensacola. Milan hails from France and worked at a French creperie, where he learned the skills necessary for making crepes such as how to make the batter correctly. While Milan took over the culinary aspect of crepe preparation, Christina sought after a food truck, did research on food truck ordinances, and figured out a name for the mobile business, which we now know fondly as Mimi's Bistro. Although the couple did not have much background in the food business, they put their minds together and developed a menu according to their favorite flavors and crepe dishes. Although they do not have a set location, you can find Mimi's Bistro at various local events including Gallery Night, Gulf Coast Arts Festival, Music in the Park, and many more. With only two crepe makers in the food truck, they produce as many as 120 orders of crepes during Gallery Night. Customers are welcome to customize their crepes with up to four sweet and four savory toppings from which to choose.  From weddings, baby showers, graduation parties and business marketing events, Mimi's Bistro also provides catering for any private party needs.
ROLLING EMBERS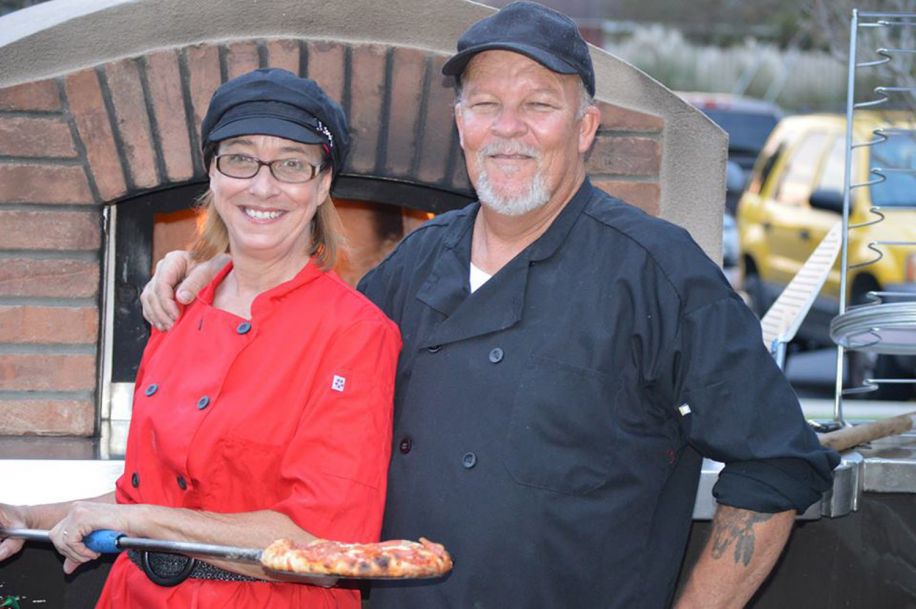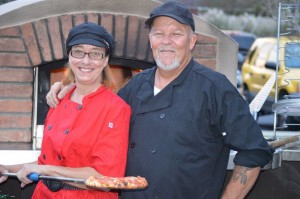 Where/When: Santa Rosa Farmer's Market, Sat. 8 am – 2 pm
Market in the Breeze, Tues. 4 pm – 8 pm
Price Range: $7 – $9 ($1 per extra toppings)
Catering/Delivery: Yes/No
Must try: margherita, sunrise, basil pesto and spinach, buffalo chicken pizzas
Contact: 850-293-9778 • rollingembers.com
Rolling Embers is a family-owned and operated mobile wood-fired oven started in 2013 by the Saxtons—Terry and Cathy, along with their two children Jennifer and Steven.  While Terry and Steven fire up the pizzas, Cathy and Jennifer work on preparing the hand-stretched dough and pizza toppings using locally harvested ingredients. Their pizza is cooked in a clay-brick oven crafted out of a 100-year old chimney fired by pecan, white or red oak wood. In addition to rolling their ember maker out to local events such as festivals, farmers markets, weddings and parties, Rolling Embers has brought their signature pizzas to the Studer Group, Harley Davidson, Pensacola Runners' Association, Sertoma Club's Dragon Boat Race and more. As a result of growing popularity, and in the hopes of promoting community involvement, Cathy is working on finding a location for another commissary kitchen to be shared between Rolling Embers culinary staff, local farmers and food vendors.
HIP POCKET DELI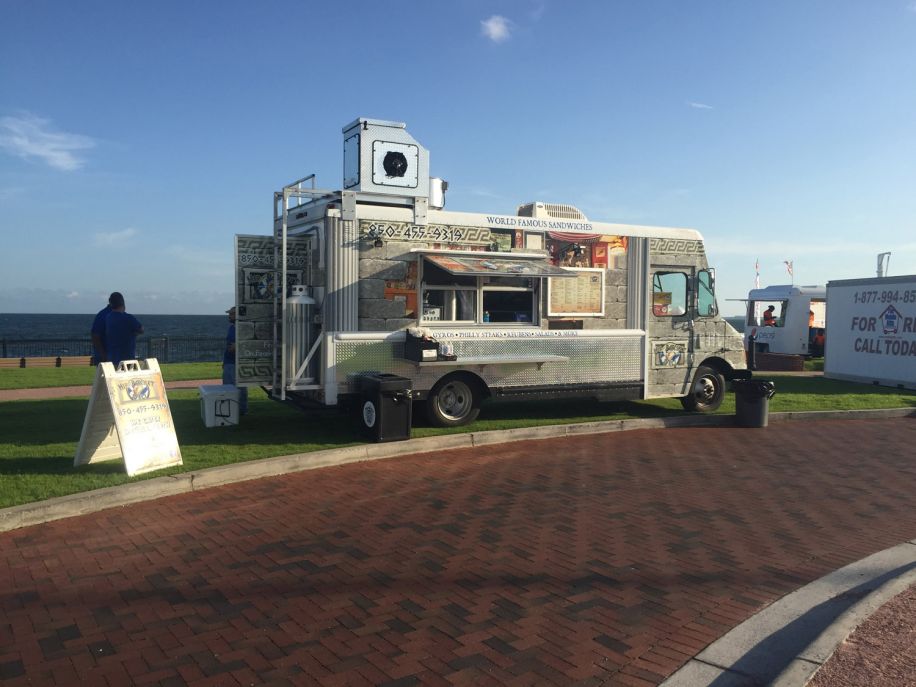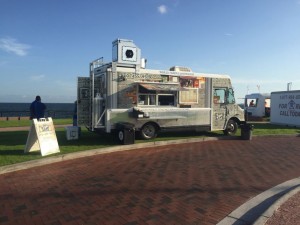 Where/When: 4051 Barrancas Ave., Mon. – Fri. from 10 am – 3 pm
Price Range: $3.95 – $13.95
Catering/Delivery: Yes/Yes
Must try: Gyros, philly cheese steak sandwich
Contact: 850-455-9319 • hippocketdeli.com
Previously known as the George's Dainty Deli, Hip Pocket food truck officially opened for business on April 20 this year. Hip Pocket is associated with the family-owned Hip Pocket Deli restaurants here in Pensacola, where George Makris has wanted to start a food truck for some time. Just like a deli, the food truck always fresh ingredients including produce from local farmers markets and bread from Bread of Life Bakery. Spot the Hip Pocket at the upcoming Beer Festival and Semper Fi Marine Charity Run both on Sept. 11. However, you can always find Hip Pocket's food truck stationed on Barrancas Avenue where there is cozy outdoor seating for up to 32 people.  On a busy day, Hip Pocket serves as many as 150 to 200 people. While George is in the process of trying to accommodate food truck deliveries to Pensacola businesses, Hip Pocket currently offers catering services as well as pre-ordering for quick pick-ups. You can even place your order online.
BARBASIAN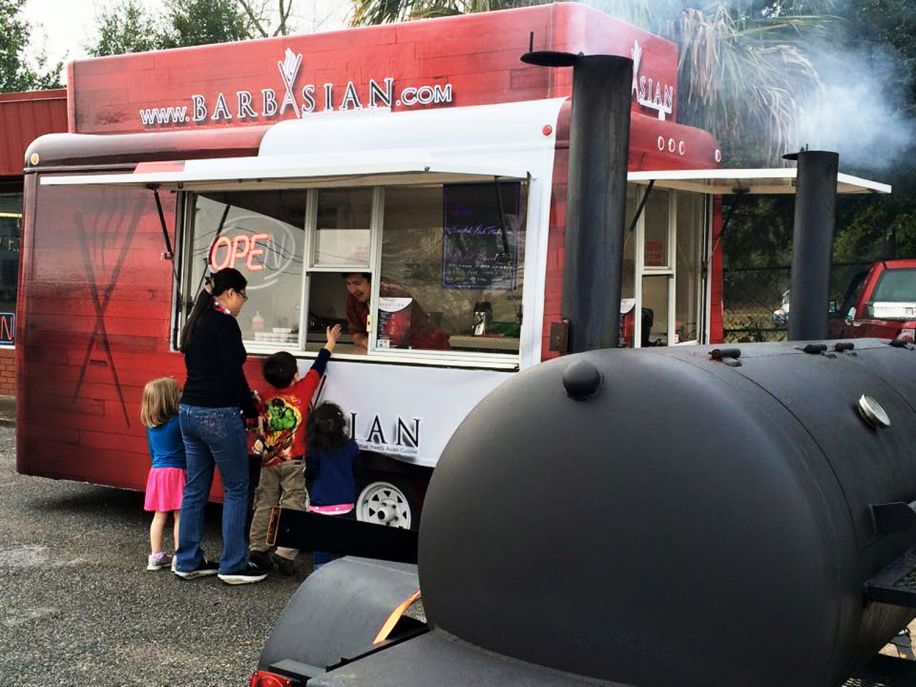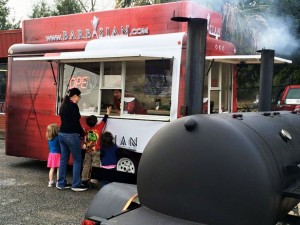 Where/When: 2909 Pace Blvd., 920 Palafox St.
Tues. & Wed. 10:30 am – 2:30 pm, Thurs. & Sat. 10:30 am – 7:30 pm
Price Range: $5.99 – $22.99
Catering/Delivery: Yes/Yes
Must try: Barbeque egg rolls, rack of ribs
Contact: 850-512-8367 • barbasian.com
Why not have both? That's the motto at Barbasian, where traditional barbeque cooking meets Asian cuisine in the aptly-named food truck that began as the brain-child of David Downey and Shawn Goad, who decided to fuse the two distinct styles of cooking together. Everything is made from scratch including the signature Barbasian sauce. In addition to catering for individual and commercial events, the truck offers delivery services to homes and businesses. You are also welcome to walk up and order, or carry out food of your choice. All orders can be made conveniently by phone or online. The truck frequents local shindigs and has served the crowd many times at Pensacola Ice Pilots and Blue Wahoos games, but you can always find Barbasian at its two set locations: downtown Pensacola by Jaco's on Palafox Street, or off Pace Boulevard by Fairfield.