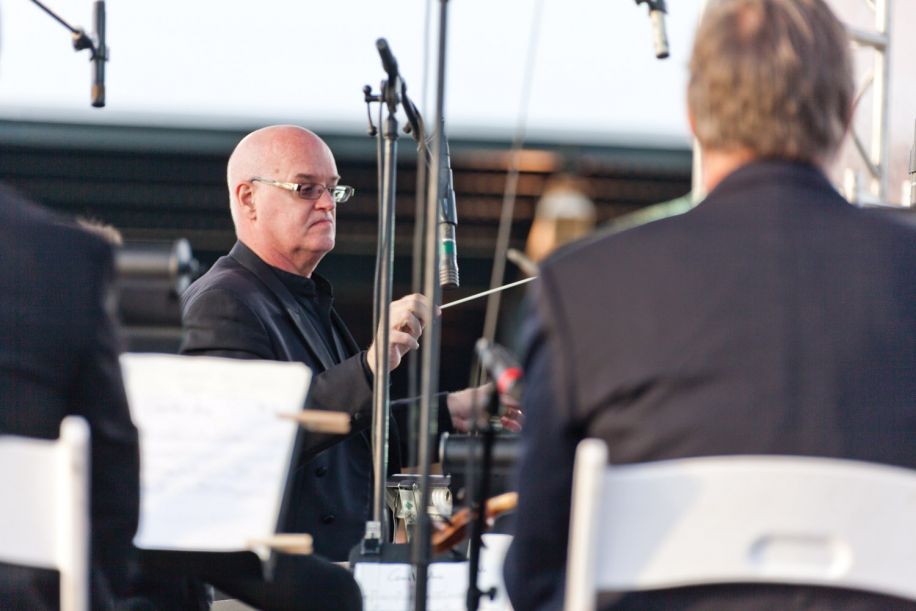 Jerome Shannon has been conducting for the Pensacola Opera for fifteen years. In early 2015, he stepped in as the interim director. Jerome's experience with the local company and leadership abilities made for a perfect fit in the role. He officially took his place as the new executive director of the Pensacola Opera in August 2015. While taking on the responsibilities as executive director, he continues his longstanding position as music director and principal conductor. With over 30 years of professional experience with the opera, Jerome Shannon loves the work he does and the opportunity to share it with the community.
What goes into putting on a production for the Pensacola Opera?
Planning starts years in advance. First we do look at titles and the budget. We look at the revenue from the production, including sponsors and ticket sales. Then we find soloists. We rent scenery from other companies. Then comes finding an orchestra and making sure you have a theatre. We have to check with Saenger for dates, as well as the symphony schedule for when they perform. We have Glynn Breed out of the University of West Florida who designs and builds all of our costumes. Once everything is planned, it all goes together rather quickly.
Is there an upcoming event that you are looking forward to?
Next season, we are doing the Florida premiere of an Opera called Dead Man Walking and that is based on the book by Sister Helen Prejean. It's about her experience and truly finding her purpose in life which was to be a spiritual advocate for people on death row. I believe it is one of the very best operas I've ever conducted and I've conducted a lot of them. Also, as part of the Foo Foo Fest in November, we are doing the Florida premiere of an Opera called Glory Denied which is about a Vietnam Christian war hero and his return home to a country he doesn't recognize. Then we are doing Aida which is an opera we did when we inaugurated the newly renovated Saenger. It tells the story of sort of an ill-fated love triangle. Definitely one of the top ten of operatic titles.
How are productions for the Pensacola Opera funded?
They are funded by a variety of methods. One of them is ticket sales, but ticket sales will never cover the entire cost. We are very lucky to get funding from the State of Florida Department of Cultural Affairs. We also have production sponsors who donate. Then we are also very fortunate that we have generous individual donors who give donations to the company. Then there are foundations. Usually the foundations concentrate on their support of our programs dedicated to in school education and community engagement.
How are the community and school programs funded?
Primarily, grants from the department of cultural affairs, money from Arts, Culture, and Entertainment (ACE), and money from foundations. Also, every year at one of our big fundraising events, the Operazzi Ball, we actually do an auction were people put up support for the artists and residence program. It can be a costly program, but it is supported by individuals, grants, and sometimes we are able to get special sponsorships from people that are interested only in education. The support allows us to go into schools where they never have experience in an art form like opera and we usually do thirty minute operas that are basic fairy tales and love stories, so they know those stories.
There is some controversy over Dead Man Walking, what are your thoughts on the production and do you think it will still receive plenty of funding?
Yes I do. We already do. Actually as we were considering doing it (Dead Man Walking), we had a series of town hall meetings with our current subscribers and donors and told them what we were planning and wanted their ideas on it. The controversy around it usually comes because of the misconception that the opera has an opinion about the death penalty, and it doesn't. With the opera, you never feel like you are being preached at.
As the executive director, what is a typical day like for you?
I guess the typical day is that no two days are the same. You're dealing with so many elements. You deal of course with what we call development, which is raising money. Then there is how you're marketing the company. That's not only press media, but also visual media, and now social media. Then the engagement part of the company. Where are we going to be? How many outreach and in school performances? Then of course board development. Keeping them engaged. Who are the new members and are the other ones leaving?  There's the whole financial part of it. How are we doing with cash flow and payroll? How are we doing when ticket revenue arrives? Where do we need to raise money and how much do we need to raise? You're just always trying to stay steps ahead. And luckily we have a good staff to keep everything going.