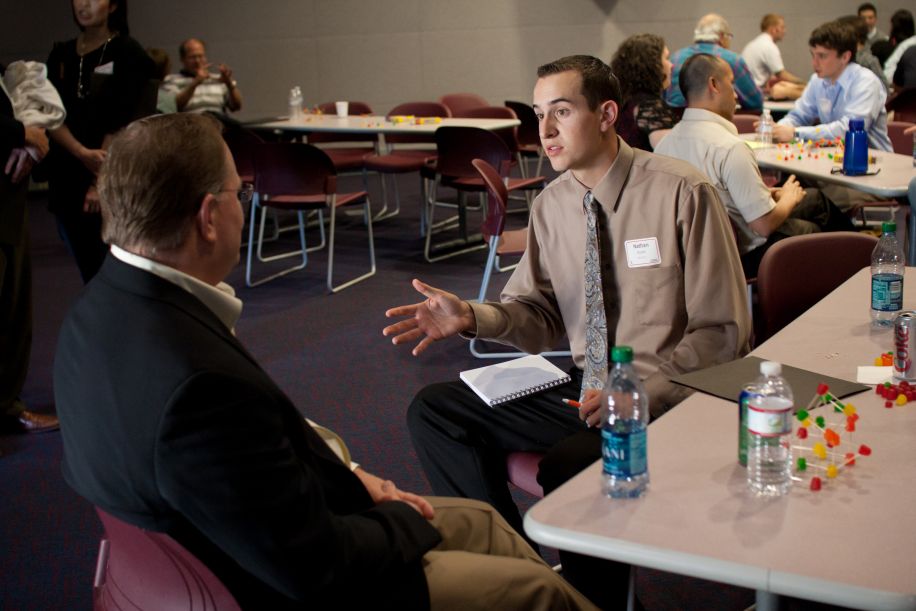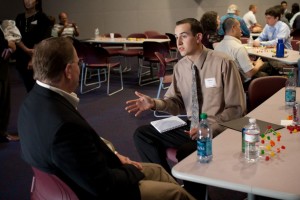 Mentor Pensacola: Pensacola Young Professionals
"Mentor Pensacola allows members of Pensacola Young Professionals to receive guidance on how to grow on a professional and personal level," said Meg Rich, director of Mentor Pensacola. "We hope our members will gain confidence and a long-term mentor, who will be there to help them succeed in their careers and beyond."
The professional development team of Pensacola Young Professionals (PYP) launched its Mentor Pensacola program in October of 2015, a new program that offers its members (between the ages of 18 and 40) the opportunity to be "paired" with a community leader who will help mold and influence the area's up-and-coming young professionals. In this one-on-one mentorship, mentors will aid their mentees in refining a career path by helping them set long-term professional goals, and providing opportunities to network with other leaders in our community to encourage professional and personal growth, as well as promoting a strong workforce in the Pensacola Bay area. Mentors come from various fields, including non-profit and corporate leaders, business owners and more. The program requires that mentors not only be an influential force in the community, but in their respective fields, as well. The first iteration of the program will run until Sept. 30, 2016. For the 2015-2016 year, the program has a total of 17 mentor-mentee pairings, and the first iteration of the program will run until Sept. 30, 2016. The feedback from mentees has been wholly positive so far, and the mentoring program looks forward to seeing how the pairings grow for the remainder of the session. To measure the program's success, the professional development team conducts monthly surveys with mentors and mentees every month, maintains frequent email communication to check on satisfaction and progression of the program, and offers occasional events for pairings to mingle with other participants and share practices. At the end of the year a survey will be conducted in September to gauge how the program has helped both mentors and mentees.
Pensacola Girls on the Run
"We believe that mentoring should be life changing for the mentee and mentor," said Meghan McCarthy, executive director of Northwest Florida's Girls on the Run. "The way I think about Girls on the Run is as a chance to share all those things I wish I could have told the younger version of myself. I can't go back in time, but today I can be a dynamic role model for girls and help them develop emotional, social, mental and physical strength."
Girls on the Run is an international mentoring program for girls between the ages of 8 and 12, which aims to promote character development and uses running, as well as an engaging curriculum, as tools to teach the lessons that develop a girl's sense of confidence and self-esteem. Essentially the program uses creative physical activity and teamwork to inspire an appreciation of fitness and build habits that translate into a lifetime of health. Mentors are called "coaches" who sign up to go on-site to schools, community spaces and/or churches twice a week for 90 minute sessions for a 12 week season. All coaches must receive initial training (followed by on-going training throughout their time as a coach) and certification before they are matched. The curriculum consists of 20 lessons and exercises that focus on building the girls' communication skills, healthy relationships and self-esteem. The program will work on building the "Five Cs": competence, confidence, care, compassion, connections and contributions to community. Girls on the Run aims for the "Gold Standard," which means improving attitude (positive feelings toward oneself others and school, behavioral adjustment (lower instances of risk-taking and negative behaviors) and school performance (improving grades and academic involvement). In addition to mental, emotional and physical health, the Girls on the Run of Northwest Florida aims to help increase the high school graduation rate across Escambia, Ookaloosa, and Santa Rosa counties, which is at 66.1 percent—over 10 percent below Florida's state average of 76.1 percent. Although the Junior League of Pensacola has provided initial funding and the capital investment in order to bring Girls on the Run to Northwest Florida, to keep the program operating there is a registration fee of $150 per girl, which covers expenses for healthy snacks, t-shirts, shoes, and a 5K medal. Each season culminates in a celebratory 5K Run and each girl has a running buddy (a "Solemate") to the complete the 5K with her. The inaugural season of Girls on the Run in Northwest Florida will kick off on Jan. 30, 2016, after the program's Board of Directors hosts its first coach training.
 UWF Executive Mentor Program
"Serving as a mentor provides an opportunity for business executives to share their professional experience, knowledge and skills with UWF students who are preparing to enter the business world," said Dr. Sherry Harnett, director of UWF's Executive Mentor program. "The program provides a golden opportunity for Pensacola's leading business executives to counsel and influence the next generation of business leaders."
For its fourth year, the Executive Mentor Program at the University of West Florida will help prepare students for successful careers in business by integrating academic learning with real-world experiences. Undergraduate and graduate students at UWF are partnered with Pensacola business executives to establish connections in the business world and gain valuable insights into issues such as career choice, networking skills and career development. The Executive Mentor Program helps prepare students for successful careers in business by integrating academic learning with real-world experiences. Undergraduate and graduate students are partnered with business executives to establish connections in the business world and gain valuable insights into issues such as career choice, networking skills, and career development. Mentors are business executives who must meet with mentees at least once per month throughout the academic year, September through May. The mentoring is primarily one-on-one coaching (one business executive matched with one student) for an academic school year. Once a month, on average, the Executive Mentor Program hosts Networking Meet & Greet events or brings in guest speakers for Lectures, Seminars, and Workshops. Although these initiatives are sponsored by the College of Business, most are open to everyone. On average, 50 mentors are matched with 50 mentees each year. The program tracks UWF graduates that participated in the Executive Mentor Program, and the percentage of those who have secured jobs in their field upon graduation is an impressive 97 percent. Another component of the program's annual research involves an end-of-year evaluation survey, based on a 7-point scale answer system, measuring how well the mentors are coaching their mentees, and whether or not the student mentee's skills have improved. As for funding, the program relies heavily on its volunteers, as well as some local businesses that provide financial gifts through the UWF Foundation. Examples include Wells Fargo's support of a lecture series, Pen Air Federal Credit Union's support of a financial bootcamp, or Gulf Coast Community Bank's support of networking event.
Goodwill Easter Seals Goodguides
"How I explain the benefits of mentoring is through a story I share with all of the mentor and mentee groups at Goodguides," said Robin King, executive director of Goodwill Easterseals Goodguides. "It's the story of a young eagle who was hatched among a group of chickens and thought he was like all of them—he believed he couldn't spread his wings to fly very high, or very far. One day another eagle saw the eaglet pretending to be a chicken, then told the eaglet all he had to do was believe he could fly, and he would do it. That's what our mentoring should teach the youth here at Goodguides—to teach our youth believe in themselves."
Goodwill Easter Seals Goodguides has been operating for three years in the Pensacola, Fort Walton, Mobile and Spanish Fort areas. As the name of the mentoring program might imply, the purpose of the program is to "guide" at-risk youths from ages 12 to 17 away from destructive behavior through constructive activities ranging from making art to visiting museums and historic landmarks, such as the Naval Aviation Musuem and Pensacola Lighthouse. The program offers site-based, one-on-one, group and peer mentoring opportunities and for the 2015-2016 year the program had 140 youths enrolled, and 101 volunteer mentors.  All mentors must pass an orientation and training class, followed by an extensive background check and interviewing process. For a minimum of one year, all mentors are required to spend at least four hours per month with a mentee. Last year, 126 youth had reported satisfaction with the program's services, and also reported behavioral improvement at home and in school. Each year, 100 youth completing four hours of mentoring per month and an average of 73 youth complete at least 12 months of mentoring per year. In addition to four hours dedicated to mentoring per month, mentees receive two hours of career exploration on a monthly basis, as well. The Department of Juvenile Justice Delinquency Prevention Office provides an annual grant to help fund the program, otherwise Goodguides receives the majority of its funding from an allocation provided by the Goodwill Easter Seals retail branch.
Escambia County School District's Youth Motivator Mentoring Program
"Even if it's just one more person that we get as a mentor," said Sally Bergosh, project director of the Youth Motivator mentoring program. "Then that's getting the power to give one more child the encouragement he or she needs."
For 22 years, the Youth Motivator Mentoring Program of the Escambia County School District has matched a volunteer mentor one-on-one with an identified student who needs encouragement to do better in over 49 schools in the district. This program provides a structured framework for mentoring by individual community volunteers, as well as government agencies and businesses that allow release time for employees to mentor at a school or they can mentor one day a week on their lunch break. Mentors must be willing to commit to weekly meetings with their youths. Last year, the program has over 530 mentors. Although one aspect of being a mentor is helping a student with his or her school work, many mentors become a supportive presence who will listen, talk, encourage, motivate and help a child set goals. This program is offered to students of all grades from elementary through high school. In addition to a thorough background screening process, prospective mentors must study a special mentoring handbook and complete a training session before they are accepted into the program. University of West Florida and Pensacola State College students who are Quint Scholars, or have Quint Studer scholarships, must give back to the community by donating volunteer time to the Youth Motivator mentoring program, at least 25 hours a year. Penelope Harris developed a software to monitor the progress of each mentor and mentee pairing; mentor coordinators are at every school to gather data. Pam Childers, Navy Federal and more local organizations have helped donate time and resources to the program.
Re-Entry Alliance of Pensacola (REAP) Mentoring Program
"This mentoring program is really the best return investment society can make," said Al Stubblefield, founder of REAP's Mentoring Program. "It costs the state roughly $30,000 per year to keep one person incarcerated. If having a mentor greatly reduces the odds that a person fresh out of prison will wind up back there, then the state's funding of the program is well spent."
What sets the Re-Entry Alliance of Pensacola (REAP) Mentoring Program apart from other programs in the area is how it aims to help previously incarcerated individuals,  rather than at-risk youths, or young professionals looking for guidance in their respective fields. The primary goal of REAP mentors is to aid "mentees" with their initial re-entry into "real world." In addition to receiving funding from the Department of Juvenile Justice Delinquency Prevention Office, the program received an Impact 100 grant of $50,000 to help over 30 individuals. There is a correlation between successfully staying out of prison and having a "mentor" to help previously incarcerated individuals adapt to society—helping with resumes, job finding, and so on. Judge M. Casey Rodgers introduced the idea for the program to federal court in Pensacola four years ago. Since then, the REAP program has expanded its mentoring services over the past year to include people coming out of state prison, as well as from local county jail. The first group of mentors were lawyers, whose jobs require them to witness the impact of incarceration on a lives on a day-to-day basis. Ideally,  mentors will commit to a match for six months to a year, depending on how successful the is individual ti plugging back into society. As of 2015, REAP had a total of 15-20 mentees and 8-10 mentors; each mentor is paired with one or more mentees.
Big Brothers, Big Sisters of Northwest Florida
"Two things our matches focus on are academic success and community service to give back," said Paula Shell, CEO of Big Brothers Big Sisters. "We challenge our Bigs to do a community service project with their Littles at least once a year, or as often as possible. We ask for the most recent academic report card and we share with the Big where the Little may be struggling in school."
Big Brothers Big Sisters of Northwest Florida has been serving our area from Pensacola to Panama City since 1989. Mentors are endearingly referred to as "Bigs" and, subsequently, their mentees are called "Littles." The program is open to youths between the ages of 6 and 18 who typically come from single-parent families, and its mission is to provide children facing adversity with strong and enduring one-on-one relationships that can change their lives for the better. Each Big and Little match is assigned a case manager, who monitors the growth development of the Littles and Bigs. In addition to behavioral improvement, the program encourages Littles to increase academic performance; every nine weeks, Bigs receive a grade report from their Littles' school, which they use to work with the Littles on areas that need improvement. The program receives funding from state grants, organizations such as United Way, special events and more. State grants come from the Florida State Association, and on the state level, for the 2015-2016 fiscal year the program received $237,000; $162,000 for the Bigs Inspiring Scholastic Success initiative and $75,000 for the Mentoring Children of Prisoners program initiative. Legislative funding awarded to Florida for the 2015-2016 fiscal year was $2.23 million. Although the state's program funding was cut by 63 percent since the 2014-2015 year, Big Brothers Big Sisters mentoring continues to make a big impact with proven results on children who were matched six months or longer. Of the 584 children who were matched six months or longer from 2014-2015: 83 percent maintained or improved academic performance and 85 percent showed improvement on their behavioral evaluation.
YMCA of Northwest Florida: Reach and Rise
"Unlike other mentoring programs," said Kimi Lirette, Reach and Rise program director. "Reach and Rise operates according to a therapeutic model. So, mainly, our mentors work with their matches on improving and building familial and other social relationships."
Although the first Reach and Rise mentoring program was launched in 1992 by the YMCA of San Francisco, 2015 marks the beginning of the Reach and Rise program at the YMCA of Northwest Florida. The YMCA was able to expand the mentoring program to new areas, such as Northwest Florida, thanks to a $4 million grant from the Office of Juvenile Justice and Delinquency Prevention awarded in 2013. Reach and Rise is designed for youth ages 6 to 17, who lack role models and live in communities challenged by poverty, crime, truancy, and single parent households among other social issues. The program connects children and teens with adult mentors for 12 to 18 months of one-on-one mentoring. Mentors receive rigorous training for five weeks. So far, seven mentors have signed up at the YMCA of Northwest Florida, under the guiding hand of program director Kimi Lirette. The program  On the national level, the program has been shown to help youth better express their feelings, get along better with others, and become more involved in enrichment programs and afterschool activities that contribute to an increase in school grades. The program is evaluated by mentors and mentees before and after the 12 to 18-month session, when the two parties evaluate the program according to eight assets: support, empowerment, boundaries and expectations, constructive use of time, commitment to learning, positive values, social competencies, and positive identity. According to the most recent national evaluation survey, 94 percent of all mentees reported gaining or learning something from their relationship with mentors, and 70 percent of all mentees said that the relationship positively changed the way they felt about themselves. If the national results are any indication of what we can expect on the local level, then we can expect our local youths to Reach and Rise to their potential at the YMCA of Northwest Florida.
YMCA and Big Brothers, Big Sisters Partnership
The YMCA of Northwest Florida has worked hand in hand with Big Brothers Big Sisters (BBBS) by providing access to its facilities for BBBS activities. In October of 2015, the YMCA received confirmation that it had been awarded a $111,000 grant from the Office of Juvenile Justice and Delinquency Prevention. This grant will support our local Y's efforts to support youth and train mentors through the YMCA Reach and Rise program, which helps youth ages 6 to 18 develop tools to cope with issues such as low self-esteem, family and peer conflicts, academic underachievement and decision-making skills through a positive adult-child relationship.
Paula Shell, CEO of Big Brothers Big Sisters, has met with Michael Bodenhausen, CEO of YMCA of Northwest Florida, to plan for future collaboration and how to provide needed services in the community without duplicating efforts. BBBS has agreed to provide guidance, referrals, staff support and infrastructure. The two organizations aim to show how agencies can work together to meet community needs without being in competition for donor dollars, or duplicating services. They hope this will be a national example of how two organizations can work together and forward their strengths.
Here enters Kimi Lirette, program director of the Reach and Rise mentoring program at the YMCA of Northwest Florida. Lirette began as a member of BBBS, a "Big Sister," who went on to join the YMCA team as program director. For this reason, she will serve as a conduit between YMCA and BBBS to ensure the partnership is beneficial for all parties involved.
"I was very interested when the national YMCA office in California contacted our office and wanted to launch a Reach and Rise program here in Northwest Florida," said Michael Bodenhausen, CEO of the YMCA of Northwest Florida. "I knew there was a huge need in our community for additional mentorship opportunities. Immediately, I contacted Paula Shell at Big Brothers Big Sisters and proposed a collaboration between our mentoring programs. They agreed and here we are."