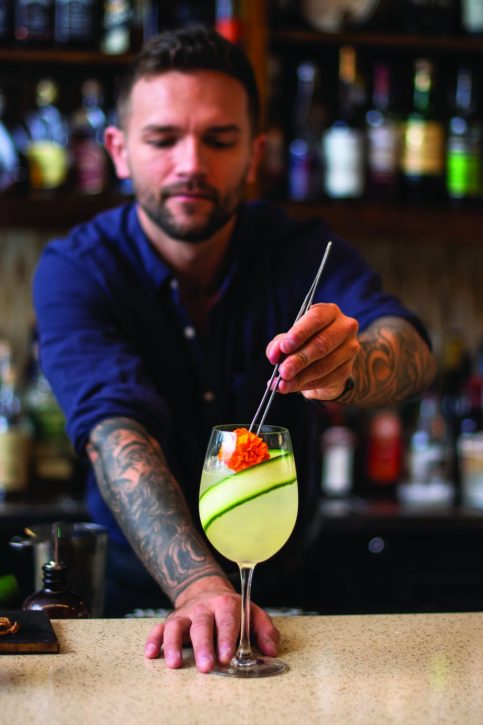 So you're out downtown one night hitting the bars with your friends. Maybe they're drinking, but you're not. Whether that's because you're taking a break from alcohol, you're pregnant or you're on some medication that you can't drink with, the upshot is you don't have a lot of options. Cranberry and Sprite, soda and lime, Diet Coke, water. In most places, these are going to be the choices you're left with sans alcohol.
But that's starting to change. A growing trend of alcohol-free cocktails, sometimes called mocktails, has made its way to downtown Pensacola. Bartenders and mixologists at some of the city's most popular watering holes are experimenting with concoctions featuring ingredients like watermelon juice, muddles blackberries, Serrano chile syrup and whatever fennel shrub is.
Some mocktails are as simple as, say, swapping gin for sparkling water in a French 75, but increasingly bartenders are putting as much craft into their non-alcoholic offerings as they are their cocktail menu.
"Even people at the bar will order a mocktail, then other people who are drinking will see one and say, 'Hey, I want one of those,'" said Brett Briggs, bartender at Restaurant IRON. Briggs said he sells anywhere from 30 to 50 mocktails a month, with a popular option being his blackberry basil smash, a mix of sparkling water, muddles blackberries, basil and simple syrup served shaken on the rocks.
Mocktails are designed to appeal not only the teetotaler, but to the health-conscious drinker who may be cutting back on sugar and carbs, as well as those who can't drink for medical reasons. One of the first bars to start offering mocktails was Gulf Coast Brewery manager Carrie Eckland, after she read "Sober Curious" by Ruby Warrington.
"I read the book and it's just this whole conversation about how everything revolves around drinking, and I looked around and it just seemed like there were no real options for people that wanted something a little healthier to drink," Eckland said. "We wanted people to have a place they could come where they weren't going to feel like they were being left out if they don't drink."
Some places have gone so far as to create an entire mocktail menus. Union Public House head chef Blake Rushing said he noticed more and more customers ordering non-alcoholic drinks and decided to make them a permanent addition to the popular restaurant's offerings. Like the regular food menu, Union's mocktail menu is season and changes with the availability of fresh ingredients. In the summer, for example, the restaurant has been offering creatively-named concoctions like the "Thrown for a Cantaloop," a blend of cantaloupe, fennel shrub, lime juice, vanilla and soda rimmed with black lava salt, and the tongue-twisting "Mind on my Melon, and my Melon on my Rhind," a mix of watermelon, Serrano chile syrup, cardamom, basil, ginger and soda.
"They've become extremely popular," said Rushing. "We were surprised how many we were selling on a Friday or Saturday night, granted, some people were putting a shot of vodka in them. But they're just that good."