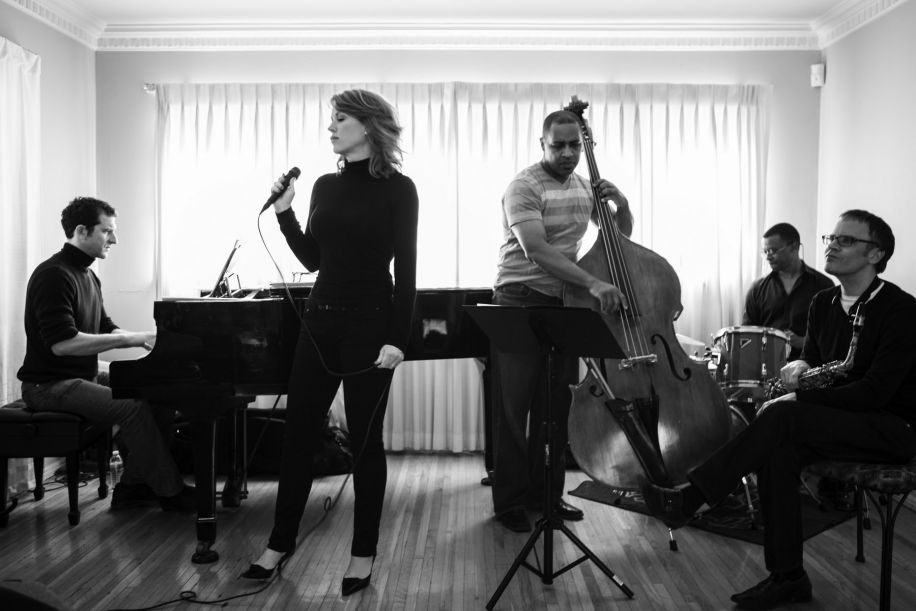 We all know Molly Ringwald as the red-headed darling of iconic 80s movies like The Breakfast Club, Sixteen Candles and Pretty in Pink, but what you may not know is that Ringwald is also an accomplished author and jazz musician. Often regarded as the muse of the late, great director John Hughes, Ringwald was a jazz lover long before her big break into mainstream cinema. Her first album, Except Sometimes, features songs from Great American Songbook as well as one very special track—a nod to her director/mentor and to her own exceptional youth. I recently caught up with Mrs. Ringwald to discuss her movie career, her music and her upcoming show at Vinyl Music Hall on Feb. 19.
Although most people know you as an actor, you are also a writer and a jazz musician. What project are you most proud of?
It's hard to pick just one — or even a couple. Invariably I'm most excited about what I'm working on at the moment (or just finished) and that enthusiasm very often translates into a kind of pride. I will say I was very proud when I finished writing my first book, because I was pregnant with my twins at the time, and the effort involved to hit the delivery deadline (before I literally delivered) was intense. 
Tell me a little about what draws you to jazz.
I've loved jazz since I was a little kid. My father is a jazz pianist and I grew up with it all around me, it was the soundtrack to my childhood. I love lots of styles of music, but jazz is my musical "comfort food."
Your two books, When it Happens to You and Getting the Pretty Back, have been well received. What is it about the writing process that you enjoy?
I enjoy getting into the heads of my characters, figuring out what motivates them, and building stories around their desires and conflicts. I also like how writing uses every part of my brain — the creative part, the analytical part, the language part, even the musical part. 
I believe you live in the U.S. now, but you lived in France for many years. How does everyday life differ between the two countries?
Slowness. Maybe it's because I'm comparing it to NYC, where the daily pace is notoriously fast, but life in France has a much slower pace. There's a kind of languor to it. People don't take their coffee to go, for example. The idea is to sit and drink it. Take a moment, savor it, think your thoughts. In the U.S., it's go-go-go.
Are the John Hughes movies still as culturally relevant overseas as they are in the U.S.?
I haven't really lived overseas in a long time (and only in a couple countries) so I couldn't say with any authority. Though I don't imagine they're as culturally relevant, since other countries have their own classic films chronicling the coming-of-age experience. 
The Breakfast Club recently celebrated its 30th anniversary. Do you keep in touch with any of your fellow John Hughes movie actors from the 80s?
We catch up here and there, usually at events. I talk to Ally most often.
Do you have a favorite of your movies from the 80s? If so, why?
My favorite changes up every once in a while. Right now, it's The Breakfast Club. It's such a strong script, and it holds together very well.
I loved your version of The Breakfast Club song "Don't You (Forget about Me)." Was it your idea to include it on your album, Except Sometimes? What inspired you to do so?
I recorded the album not long after John passed away, and he was on my mind a lot at the time. So the song was a way for me to integrate the past into who I am today. I didn't know how it would be received, since it's the only song on the album that's not from the Great American Songbook. But it's gone over very well — if I don't perform it during a show, the audience starts demanding it (that's what the encore is for!)
What can fans expect from your show at Vinyl Music Hall on February 19? Do you banter or tell stories during your set?
Yes, I talk to the audience between songs, telling stories and giving some background about the music. I don't have a script or anything like that, it's off the cuff, so both the audience and I never know what's coming. If something memorable or entertaining just happened that day, or comes to mind (and it's relevant) I share it. I think it's more fun that way – it's a live show, after all.