By: Dakota Parks
We all want the same things while traveling: clean sheets, a cozy bed, convenient, safe and affordable lodging locations. But what exactly makes a memorable experience for guests? The high thread count sheets? Complimentary coffee? We spoke to a property manager, relator and interior designer about the influx of Airbnb rental investment properties in the Pensacola region.
When the founders of Airbnb, Joe Gebbia and Brian Chesky first created the website (and later app) in 2008, they were short on rent and looking for a solution. They seized their opportunity when a design conference in San Francisco created a shortage of hotel rooms. Both Grebbia and Chesky purchased a few blow-up air mattresses and listed their website called "Air Bed and Breakfast." Although the company struggled during its initial years, it is now valued around $38 billion with more than 6 million listings in more than 100,000 cities worldwide, according to Busines Insider.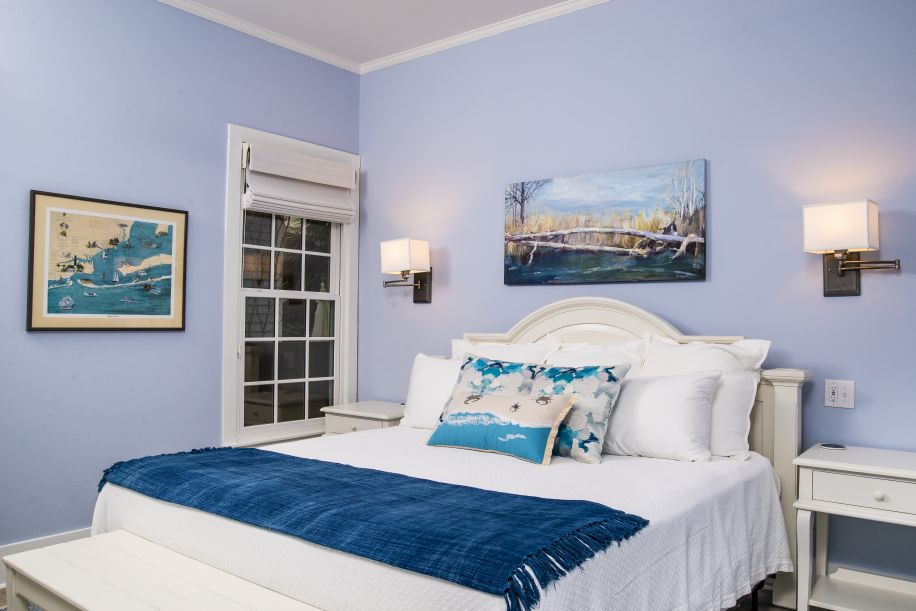 The Airbnb platform has exploded with listings. In Pensacola, you can find everything from a $10 a night tent-stay, to a retro RV, customized tiny-house school bus, small cottages and even luxury mother-in-law suites for rent. However, something has changed about Airbnb in recent years. The platform is no longer just a spare room-letting website—it has become a platform for property investors. People are buying property and renovating it for the sole purpose of creating Airbnb rentals and extra income.
In 2017, the number of guests utilizing Airbnb rentals in Florida grew by 75% with 2.7 million guests in the state. By 2019, the number of guests has grown to 6.6 million with a statewide host revenue of $1.2 billion, according to Forbes. Data from the market research company AirDNA shows that the number of Airbnb listings in Pensacola grew from roughly 1,000 listings at the start of 2019 to 1,500 by the end of the year. Not only did the number of active Airbnb rentals increase, but the number of booked listings also increased from 6,000 to 16,000 with higher numbers in the summer months. The average occupancy leveled out around 60 percent in Pensacola for 2019.
Kevin Fox, the founder of Foxy Vacations, a boutique rental management company specializes in guest service and rental revenue maximization for its owners.
"We live in a destination city. People come from all over the country to enjoy what we have here, so having a vacation rental allows people to come from the outside and invest into our community and economy. The great thing about a vacation rental is that it's a tangible asset. You don't have to have a renter in the property all the time. If you want to use it yourself for part of the year, you can decide which dates to use it to maximize your own revenue. One thing that drives people to a vacation rental as opposed to a hotel is that they're not in a 300 square foot space with a mini fridge and a microwave. Vacation rentals allow families to travel at a better value," explained Fox.
Airbnb provides free Host Protection Insurance covering liability claims up to $1 million USD. They also allow hosts to set parameters for booking including a vetting process that requires renters to show photo ID and provide reviews from previous hosts. However, there are additional steps owners can take for protecting their property including a separate liability insurance policy, designing furnishings for rental wear and tear, and hiring a property manager to overlook the property and guests.
Sherlyn Waghalter, broker/associate with Berkshire Hathaway PenFed Realty explained some pros and cons of short-term rentals.
"Short term rentals are very labor intensive. The owner needs to have an array of resources for cleaning, maintenance, etc. It is not the norm, but there are nightmare situations when a property is damaged by spring breakers or a rowdy group, so the proper liability insurance needs to be in place. However, Pensacola Beach and Downtown Pensacola are hot areas for Airbnb rentals. Tourism in our area is up! The tourists need a place to stay! Some people buy a property with the intention of using it as an Airbnb/VRBO investment property. Interest rates are low— driving the increase for real estate investments," explained Waghalter.
According to Airbnb's public website tool, they estimate that renters can earn up to $1,648 a month in Pensacola with an estimated 15 nights booked a month. However, as both Waghalter and Fox explained, the revenue and return on investment for vacation rentals is determined by a variety of factors including location, mortgage amount, insurance, taxes, repairs, property clean-up between renters and even noticing rental trends to maximize revenue at certain times of the year.
While relators can help investors navigate the rental market and pick properties with high investment opportunity, property managers take the guesswork out of managing Airbnb and short-term rental properties. Unlike long-term leases, short-term rentals have dozens of people in and out of the property, each with different needs and expectations. Managers cover guest service and ensure that the property is yielding its highest earning potential.
"My company is full-service, turnkey," explained Fox. "We take care of everything from coordinating when the furnishings will be delivered, to the pictures, marketing, setting up nightly rates, finding calendar rental anomalies and taking care of the guests from check in to check out. We answer all of their questions before they get here, once they arrive, we make sure they get into the property smoothly and while they're here, we make sure their expectations are exceeded in every aspect of the stay. Then, upon check out we send over our housekeepers to clean and inspect it for our next guest. We even take care of maintenance items and landscaping."
One of the startup expenses for Airbnb property is creating a brand and designing the space. The design and "name-recognition" is crucial to creating a memorable rental experience. Branding a space and creating a name for a property creates repeat business and helps renters remember and recommend the property.
Connie Crosby, the interior designer at Constance Crosby Interiors, Inc. recently designed an upscale three bed/two bath Airbnb in the historic district of Pensacola. Located on South Alcaniz Street just a few doors up from Hub Stacey's, the property was built in 1865 and remodeled with the history, location and utility of the property in mind.
The exterior of the cottage received a full facelift to ensure a welcoming atmosphere— fresh paint on the wrought iron fencing, exterior paint colors dating back the original cottage, along with flowers, gas lanterns and landscaping. The back patio features a bonfire pit and gathering area for guests. Inside, Crosby has retained the historic elements of the home while ensuring that it functions properly as a rental and maintains some Pensacola-inspired charm.
"I knew the owners liked a coastal feel, and when we discussed the history of the cottage, I felt like it needed to be light, bright and as open as possible. It's an adequate size, but it's not huge. For instance, we had the ceiling lifted in the living room which gave it a great, airy feeling. As far as design elements, we furnished it with good, solid furniture that is resistant to wear and tear and fully washable bedding that coordinated with the color scheme," explained Crosby.
From designing bigger and taller closets that can accommodate suitcases and long wedding gowns to locally crafted ceramics in the bathrooms that are resistant to moisture, the design of the Airbnb was deeply rooted in utility and functionality. Crosby even designed a private dressing room space for bridal parties to get ready in.
"I think renters want a memorable experience and people want good design because it achieves just that. Everything has to functions well. The design depends on the structure of the home and what type of look can be achieved. An urban look, a sophisticated coastal look, a basic cottage look— I think owners need to consider the property and where it is located as to what design they want," said Crosby.
Location was very important to the furnishings in the South Alcaniz Street Airbnb. Crosby worked with local artists to incorporate a classy, coastal look. They included hanging artwork from local artists throughout the cottage, ceramics in the bathrooms and photographs of the Blue Angels and other Pensacola landmarks to showcase the city and location.
Showcasing cities is something that Airbnb does very well. While Airbnb is just one of many third-party rental companies, it has revolutionized the rental market. The platform has allowed an endless number of spare bedrooms to get rented, but it has also allowed investors to come into a wide variety of neighborhoods from "up-and-coming" to Pensacola's own historic district to increase the foot traffic and tourism.
However, vacation rentals and Airbnb properties may be at jeopardy with Florida legislative bills such as SB 1128, introduced to the Senate in January 2020, that seeks to preemptively regulate vacation rentals at the state level. If passed, the bill would override local laws and ordinances that currently tolerate Airbnb and vacation rentals, instead requiring rentals to adhere to the same licensing, regulations and inspections as the hotel and business industries. While short-term rentals are vital to Florida's economy, they have also received backlash from residents that live next to them and from renters for their lack of regulation. Despite the controversy, the market is currently thriving. Only time will tell if the proposed legislation will pass and impact the sheer growth of Airbnb properties in both the Pensacola region and the Sunshine State as a whole.