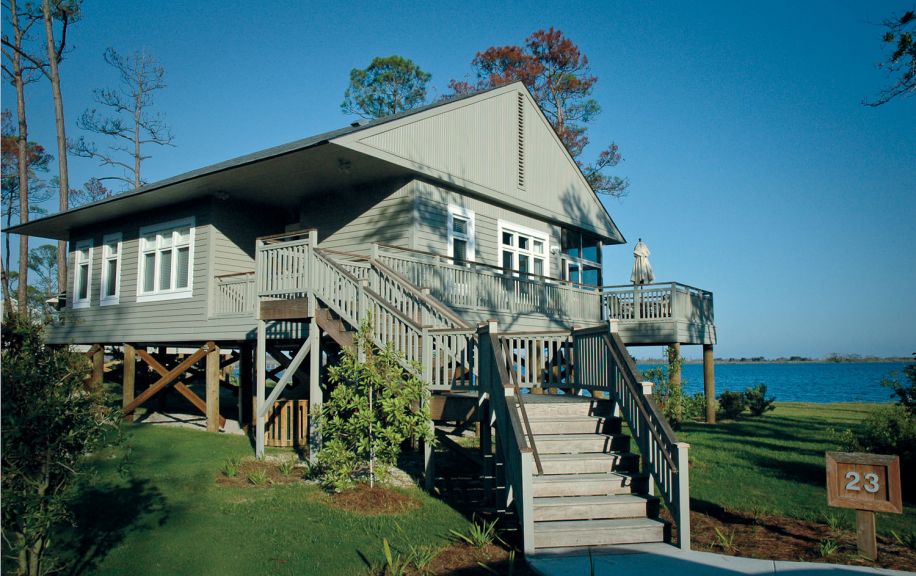 Like wedding planning, putting together a honeymoon can be extremely stressful. He prefers to lounge around with his new bride, while she wants a honeymoon packed full of outdoor adventure. They eventually come to a happy medium. Luckily for them, along the Gulf Coast there are many relaxing fun-filled outdoor honeymoon destinations where couples can kayak, hike, fish, camp, or even cuddle in front of a flickering fireplace. We have compiled a list of some of the most highly recommended honeymoon locations for the outdoor couple along the Gulf Coast.
The Lodge at Wakulla Springs
For the couple looking for quiet elegance and classic comforts the Lodge at Wakulla Springs should be your destination.
Laced with defined craftsmanship and a touch of sophistication, it offers visitors an endless glimpse into Florida's pristine and elegant past. The lodge offers an experience not found in many places. There are no televisions in the rooms because going to the lodge and visiting the Wakulla Springs State Park is meant to be time well spent with a loved one and being able to enjoy your surroundings and nature. As far as amenities, the lodge can arrange for champagne and chocolate strawberries to be put in your room, or an in-room couple's massage.
A full service dining room offers breakfast, lunch and dinner. The Parlour, has a soda-jerk that makes milk shakes and hand crafted sodas, and offers gifts and souvenirs for sale.
The glass bottom boat tour is one of Wakulla Springs' most popular attractions, as it gives guests a refreshing underwater view. The park is great for spotting local wildlife–manatees and alligators are common to spot while on the river boat tour, as well as various types of birds. Deer and black bears are also commonly spotted in the park. If you want recreational play, the lodge offers hiking trails, a swimming area, snorkeling, a paved bicycle trail and river boat tours.
While you're there, don't forget to say hi to Old Joe, the alligator, the unofficial mascot of  Wakulla Springs, don't worry, he won't bite.
550 Wakulla Park Dr.
Wakulla Springs, FL 32327
(850) 421-2000
Grayton Beach State Park
Grayton Beach State Park consistently ranks among the most beautiful and pristine beaches in the United States.
The park offers the best of the Panhandle's beaches by providing private cabins with their own private beach, along with access to the iconic 30A corridor of restaurants, entertainment and special events.
The cabins at Grayton Beach State Park offer two bedrooms with living space, a kitchen, a private porch with access to a private beach and, yes, your own private beach.
Besides the beautiful beach, couples can maximize their enjoyment by taking part in activities, such as canoeing, bicycling, kayaking, fishing or hiking.
The beach provides an idyllic setting for swimming, sunbathing and surf fishing. It is the flawless backdrop for golden sunrises and silver moonlit evenings. The park is perfect for honeymooners seeking a natural adventure with access to a region of dining and entertainment.
57 Main Park Road
Santa Rosa Beach, FL 32549
(850) 267-8300
Gulf State Park
Listed as one of Travel Channel's Best Gulf Coast Beaches in the country, Gulf State Park is sure to bring you and your honey plenty of outdoor fun. Beaming rays of sun and sugary white beaches attract travelers far and wide who are eager to enjoy the park's alluring attractions.
Yes, there is plenty for couples to do such as zip-lining, kayaking, golfing, pier fishing, Segway tours, tennis, parasailing and many other activities! The park also offers beach chair rentals, banana boats, 14 miles of paved trails, laundry facilities, food venders, nature tours and so much more.
For the couples that prefer the great outdoors over stuffy hotel rooms, the park offers 296 standard campsites (with water and electric available) and 11 primitive campsites for those who like to rough it. It also has three bedrooms and three baths very affordable and stylishly decorated cottages on Lake Shelby, as well as two bedrooms, one bath smaller  modern cabins all within walking distance of the golf course. The park also offers two Back Country hike sites, RV campers, 11 bath houses, a laundry facility, a pool and a nature center, as well.
Whether you hike or bike through the forest, spot an abundance of wildlife, spend a day on the private sandbars, or dine on fresh produce, couples looking to have a peaceful (and economical) getaway, Gulf State Park offers seclusion in nature with the luxuries of a resort.
20115 Street, State Hwy 135
Gulf Shores, AL 36542
(251) 948-7275 ext.2128
Torreya State Park
For couples looking for something off the beaten path, Torreya State Park's beautiful, serene natural settings make for the classic honeymoon destination.
Every year, thousands of visitors flock to Torreya State Park to enjoy its unique natural features and leisure activities.
The Gregory House is a 1840s plantation home that was dismantled around 1940 and moved across the Apalachicola River and re-constructed in its current location. Couples can tour the rich historic Gregory House daily. Recreational opportunities are abundant, as it offers hiking, fishing, birdwatching, nature study as well as historic feature tours.
The park also offers three backpack camping sites, 29 regular campsites with water, electricity and a dumping station. For those not so adventurous, the park offers a YURT, a portable, circular tent covered with fabric or felt that makes for a unique camping experience, better referred to as Glamping! This one-of-a-kind YURT is fully furnished and heated and air-conditioned. The park also offers a cabin that sleeps six which is built on the "Old Cabin" style. The cabin is also fully furnished and heated and air-conditioned.
At Torreya State Park, you and your partner can relax and the only noises you'll hear are those of local wildlife.
2576 NW Torreya Park Road
Bristol, FL 32321
(850) 643-2674
Adventures Unlimited
Adventures Unlimited is known as a unique wilderness resort on pristine spring fed Coldwater Creek. Its beauty is derived from clear water, white sandy beaches and natural forests.
The clear creek flows along the Southern boundary of the largest State Forest in Florida, the Blackwater State Forest. The cabins and campgrounds all have a private setting with the native forest to the left of each separate lodging unit. All sites offer water, power, a picnic table, a fire-pit, charcoal grill and access to the bathhouse.
The center offers several deluxe cabins, including Lorax Loft with a king bed, champagne bath tub for two, fireplace and a true treehouse setting overlooking the river and stumpy alley beach. If a champagne bath doesn't float your boat, the romantic Tupulo cabin might be more to your taste with a fireplace in the bedroom and a soaker tub overlooking the Coldwater Creek. All private cabins are air-conditioned and heated, equipped with a kitchen, cooking equipment and eating utensils. They are also fully furnished with linens provided. The cabins are remote, perfect for a romantic getaway.
If you're yearning for adventure, Adventures Unlimited is home to Zip Adventures, a guided zip line canopy tour through and over Blackwater Sate Forest. In addition to hiking, there are plenty of water activities such as tubing, canoeing, kayaking and stand-up paddle boarding on the Coldwater Creek. If serenity and calm are the goals, with a little fun mixed in, Adventures Unlimited is the place to be.
8974 Tomahawk Landing Road
Milton, FL 32570
(850) 623-6197
Coldwater Gardens
Situated on 352 acres of pine forest and low-land cypress swamps bordering the rustic Coldwater Creek, Coldwater Gardens provides an intimate escape from urbanization and places guests back in nature. nine miles of roads and trails winding through several different unique ecosystems provides visitors with plenty to see and wildlife to encounter.
The facilities at Coldwater Gardens are newly built, extremely clean and have a modern architectural style lending to the European feel. The garden adds a unique aspect for guests to have the opportunity to see several different architectural techniques from aquaponics, hydroponics, honey bees, shiitake mushrooms, and much more. Plus, guests get the chance to eat produce that comes straight from the land.
Guests have the luxury of enjoying the 12'x16' decks perched along the banks of the creek, each with their own fire pit, bench, Adirondack chairs and access to a sandbar. Glamping or "glamorous camping" strikes the perfect balance of camping and comfort. Glamping tents are nothing like your standard tent. All of the six canvas tents are outfitted with a Tempurpedic queen bed, mini-fridge, coffee maker, water broiler, fire-pit, charcoal grill, deck furniture, as well as an outdoor shower and sink. Warm showers and restroom facilities are centrally located by the glamping tents. Glamping is sure to make for a unique and stylish camping experience.
For a true escape, the four cottages offer complete peace and quiet, as well as everything you need for a comfortable stay; a king bed, fully equipped kitchen, large bathroom, screened porch, fire-pit and geo-thermal climate control, all in a beautifully crafted structure, boasting exposed cypress inside and out.
7009 Creek Stone Road
Milton, FL 32570
(850) 426-1300