Intro by Gina Castro
Navy Federal partnered with Hire Heroes USA®* to identify industries and career paths that meet the values that matter most to servicemembers. Clay Stackhouse, Navy Federal's Member Outreach Manager for panhandle Florida, Alabama, Mississippi, Louisiana and Arkansas, was a marine for 25 years, so he knew how challenging transitioning from the military to civilian life can be on veterans and their families.
"In the military, you have an identity. I left high school and went right to the naval academy. My entire adult life was invested in my identity as a military person, and as you transition out, you're wondering what your identity will be," Stackhouse said. "That's why we partnered with these veterans, and we get very personal with the kinds of things they wanted. I had decided I was done chasing bad guys and I wanted to help the good guys. We talked to over a 1,000 people over a years time, and it turned out that transition help was one of the biggest things they wanted. Everybody wants gainful employment once they get out. So we partnered with hire heroes and we came up with a list with the best 10 occupations after service."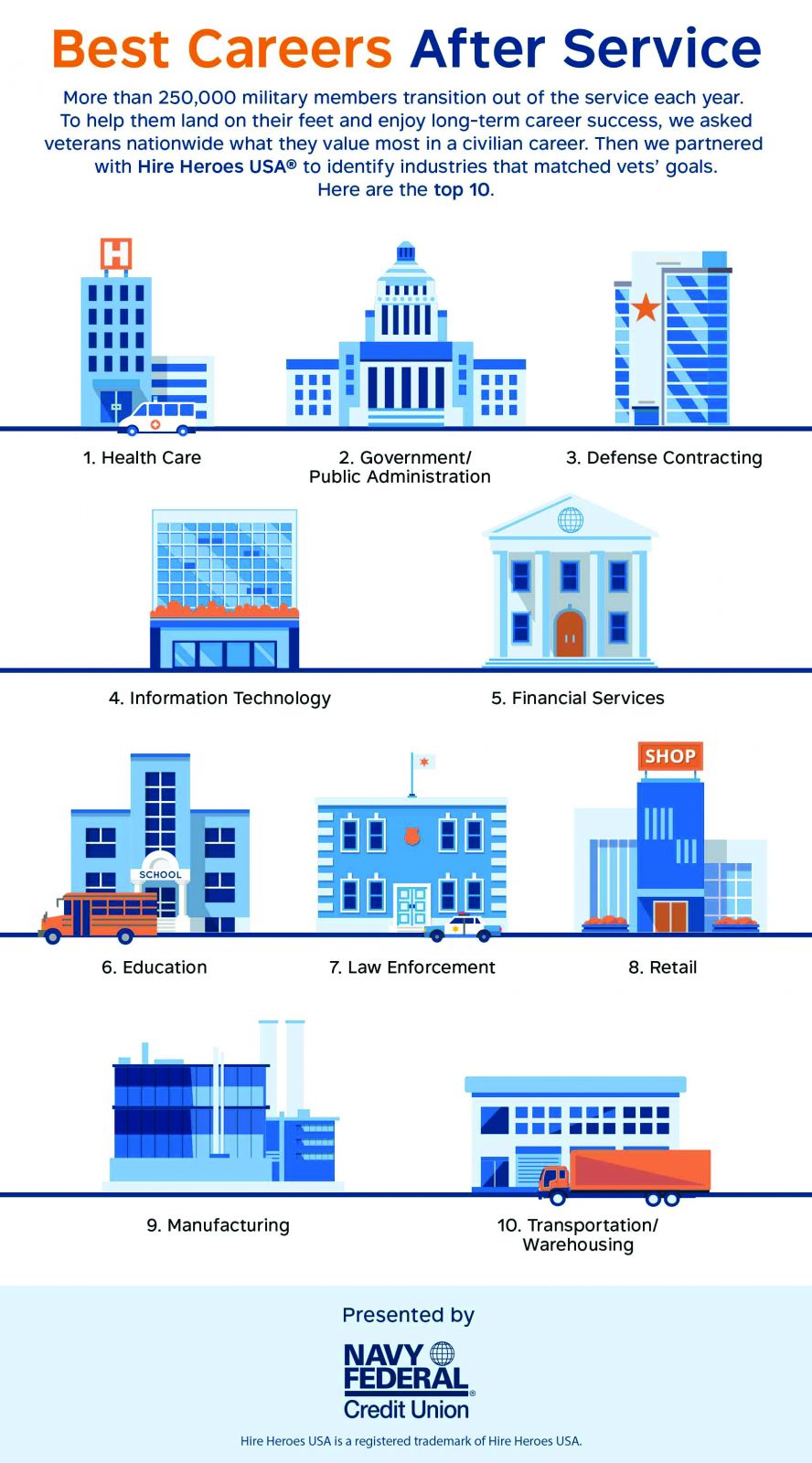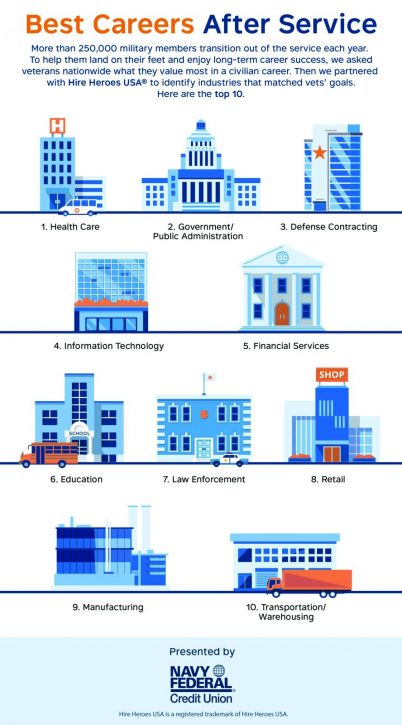 Here are the top 10 industries Navy Federal identified as best after military service.
Health Care
It's not surprising that the health care industry is the #1 match for veterans' goals, given the competitive salaries and how well jobs match military experience. Two other benefits that stood out were the strong sense of community and teamwork within the health care industry and its opportunities to help people.
Government / Public Administration
Believe it or not, 1 in 4 vets do some sort of government work. The combination of a competitive salary, opportunities for career growth, a match for military experience/skills, consistent work location and flexible hours/schedule checks a lot of our vets' boxes.
Defense Contracting
Defense contracting is most popular among vets 45 and younger. Top reasons? Competitive salaries, working for a mission-driven organization, having work suited to military experience and skills, and special programs for vets.
Information Technology
In an increasingly digital world, careers in the IT field are becoming more popular and lucrative. IT jobs provide competitive salaries, clear advancement paths and a ton of training and development opportunities.
Financial Services
Financial services careers work particularly well for younger vets, with more than 1 in 10 in related jobs. Matching benefits include a clear advancement path, training, development and creative/strategic opportunities, and competitive salaries.
Education
The education industry matches veterans' desires for a mission-driven/team-oriented environment, mentorship opportunities and a consistent work location. For these and many other reasons, 13 percent of those with college degrees end up in education.
Law Enforcement
Law enforcement is one of the industries most suited for—and comparable to—military experience and skills. It offers clear career advancement and fulfills the desire for a mission-driven, team-oriented environment. It's particularly popular among those living in the western US and those who transitioned in 2001 or later.
Retail
Retail, unlike other industries on our list, offers incredibly flexible work schedules, along with a consistent work location, a goal-oriented environment and the opportunity to be self-motivated. Veteran employment in retail is highest among those 45 and older.
Manufacturing
Manufacturing is the leading industry for vets without a college degree and for those over 35. This industry matched their desire for a good salary, consistent work location and a team environment. Plus, they can take advantage of specialized training for career growth.
Transportation/Warehousing
Rounding out our top 10 list for careers that match what vets value is transportation/warehousing, which gives them an opportunity to work with their hands and not have to sit at a desk in a traditional 9 to 5 job. Similar to manufacturing, this industry provides specialized training to advance in the field. It also allows them to be involved with a mission-driven organization and is well-suited to their military experience and skills.