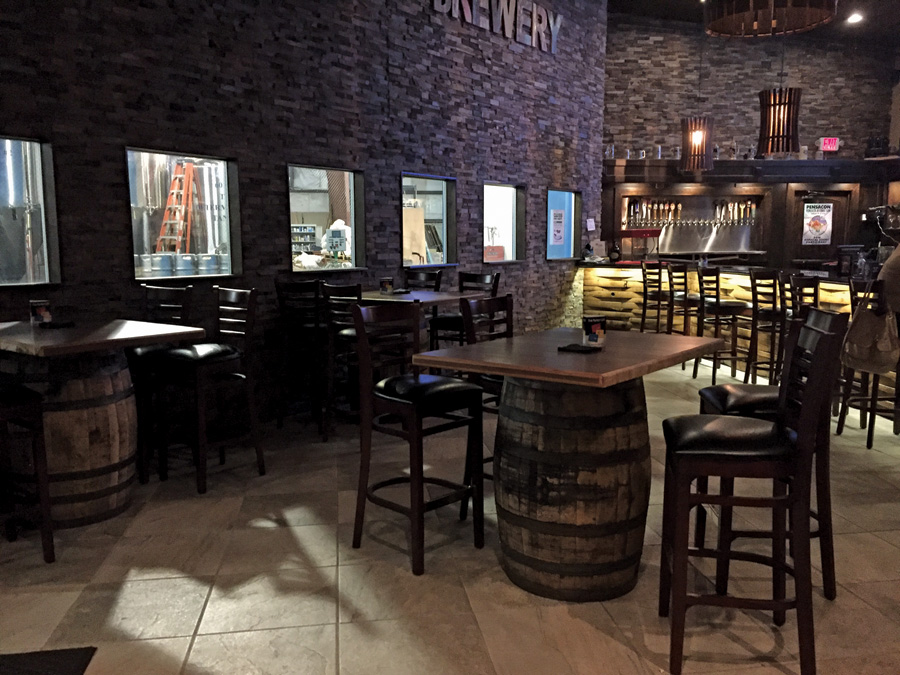 There's a new brew on the Heinberg block: Gulf Coast Brewery.
Since its doors opened officially on Feb. 11, Gulf Coast Brewery has become the new destination spot in Downtown.
Owner Elliott Eckland has experience in the business of breweries, as the founder and co-owner of Pensacola Bay Brewery in Downtown Pensacola.
Eckland saw a need for breweries in Pensacola, which is why he has branched out to start his own brewery with the help of office manager Carrie Young.
"The day we passed inspection we had to leave to get the official certificate," said Elliott Eckland, owner of Gulf Coast Brewery. "When we left people were already lined up around the block. When we got back, we opened immediately and started pouring beers."
From hosting parties for community events like the CW55 after party, during Pensacon from Feb. 19 to 21 when there were at least 100 guests each night, to offering rental space for wine clubs, business meetings, and causal hangout sessions, there's more to do at the local microbrewery than sip on spirits.
Adjacent to the tap room is where the beer is made, and the area doubles as a spot for recreational activities like cornhole, darts, pingpong and foosball.
The microbrewery can hold as many as 50 seated guests from the tap room to the cigar lounge and wine room.
Eckland also saw a need for more places to enjoy cigars in the Pensacola area, which is why he decided to incorporate a cigar lounge, as well as a walk-in humidor, into his design for Gulf Coast Brewery. The walk-in humidor is made of Spanish cedar and operates at 70 percent humidity to keep all cigars fresh and enjoyable.
On the topic of design, one of the first things you might notice at first glance is the unique Jack Daniel's barrel lighting. Eckland took apart the barrels himself, which came from a Jack Daniel distillery, so the lights could be built. You'll notice the bar, table and chairs also have oak barrels incorporated into the décor to give it that distillery feel, since one of Eckland's goals are to make the microbrewery a distillery, too.
Eckland has a lot of plans for the future of Gulf Coast Brewery. As for appearance, he has ideas for constructing a wooden deck outside the building by next spring, which will be covered by canvas from a sailboat and decorated with tropical palms.
He hopes his improvements will inspire other businesses on the Heinberg Street block to upgrade their buildings so the street becomes an appealing attraction for locals and tourists alike.
Once Eckland has his brews in order, he also wants to get involved in bottling and canning products from Gulf Coast Brewery.
One of his goals is to specialize in craft beers aged in oak barrels that previously housed whiskey and/or bourbon. The brew will smell and taste like whiskey, but by all definitions will still be a beer.
Homemade sodas are projected to be on the drink menu, too, including but not limited to flavors like cream and cherry sodas, as well as rootbeer and gingerbeer.
In the future, Monday specials will include 25 percent of growler refills and 20 percent off cigars on Tuesdays. Gulf Coast Brewery growlers come in 64 oz., which is equivalent to about four and half beers.
Right now, Gulf Coast Brewery has five beers on tap but Eckland is in the process of brewing more—at least seven should be available by the first week of March.
Preparations are also being made for 30-minute tours of the brewery, which Eckland aims to offer every day. For $5 a person, tours will include your choice of a signature Gulf Coast Brewery beer along with a walkthrough of the building and the brewing process from farm to table. You'll learn where grains come from and you'll get to touch and taste the differences between grains.
Souvenirs will be available online, as well as in the brewery itself, and they include Pilsner, pint, and straight side glasses granted to you according to what type of beer you order.
"Mostly, we want readers to know Gulf Coast Brewery is a friendly place," said Eckland. "We've got friendly staff and the environment here is just like everyone knows each other."
Check out what's brewing at Gulf Coast Brewery by walking in next time you're in the downtown area, or by visiting gulfcoastbrewery.net.