East Hill Welcomes Alga Beer Company to the Neighborhood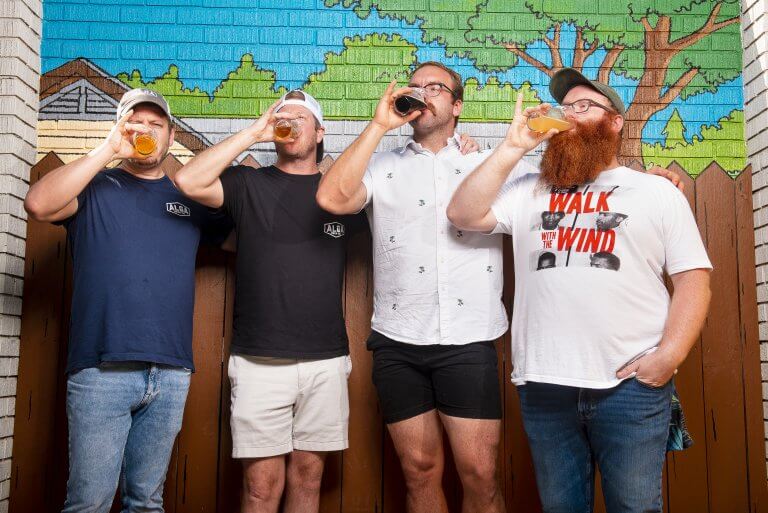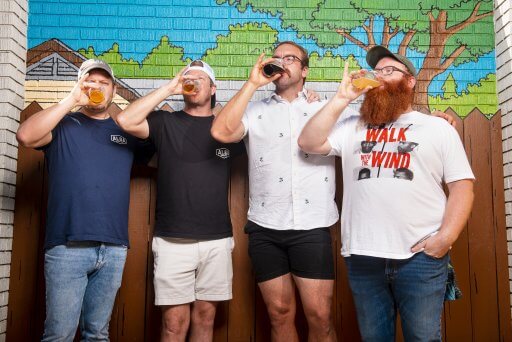 After more than a year of planning and development, and a few pandemic-related setbacks, Pensacola's newest craft brewery, Alga Beer Company, is now officially open for business.
"The whole build-up to us opening was a long ride, and now we're sort of just taking it all in as it comes," Alga co-owner, John Hodgdon II said. "The community has been so supportive in welcoming us to the neighborhood and especially the local craft brewing community."
Alga's co-owners celebrated the brewery's much-anticipated opening Friday, August 9 at their new location in East Hill. The Alga brick-and-mortar building at 2435 N. 12th Ave. is the former home of the Brew Ha Ha restaurant, which struggled to stay open during its first year of operation and eventually closed in May 2020.
Although Alga Beer Company has participated in just about every beer-related event and festival across the panhandle, it's been without a physical home—until now.
"It's definitely been a long journey for us to find the right space, but we really have found just the perfect fit," Hodgdon said.
For co-owner trio John Hodgdon II, Brett Reid and Thomas Grier, the brewery was a vision that began to materialize a little more than a year ago, but the original concept for Alga is actually the product of a college home brewing hobby that first began almost a decade ago. Hodgdon entered the equation about two years ago and handles the business and development side of things.
Alga co-owners, Thomas Grier and Brett Reid first met while attending college at the University of Alabama, where they also bonded over their love for craft beer. After graduating together, the two friends went their separate ways to pursue career opportunities, with one moving to Birmingham, AL, and the other to Atlanta.
Grier and Reid continued to strengthen their bond from afar through their shared passion for home brewing. They eventually began experimenting with the craft remotely and often spent their weekends traveling back and forth from their respective homes trying out recipes and mastering new techniques. As the duo became better at home brewing, they started formulating their own recipes and realized that they could actually make some pretty decent beer.
"After college ended and we both lived in separate towns, Thomas and I would still get together and home brew. We'd either go to my house or to his on the weekends to brew and drink the new batches that we made," Reid explained. "From there, it slowly turned from us making beer for us to enjoy, to us somehow brewing even more beer and not having any left for ourselves."
When their home brewing hobby began to transform into something much bigger, they decided it was time for a name and came up with "Alga"—an abbreviated mash-up of the two state names from which the brews originated.
Many of the brews that Grier and Reid first experimented with from their Alabama and Georgia homes are more or less the evolution of the six beers you'll find available on tap.
"Our whole purpose is actually to deliver the highest-quality product imaginable," Grier explained.
Alga's inaugural line-up of brews includes:
• Palahops – India Pale Ale (IPA), 6% ABV
• Hwy. Juice – Golden Sour Ale, 5.4% ABV
• East Hillsner – Pilsner, 5.4% ABV
• Lo-Fi – New England IPA, 6.2% ABV
• Neighborhood Beer (made with East Hill Honey), 5.9% ABV
• Easy Rider – Hand-crafted root beer by Big Jerk Soda Company, 0% ABV
Palahops, the East Hillsner and Hwy. Juice will always be available on tap with other small batch options featured as part of their rotating beer menu.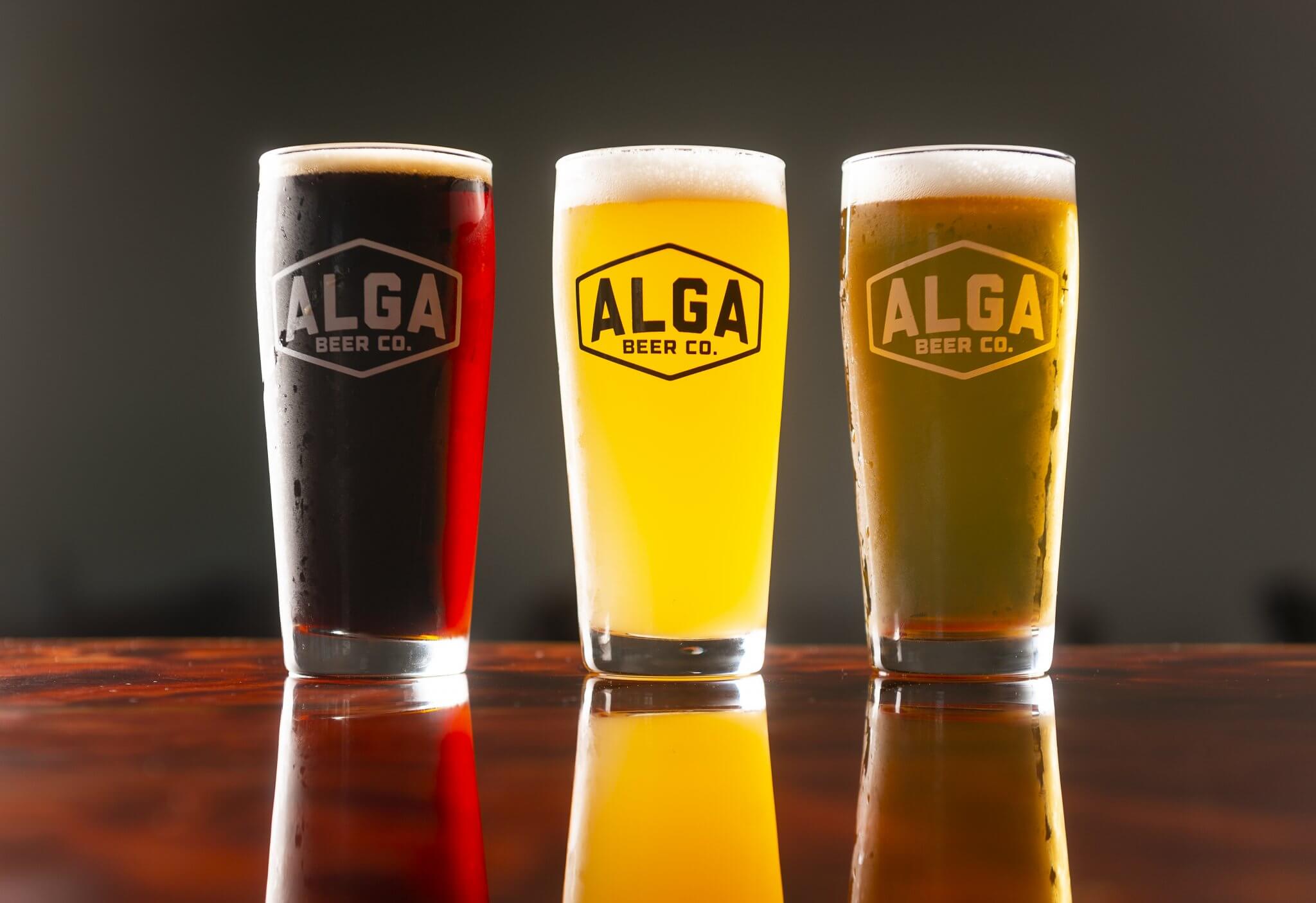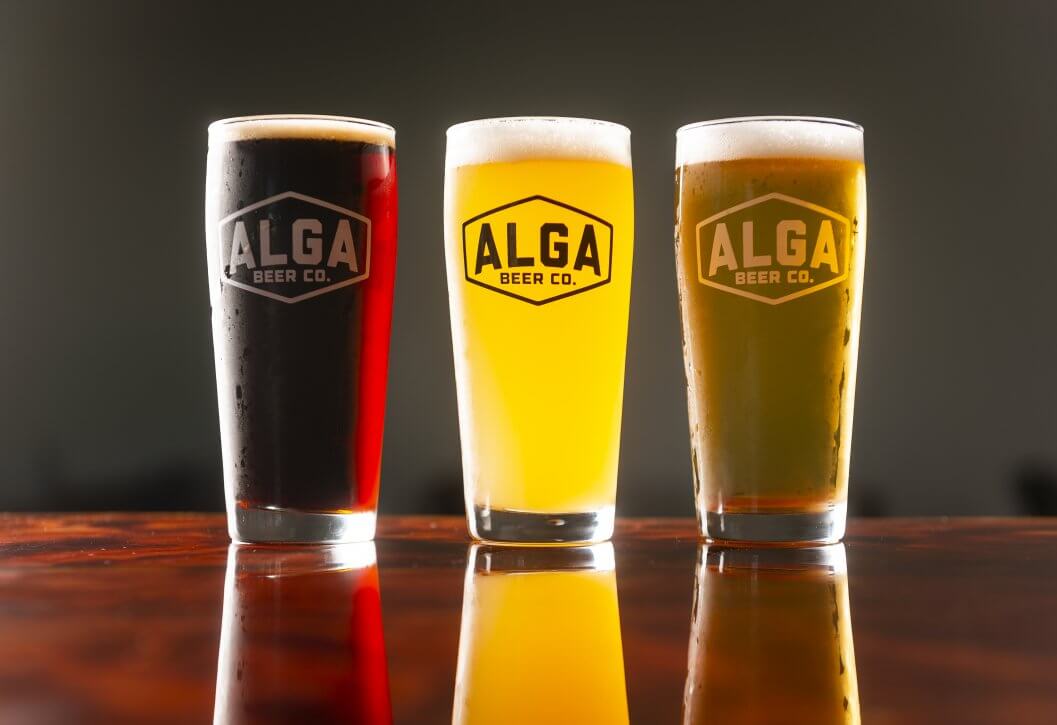 A thoughtful selection of wines, champagne and assorted craft sodas top-off the Alga beverage menu, which clearly demonstrates their passion for collaborating with other small business owners. One such collaborator is Big Jerk Soda Company, who partnered with Alga to formulate a small batch of root beer made using their soda called Easy Rider.
"We partnered with Big Jerk to bring us a root beer we could serve on tap that actually looks like a beer. They've toned down the caramel coloring to make it look like one of our actual brews," explained Hodgdon.
This locally-crafted root beer is just the start of more collaborative non-alcoholic beverage offerings to be brewed by the two companies that will be available on tap.
"One of the coolest things I've seen and that really stood out to me was when I saw a father and son sitting right over there—the father had a glass of beer, and the son had a glass of root beer. They were actually having their first beer together," Hodgdon said
In addition to their recent collaboration with Pensacola-based Big Jerk Soda Company, they've also partnered with the new Ballyhoo Pensacola Food Truck to offer a small but thoughtful menu of treats and snacks that pair perfectly with one of their brews.
The new food truck occupies a permanent spot in Alga's backyard and will be on-site each night serving tasty concession-style treats.
"We're really excited about our partnership with Ballyhoo," Hodgdon said. "He's doing a specialty Alga beer cheese that can be used as a topping and comes as part of the nacho tray that's served with Alga beer."
There is a parcel of grass next to the food truck behind Alga where guests are invited to kick-back in one of the old-school chairs to enjoy a bite with their Alga beer overlooking a larger-than-life "King of the Hill" inspired mural that was hand-painted by Reid's mother-in-law.
Hodgdon and Reid explained that they were also working on finishing-up the empty space adjacent to the backyard hangout area which will soon serve as a functioning event space available to rent for parties, receptions and other special events.
Alga's 5,500-square-foot taproom has a max capacity of around 130 and features various seating arrangements centered around a series of rustic, wood tables—all carved from a single cedar tree.
Another one of the taproom's defining features is the concrete bar top, which was designed and hand-poured by Alga co-owners with a little help from Reid's father who came into town to assist them before the big opening. Small personal touches like these can be found throughout the space contributing to Alga's overall "laid-back" vibe.
Hodgdon explained that their vision for the brewery was to create a space that anyone could feel comfortable walking into.
"We're all pretty laid-back guys, and our whole vibe is really all about that as well. We want people to feel comfortable coming into the space whether they're stopping in on their way home from the gym and are still in gym clothes, or if they're walking the dog in the neighborhood," Hodgdon said.
Hodgdon and Reid explained that the neutral-colored walls were meant to serve as a blank canvas for the community and that they'd let the identity of the space fill out organically.
Alga will host live music with the goal of highlighting up-and-coming artists who don't have enough visibility in Pensacola.
And as for their stewardship, the brewery recently partnered with the Fishbein Foundation to help raise money for the Gulf Coast Kid's House and plans to partner with more local charities and nonprofit organizations in the near future.
"I am still trying to wrap my head around the fact that people are actually coming in here and giving us money to drink our beer, it's just wild," Reid said.
Alga is open Monday through Thursday from 4 pm to 10 pm, Friday from 4 pm until midnight, Saturdays from 12 pm until midnight and Sundays from noon until 10 pm.
For updates and the latest on Alga's current beer selections, visit algabeerco.com or follow @algabeerco on Facebook and Instagram.