From WEAR to NewsRadio 1620, these are the faces and voices we watch and listen to each day. Whether they play our music or report our news, they are an integral, valuable part of Pensacola's soundtrack.
Sandra Averhart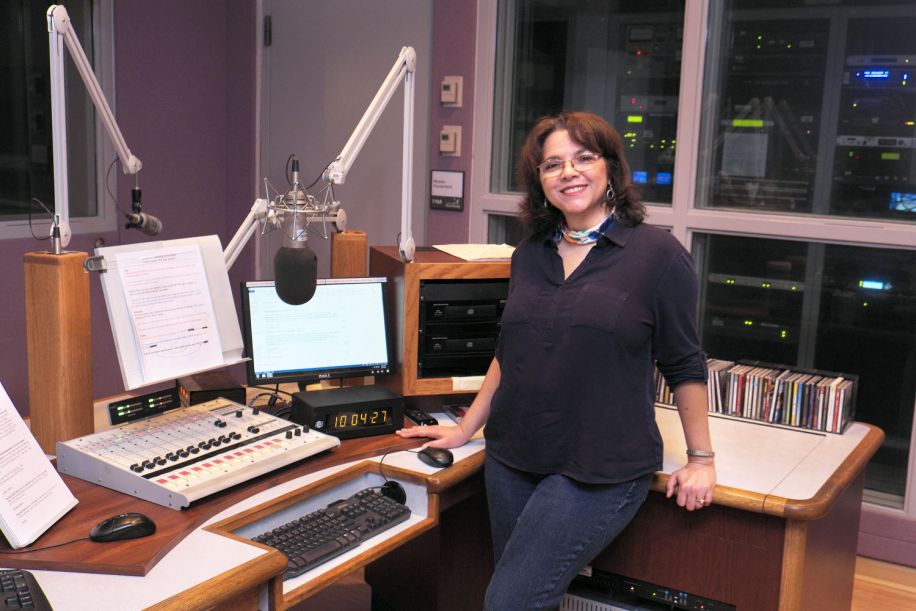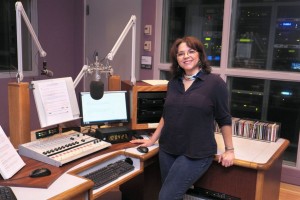 News Director, WUWF
Sandra has been with WUWF, a public radio station licensed to the University of West Florida, since 1996. She has seen a lot change in that time, some good (she is a big fan of the move toward digital recording) and some not so good (including a preference in today's news environment for polarizing and opinion-based reporting). She likes public radio because it is, in her words, right down the middle with a focus on the story more than the voice and opinions behind the mic.
Speaking of stories, Sandra finds the best way to tell one is with no agenda and a principled focus on listening first and talking second. She learned the importance of knowing your audience from her communications courses at Florida State University.
"There are so many stories to tell," says Sandra. "They might be serious and political in nature, or more light-hearted with a community or sports-focus. I enjoy them all."
Radio is an ongoing conversation, she says, and one that she loves deeply. For example, WUWF recently began a series of pieces documenting early on-set Alzheimer's through the lens of one local individual as he begins the harrowing journey of suffering from this unfortunate disease. By interfacing with a real human being, and relaying that dialogue to the public, Sandra hopes that the public will be informed, feel empathy, and relate to someone they don't even know.
That's the real purpose of radio, Sandra says. That's the real purpose of stories.
Jeff Weeks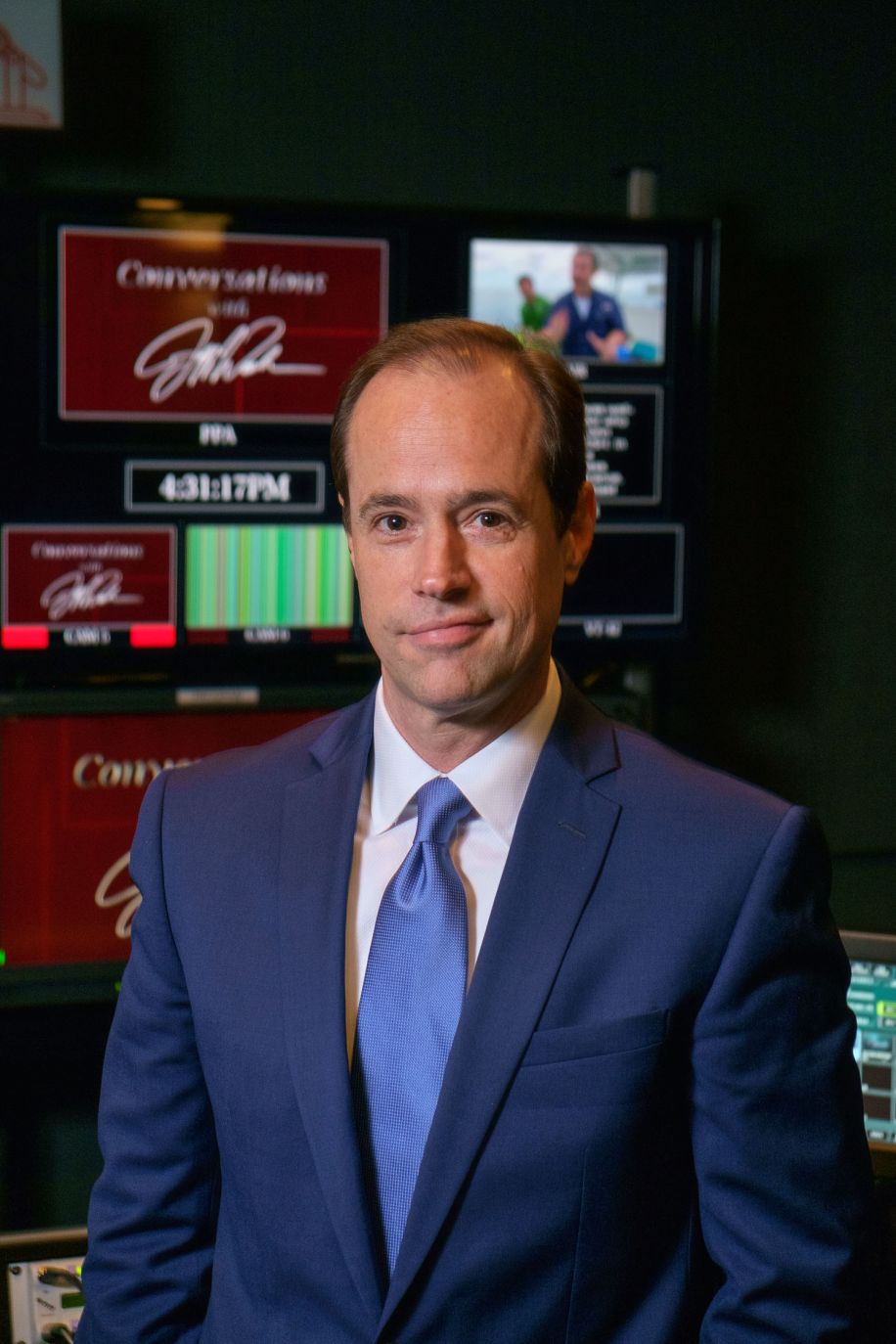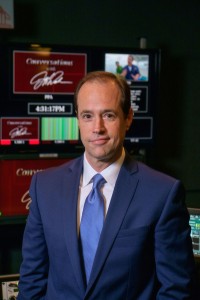 Long-Time Television Personality
Jeff Weeks thinks of life as a conversation. Perhaps that's why his tone in interviews and on his popular WSRE-TV shows is always confident and casual, breezy yet deft. He's been in the business since the 80s, and his persona both in front of and behind the camera reflects an ease and professionalism that only comes with years of experience.
He was just 15 when he got his first job in radio, and has since made the transition to many other media, including television at WEAR. Jeff started down the path of investment advisory in 1998 and currently works with Wells Fargo as a first vice president – investment officer, where he says his natural conversational tone and honest curiosity leads him to deliver the best for his clients.
However, as the times change, so too has the industry, an evolution that Jeff is wary of.
"I think you've seen the quality of on air talent go down dramatically," says Jeff. "Broadcasters put pride before professionalism. In my programs, I strive for a greater level of professionalism, and I think the audience appreciates that."
In his time on the air, he has had the pleasure of meeting with local business people and U.S. dignitaries alike. Through it all, he remains cool and genuine.
"Pensacola is really a hidden gem," says Jeff. "Most people I talk to, they're either thrilled that they live here or excited to be visiting. That makes my job easy. I just continue being who I am whether the cameras are on or not, and I let Pensacola and the fascinating individuals I'm speaking to take care of the rest."
Brent Lane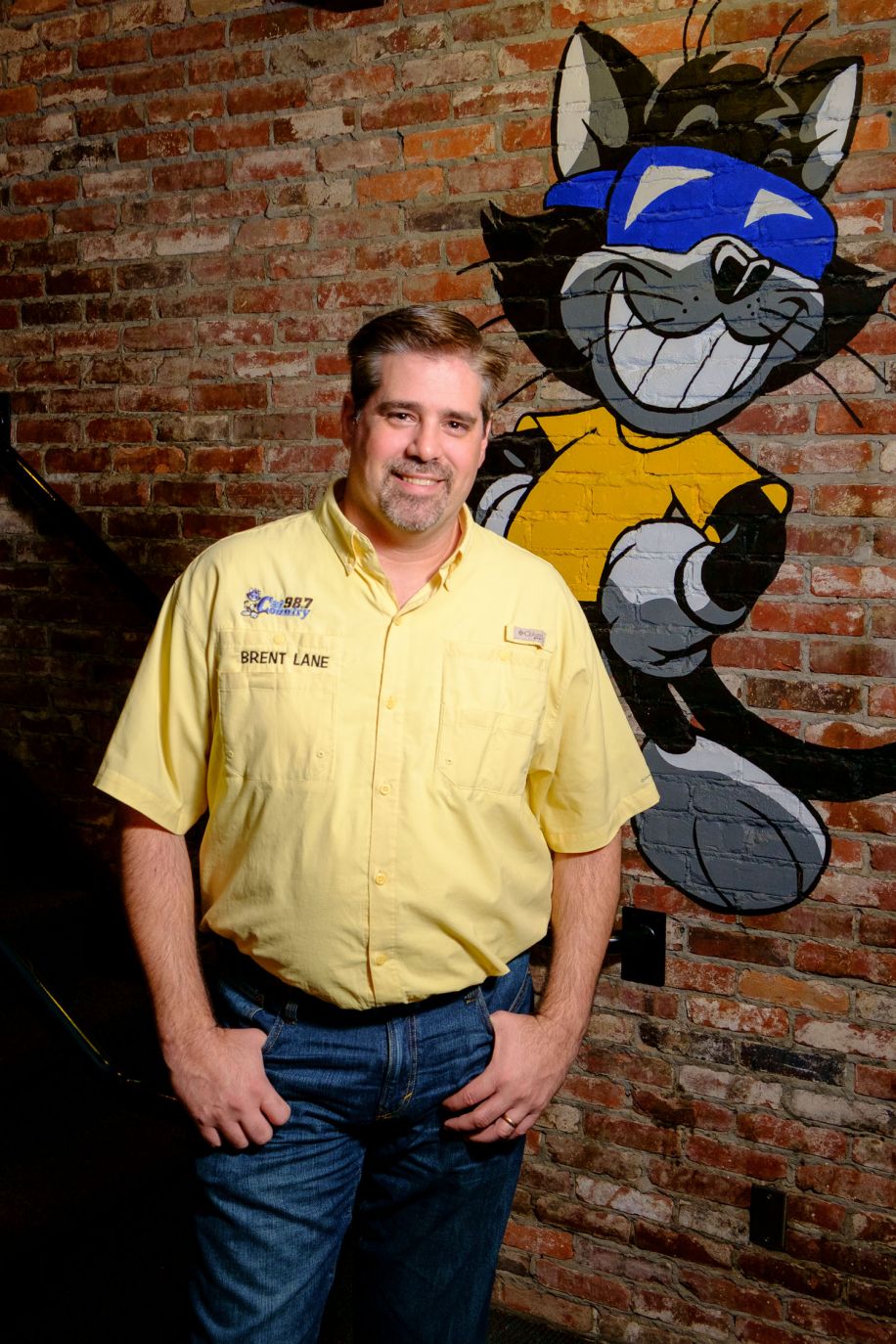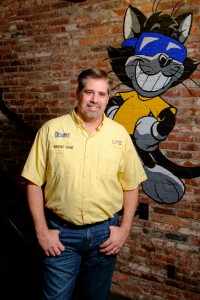 Co-Host, CatPak morning show, Cat Country
He's the emcee of countless charity events in Pensacola, and the charming yet authoritative voice on the Cat Pak Morning Show. His signature yellow shirt and wide smile spread contagious optimism whether he's in the radio studio or at a professional event.
Brent Lane has won a number of both local and national awards—and for good reason. His love of radio and the goodwill he feels toward his host city of Pensacola is evident in everything he does.
As someone who has been in radio since he was just 14, Brent knows a thing or two about the business and about its role in local community. He still remembers the days of cut bags and reels, but is thankful for the move toward digital, as the phone in his pocket has replaced the on-site recording van.
"Radio is a part of our lives," says Brent. "Whether it wakes you up in the morning or it's on in the van when you drop the kids off, it is one-on-one mass communication. When I'm behind the mic, I want each member of my audience to feel that I'm speaking just to them."
With more than 100,000 listeners a week, that's a tall order, but no one makes it look (or, sound) quite as easy as Brent.
"I love my job," says Brent. "It's a family operation and I'm extremely blessed to be apart of it. I guess the joy I feel translates on air. It's me out there and it's me in here."
That authenticity is both the key to Brent's charm and the explanation behind his success. He works with other local media brands and never shies away from an opportunity to give back. The Cat Pak—and Pensacola—is lucky to have him.
Bob Solarski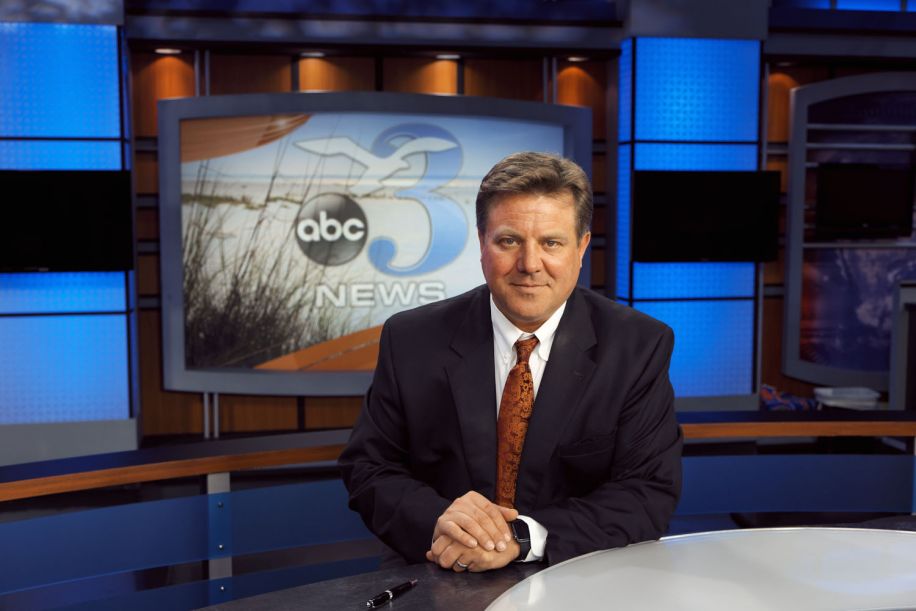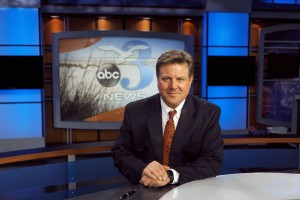 News Anchor, WEAR-ABC3
An old-school news anchor who got his start in 1987 in Plattsburgh, NY, Bob Solarski did not always intend to go into the broadcast field. Originally interested in political science and forensics, Bob took a vacant reporter's job and found that it scratched a multitude of itches.
"I was able to ask questions first-hand," says Bob. "In that way, by spreading information and getting to the bottom of stories big and small, I'm able to effect change."
Bob has seen some change in his time. Having talked to everyone from Bill Clinton to Barack Obama, he has seen his fair share of the political spectrum and keeps aware of news stories near and far.
But, he never loses sight of the importance of local stories featuring local people. WEAR is a regional ABC affiliate that strives to take big topics and show their impact locally. That's the making of a good story, and is a key element for Bob when deciding what should be reported on.
"Taking something that is often small and overlooked and showing its far-reaching implications can really get people thinking," says Bob. "I like all stories for that reason, as long as they are told by well-spoken communicators with compassion and a good visual element."
In this age of immediate news, wherein everyone thinks themselves an expert—and has a platform to communicate those opinions—Bob considers it more important than ever to be a true expert. To be useful in his reporting and factual in his journalism is among his priorities.
With opinion and partisanship more rampant than ever, especially in an election year, Bob advises consumers to be wary, smart and to forget everything except the facts.
Wendi Summers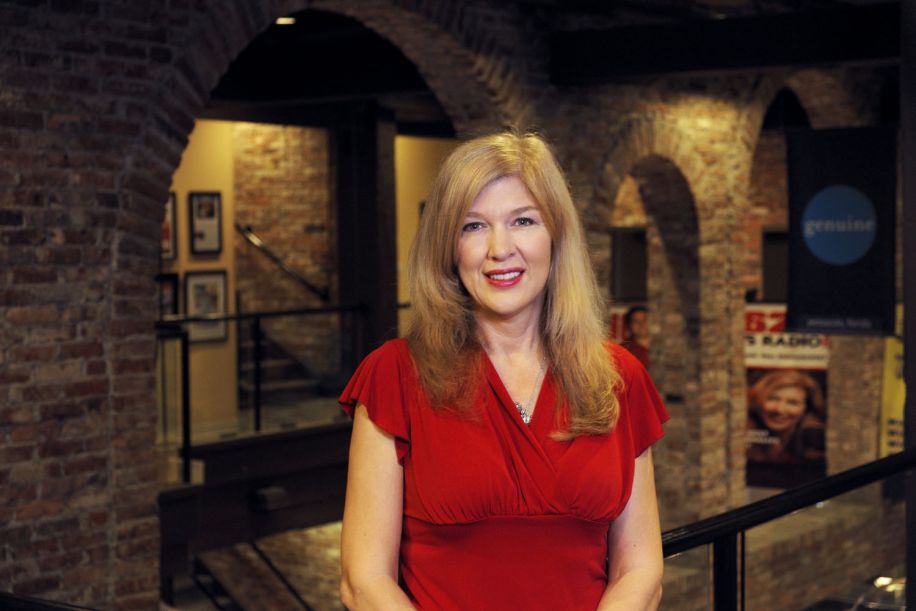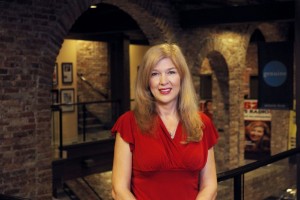 Host, Pensacola Expert Panel, NewsRadio1620
Wendi will be the first person to tell you she's no expert—despite having hosted the Pensacola Expert Panel for years and being in the business for nearly three decades. But she's wrong. As someone who worked her way up the chain from part-time hire to host of her own daily show, few people in the region know more about the ins and outs of radio—and how to get the most interesting tidbits of information out of people—than Wendi.
"I like to talk to people about where they came from and where they are now," says Wendi. "That can be absolutely fascinating. And I talk to a lot of people, like CPAs, who don't think their job is all that remarkable. But to us, to my listeners, it's really interesting."
The industry is becoming an increasingly tough one to break into, but Wendi advises the same career path that she herself took: start at the bottom, show your talent, and move up.
"That may mean running the board for a baseball game or doing weekend on-site reports," says Wendi. "But that's how you become familiar with the technology, familiar with what makes a compelling topic, and familiar with your audience."
Those are not the words of a novice. Wendi was plucked from the Cumulus network in 2007 when Dave and Mary Hoxeng started NewsRadio 1620, and she has been with them ever since.
"Their emphasis on local sets them apart," says Wendi. "So much on air entertainment is co-opted and generic. Not us. We care about our community and how it works."
Wendi loves being the expert on the area's experts.
"I'm learning at the same time my audience is, and that's wonderful."