By Hana Frenette
Jamie Thurman, Walk Chair and Florida Panhandle Board Member for the American Foundation for Suicide Prevention is passionate about suicide awareness. After losing her mother and the father of her daughter to suicide, Thurman reached out to the American Foundation for Suicide Prevention and launched a local chapter of the organization, along with an annual "Out of the Darkness Walk." The walk takes place on Oct. 14. Thurman answered some questions regarding the walk and what to expect, fighting the stigma surrounding suicide, and vowing to raise awareness for mental health.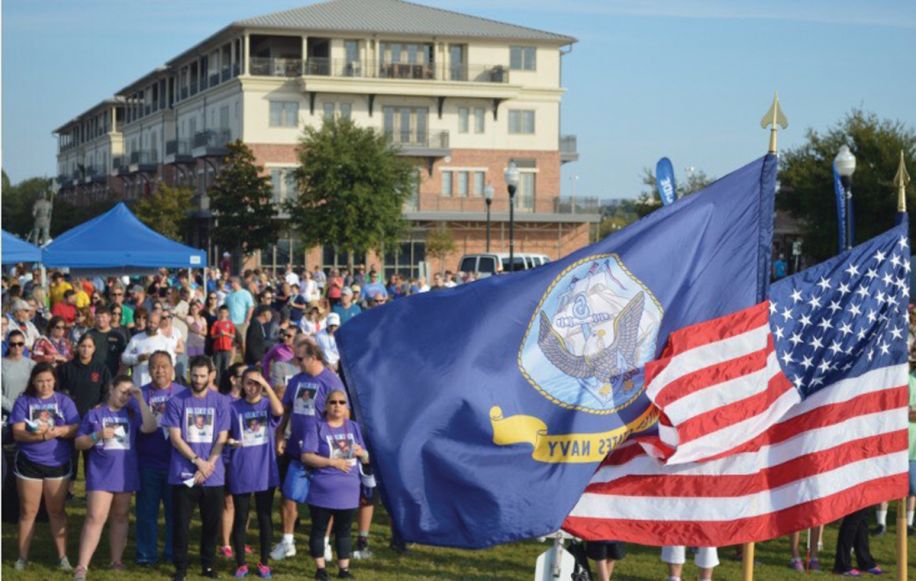 How did you become involved with this event and why is it important and special to you? 
My life was directly impacted by suicide, for the first time, in 2007, when the father of my oldest daughter took his own life.  In January 2016, yet again, I experienced this agonizing pain, when I lost my mother to suicide.  The overwhelming conflicting emotions I encountered afterwards inspired me to get involved with my community in order to help prevent other families from experiencing this pain.  It also motivated me to become an advocate for those who are afraid to speak up for themselves, because of the unnecessary and insensitive reaction our society has to those who struggle with unseen internal battles.
How did this event get started?
During my endless sleepless nights after losing my mother to suicide, I began researching suicide awareness on the internet to help me understand suicide better. It had been almost 10 years since the first loss I had to endure due to suicide, but this time it affected me much differently.  Within a few weeks of my mother's death, I began reaching out to the American Foundation for Suicide Prevention requesting information about the "Out of the Darkness" Community Walks. Because the final chapter for the foundation was in the process of being created in our area, now known as the Florida Panhandle Chapter, there were a few hiccups being worked out internally and my emails weren't receiving a response. Because I am the persistent person that I am, I didn't allow that to discourage me and I kept sending emails until I received a response from AFSP with attachments on how to start my own community walk. The death of my mother impacted my life in so many ways, but most importantly, I began to realize that helping others cope with the loss of a loved one to suicide became a part of my healing process.  I have made a vow to myself, my family, and my community that my priorities would include making a difference in how the World views suicide, by fighting to end the stigma related to suicide, and facilitating the many avenues available for raising mental health awareness.
Tell me a little bit about what a participant might expect from this event?
An overwhelming feeling of empathy for those who have lost a loved one by suicide. Our society has created the stigma surrounding suicide and taught everyone that suicide is socially unacceptable and in fear of having your family frowned upon amongst the community that they live in, the families brushed these deaths under the rug, or felt that they needed to falsify the cause of death by their loved ones to prevent feeling publically humiliated. At this event you will stand beside hundreds of individuals, families, and groups that are there supporting the same cause for the same reasons. There isn't a better feeling than knowing you are completely understood standing next to the stranger beside you and not having to speak  one word about your loss -and just knowing that they know exactly how you feel without any explanation.
Why should someone consider participating in this walk?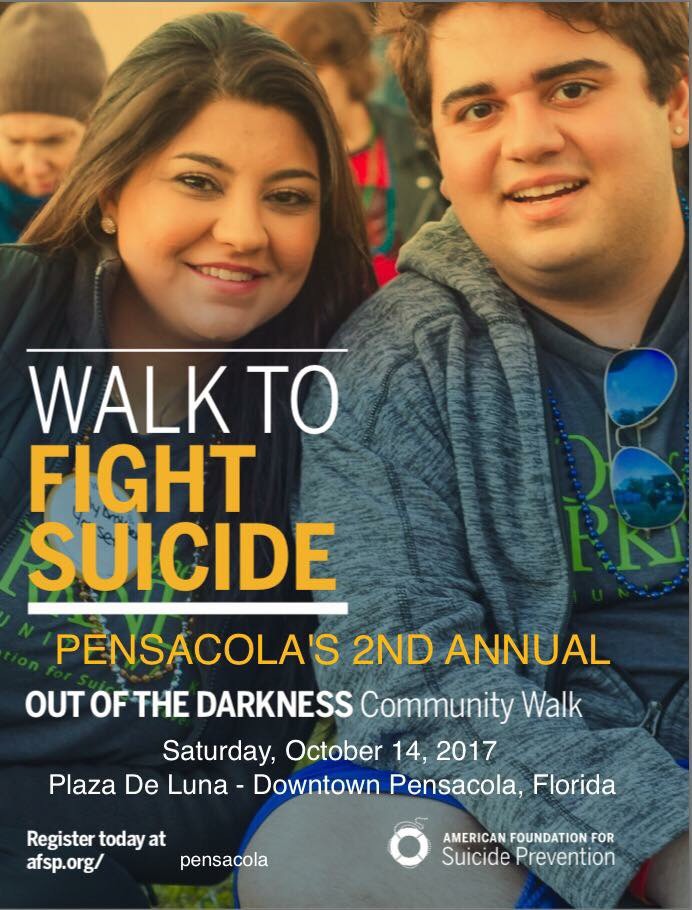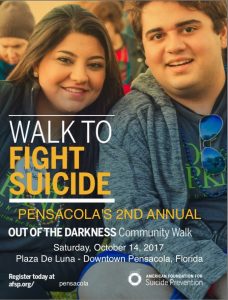 A major goal of this event is to show support for the families and friends of the more than 41,000 Americans who die by suicide, and the 20 million people who suffer from depression, each year.  Support of the community walks also helps to raise funds for suicide prevention research and educational programs, erase the stigma surrounding suicide and its causes, and encourage those who are suffering from mental illness to seek treatment.
Suicide isn't something that is spoken about very often and is kind of a hush, hush topic. I know a lot of people that have suffered through mental illness and depression and I think this is something that needs to be addressed more often and be spoken about more frequently. Having the opportunity to walk through downtown Pensacola in a huge crowd supporting suicide awareness is exact attention that we need to save lives.
The event page says the opening ceremony begins at 9, what will the ceremony consist of?
We are so excited about this year's event speaker, Sean Dietrich. Sean is a writer, humorist, and novelist, known for his commentary on life in the American South. Sean's father died by suicide when he was 12. Sean also has a blog that thousands of people follow called, "Sean of the South." If you're not already following Sean Diertich, you're definitely missing out. Absolutely cannot wait to hear what he has to say on October 14th.
Do you have to have a team to participate?
You do not have to walk with a team. You can sign up as an individual, and if you feel uncomfortable doing that, PLEASE feel free to join my team as my family and I walk in support of my two loved ones we lost. I would be thrilled to have you walk beside me. Look for the team "Justice for Joyce"…. nobody walks alone at my event.
Some people are talking about raising money, is there a goal or a specific way that money is raised for this walk?
Our community has been raising money on our walk page at www.afsp.org/pensacola. Our ultimate goal is $75,000. Each team sets their own goal which counts for their team goal and the event goal. Raising money isn't required, but we would love for you to help us meet this year's goal. Last year, in 8 shorts weeks of raising money and planning the 1st anual walk, Pensacola raised $50,000. We decided to bump it up a little this year and challenge the community to a larger goal.
Does this event take place all over the country as well?
This event is held all over the country. American Foundation for Suicide Prevention has 85 chapters over the US. If you cant attend the Pensacola walk, please visit www.afsp.org to find the nearest location for you to attend in a different city. We also have a walk in Ft. Walton Beach.
What was last year's first walk like? What were you expectations? 
Last year's walk was so amazing. It was a little stressful trying to figure out the ins and outs of planning a community walk, all while working a full-time job during the day and taking care of your family at night, but it goes back to the old saying my mom used to tell me when she was alive regarding everything in life, "If there's a will, there's a way." So far in my life, those words couldn't be more true. I honestly expected about 200 people to show up with us having only 8 weeks to plan a walk. I assumed that we wouldn't be able to get the attention we needed to get the word out to the community in that short period. During my permit process with the City, I was told that 100-200 people may be a little more than they have seen for 1st annual walks in Pensacola. So, for 1,000 walkers to show up for the 1st annual event, we were absolutely elated. Can't wait to see what the numbers will be this year.
What are you hoping for this year as far as turnout goes?
Last year's event caught me by surprise by the number of walkers that showed up to support the cause and we were pleasantly surprised with the outcome. This year, we had all year to plan and spread the word about the walk, so Im hoping for a larger turnout this year. Honestly, if we only had 5 people come out to show support this year, I would be ok with that. At least I know that I had the chance to make a difference in just those 5 people's lives. However, we strongly encourage everyone to help us spread the word. Tell everyone you know to come join us raise awareness.
Where and how can you sign up? When is the cutoff date?
Everyone will need to sign up at www.afsp.org/Pensacola. This event is free to the public, but you must be registered.