By Gina Castro
Have you ever wished traveling to the beach was easier? Parking at Pensacola Beach can be an absolute pain. Sitting in bumper to bumper traffic on the toll bridge and then circling the beach parking lots for a spot to park can be exhausting. On top of that, if you plan on drinking, someone has to make the sacrifice of being the designated driver. You can skip this headache and maybe even see a dolphin or two when you ride to the beach by boat. Pensacola Bay Cruises, located downtown, has catamaran-style vessels that can transport you to Fort Pickens, Pensacola Beach and back to downtown.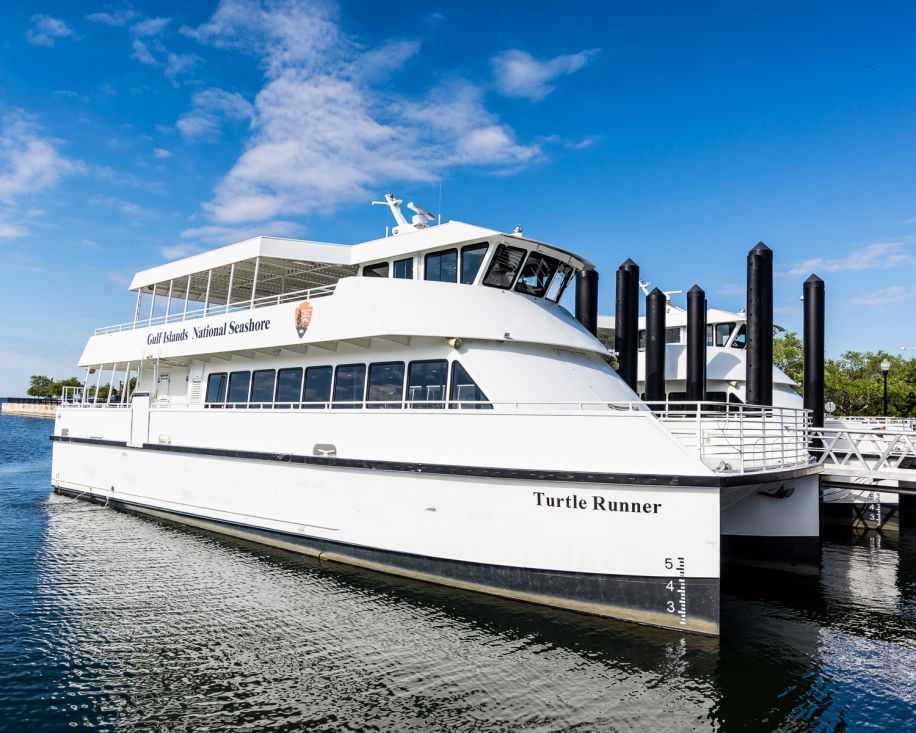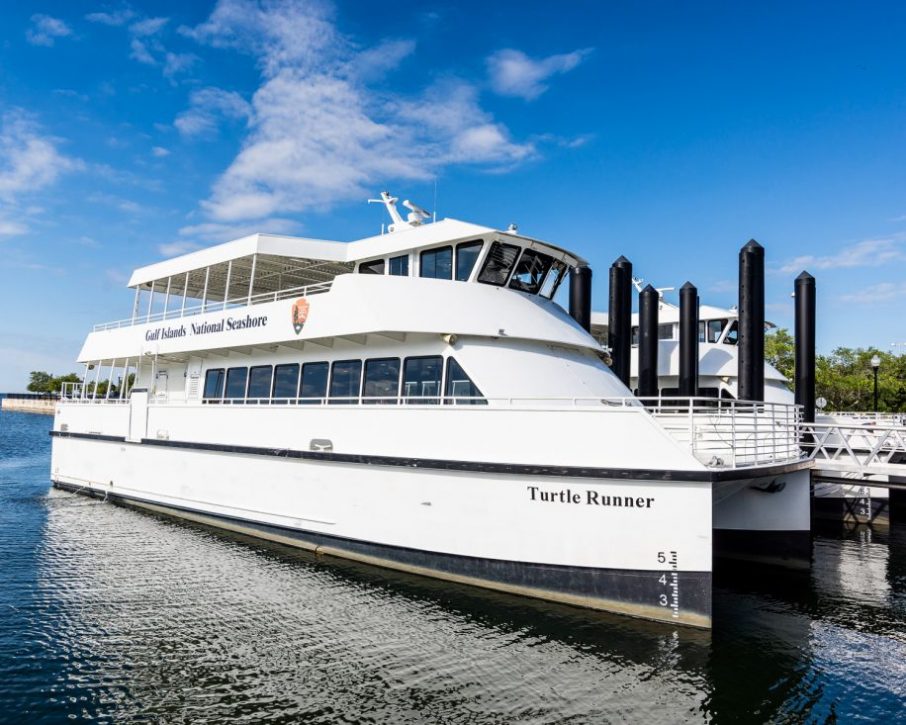 For $20 per person, Pensacola Bay Cruises can take you on a beautiful ride across Pensacola's waters from downtown to Fort Pickens to Pensacola Beach and back again. These cruises are available Thursday through Sunday. Tickets are good all day. Seniors, military and college students are eligible for discount ticket prices. Guests under two years old receive complimentary tickets, and admission is $15 for children between the ages of 3 and 15 years old. Guests with Escambia and Santa Rosa counties residence are able to purchase the discounted Locals card. The card is a set of 10 tickets at the price of $15 each, and it's valid all season for scheduled service.
Pensacola Bay Cruises has two vessels: Turtle Runner and Pelican Perch. Each vessel can fit up to 149 passengers. Kelly Langley, the Events and Sales Coordinator for Pensacola Bay Cruises, said that due to CDC's social distancing guidelines, the vessels' new maximum is 111 passengers until further notice. Langley also stated that the staff are required to wear face masks and that they are following CDC's disinfection guidelines.
If you're worried about the Florida heat, they've got you covered. The vessel's first level offers an air-conditioned interior, where Imported and domestic beer, wines, soft drinks and water are available for purchase. On this level, there are plenty of chairs and tables to relax and enjoy lunch. You can also walk around the boat once it's moving. The second floor has an air-conditioned interior, a covered exterior and seating. This is the optimal location for dolphin viewing.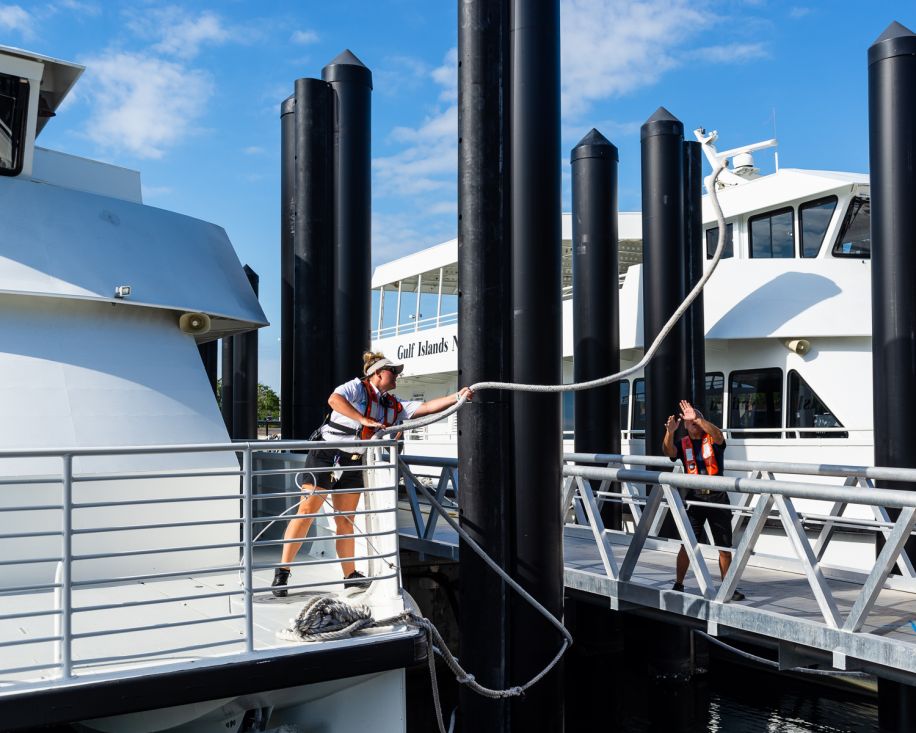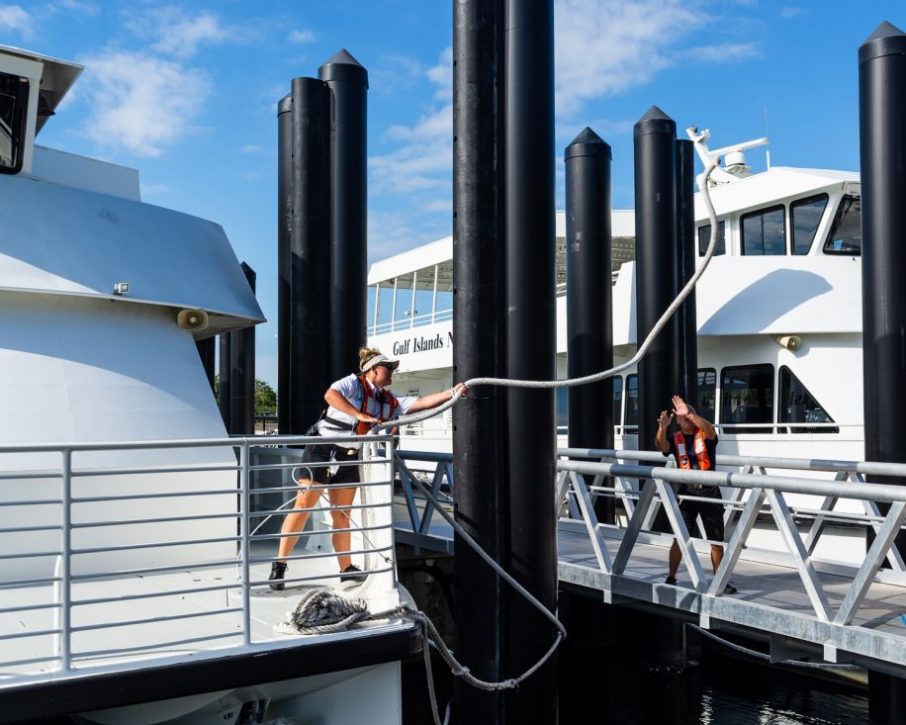 Pensacola Bay Cruises has bicycle racks and storage areas to make it easy to enjoy the hop on/hop off tickets, which will allow you to explore much of what downtown Pensacola, Fort Pickens and Pensacola Beach have to offer. On select trips, National Park Service Rangers speak on a variety of subjects including wildlife and landscapes of the area.
Guests can hop off at any of the stops, enjoy a few hours there, hop back onto the boat to see another spot and then return to downtown.
Fort Pickens is the first stop. Fort Pickens is a great spot for families and nature lovers. The Fort Barrancas area is filled with thrilling history from throughout the centuries. The Naval Live Oaks area has more than seven miles of hiking trails. There is plenty to explore at this spot. The Fort Pickens admission fee is included in the boat ticket.
The next stop is to one of the most beautiful beaches in the U.S.: Pensacola Beach. The boat drops you off at Quietwater Sound, the heart of Pensacola Beach. This stop is in walking distance to the boardwalk, where you can easily have lunch or dinner at any of the restaurants. If you brought your bike with you, you can go for a ride on the sidewalk along the beach. Once you are ready to leave, you can catch the boat back to downtown.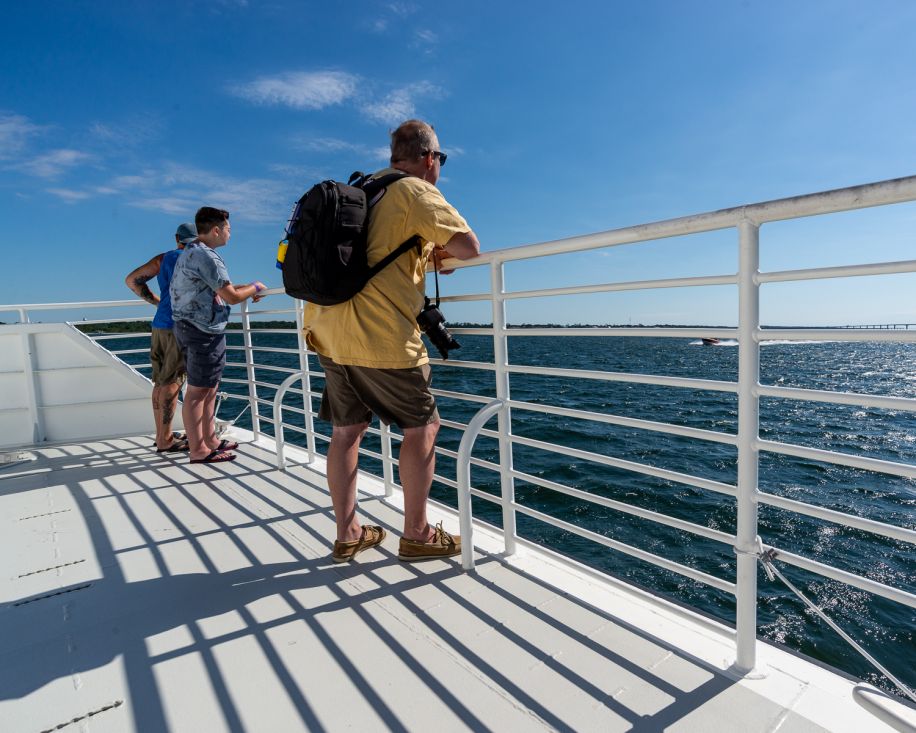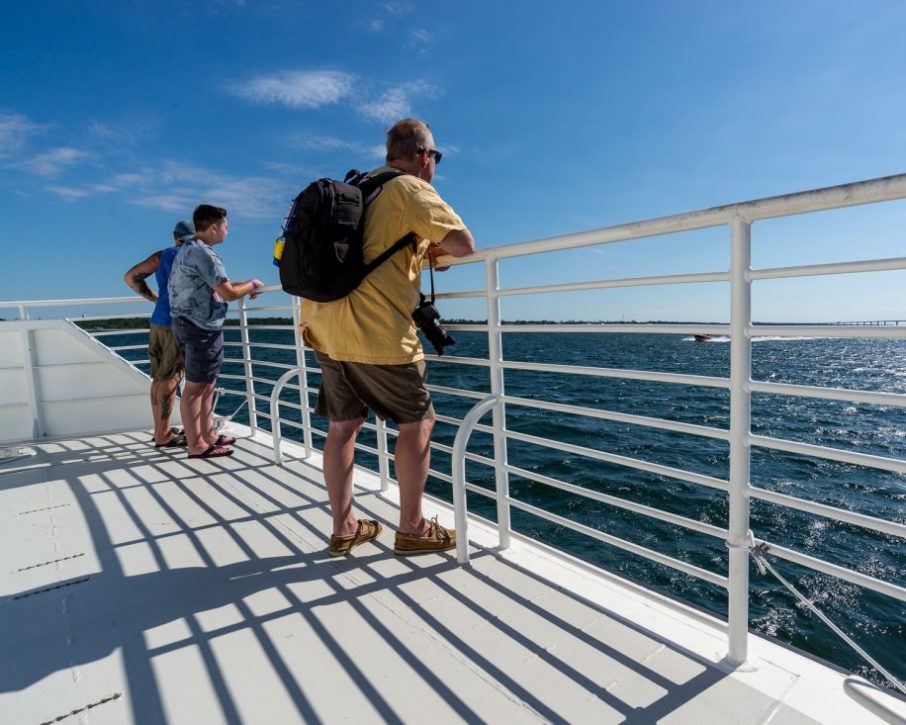 The boat will then take you back to downtown. There is plenty of free parking at the Port of Pensacola, so you won't have to worry about needing to feed the meter while away. Downtown has a plethora of unique boutiques, restaurants and events. Each Saturday, you can take a walk through the Palafox Market. On Sundays, you can partake in the Palafox Sunday Stroll, which is when Palafox is closed to all vehicles. After enjoying this stop, you can hop back onto the boat to head to the next location or call it a day.
Pensacola Bay Cruises also offers specialty cruises and private charters. The two specialty cruises are the Blue Angels Practice cruise and the Sunset cruise. Both cruises depart from downtown and tickets are $20 per person.
Even though the Blue Angels travel all over the nation, they come back home to the Naval Air Station to practice. There is no better seat for this spectacular air show than out in the ocean with nothing above you but the great blue sky. This cruise lasts about two and a half hours. This special cruise is based on boat availability and the Blue Angels' practice schedule. Visit Pensacola Bay Cruises website for specific dates and times.
Sunset cruises are a great opportunity to watch one of Florida's gorgeous sunsets while out on the water. These cruises are only on Fridays and Saturdays. They last one and a half hours and leave downtown at 7 pm.
Private charters can be the venue change your annual event needs. For $600 an hour, you can have the entire vessel to just you and your guests. Catering is optional. There is also 120 square feet of dance floor with space for a DJ. Audio and visual equipment is available. Pensacola Bay Cruises has had several weddings and birthdays aboard.
For more information about Pensacola Bay Cruises, visit pensacolabaycruise.com.