By Gina Castro
Businesses all across the nation have had to adapt every week, if not daily, to adhere to the protocols regarding COVID-19. On March 17, Gov. Ron DeSantis ordered that all bars and nightclubs closed immediately. Shortly thereafter, the City of Pensacola ordered all restaurants to offer only delivery and take out and for movie theatres, bowling alleys and businesses alike to close indefinitely. The City announced that events as far out as May 10 are canceled. Although the safety of the eldery and the immunocompromised are of utmost concern, local businesses, business owners and employees are struggling to keep business flowing.
"We've been asked, as every bar and restaurant in the community has, to either shut down or completely change our business model overnight. It causes anxiety from top to bottom," DC Reeves, owner of Perfect Plain and Garden & Grain, said.
In an effort to help Pensacola businesses, the Downtown Improvement Board (DIB) partnered with businesses to offer a curbside pickup service. Businesses can be added to DIB's curbside pickup list by emailing [email protected]. The Pensacola Chamber of Commerce created two Facebook pages to help local businesses spread the word about what services they are able to offer during this pandemic. The Facebook groups are Pensacola Take Out & Delivery Options Amid COVID-19 and Retail & Small Business Offers Amid COVID-19. The Mayor of Pensacola Grover Robinson announced on March 23 that he will be donating his $100,000 salary during the pandemic to the city's sanitation department and Pensacola Energy to help those struggling to pay bills.
"What I wanted to communicate to you is I'm not afraid. If I was afraid for myself, I would be doing something to retain that (salary)," Robinson said. "I'm not going to ask you to lose your salary if I'm not willing to do the same at this particular time."
Many businesses and employees in the area are feeling the economic impact of the pandemic. Tina Crowell, the owner of Ciao Bella Boutique and Salon, said that her retail store has been dealing with COVID-19 since the beginning of January. When Crowell was told by her vendors in China that their facilities were closed due to the virus, Crowell was worried about running out of merchandise, so she bought enough merchandise from her vendors in LA to get her through April, which took a great amount of capital. "Then as the virus spread and came to the US and panic sent in, the last thing people wanted was to shop and traffic got slower," Crowell explained.
Her boutique is now closed until further notice, but her online store is available at shopthebella.com, which will be offering free shipping until May 21. "Such uncertain times for us all. However, we are proud of our town and have faith that the community will continue to support each other," Crowell said.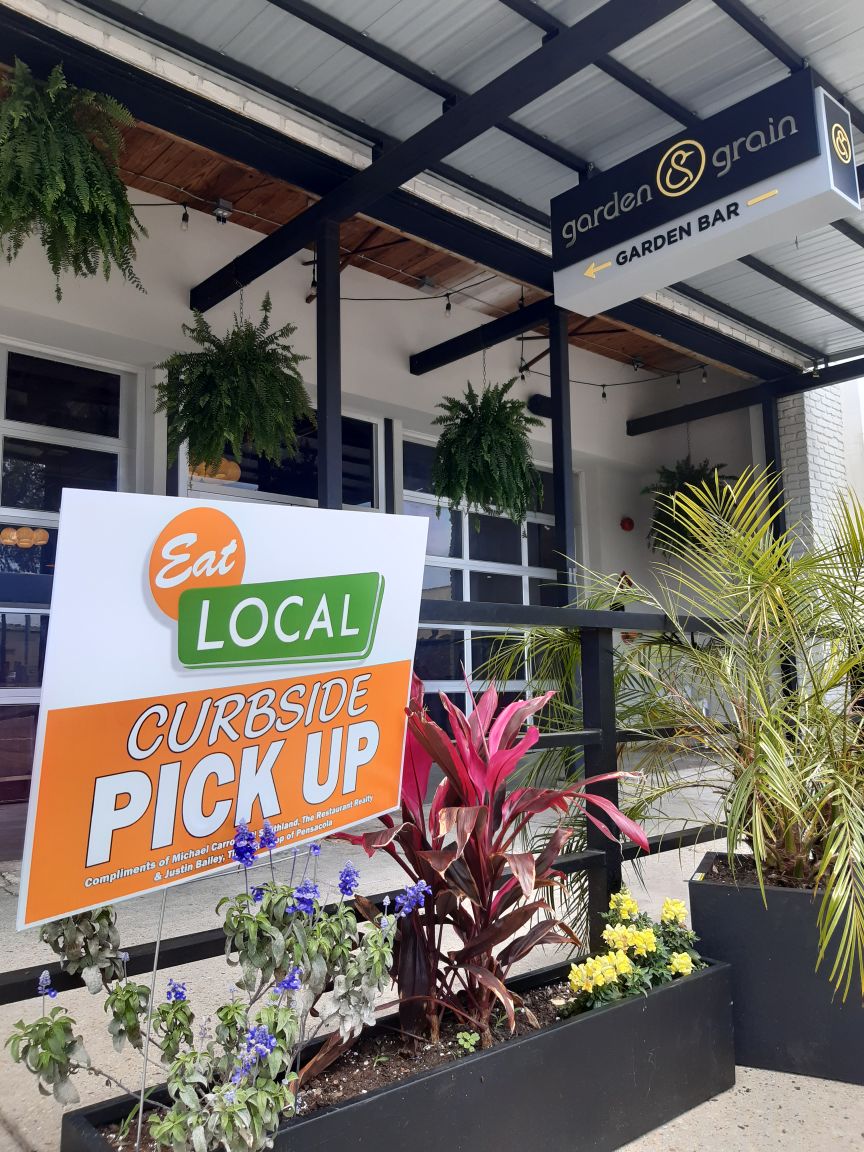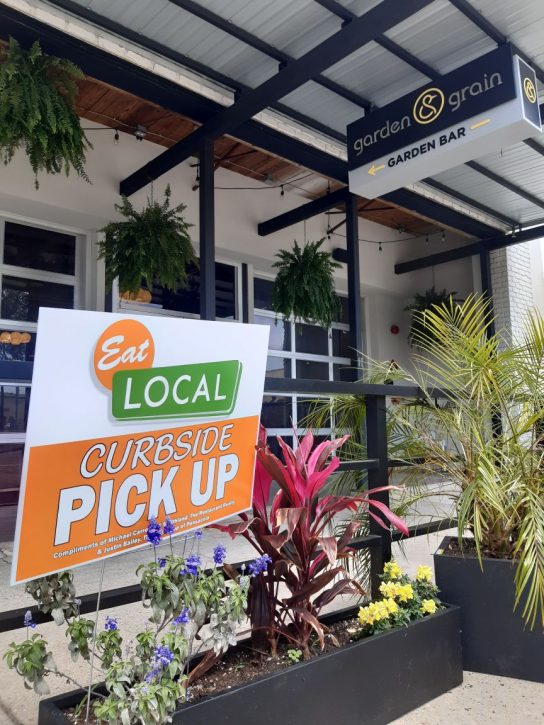 The owner of Kingfisher Craft Sandwiches Brian Kaderavek said that his business saw a 75 percent drop in sales the weekend before March 23, which is the date the city ordered restaurants to do to-go orders only.
"We're really happy to be established in the year and the half that we were open before this happened because we have a lot of regulars who have been supporting us," Kaderavek said. "We're concerned about the staff. We're trying to give them as many hours as possible and help them if they need to file for unemployment."
Kingfisher is offering take out for its full menu. Since Kingfisher's sales have dropped, Kaderavek has had to make the tough decision to cut his staff by 50 percent. Kaderavek and his wife are doing their best to give their staff additional hours by having their employees renovating and cleaning the building and updating the menu.
A major concern for the majority of these businesses is their employees. Jason Taylor, the owner of the East Hill Barbershop, tried to keep his employees working by doing outdoor house calls, but after two days, Taylor realized that though being outdoors slimmed down the risk of exposure, these house calls could potentially prolong this pandemic. So, the barbershop stopped all cuts. "It was the most difficult decision I have had to make since opening the shop," Taylor said. "It affects not just the fellas who work in the shop but their families as well. It's heart-wrenching." Although closed temporarily, East Hill Barbershop is selling gift certificates online at vagaro.com/easthillbarbershop/gift-certificates.
Perfect Plain has been selling hand sanitizer, crowler cans, bottled beers, and packaged margaritas and other cocktails on the curb. "Our focus is to withstand and maintain our business as long as we can to keep our employees employed. We have not laid anybody off," Reeves said. "We're trying to support our people the best we can, but our community has certainly made it a lot easier for us."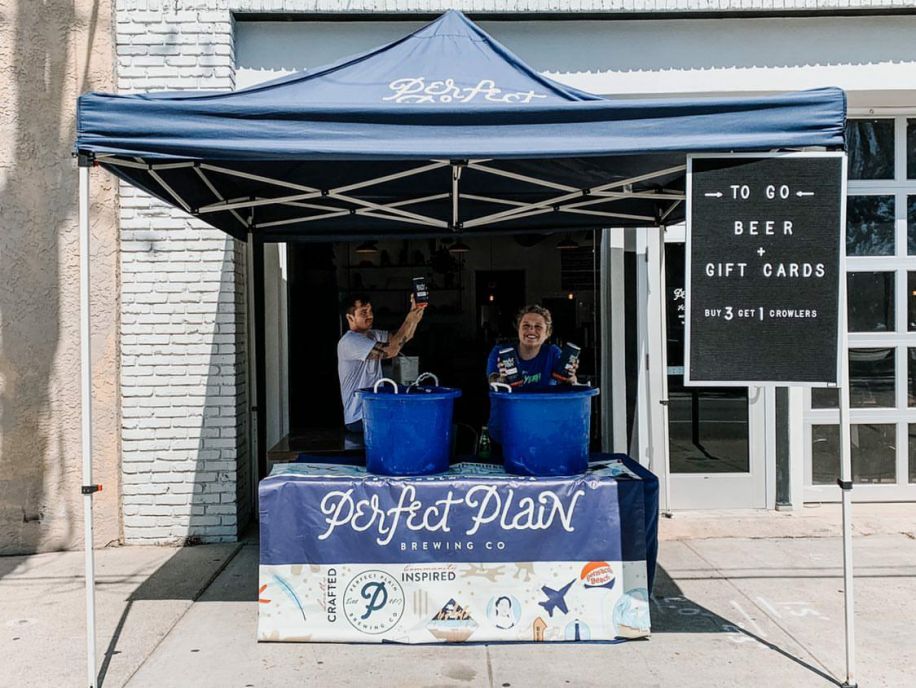 Perfect Plain has sold hundreds of hand sanitizers throughout the community, which 100 percent of proceeds go to the brewery's staff. Perfect Plain also donated hand sanitizer to the Pensacola Police Department, Covenant Hospice, Rally Foundation for Childhood Cancer Research and the Baptist Home Health Care, to name a few.
Reeves is also donating all proceeds from his Save Pensacola Beer t-shirts to employees in need from any Pensacola brewery. The shirts cost $31.18 each and are available for presale at perfectplain.com and eventually curbside pickup. If you, or someone you know, work at a Pensacola brewery and are in need, email [email protected]. "That grant money isn't just for Perfect Plain employees," Reeves said. "This is about helping people's lives."
Businesses that have always been a to-go food model are also experiencing a slow business. Randy Russell, the owner of the food truck Nomadic Eats, said that he feels very lucky to already be a to-go restaurant, but he has noticed that business has slowed down. "Right now, it's not about adapting to increase sales," Russell said. "It's about changing our methods to operate as safe for us and the public as possible and, hopefully, continuing to do enough business to stay afloat."
A fair number of businesses are taking advantage of the Internet and social media to help them stay afloat. Physical trainers Sherilyn Sperling-Charvat, owner of Tiwala Fitness, and Tuck Massey, owner of Tuck Training, have been offering online fitness classes and at-home workouts to avoid spreading COVID-19. "In order to stop the spread, it takes trainers, like myself, to be responsible about training their clients and where they are training their clients during these uncertain times," Sperling-Charvat said. Check out their Instagrams to see how you can train with them online: @Tiwala_Fitness and @TuckTraining.
Local artists are working around social distancing by creating online art galleries to showcase their work. Artist Kreg Yingst said that he makes 95 percent of his income from art festivals, which have all been canceled or rescheduled for the fall. "I've brought the art festival indoors as a virtual exhibition where people can view snapshots of the art gallery," Yingst said. "I've invited many of my friends, who are in the same predicament, with the hopes of generating greater interest for all." You can view Yingst's virtual exhibition on his Facebook page @kregyingst and his Etsy page etsy.com/shop/kkyingst. You can also view Pensacola Museum of Art's online exhibits at pensacolamuseum.org.
A pandemic has hit our world, nation and community. Now is the time for us to all do our part by taking social distancing seriously and, if you are financially capable, shopping locally. Stay safe, Pensacola.