By: Dakota Parks
Stagnating wages, increasing rent and homeownership costs, rising construction costs, restrictive zoning and building codes and NIMBYism—all of these issues are in flux with America's affordable housing crisis. Since 1960, the median income in America has increased by a mere five percent while the median rental cost has increased by 61 percent and the median cost of a home has increased by 114 percent, according to the National Low Income Housing Coalition.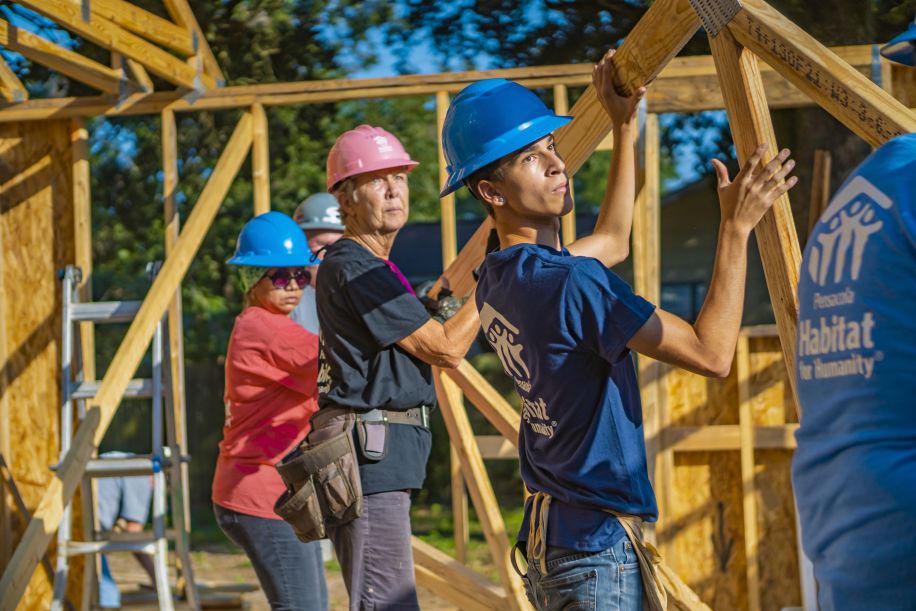 On the local level, The Florida Housing Coalition painted a grim picture at an Affordable Housing Task Force meeting in June 2020 when they shared that only one of Pensacola's top 10 jobs can support a two-bed apartment without being cost-burdened. Cost-burdened is paying more than 30 percent of their income on mortgage or rent, utilities, insurance and taxes. The Affordable Housing Task Force partnered with the Florida Housing Coalition to create a report that outlines recommendations for the city to reach its goal of creating 500 Homes in Five Years, a directive led by City Council President Jewel Cannada-Wynn.
"I became passionate about housing from my background as an educator. Teachers would constantly tell me they can't afford housing in the city limits," Councilwoman Cannada-Wynn explained. "Housing prices were going up by private developers that were way outside of the financial needs of most of the people that I know. Many developers are also putting these homes in poor areas; therefore, those opportunities for housing evaporate."
The task force concluded its meetings in September 2020 by sending its report, which outlines six strategies and 24 action steps for creating affordable housing, to the city council to vote on and initiate the next steps of funding, land use, partnerships and establishing a new city staff position dedicated to following through with the report. Though the task force is bound to the jurisdictions of the city limits, including downtown, Escambia County is also working closely to address affordable housing.
The six strategies in the report include the following: engaging in strategic partnerships, collaborating with the private sector to identify incentives for the creation of affordable housing, leveraging existing city property to create affordable housing, supporting tax credit developments, identifying sites for suitable infill development and identifying adaptive reuse possibilities.
"The task force has come up with some really actionable strategies to implement and I think that's going to make a difference. We need to be looking at the entire spectrum of need in our community from that entry-level person just moving out of their parent's home into an apartment to the person that's trying to become a homeowner," Marcie Whitaker, housing director for Pensacola said.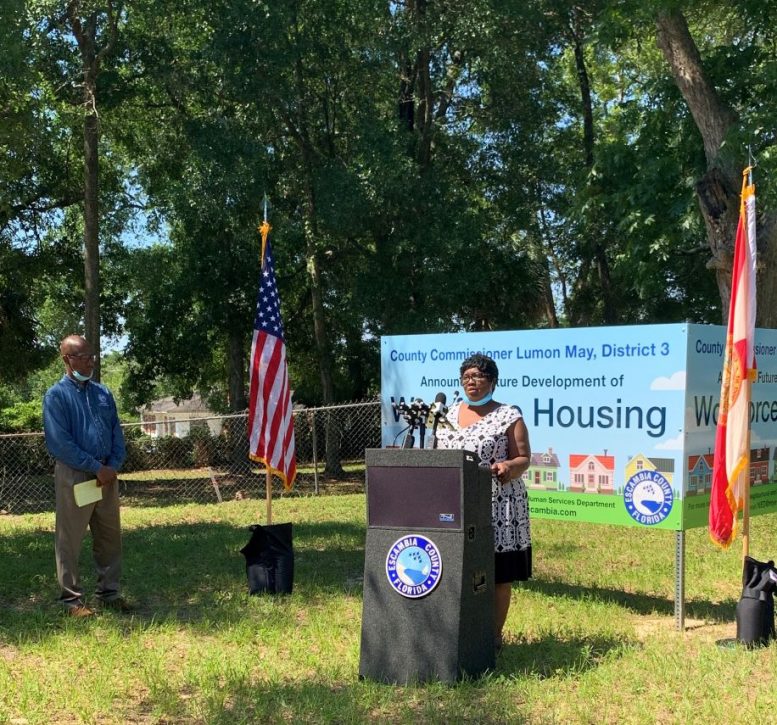 Part of addressing that need, as Whittaker explained, is educating the community on what affordable housing actually means to curb the "not in my back yard" (referred to as NIMBYism) responses. "When people think of affordable housing, they think the worst. They picture a high-rise tower or bars on the window dropped in the middle of a neighborhood," Whittaker said.
In the Pensacola area, the average median income is $48,686. The average renter in the area is earning 66 percent of the area median income at just $32,004, while the average homeowner earns $65,329. When the median cost of a house currently sits around $200,000, low-income families would fall into the range of housing at $125,000 to $130,000. Whittaker explained these income brackets at the annual housing summit hosted by the Pensacola Habitat for Humanity.
Whittaker and Councilwoman Cannada-Wynn were both strong advocates of rehabilitating homes to keep neighborhoods intact, while allowing homeowners to stay in their communities and build their wealth. Whittaker also stressed the importance of engaging strategic partners such as Pensacola Habitat in these efforts.
"Sometimes all a neighborhood needs is some TLC. Our owner-occupied repair program helps keep people in their homes" Crystal Scott director of resource development for Pensacola Habitat explained. "We have people that come to us with a leaking roof or someone trying to come home from the hospital but suddenly they need a wheelchair ramp to live in their home. We recognize the need for a neighborhood revitalization program in our community and we hope to expand our reach."
Pensacola Habitat hosts the summit each year to continue to advocate for affordable housing and bring local organizations and stakeholders together to discuss how to accomplish it. Pensacola Habitat just celebrated the construction of its 1,400th home since its establishment in 1981 and currently services around 940 affordable mortgages which pool back into the Fund For Humanity to build more housing.
A keynote speaker for this year's summit, Chuck Marohn, founder of the nonprofit Strong Towns explained how neighborhoods can get stuck in cycles of simultaneous decline. When 100 homes are built in a neighborhood at once, 30 years later all of the homes and infrastructure go bad at the same time—causing affluent homeowners to move into newly developed neighborhoods, he explained. His presentation illustrated that housing initiatives often try to deliver affordable housing at mass and scale, which results in radically altering neighborhoods.
"Housing is a complex adaptive system," Marohn said. "In a complex adaptive system there aren't really problems or solutions because nothing is ever solved, but there is ongoing evolution and change. What we really want to happen is for our housing markets to respond to the people that are there. If people are making less money, housing prices go down. If they make more money, prices go up. If there's not enough single-family housing, build more."
The demand for a variety of housing options to be built was made evident through the task force report. The housing options discussed included both rental and homeownership, single-family detached homes, apartment complexes, townhomes and condos, residential rental properties and even tiny homes. There was lively discussion about leveraging existing city property such as parks to cut the cost of construction with existing land, which Mayor Grover Robinson expressed opposition to, explaining that public parks contribute to community equity.
"We have seen pressures on traditional affordable housing in certain areas of Pensacola because of the success and desirability we have created in Downtown Pensacola," Mayor Robinson explained in an interview. "We're glad that we have increased desirability, and we have more people wanting to come here, but the problem is we are pricing out individuals. We need to make sure that Pensacola can compete moving forward with the needs of the community and ensure there is housing available at all levels of affordability."
Mayor Robinson did express support to using other existing city property, as well as adaptive reuse property such as empty warehouses, abandoned churches and derelict retail facilities. Several members of the task force were enthusiastic about supporting tax credit developments such as Vista 17 and Englewood Senior Apartments on Cervantes Street and urged for nonprofit partnerships.
The strategy to identify suitable infill development is also being utilized by Escambia County. Commissioner Lumon May announced his workforce housing initiative in June 2020 to build four homes near G Street and West Gonzalez Street. The houses will be developed using HUD Home Investment Partnership Program funds and will provide down payment and closing cost assistance up to $40,000 to people making 80 percent of the area median income. Many members of the task force also showed support to this initiative as well as partnering with Escambia County on making affordable housing a reality.
Despite the task force report being written on the foundations of equity, accessibility and affordability, task force members such as Douglas Brown speculated in the last meeting whether the report does enough to address racial disparities in housing. Currently, 71.9 percent of white Americans are homeowners while only 41.8 percent of black Americans own their homes. According to the Urban Institute, that 30.1 percentage gap is now wider than it was when race-based discrimination against homebuyers was legal. Ensuring that affordable housing initiatives address inequality is paramount to shrinking the racial homeownership gap.
Moving forward with the goal of 500 Homes in Five Years, Mayor Robinson's office has already proposed a new full-time city staff position in the housing department to ensure that the task force report and recommendations to the city are followed through and not left collecting dust on a shelf. The new staff position will be funded through general fund dollars and the Community Redevelopment Agency.
As Pensacola grapples with COVID-19 economic instability and the wake of Hurricane Sally, the efforts to create and sustain affordable housing could not come at a more urgent time. In June the Department of Labor reported that more than 34 million people were receiving or had applied for unemployment insurance, and more than half of all low-income households in America experienced job or income loss because of the pandemic. Mass evictions and foreclosures are already happening across the states as temporary state-sanctioned rent and mortgage moratoriums are lifted. Affordable housing is not just another metaphysical debated government issue—it affects future generations, families and the very fabric of our society and community.