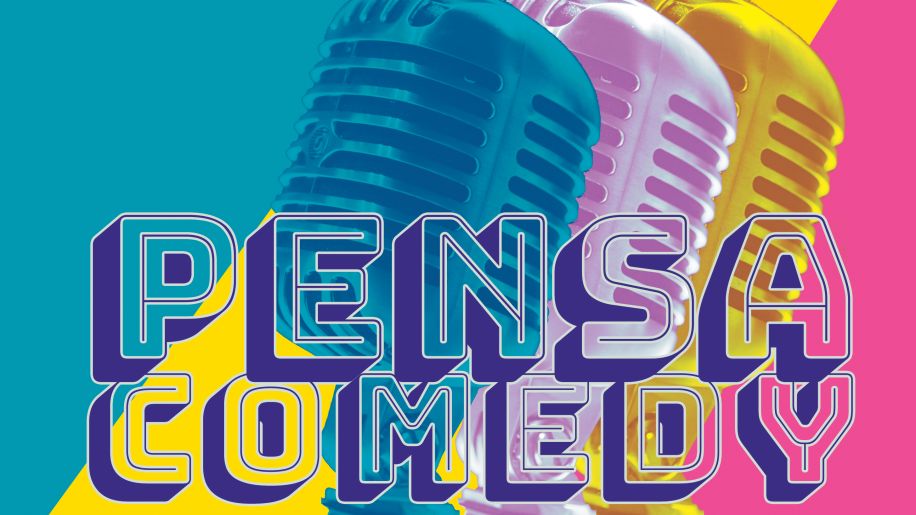 By Hana Frenette and Tanner Yea
In dimly-lit basements, back porches and bars around the world, men and women are reaching for a microphone in hopes of making onlookers laugh.
Some might be nervous or awkward, while others are bold and charming. No matter their personality type, subject matter or delivery style, they all share an insatiable desire to bring humor into the lives of strangers.
The comedy scene of Pensacola has grown steadily over the last 10 years and encompasses a growing group of dedicated comedians, filmmakers, writers and performers. Some of these people perform each week at open mics or alongside touring comedians at booked venues. Others are more comfortable filming a skit on location and sharing their jokes via YouTube or Facebook once a new video is complete.
The blue lighted patio of Chizuko or the back porch of the Back Porch Bar & Grill could serve as the birthplace for jokes that will one day be heard on Saturday Night Live or a Netflix comedy special. More comedians are getting involved in the local scene each month, and regardless of fame, cash or even laughs, they keep coming back for more with no signs of slowing down.
Here's a look at six local comedians and comedy groups that are making Pensacola a funnier place to live.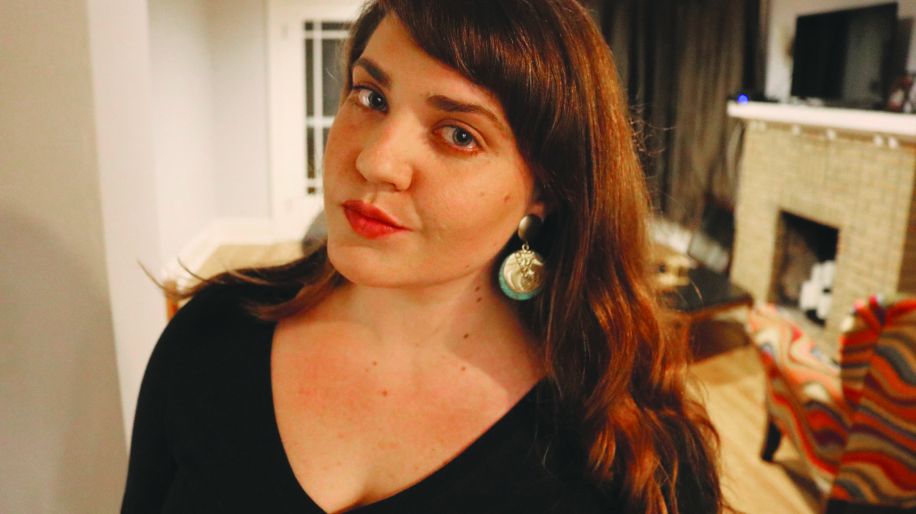 Olivia Searcy
Olivia Searcy got into comedy while living in Tallahassee a few years ago. Her roommates at the time were into comedy and regularly grabbed the microphone themselves at local open mics. After attending a show with them, Searcy was intrigued and decided to try her hand at the next show.
She moved back to Pensacola and performed at a few small open mics before becoming a regular with Back Porch Comedy at the Big Easy Tavern, which has been renamed Back Porch Bar and Grill.
Searcy said about six to eight comics regularly attend every single open mic or performance and each help out with various duties of the evening.
"All of us really take a part in doing something —like occasionally I'll work the door at open mic or I'll host, or other comedians will host— we all help each other out," she said.
Searcy noted the group of regulars has become very close with each other.
"We're all like a big family honestly—those are some of my best friends, even though we mostly only see each other at comedy nights— they're like my comedy family," she said.
In addition to the weekly jaunts to the Back Porch Bar and Grill or wherever else the comedy group has booked a show, Searcy travels to Mobile for performances at the Blind Mule. Recently, she and fellow comedian Andrew Farrara traveled to Birmingham to film a reality TV show about comedians.
Searcy and Farrara heard about the taping of the show through a regional comedy Facebook group. The auditioned for the show and were surprised to get a call back a year and a half later.
The comedians involved aren't allowed to mention the name of the show, she said, and they don't know what network the show will air on—or if it will ever air—but they're excited nonetheless.
Searcy is also busy submitting videos to a comedy festival titled She Devil, located in New York, and another smaller festival in Asheville later this year.
The more performing and exposure you can get under your belt, the better she says.
Searcy suggests newcomers to comedy try out the open mic at Shooters—the longest running open mic in Pensacola and the first place she did standup.
"It's not usually too crowed so it's a good place to get the feel of things- and if you bomb, it's totally fine," she said.
Although Searcy and the other comedians involved with Back Porch Comedy are very busy writing new material, sharing responsibilities for each open mic night, they're currently planning to create and film a variety comedy show, so keep your eyes peeled for that later this year, and check out her YouTube page in the meantime.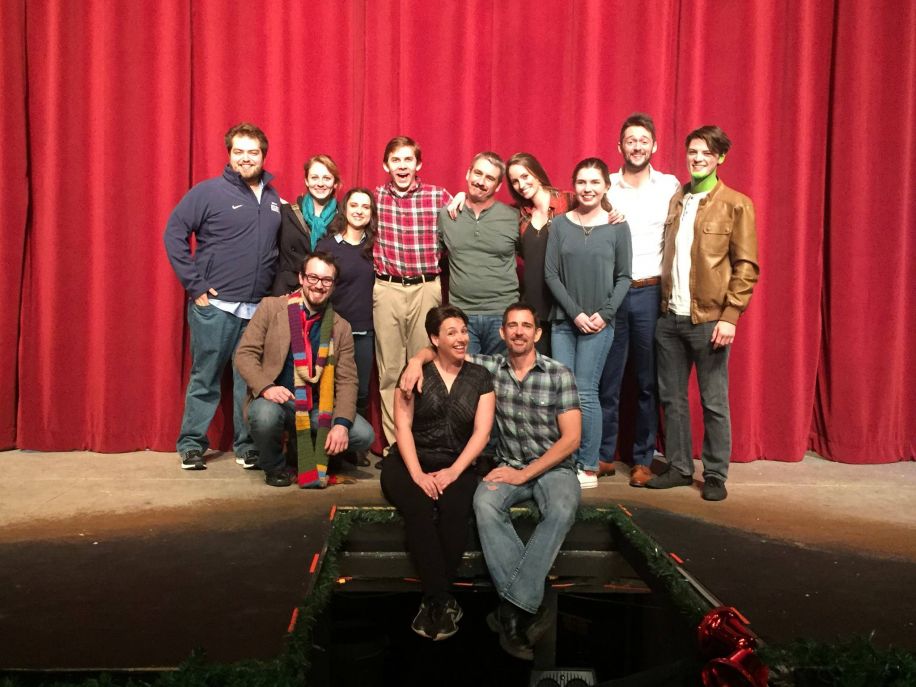 Improvable Cause
Sometimes the best comedy is what you think up in the spur of the moment. Debi Kuhn, Nicole Dickson and Christina Cusack would probably agree with this. They are all members of IMPROVable Cause, a local improv comedy group that hosts shows throughout the city.
"The troupe formed in 2005, but I joined in December of 2014 after attending a workshop that IMPROVable Cause hosted," said Cusack, one of the troupe's members. Kuhn and Dickson, on the other hand, have been doing improve for over 20 years, having both been around since the beginning of the troupe when it was just an actor's workshop.
IMPROVable Cause does events and activities all throughout the year, with their most recent being their performance at Pensacola Little Theatre's Cabaret fundraiser. Though many of the members are self taught or learned from shows like "Whose Line Is It Anyway?," others have training from more famous improv troupes.
"I have been in many companies and have attended Master classes in imrpov by groups like Loose Moose Intl, Second City and UCB (Upright Citizens Brigade)," said Dickson, who is the founder of IMPROVable Cause and their companion, Improbable Cause Mystery Theater.
An average IMPROVable Cause show consists of the cast playing improv games, usually with suggestions from the audience. These include games with evocative titles like Sex With Me, Party Quirks, John Waters and Four Square.
"We rehearse once a week for 3 hours, perfecting our skills and working with each other," said Dickson. "Sometimes we'll work new games, other times we'll revisit basic improv skills, and other times we'll work games that we're going to play in an upcoming show."
Improv can often be a difficult form of comedy to do, but the troupe thinks that trust and simply letting go of your fears and ego on stage are the keys to success. "We have seen people 'try to be funny' on stage, and it doesn't play nearly as well," said Kuhn, the Co-Director of IMPROVable Cause, along with Bill Whalen.
"We're all actually friends who hang out in real life outside of improv, so that probably helps our on-stage chemistry," said Cusack. If you're interested in improv, the trio suggests to either watch local groups and participating in their workshops, or watching other improv comedians to learn from the masters – people and groups like Monty Python; Zucker, Abrahams & Zucker; Key & Peele: and Tina Fey and Amy Poehler.
"The great thing about improv is everyone gets something a little different out of it," said Kuhn. "Everyone is a better actor, speaker, teacher, parent, businessperson, whatever, because they are more confident and they know how to take work and make it into play."
For more information on IMPROVable Cause, such as when their next show or workshop is happening, visit their Facebook page at facebook.com/improvablecause.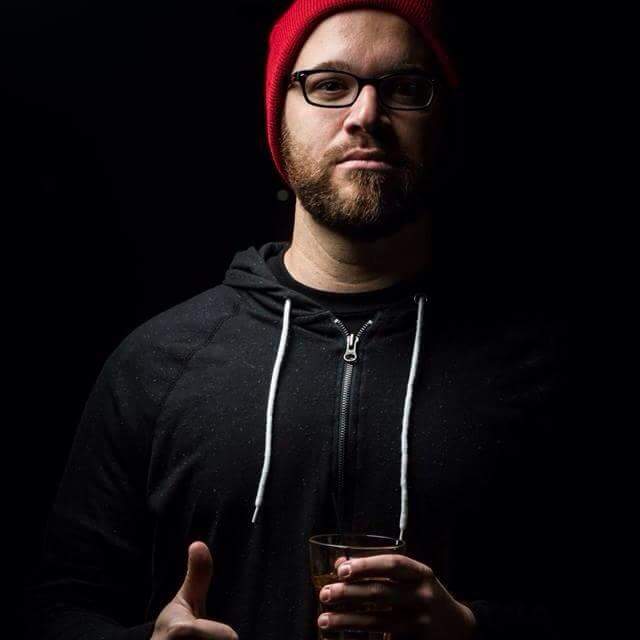 Tony Burkett
Back Porch Comedy started in 2009 and has grown to become a central hub for the comedy scene in Pensacola.
Eight years ago, Tony Burkett started an open mic night at Coyotes on Bayou Boulevard. The bar patrons payed little attention to the comics as they tried to speak over the rowdy crowds playing pool and taking shots.
The open mic moved to a nearby bowling alley, then the Big Easy Tavern, which is now called Back Porch Bar and Grill.
"Another person was running the Back Porch Comedy thing for a few years, and it featured touring people, an open mic on Tuesdays and Fridays, and then sometimes Friday would have a booked show," Burkett said.
Two years later, Burkett and his friend Jason Switzer decided to take over Back Porch Comedy and started adding a little more structure to the show lineups.
"We decided to take all the money we made doing comedy and to put it back into comedy and try to make this a real thing," he said. "We always have a booked show on Fridays, and an open mic on Tuesdays. It's just all team work now—everybody shares and posts events on social media and comes out to support the shows. We're all invested in the success—it's really is an amazing a team effort."
Burkett said that although comedy is very competitive, all the regulars from Back Porch Comedy are all rooting for one another, and that while they're all hoping to perform more shows, and bigger shows, they are generally excited when someone gets a "break."
Although he's been working hard at it for the last few years, Burkett said the desire to do comedy was always there.
"I was always quiet in school but funny amongst my friends," he said. "I always loved standup as a kid, and then in 200, I went on a trip to Austin,Texas and tried standup for the first time and just did terribly."
Shortly after that, Burkett gave it one more go at Coyotes on a whim, and just kept it going ever since.
He's happy growing the comedy scene locally, but is hoping to tour more in the future.
"I want to get out on the road, and then as far as Back Porch Comedy goes, I want to keep putting on good really good shows," he said. "I'm hoping to have a place where we could have comedy every night."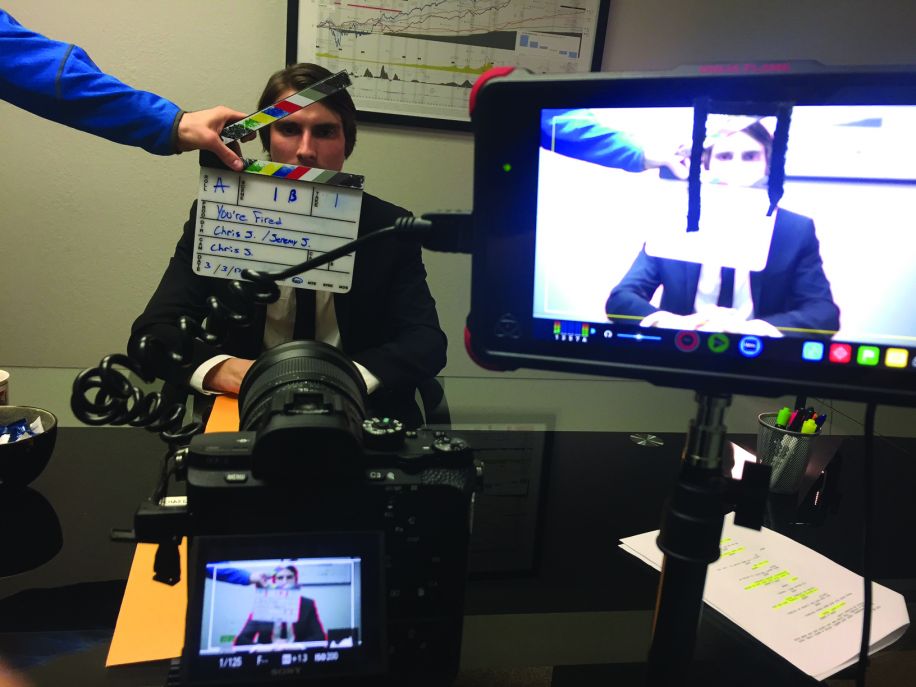 Kitty get a job
Chris Jadallah studied film and marketing at the University of West Florida and covered all the basics in his schooling. Editing, lighting, writing screenplays, production quality, etc. He spent some time in front of the camera but found he enjoyed being behind it more than anything else.
He began doing several freelance projects right out of college, and started his own production company, Calliope Films. He's worked on commercials for large corporations, put together videos for large companies, and has grown his professional network to include clients all over the country.
Lately he's found a more humorous niche for his video production talents. Jadallah has been producing and filming short, sketch comedy videos under the name Kitty get a Job.
Kitty get a Job consists of a team of writers and actors, as well as a film production crew. The group of roughly 12 people meets once a week for their writer's meeting, where they discuss video ideas and brainstorm together as a group.
Anyone can join the group, as long as they're willing to attend the meetings regularly, Jadallah said. Although the videos are fun and done in a playful manner, everyone involved is very serious about the portion they contribute—whether that's writing, filming assistance, or on-screen acting.
"I wanted to build a team that produced quality projects and I wanted to build relationships with people- that's how good crews works," Jadallah said.
The videos feature a wide array of topics, from a girlfriend who falls in love with her boyfriend's childhood toy, Bop It, to workplace romance gone awry. The sketches are each different in their tone of humor, but all come together with a similar undertone of quality production and familiar faces.
The group releases videos on their Youtube page on the first Friday of every month, and then simultaneously posts them to their Facebook page, where they are steadily gaining a local following.
Jadallah said he gets a little emotional thinking about where the project is now and how much it's grown since it first started.
"It's just so cool to see how far everyone has come, and what they're all doing now," Jadallah said.
He noted being funny is important to them, but also pointed out that being funny is very subjective.
"We want to also focus on production value too, and train ourselves on how we would actually approach this if we were filming it for a larger company," he said.
Look for new videos on the Kitty Get a Job Facebook page on the first Friday of every month, or subscribe to their Youtube channel.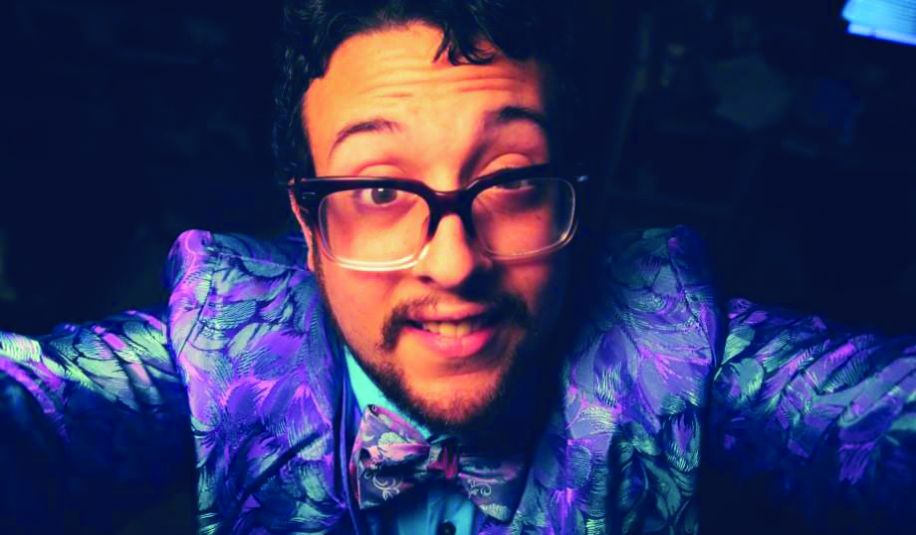 Andrew Ferrara
Andrew Ferrara is a 29-year-old comedian, who, when not moonlighting at Back Porch Comedy, works as a funeral assistant "hauling dead bodies," as he puts it.
Though Andrew has only been performing stand-up for two years, his first experience with standup was roughly 10 years ago at a open mic event at UWF.
"What I didn't know is that it was a music open mic," said Ferrara. "I went up there to tell jokes, and no one reacted. It was traumatizing." Years later, he was approached by fellow comedian Olivia Searcy to try again, and he has been doing it since.
Andrew said he bases most of his comedy on stories from his life, many of them touching on the social and sexual realities of being gay. He admits that most of it comes across as shock humor in more conservative places like the south.
"In general, there is just a stigma against making fun of a male sexually," said Andrew. "It's not just gay guys, but women too."
Andrew said some of his biggest influences outside are Roseanne Barr as well as his family, saying that your family are "the first comedians you know." But his day-to-day life is what fuels most of his jokes.
"Life presents itself as a joke everyday," he said, with more than a nod and a wink. He admits that not every event or joke is worthy to be told though. If he can't find the "core" of the event or the idea that truly makes it funny to a wider audience, he said there is no point in telling the joke.
Andrew recently took part in a stand-up comic reality TV show, where he was away for a few weeks performing comedy across the South. Though he said he was not allowed to talk about the content of the show, who was on it, who filmed the show, or if it will even be released, Andrew said the experience was strange yet rewarding.
"The main point of it is that you were supposed to be prepared the do comedy anywhere," he said. "Which is true, but I did some performances in odd places."
Currently, Andrew can be found working new and old material at Back Porch Bar and Grill, where he and a solid circle of six or seven other comedians hone their craft. He also performs around the area, at venues in places like Ft. Walton Beach and Mobile.
As for the future, Andrew hopes to use his comedy career to get more into writing and acting, and to hopefully go on tour. For now though, you can catch him at the Back Porch Bar and Grill open mics nearly ever week.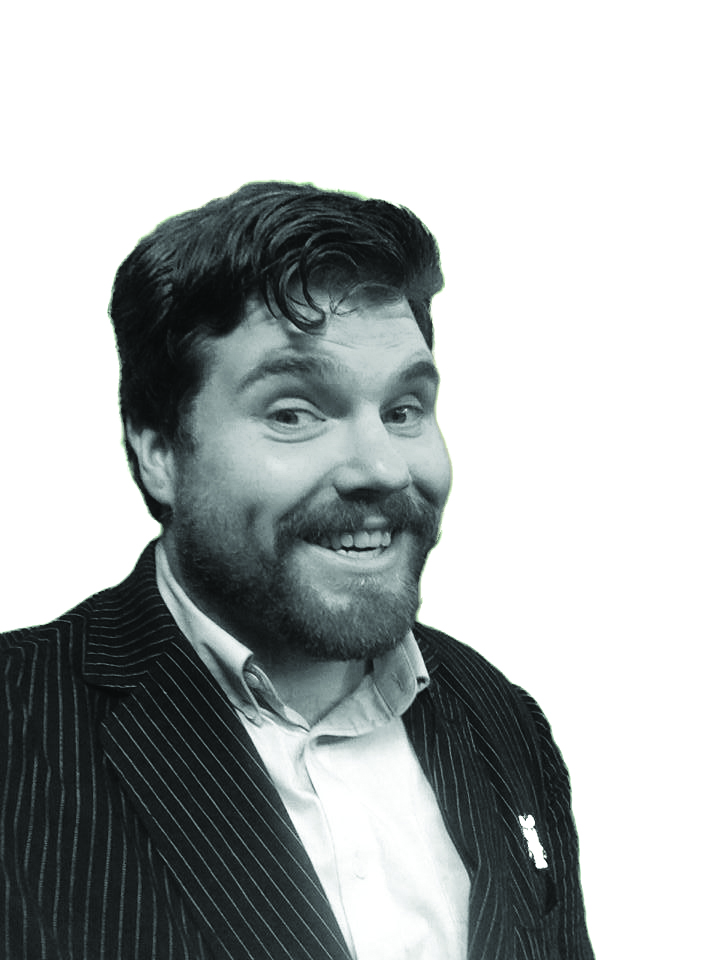 Graham Clark
Graham Clark said that even though he didn't start performing stand-up until about four years ago, he's known that he wanted to be a comedian ever since he saw the late George Carlin perform at the Saenger Theatre in 2007.
"My favorite comedians growing up have to be the classics. People like Carlin, and Pryor, even Bill Cosby," said Clark. "I borrowed a copy of Bill Cosby's "Himself" from one of my dad's ex-girlfriends and then definitely never returned it. In retrospect, probably good Cosby never got money from me."
Clark, who is 28-years-old, said he started by doing standup at a music open mic inside a bowling alley, citing it as the worst time he ever bombed. But it didn't deter him from performing since.
"A lot of bits for me just kind of pop up out of nowhere," Clark said, when asked here he gets his inspiration. "I'll be talking with friends, or in the shower, or at 2 am I shoot up out of bed and furiously reach for my phone or my joke book so I don't forget it."
Clark's biggest influences were comedians like John Mulaney, Patton Oswalt and Brian Posehn. He admired their casual delivery and the everyday subject matter they could put a humorous spin on. "I'd say as simple as it is, 'things are weird' would probably be the overall theme of my comedy," he said.
In order to stay sharp, Clark said he goes to an open mic about once a month – usually either the Back Porch Bar & Grill, the Blind Mule in Mobile, or Shooters Sports Bar next to Cordova Lanes. His favorite venues are those that are relaxed, ready to laugh, and willing to accept most subject matters. "I don't smoke, but I have such a romantic association with a smoke filled room," he said. "Personally, I prefer it since it keeps the people in the room as opposed to running outside to get their fix."
Clark said that while Pensacola may not be as bustling as a large city like New York or Atlanta, the comedy scene has a strong group of comedians that help keep the scene alive. He credits Tony Burkett of Back Porch Comedy in Pensacola and Ryan Jetten of Comedy Whatever in Mobile for being some of the strongest proponents, with their success allowing locals to open for more well-known comedians.
Clark said the secret to being a better comedian is to roll with the punches and have fun when you do it. He encourages those interested in trying comedy not be afraid to try open mics and just keep working at it. "If you can be funny to two people, you can be funny to 200."