The secret to surviving quarantine is having a companion who doesn't talk much. Pets have a way of comforting us without relying on words. Dog and cat adoptions spiked in the month of March as pet shelters started closing and the loneliness of social distancing settled in. Pensacola Humane Society is a no-kill shelter that works tirelessly to find cats and dogs their furever homes. Animal shelters across the state had to clear their shelters within only a few days as part of the governor's stay-at-home order. Even though it was a challenge getting these pets adopted, so many pets were able to find loving homes and people were able to find comfort in their recently adopted pets during this global pandemic. Downtown Crowd decided to catch up with some of these quarantine adoptions.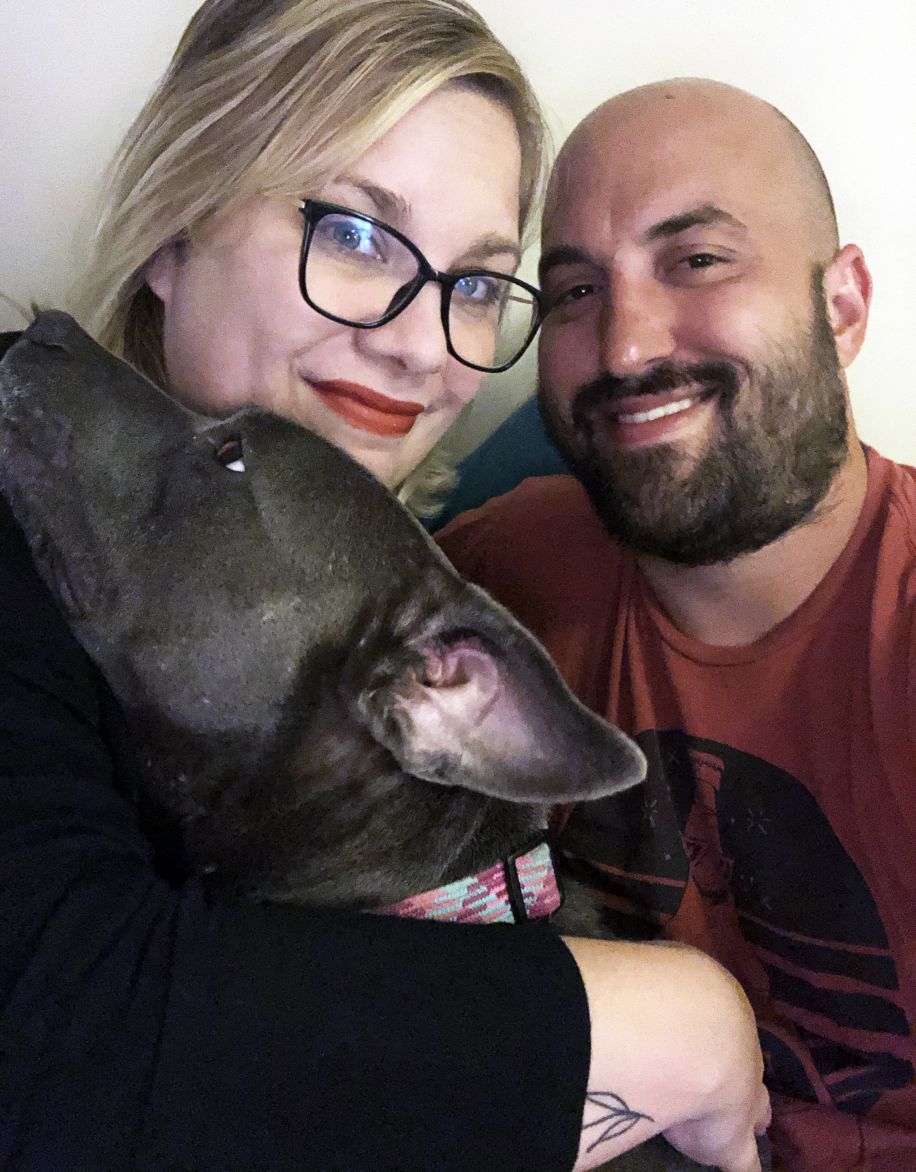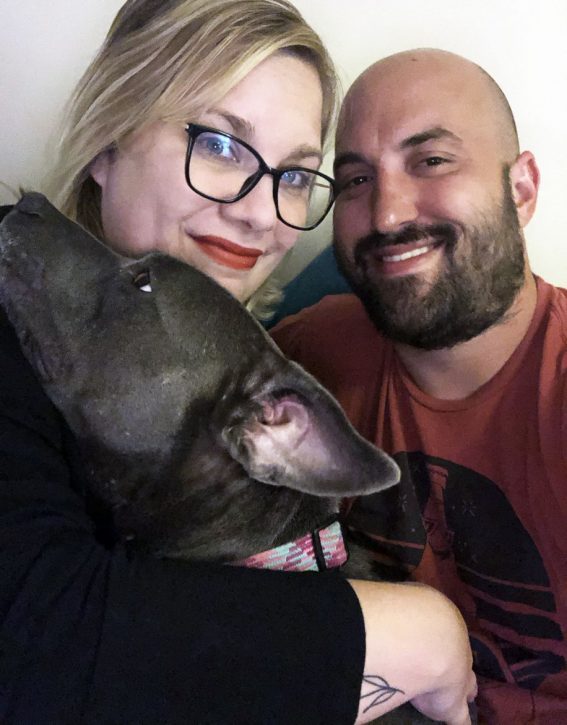 Carly and her husband Jordan Richards have a home filled with adopted animals, but when they heard that a pitbull named Winnie had a few days before her euthanization, they instantly made room in their home and hearts for her. Thanks to a post on social media by The Mylo Foundation, Carly and Jordan were able to save Winnie from being euthanized at the Mobile County Animal Shelter. "We didn't originally intend to adopt Winnie at first, only foster her to keep her from being euthanized," Carly explained. "After meeting her, we knew right away we had no choice but to adopt her."
Since Carly has been working from home and Jordan temporarily lost his job, the two were able to give extra attention to Winnie as she acclimated to her new home. Winnie unfortunately came into the couple's life severely underweight and had birdshot embedded in her skin. "We were home 24/7 and loved the time we got to spend bonding with Winnie," Carly said. "We got to witness a little bit more of her personality shine through every day."
Phoebe Allen adopted her handsome cat Peter, formerly Peep, from PHS, but her landlady needed some convincing first. After telling her landlord about PHS's desperate need to find Peter a home, Allen's landlady agreed to the adoption.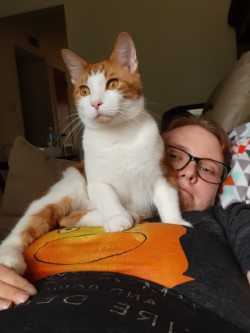 "He is the cutest little menace around. He has provided a lot of comfort and distraction during this time," Allen said. "Before, there were days I would sometimes have nothing to do other than my work. Now, I get to play and cuddle with him. It's been a lot of comfort."
Allen has been able to use her extra time bonding with Peter. The two play all sorts of games and are in the process of getting Peter comfortable with a harness so that they can enjoy walks outside together. "He is really excited to have a home and not be at the humane society anymore," Allen said.
Randy Wolfe has been saving up for a dog for sometime and figured quarantine was the perfect time to find his new best friend, Tiny.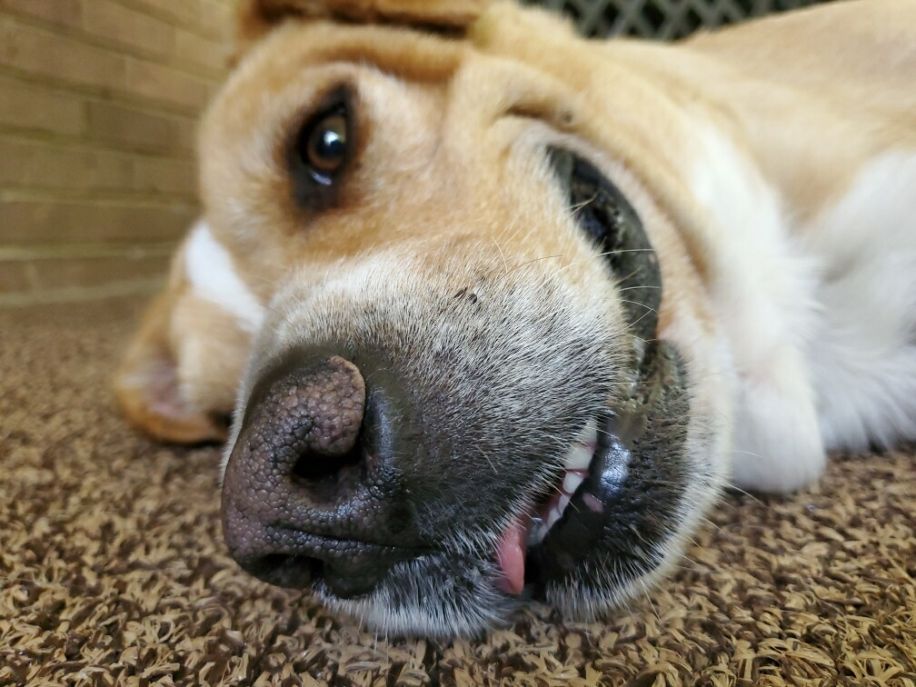 "I've been putting it off for awhile, and since we can't do anything right now, I decided to go get a dog now," Wolfe explained. So, Wolfe made a stop at PHS and instantly adored Tiny. Now, the two spend time walking around the neighborhood and playing ball at the park. Having Tiny during quarantine was a great support system for Wolfe. "I live alone, so it's just me. It's nice to have somebody else to play around with. I keep him company and he keeps me company," Wolfe said.
Rebecca Barber and her boyfriend have been fostering Frost since November. They absolutely adored Frost and thought about adopting her for some time. You may remember Frost from Downtown Crowd's March issue. We featured Frost in our "Oldies but Goodies" article, which was about adopting senior pets. Frost bounced from home to home after her original owner passed away. "The shelter had her for a little while, and she was doing really bad there. She didn't get along with other cats," Barber said. "I think she bit a couple of volunteers, too. She did great with that next foster, but then that foster was moving and couldn't take her with." Eventually, Frost found a new foster home with Barber, who then adopted her in March.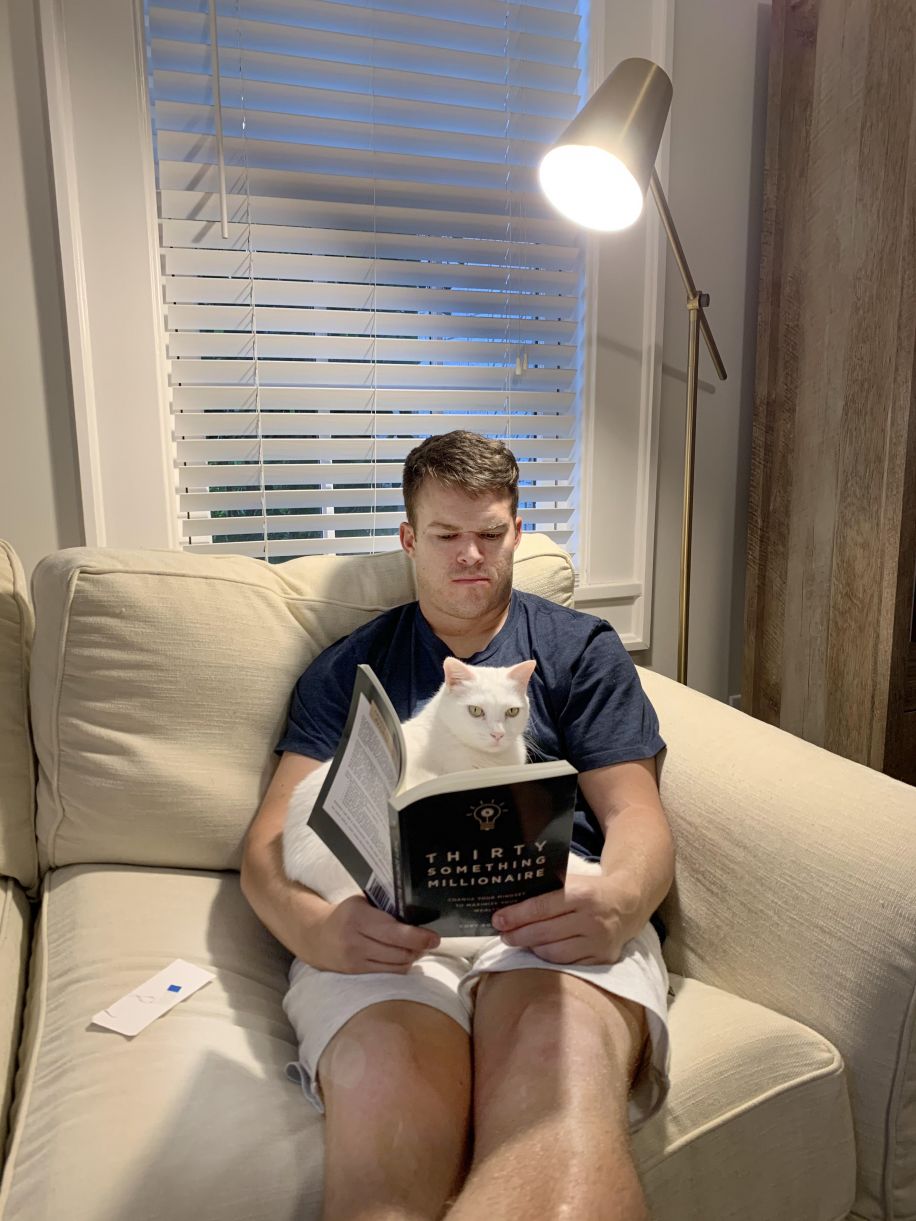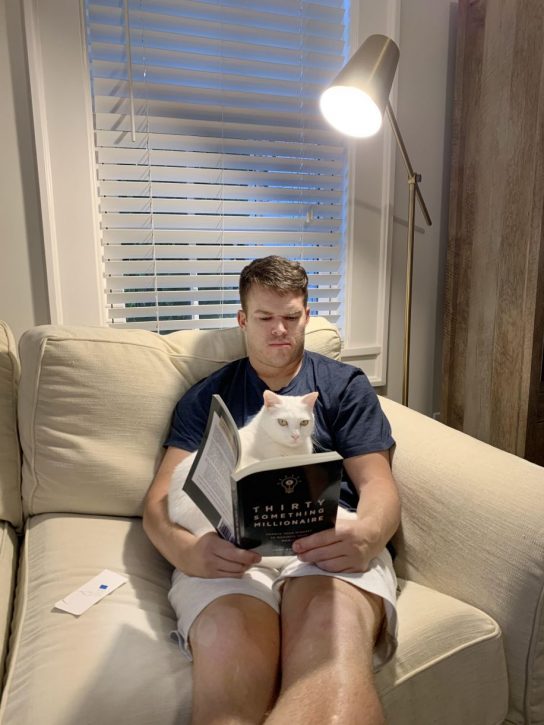 "We grew to love her, and by the time quarantine rolled around, we were not ready to give her up," Barber explained. "We saw so many cats that were getting adopted and we were worried that someone would adopt her if we didn't do it ourselves."
So, Barber officially adopted Frost. "We love her so much. We're going to keep her forever," Barber said.
Although COVID-19 had devastating effects on many of us, it also made us value the day-to-day relationships we sometimes take for granted. We're happy to know there's some good that came from all of this. If you're interested in adding a furbaby to your home, visit pensacolahumane.org.