By Janet Thomas—
Secretary, West Florida Literary Federation
Funny things happen in Florida. Just ask Pensacola native, Craig Pittman. He wrote a whole book about it.
In his fourth book, "Oh, Florida! How America's Weirdest State Influences the Rest of the Country," Pittman explores the reasons why Florida is so wild and weird and why that's OK. The book, which has received international attention, won the nonfiction gold medal in the 2016 Florida Book Awards. "Oh, Florida" is also a New York Times Best Seller.
Pittman is scheduled to be in Pensacola Nov. 9 for "Writing on the Funny Side of Florida," an event being presented by the West Florida Literary Federation (WFLF) as part of the Pensacola Foo Foo Festival.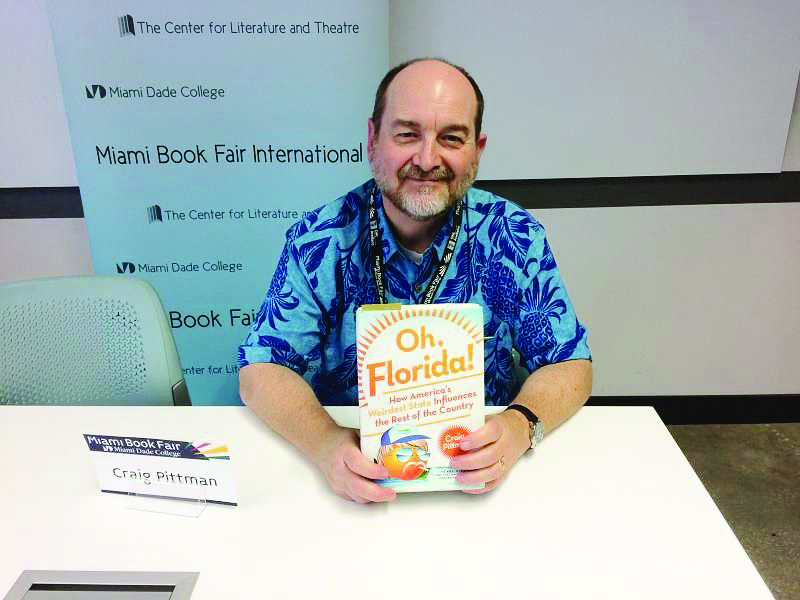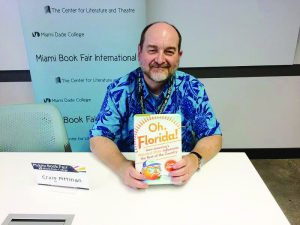 The author said he is looking forward to his upcoming visit.
"The last time I was in Pensacola was to cover the 2010 BP oil spill," Pittman said. "Here's hoping my appearance isn't nearly as messy or hard to clean up after."
Biographical information posted on the Tampa Bay Times website offers a taste of Pittman's funny way of looking at life. It says he graduated from Troy State University in Alabama, "where his muckraking work for the student paper prompted an agitated dean to label him 'the most destructive force on campus.' Since then he has covered a variety of newspaper beats and quite a few natural disasters, including hurricanes, wildfires and the Florida Legislature."
Pittman has been an environmental reporter for the Tampa Bay Times since 1998, and he has published three other books: "The Scent of Scandal: Greed, Betrayal, and the World's Most Beautiful Orchid," in 2012; "Manatee Insanity: Inside the War Over Florida's Most Famous Endangered Species," in 2010; and, "Paving Paradise: Florida's Vanishing Wetlands and the Failure of No Net Loss," (co-written with Matthew Waite) in 2009.
In a recent interview, Pittman talked about his ties to Pensacola and how growing up here fostered his love of storytelling.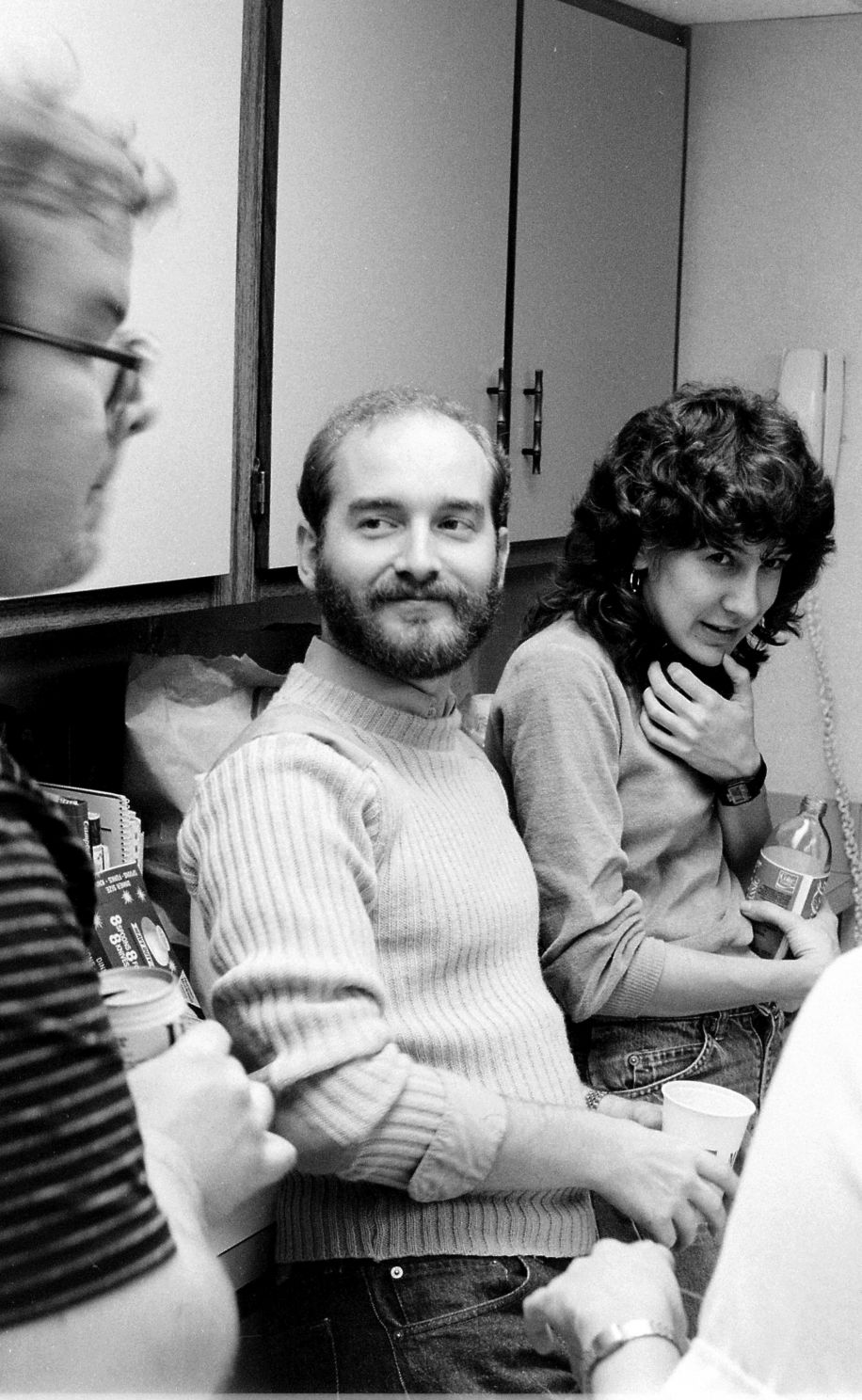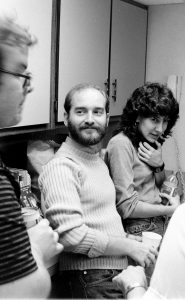 Q: What did you do during your early years in Pensacola?
A: I was born at a very early age in Baptist Hospital in Pensacola. I grew up in the vicinity of the pecan grove that became University Mall, and apparently under the flight path for Naval Air Station Pensacola. My mom is from Santa Rosa County and my dad is from Jackson County, so we left the 'burbs from time to time to go visit family out on the country. My parents sent me to Pensacola Christian (PCC) from kindergarten through high school graduation. The PCC folks gave me a solid education, as well as a good facility with finding Bible references, and somehow I avoided getting kicked out for wearing bell bottoms and letting my sideburns grow past the middle of the ear.
Q: When did you find out that you were funny?
A: In high school. It was a defense mechanism. If I could make people laugh, nobody would expect me to give them a serious answer to questions. Later, as I got older, I realized that with humor I could slip in serious stuff without people realizing it, and I used that tactic extensively in "Oh, Florida!" I call it "the spoonful of sugar method of shoving 50 pounds of Florida history and culture down your throat."
Q: Have your roots in Northwest Florida had any influence on your writing?
A: Absolutely. By growing up in the Panhandle, I was exposed to the strong Southern storytelling tradition (mostly by going along with my dad on hunting and fishing trips and hearing all the boasting and jokes and put-downs from his buddies). But unlike all the other Faulkner-influenced writers, my storytelling was flavored with that quintessential weirdness that Florida offers. In other words, I like a good story — and I love one where there's a particularly odd twist at the end.
Q: How did you get started?
A: I did an internship at the Pensacola News Journal's now-closed Fort Walton Beach bureau, which means I can brag that I started my journalism career in the same place that Hunter Thompson started his (he worked on the Eglin Air Force Base newspaper while stationed there). That was in the summer of 1981, and I covered feuding between white and Vietnamese shrimpers, the effort to incorporate Destin and the creation of Burney Henderson Beach (which later became a state park) thanks to a couple of high school kids who convinced Henderson to donate the property to the state. The managing editor later told me they had sent me there basically just to answer the phones. He told me that after hiring me to cover county government and politics right out of college. I started in the fall of 1981 and covered that beat for five years until my departure for the Sarasota Herald-Tribune in 1986.
Q: What do you remember about your time working in Pensacola?
A: I remember fondly the people I worked with but could not tell you any stories about them for fear of violating various penal codes. I vividly recall writing about such subjects as "the king of the county," Commissioner Grady Albritton, a former wine salesman and bus driver who parlayed road-building into a political fiefdom; Santa Rosa County mosquito control director Ben Henry "Three-to-Two" Pooley, who became the subject of the famous "ketchup murder" that wasn't really; and, of course, former Sen. W.D. Childers, who made his fortune selling hula hoops and once snuck money into the state budget for a football stadium for the University of West Florida, which had no football team at the time. I also covered the Christmas abortion clinic bombings, which the perps later called "a birthday present for Jesus."
Q: Are you aware that, according to Wikipedia, there is another notable Craig Pittman? Sgt. Craig "Pitbull" Pittman is an ex-marine and professional wrestler. Does anyone ever get the two of you confused?
A: Yes, I knew. My wife even tried to buy me one of his action figures as a gag gift, but apparently they're valuable or something. I am pretty sure the only reason I have a Wikipedia entry is so that people don't get him confused with me—because, of course, we have such a similar build and background.
Q: What is next for you? Are you working on another book?
A: I'm currently at work on a book tentatively called "Cat Fight." It's about the struggle to save the endangered Florida panther and includes everything from gator wrestlers to the Skunk Ape.
WFLF FOO FOO FEST WORKSHOP AND READING
"Writing on the Funny Side of Florida" is scheduled for Nov. 9. The program will feature humor writing workshops from 2 to 5 pm at the Pensacola Cultural Center (PCC) boardroom, 400 South Jefferson St., and readings and book signings from 7 to 9:30 pm at Artel Gallery, 223 Palafox Place.
Craig Pittman will share the spotlight with Leanna Conley of Pensacola, a comedienne, public speaker, illustrator, and novelist; and Erik Deckers of Orlando, a professional writer and the humor columnist/creator of the syndicated "Laughing Stalk."
Northwest Florida Poet Laureate Jamey Jones will emcee the event at Artel Gallery, which will be exhibiting its annual showcase event, "Cinco Banderas."
The Pensacola String Farm Band will play at Artel during the break between the writing workshops and readings. A reception for WFLF members, workshop participants, and the featured humorists is scheduled to begin at 5 pm at Artel. The reading/book signing portion of the event is free and open to the public starting at 6 pm.
For more information about registering for the workshops, go to wflf.org. Tickets are $15, inclusive.
About WFLF
The WFLF promotes and nurtures literary talent in Northwest Florida through educational programs, workshops, readings, school poetry competitions, community programs and publications. The organization presents monthly open mic readings at Pensacola Cultural Center, and issues a biannual anthology of local writers, the Emerald Coast Review. For more information, visit wflf.org.