By: Dakota Parks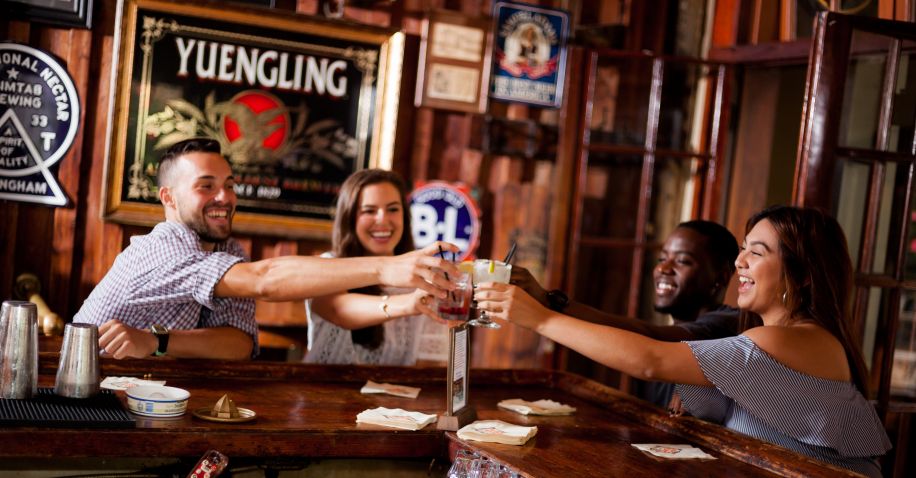 Prepare yourselves. The beast of Pensacon is awakening… And it loves a wingding. Shindig, jamboree, jive, whatever you call it—it's party! While downtown Pensacola bursts at the seams with capes, cosplayers and even a furry or two by day, the nightlife scene metamorphosizes into jam-packed decorated bars, themed fandoms and most importantly: specialty drinks. Some people like to dress up like their favorite characters—others like to drink like their favorite characters. Even if you aren't a drinker, the mock-tails and costumes are still all the rage. While there are just too many venues downtown to capture, here's a look into a few of Pensacola's happening afterparty locations for Pensacon!
Gallery Night: it's like the fate of the Jedi, or perhaps, really coordinated planning that the monthly Gallery Night happens to fall on the first day of Pensacon. Naturally, Gallery Night is Pensacon themed! In addition to the usual artists, merchants, nonprofits, stage performers, food trucks and drink specials, Gallery Night will be decked out with costumes, cosplayers and special events at your favorite bars and restaurants.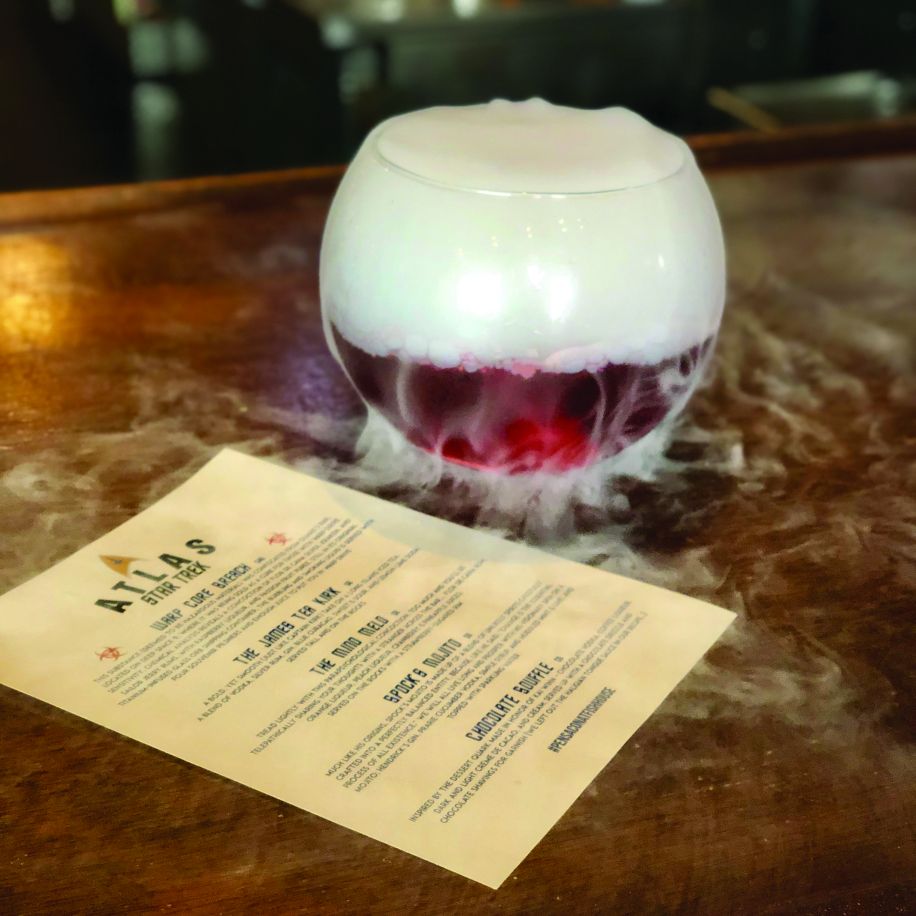 Fish House, Atlas Oyster House, and The Deck Bar: five nights of Pensacon afterparties!
Starting on Wednesday and running to Sunday, The Fish House will be transformed into Harry Potter's Hogwarts School of Witchcraft and Wizardry, Atlas will feature the world of Star Trek and The Deck Bar will be transformed into the Cantina from Star Wars! 11:00 a.m. – Until (each day and night).
The Fish House will be transformed into Hogwarts with potions, Quidditch, wands and Diagon Alley. Want a selfie with a life-size Dementor? How about a photo with your own "Have You Seen This Wizard?" poster? Are you curious about which Hogwarts house you would be placed in? Well, the Sorting Hat has you covered. Drink specials at the Fish House include The Goblet of Fire, Veritaserum, Butterbeer and more.
Atlas will be transformed into scenes from Star Trek with a galaxy that will take you beyond the final frontier! Want your picture taken with authentic props from the motion picture? How about a photo from the Captain's chair? Atlas will showcase a life-size original Borg movie prop, original translights from the deck of the Starship Enterprise and an original movie prop of the ship. Drink specials at Atlas include The James Tea Kirk, Mind Meld and the Warp Core Breach.
The Deck Bar will be transformed into the Star Wars Cantina fit for pilots and various dangerous aliens. Want your picture taken Han in Carbonite? How about hanging out with a couple of Jawas? Have your photo taken at the galaxy wall for the ultimate Star Wars photo op. Don't miss out on the first night of Pensacon festivities on Ladies' Night on Wednesday for $2 drinks at the Star Wars Cantina!
Odd Colony Brewing Co.
Odd Colony is transporting patrons to "The Upside Down" with their Stranger Things themed brewery. Don't worry, there won't be any Mind Flayers or Demogorgons stalking you. The taproom of the brewery will be dressed up with Stranger Things propaganda like the telltale Christmas lights and letters with a subtle ambiance of 80s music playing. (A weeping Winona Ryder next to the Christmas lights not included.) The event space of the brewery will be turned into the Upside-Down world for patrons to explore. As if that isn't enough, there will even be a special release beer perfectly paired to the infamous Eggo's waffles commonly eaten by Stranger Things' own character, Eleven.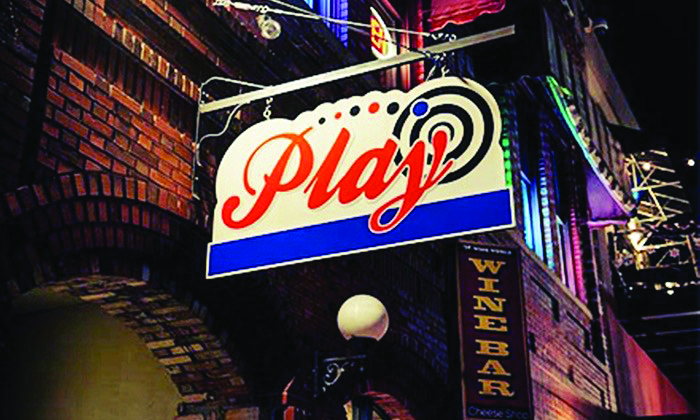 Play
Play isn't playing around with their Super Mario themed bar. Expect a video game paradise complete with floating mushrooms and mystery boxes, piranha plants, power up stations, green warp pipes and, of course, creatively named cocktails. The menu includes the "The Blue Shell" (strong enough to knock anyone from first to last place), the "Bullet Bill" (this turbo cocktail will zoom you from last to first), the "Starman" (it will make you invincible) and green or blue Jello shots. And rounding it all out is Play's always available award-winning signature drink the "King Koopa Cup." As if the arcade and signature drinks aren't alluring enough, your drinks will be served by bartenders clad in Princess Peach and Mario and Luigi-inspired outfits.
Perfect Plain Brewing Co. | Garden & Grain
Perfect Plain is channeling David Bowie himself for their 1986 cult-classic movie themed venue inspired by Labyrinth. It's so good, you won't want to find your way out! (Deep down, we all want to dance on those stairs while Bowie chases us in musical harmony.) Starting on Thursday, the taproom of the brewery will transform into the Labyrinth. Choose up or down as you sip on their collaboration beer with Pensacon, the Chilly Down Fruited Ale; roam through the Goblin City in search of the Babe with the Power while indulging on the Goblin King's favorite cocktail; and don your best mask and challenge your wits against the Four Guards to get into the secret Labyrinth of Jareth Masquerade Ball. Each night has a different event: from "Drink and Draw" with comics and trivia night to the masquerade ball influenced by Venetian tradition, Celtic faerie and goblin lore.
Cabaret
Cabaret is going to the dark side… but there aren't cookies or light sabers. However, there are drag queens! Inspired by your favorite evil and malevolent villains, Cabaret is embracing the Dark Kingdom of Pensacon—the bad sides of everything good. Don't worry though, it's not going to be too dark in there. No dark side party is complete without a GLOW party. Under the blacklights, there will be a kaleidoscope of neon fluorescent clothing, glow sticks and even paint. While the attendants will be glowing under the lights, the queens will be glowing up on stage. Guest stars Lauren Mitchell, Yvonne Davina, Kendyll Michaels and the nationally awarded character entertainer Judas Elliot will be performing. Don't forget your neon clothing and dollar bills for this illuminating afterparty location.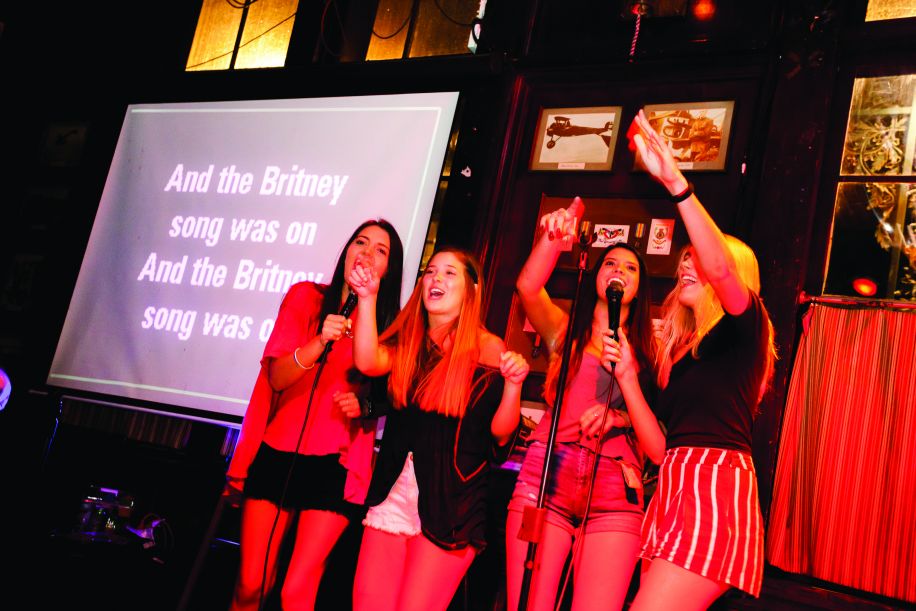 Seville Quarter
Seville is firing up the dance floor for their annual Pensacon VIP After Party. After a long day at the Pensacon Headquarters in the Pensacola Bay Center, the party moves to downtown Pensacola's, #1 nightspot, Seville Quarter. Seville Quarter is one of Pensacola's biggest party spots with outdoor bars, an indoor piano bar, live music and a popular dance floor. From 9 pm-12 am, on Friday and Saturday, the after party will be filled with Pensacon fans, guests and tourists. The best part about it? Pensacon VIP passholders and 3-day pass holders will receive FREE Admission to Seville Quarter throughout the entire Pensacon Weekend. Come have a drink with your favorite Pensacon Celebrities, stay and party the night away.