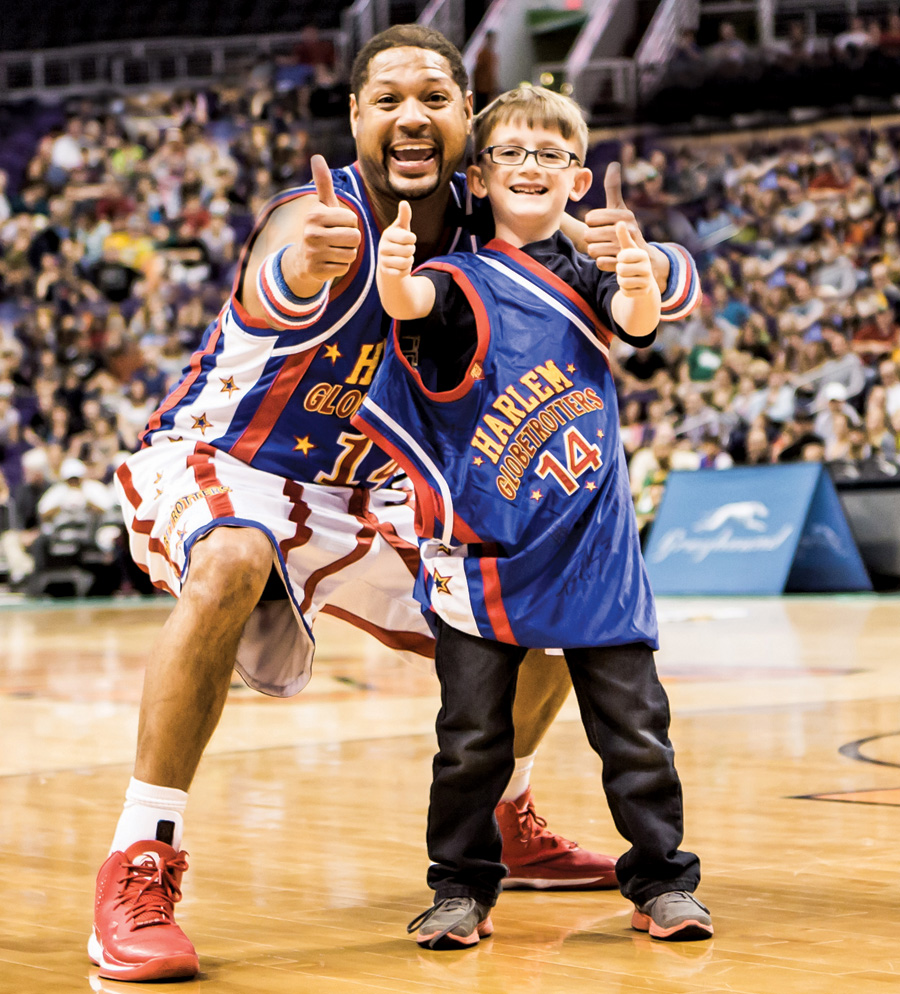 How long have you been with the Globetrotters?
I've been with the Globetrotters for nine years now. Before that I was with Nike and made various basketball appearances. That's actually how I got discovered by the team. I wanted to a Globetrotter since I was six-years-old. I knew I was either going to solve mysteries or play for the Harlem Globetrotters. The first time around, I sent the Globetrotters a tape and they turned me down.  But I kept striving and eventually became known as one of the best dribblers in the world. I was recruited by Nike and starred in a commercial for them that sort of became a worldwide phenomenon. I did a couple more commercials, including  one with Lebron James. Then the Globetrotters reached out to me and recruited me. So I got my dream.
Tell me about the training process.
We're always looking for the best of the best—the best dunkers, shooters and dribblers. We are avid recruiters. Once you're a part of the team, and if you're a great player and a great person, we can teach you the rest—the stuff like the theatrics and the comedy.
When's your season?
We play everyday from Christmas until about May 2, and we train for about an hour or two before each game, then we go overseas and play for the troops. I've been to all 50 states and 77 countries. We play 300 games a year between training camps, overseas games and more, so we stay busy.
How long does it take to become that proficient?
It's a lifelong process, I'm not going to life. I've wanted this since I was six. I was one of those kids who always had a basketball in my hands, and to this day I still do. That hasn't changed. From a very young age, I would watch tapes and videos of Trotters. I mean it when I say it was a dream of mine. I had to be the best that I could and now I have to stay that way. I still have that basketball with me at all times
Tell me about some of the charity work they do.
More than just great ball-players, we want to be great role models for kids. We really are ambassadors of goodwill, so we visit hospitals and we speak to schools. In fact, I'm just finishing at a school in Maryland. And it's our 90th anniversary, so we've begun what we're calling the Great Assist. Basically you go to greatassist.com and nominate a cause in your community in need of a smile. For each city we go to, we try to accommodate that request. It's been great.
Who do you play when you're on the road?
Well, for the longest time, we had a touring team called the Washington Generals, but they recently retired. So, now we tour with a team called the World All-Stars they put together to tour across the US.
For someone who's never been, what can they expect?
Well it's our 90th anniversary like I said, so everything is going to be taken up a notch. That means high-flying slam-dunks, great comedy, and something that a lot of families will really treasure. We make memories that'll last a lifetime. It doesn't matter how old you get or where you go, you'll always remember the day you saw the Globetrotters. That's why we can't wait to get down there to Pensacola. We just can't wait to have a good time. You don't have to be a basketball fan; you don't even have to have kids. I guarantee just a really fun time for everyone.