By Gina Castro
The historic Belmont-DeVilliers district has been a location of multiple developments in recent years. Luxury apartments now stand across from Blue Dot. Dozens of lavish townhomes fill the surrounding streets. Since Devillers Square building was renovated, the area is also welcoming new businesses to the neighborhood. But as old buildings and homes are replaced with modern ones, what was once there is at risk of being forgotten. Decades ago, the Belmont-DeVillers district was the cultural and economic hub of Pensacola's black community. This district, fondly known as "the blocks," was the only area black businesses were allowed to operate during segregation. Despite this limitation, the black community thrived. It became home to Pensacola's best burgers, fried chicken and a bustling music scene with performances from Aretha Franklin and James Brown.
Today, few pieces of this amazing history remain. The murals have faded, the music venues have closed and black business owners have become the minority in the district. Kukua Institute, a black-owned nonprofit, is bringing back the cultural and historical significance of the blocks along with economic development. Kukua Institute is a complex nonprofit that uses art, history, science and technology to both grow and share the cultural, intellectual and economic abilities of African Americans.
Kukua Institute Board Chair, Lloyd Reshard grew up in Tallahassee and graduated from the University of Florida with a degree in electrical engineering. Reshard did a co-op with Eglin Air Force Base's Research Laboratory for the majority of his career from 1989- 2012. While working at the Air Force Research Laboratory, he investigated alternative ways to process data and found that artificial intelligence was the number one way. He also founded the National Science Foundation's most successful center: the Center for High-Performance Reconfigurable Computing.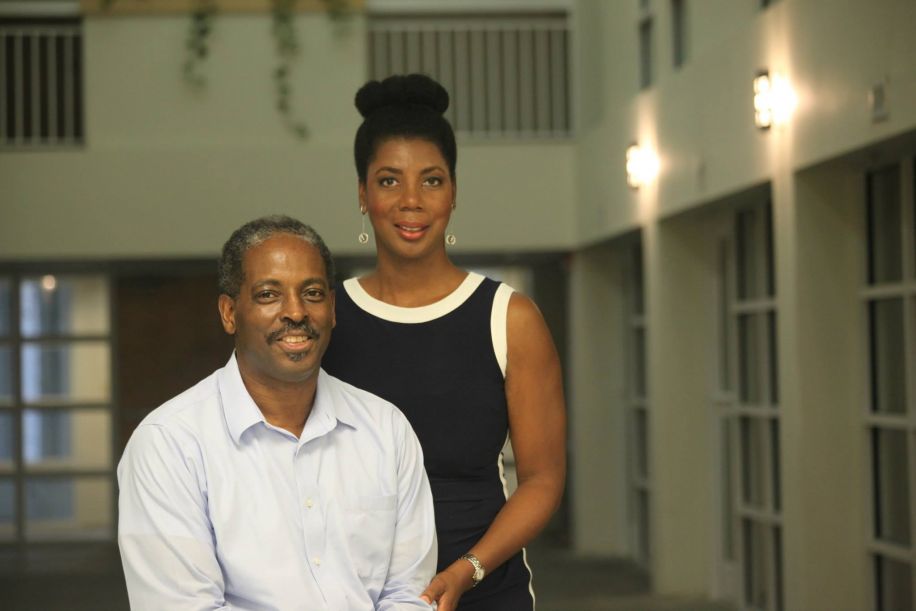 While Lloyd focuses on the science and technological aspects of Kukua, his wife and Kukua Executive Director, Robin Reshard's expertise is in art and history. Robin, is known for her company Robert Robino Productions and her Belmont DeVillers documentary.
The couple started to learn about the African-American culture and history in the Belmont DeVillers area when Robin got an office in DeVillers Square around 2008. Shortly after moving to her office, Robin began working on a documentary about the district.
"As she was interviewing other people for the documentary, I learned about the history of Belmont DeVillers and how it was a great business district," Lloyd said. "It was a nationally known business district in the United States. It was pretty amazing to hear all those stories. Hearing those African-American stories about the business people here drew us into the area here, so what Robin and I decided to do was focus on trying to recapture some of that business that this area was known for."
The two started tossing around the idea of starting a nonprofit after Lloyd participated on the steering committee for the Chamber of Commerce's strategic economic development plan and discovered Pensacola had a youth brain drain, which is when young professionals leave the city to seek opportunities elsewhere.
"The youth brain drain makes a community die. Having retired from the Air Force Research Lab, I knew if you engage with the students when they are in college through projects and internships with local companies, they could actually establish a connection here," Lloyd said. "I saw that a lot during my experience with the government."
Robin needed funding for additional projects about the district, but she needed a fiduciary deficit nonprofit.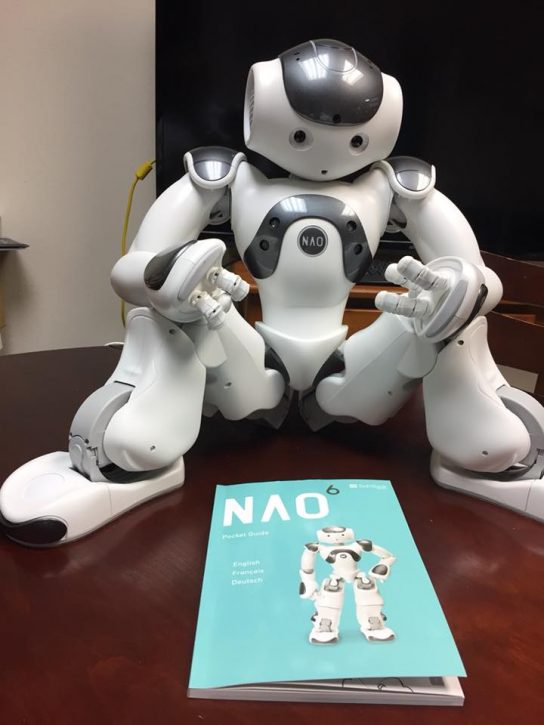 In 2016, the two felt compelled to start Kukua Institute to save the historic D'Alemberte home, which was built in 1884. The home was set to be demolished and replaced by a stormwater pit for the townhomes on Gregory Street just east of DeVilliers Street. The Reshards were able to save the home by moving it to their property in the district on North Coyle Street, and Kukua Institute was formed.
The D'Alemberte home is now Kukua's Ezra Gerry Museum and Research Center. Ezra Gerry was a black man who worked in the maritime industry at Pensacola Port during the late 1800s when Jim Crow laws were introduced.
This museum features one of the nonprofit's first projects: Real Blocks. Kukua combined the history of the blocks with virtual reality to create an interactive map of the Belmont DeVillers district from 1885 to 1940. Robin earned a grant from ACE to fund Real Blocks. Robin partnered with UWF history professor Dr. Jamin Wells along with five UWF graduate students to collect information about Gerry's life, the working class and African Americans, since their lives weren't documented. The students each took a chunk of the timeline and researched it extensively.
Kukua created a three dimensional virtual reality map from a 1907 Sanborn map. So people who visit the museum will be able to tour the neighborhood and see the businesses and people who lived there. Lloyd recalled a time one of the students was incredibly grateful for her experience with this project.
"In the following year, there were 20 undergraduate students that did the research on Ezra Gerry's life. There was only one black student, and she wrote a long email to the professor," Lloyd said. "And that was really touching because she started to understand what black history was all about."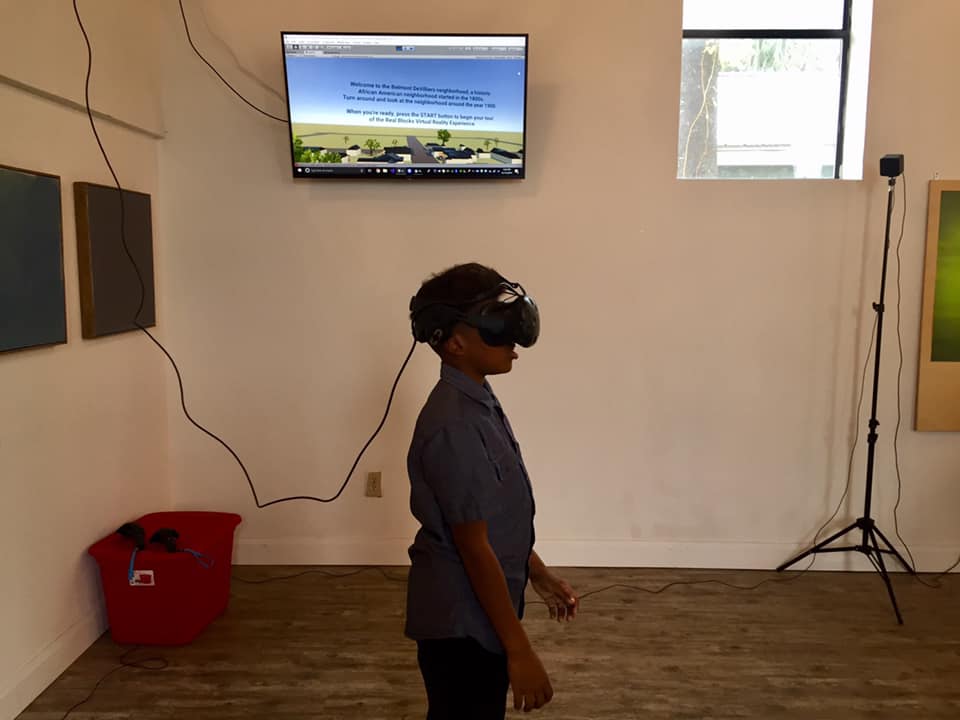 Kukua isn't focusing on just the past. They are preparing students for the future of work. Another pillar of Kukua is the Center for the Innovation Workforce. This center prepares students for the innovation economy by giving them hands-on experience with virtual reality, robotics, data science, AI and computing.
Lloyd explained that the center will be used for project-based learning for students. Many colleges focus on teaching students theories about engineering and technology rather than hands-on experiences with innovation and technology. This lack of experience then causes the students to be unprepared for the workforce and causes the youth brain drain in cities. An innovation lab is also different from the usual STEM lab. Rather than focusing on actually making the product, they focus on creating the idea that has never been done before and testing it through tools like AI.
"The future work means, for example, by 2030, only nine percent of the workforce is going to be full time. People don't really realize how fast automation is moving in. So when you think of, say, what makes Amazon and Google and all of these companies so powerful is their workers spend most of the time creating new ideas— innovating," Lloyd said. "And then there's a few, just a few people that are actually doing the execution work. Whereas the old way you had 80 to 90 percent of people doing execution work and nobody doing automation work."
The Center for the Innovation Workforce then creates the talent for launching startups in Pensacola. In 2015, startups created two million jobs in the U.S. alone. Kukua launched its newest program Startup on the Blocks, which is a networking and education initiative intended to connect black business entrepreneurs with mentors and potential collaborators.
"Innovation disrupts the current industry and grows the economy faster than traditional small businesses. These large companies account for only 20 percent of jobs," Lloyd said. "Whereas these high growth startups account for over 50 percent of the new jobs. So that's why you have to create a startup ecosystem to grow these companies."
Kukua chose to focus Startup on the Blocks on helping African-American entrepreneurs because of racial inequality in the U.S. A study by Prosperity Now and the Institute for Policy Studies found that the median wealth for black Americans will fall to $0 by 2053, if current trends continue. Latino-Americans are also experiencing a sustained downward wealth slide and are expected to hit $0 in 2073.
"Why I chose people of color is because of the automation from all of these startups and big companies, the studies show that the medium black wealth will go to zero by 2053," Lloyd said. "And since COVID-19 happened, they said it's going to happen more than 10 years earlier. And one way you overcome that is by teaching founders of color how to do these high growth startups."
To learn more about Startup on the Blocks and Kukua Institute, visit kukuainstitute.org.