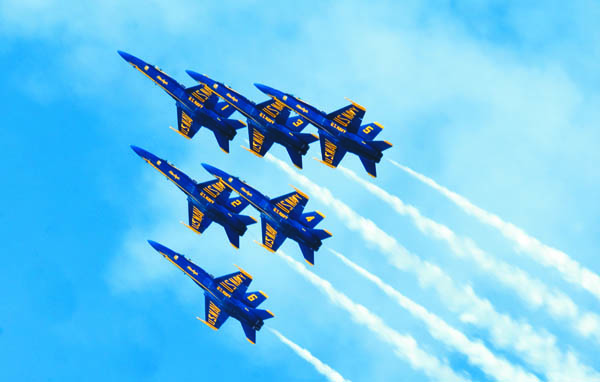 If you're looking for a way to have fun with your family this 4th of July, look no further than Downtown Pensacola and Pensacola Beach. The 26th annual Sertoma Independence Day Celebration will be held Downtown followed by Red, White, Blues Week with the Blue Angels, providing lots of entertainment, food and a jaw-dropping performance.
The Sertoma festivities July 4 will begin at 11 am and end with the largest fireworks display on the Gulf Coast over Pensacola Bay at 9:05 pm. With free admission, anyone can browse the craft booths such as Lisa Sutton's Jewelry for Hair and Dietrich's Honey Farm and choose from one of many of the food vendors including Sonny's BBQ, Kona Ice, and Tin Tins Oriental Food. Children can enjoy the age-appropriate activities including taking pictures with Disney characters Ariel, Elsa and Jack, three different bounce houses and inflatable slides, crafts with Lowe's and Applebee's, a rock climbing wall and bungee jump, and free face painting with clowns. Live music will also be provided by Cat Country FM 98.7, Triple Lindies, and Banana Republic.
There's another fireworks display happening July 4 at 8:30 pm on Casino Beach as well. The display will be set off over Santa Rosa Sound just offshore of Quietwater Beach, with the best views at Portofino Boardwalk and Quietwater.
Red, White, and Blues week occurs directly after, giving a spectacular reason for why any out-of-town family members should stay in Pensacola longer. The Blue Angels will be performing several times during the week starting with the July 8 Breakfast with the Blues, a chance to eat breakfast at a beachfront restaurant and avoid the crowds while watching the pilots prepare. July 9 at 2 pm is the Practice flight demonstration followed by the dress rehearsal July 10 beginning at noon with the Blues flying at 2 pm on Casino Beach. Saturday July 11 will be the big performance with the same times as the rehearsal, but with a much larger audience.
"A lot of people don't know that the Blue Angels spend 300 days on the road and that they train six days a week both practicing and performing," said Amber Lynn Daniel, the public affairs officer for the Blue Angels. "They strive to maintain proficiency. Thursday they do circle and arrivals, where they spot their check-points and fly through them so they know where they are. After is the first performance practice, where they establish visual aids. Friday is a practice performance. Saturday is really exciting because we get to show our hometown how hard we've been working."
The Santa Rosa Island Authority advises anyone looking to enjoy the show to follow proper precautions. "There is no designated parking after 9 am particularly," said Katie King, a representative of the Pensacola Beach Publicity. "Parking is wherever you can find it and traffic will back up over two bridges the longer you wait. You should arrive before 8 am and make sure you stay hydrated."