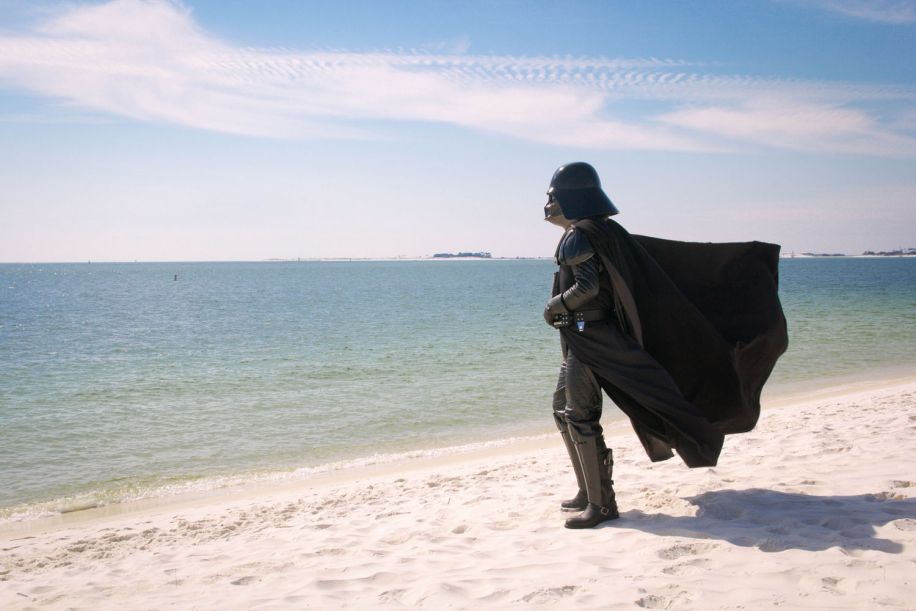 For decades, it seemed, politicians and businesspeople ruled Pensacola. The weak served the strong.
But there was a silent resistance growing in the town's underbelly. In movie theaters, at LAN parties and comic book shops across the city, a passionate and energized minority was starting to stand up.
There would be occasional but short-lived sparks of revolution, of course. A costume party at Vinyl here, an outdoor showing of Star Trek there, but nothing really dependable. For years, it seemed that the movement would never fully take to the streets, that the community's nerd culture would never find something around which to galvanize and call their own.
Then it happened. A few well-funded fighters began to formulate a vision for a better tomorrow—a vision where, if only for a time, the outwardly shy but inwardly brave would have their day. That day finally came on Feb. 21, 2014.
For three years now, the annual fan convention Pensacon has made Jedi, wizards, Starks and Doctors out of us all. And there were so many more of us than we thought. We would have considered it a victory if a few hundred shuffled through the Bay Center's doors, but the convention did something: it legitimized what had been long-dormant in so many of us—a desire, nay, a need to break free.
No longer are we lawyers writing contracts, waiters serving drinks, or coders designing websites. We can discard those restrictive vestiges like Superman ripping off his earthly disguise. For three special days (Feb. 19 – 21) each February, we can be what society has told us to suppress for so long. We are all nerds, united in our love for all things pop culture.
With that celebration of all things magical and otherworldly comes a lot of preparation. As thousands of walkers and Sith lords shuffle through the doors, ready to meet future best friends and vanquish enemies in games of Super Smash Bros. or Magic: The Gathering, behind-the-scenes staff and volunteers are working hard to make sure we can debate fan theories and pick up limited-edition swag in a fun and safe environment.
The fearless team responsible for putting the event on must ensure the safety of 17,000 fellow fans; scheduling and arrival of nearly a hundred celebrity guests; facilitation for dozens of panels, events, competitions, and more. They must do all that with a smaller staff and bigger expectations. So how do they do it all?
"We rely heavily on 350 to 400 volunteers," said Kat Bishop, director of marketing and communications. "We have volunteers assigned to tickets, celebrities, vendors and more."
They began planning 2016's big event before 2015's Pensacon was even over.
"We have a brain dump after each convention where we discuss what worked and what didn't," said Bishop. "We'd like people to know that there are many things happening all weekend, both at the Bay Center and in the general downtown area. By spreading the crowd out, hopefully we can avoid another bottleneck, especially during the busiest hours of 11 am to 2 pm
Saturday."
Bishop is right that there is a lot happening in Pensacola that weekend as part of the convention. This year, the squad has taken a galactic approach to the celebrations. Instead of the Bay Center and Crowne Plaza being the epicenter of the action, visitors will find
participating businesses and satellite events orbiting in the square miles surrounding the Bay Center. There's a lip-sync battle at the Rex Theater, a silent auction to benefit Manna Food Bank, Star Wars– and Star Trek-themed parties at the Fish House and Atlas Oyster Bar, a Rocky Horror Picture Show celebration at Vinyl with some surprise celebrity guests, and more.
"With the continuing growth of the event and the lack of space we face with current facilities, we've really had to take a 'campus' approach to Pensacon," said Mike Ensley, Pensacon Chairman. "We added the Saenger Theatre as a venue in 2015 and are also adding the Rex Theatre and Palafox House this year. Hopefully, this will help not only keep the crowds at a reasonable level at the Pensacola Bay Center, but also encourage attendees to visit downtown Pensacola's restaurants, bars and shops."
These changes underscore the fact that this band of scrappy rebels truly cares about the surrounding area and all who inhabit it. With a strong sense of corporate responsibility, they hope all businesses and non-profit initiatives can live long and prosper alongside Pensacon and not in a spirit of competition.
Businesses are wise to get into the spirit, too. The Tin Cow had the best single sales night of its existence during the first year of Pensacon, surpassed only by the second year when it hosted all manner of zombie-themed goodies in its The Walking Dead-inspired burger-serving safe haven. All this goodwill adds up to about $1.4 million worth of economic stimulus over the three-day weekend.
"It's very important to us that everyone feels the positive effects of this convention," said Bishop.
The celebrity experience has also changed slightly, as the staff has focused less on the number of guests and more on the quality of guests. After all, what are guests but slightly better-known fans with whom to discuss the latest theories and bemoan untimely cancellations? That means that people like Michael Rooker (The Walking Dead, Guardians of the Galaxy), Michael Dorn (Star Trek), Jason Mewes (Clerks, Dogma, Mallrats), and Peter Mayhew (Star Wars) will be on hand to sign autographs, take pictures, and discuss all your favorite character moments.
Fans will also be treated to some surprise guests and people from previous years and had a great experience and wanted to come back.
"For the first year, we really had to work to get celebrities, artists and authors to come," said Bishop. "But now we've established a reputation of great care, transportation, hospitality and dining, and people want to come."
With that kind of consistent experience, it's no surprise that tickets are going quick. The first batch of VIP tickets were gone in just five hours, but some weekend passes are still on sale for $75. If you haven't already snatched up early 2016's hottest party ticket, you'll want to do so soon at pensacon.com.
Pensacola needs a hero. Can you hear the call? It's a beckoning for the brave of heart among us to cast aside our feebly human limitations and rise to the challenge of vanquishing the status quo and establishing a better tomorrow. The folks over at Pensacon heard that call, and they have become the heroes we need, and in so doing, made conquerors of us all.