Who doesn't love a road trip? Open road, open skies and the promise of adventure at every turn. Sometimes a quick getaway is all we need to reconnect with nature and recharge our batteries. Fortunately for us, Pensacola is just a hop, skip and a jump from a variety of historical sites, unique natural wonders and wildlife encounters. These locations are perfect for a quick day trip or even a long weekend. Either way, you'll come back renewed and ready to face the work week ahead.
Sometimes referred to as the Southern Route 66, Highway 90 runs from the ocean city of Jacksonville, Fla. to the desert town of Van Horn in west Texas. A portion of Highway 90 is also considered to be part of the original Old Spanish Trail, which once linked St. Augustine and San Diego via a partially brick-paved road. In Milton, visitors can still explore seven miles of that original brick-paved Old Spanish Trail. The trail connects to hundreds of miles of hiking and biking trails in the Blackwater River State Forest, the largest forest in Florida. The modern Highway 90 has its own charms, however. From quaint towns with significant historical sites to crystal clear springs, waterfalls and even caverns of limestone formations, Highway 90 holds many treasures that make for the perfect day trip.
Coldwater Gardens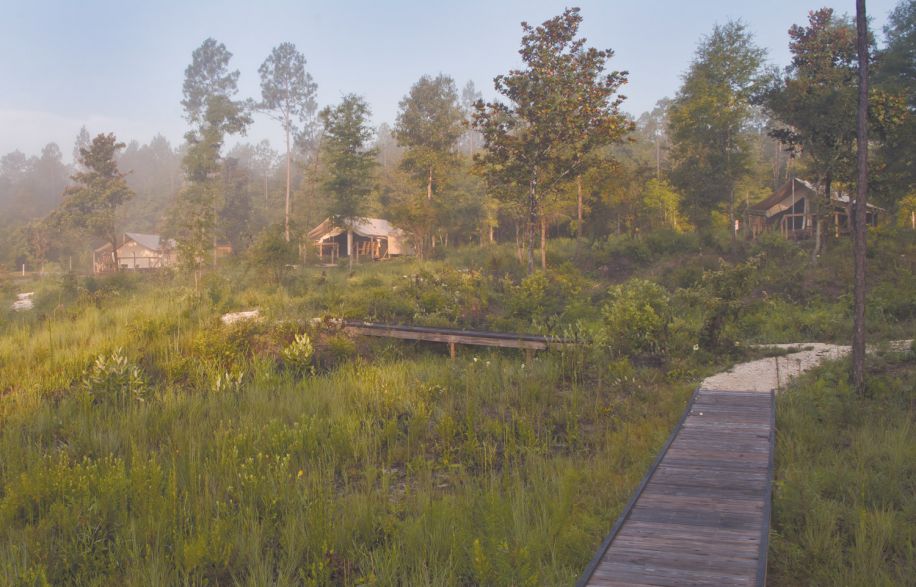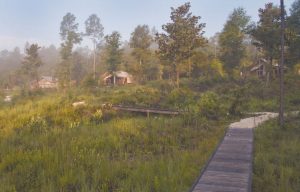 So close to Pensacola, yet you will feel a million miles away at the organic, eco-chic agritourism and ecotourism retreat that is Coldwater Gardens. Nestled on hundreds of acres in Milton, Fla., Coldwater Gardens boasts rich organic and aquaponics gardens, treehouse and glamping accommodations, Coldwater Creek access, and 8 miles of trails and primitive roads. Coldwater offers education, recreation, and exploration of nature and agricultural practices. Visitors can enjoy the creek, eat from the gardens, hangout at the terrace and glamp the night away. Coldwater currently offers 10 primitive campsites (right on the sandy beaches of Coldwater Creek), six glamping tents, one tiny house, a "treehouse," and four luxury cottages.
---
DeFuniak Springs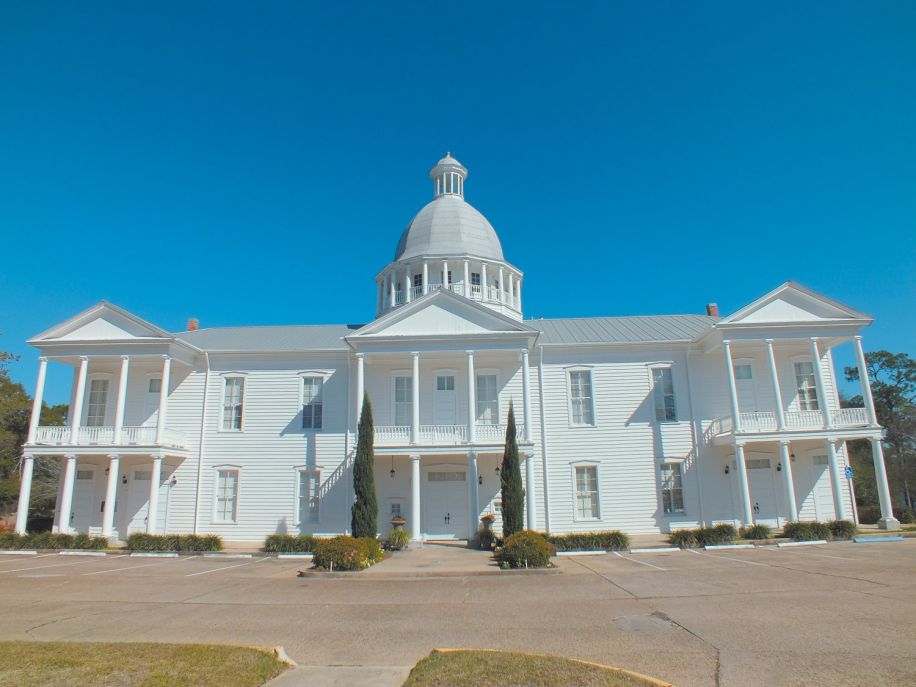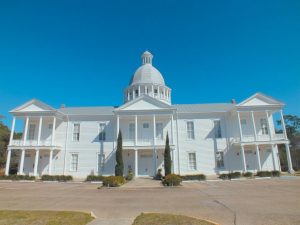 The quaint town of Defuniak Springs is a mere hour and fifteen minutes from Pensacola. The town sits on the banks of the spring-fed Lake Defuniak, which is a true rarity—one of only two such almost perfectly circular bodies of water in the world. The other is located in Switzerland. A collection of Victorian homes surrounds the lake and adds to the nostalgic charm. Founded in the 1880s as a railroad stop for the L & N Railroad, DeFuniak Springs retains its old Florida look and feel. In fact, the Walton County Library on Circle Drive is the oldest library in Florida still operating in its original building.  It houses an interesting assortment of antiquities, including an impressive medieval weapon collection and many first-edition books. The former L&N railroad depot now houses the Walton County Heritage Museum. The town became the winter home of the New York Chautauqua, an educational movement that attracted thousands of visitors to Defuniak Springs in the late 1800s and early 1900s. Chautauqua Vineyards, a 40-acre vineyard located 12 miles north of Defuniak Springs offer tours and tastings of their wide variety of muscadine wines.
---
Ponce de Leon Springs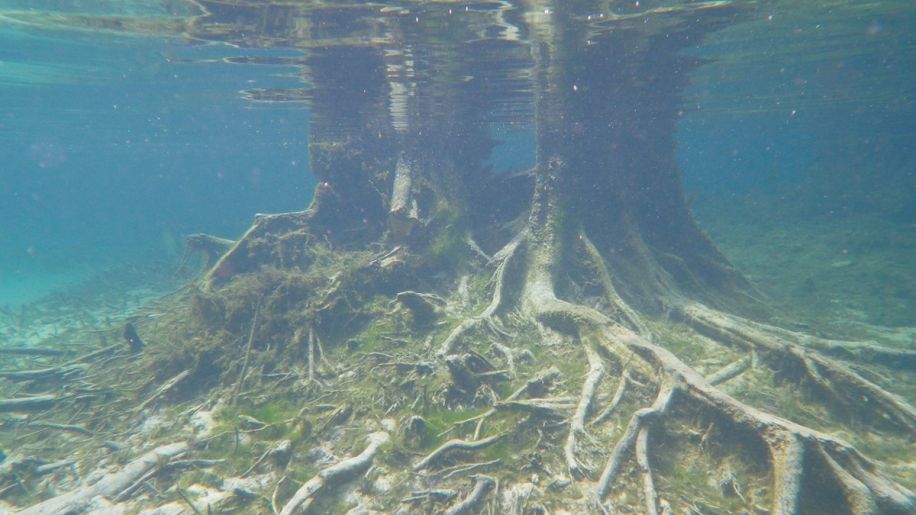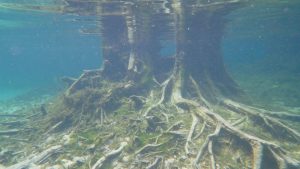 Named for the famed explorer who sought the fountain of youth, Ponce de Leon Springs may not grant you eternal youth, but its majestic beauty will certainly relax your mind while its crisp cool waters are sure to revive your senses. The crystal clear water maintains a year-round temperature of 68 degrees. Approximately 14 million gallons of pure water emerges daily from the Ponce de Leon Spring. Spring water emanates from the aquifer deep underground. European settlers and American Indians before them used this spring as a source of drinking water and recreation. While the spring is the main attraction, the park also offers ample opportunity for hiking, birding, fishing, snorkeling and even geocaching.
---
Seacrest Wolf Preserve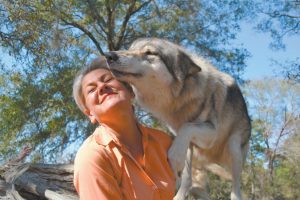 Wild animals are fascinating and potentially dangerous creatures. If you love the idea of spending time with wild wolves in a relatively safe environment, this is the trip for you. Seacrest Wolf Preserve, Inc. is a non-profit organization dedicated to wolf and wildlife conservation through education. At Seacrest Wolf Preserve, humans and wolves connect in nature for educational purposes. The rare hands on wolf-human interaction are profound learning opportunities for humans to connect on a deeper level with wolves in the hope that visitors will be inspired to join the effort to save America's wolves and wild heritage. The preserve offers a variety of tour options, but the four-hour Saturday educational tour is the most economical. It includes plenty of wolf centric education and interaction with three wolf packs, including both Grey and Arctic wolves. The tour concludes at the small animal adventure where guests can cuddle with skunks, interact with foxes and feed the raccoons. Only children 12 and older are allowed on the wolf encounter tour. Camping is also available on the preserve.
---
Falling Waters State Park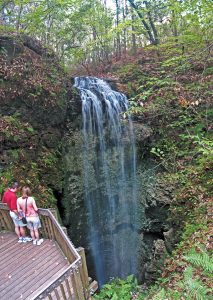 The star of the show at Falling Waters State Park is most certainly Florida's highest waterfall. To see the waterfall, visitors follow Sink Hole Trail, a boardwalk flanked by huge trees and fern-covered sinkholes. Falling Waters Sink is a 100-foot deep, 20-foot wide cylindrical pit into which flows a small stream that drops 73 feet to the bottom of the sink. The water's final destination remains unknown. Located a few miles south of I-10, the quiet and serene park also offers visitors the chance to see beautiful native and migrating butterflies in the butterfly garden, take a dip in the lake, or have a family picnic. Hikers enjoy trekking through the green, gently sloping landscape of North Florida. Full-facility campsites nestled in a shady pine forest provide the perfect excuse for an overnight stay at Falling Waters.
---
Florida State Caverns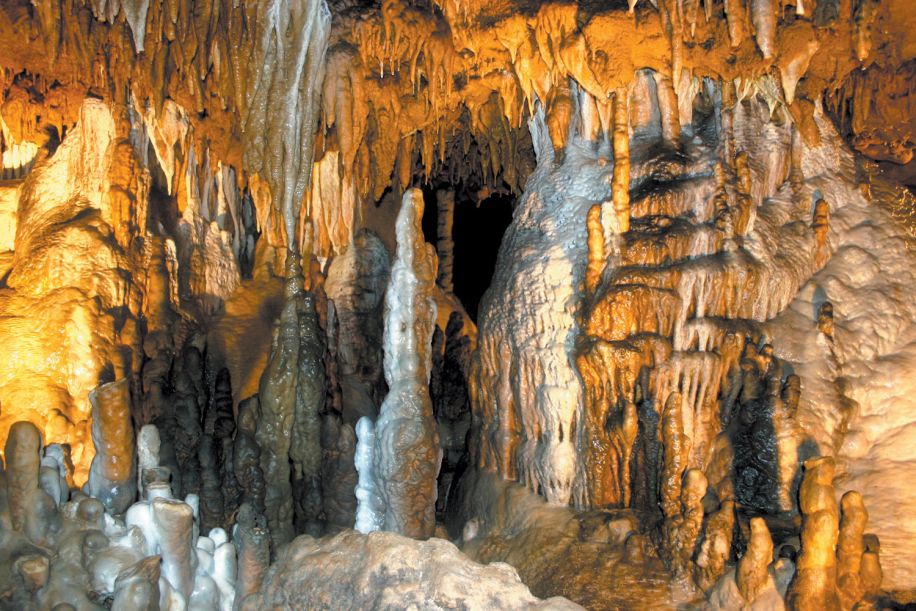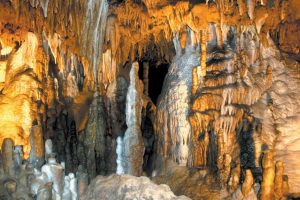 Florida Caverns State Park is the only state park in Florida to offer cave tours to the public. Inside the dry (air-filled) caves, visitors will see incredible formations of limestone stalactites, stalagmites, soda straws, flowstones and draperies. The park's caves have a long and interesting geologic history beginning about 38 million years ago when this area was submerged beneath high sea levels. Shells, coral and sediments gradually accumulated on the sea floor and as sea levels fell, these materials hardened into limestone. During the last million years, acidic groundwater dissolved crevices just below the surface creating cave passages large enough to walk through. Stalactites, stalagmites, flowstone and other fragile cave-drip formations were by a similar dissolving process by the naturally acidic rainwater. The caves provide a habitat for the blind cave crayfish, cave salamanders and three species of cave roosting bats. The park also contains the Chipola River and Blue Hole Spring, which provide areas for fishing, canoeing and boating. Florida Caverns State Park is popular for camping, picnicking, fishing, hiking, and horseback riding. The park also features a nine-hole, New Deal-era golf course set in beautiful rolling terrain.