By Hana Frenette
By the summer of 2019, families of sick and injured children will able to sleep, eat, shower, do laundry, use a computer and relax mere steps away from the hospital bedside, thanks to the Ronald McDonald Family Room coming to the new Studer Family Children's Hospital at Sacred Heart.
The Ronald McDonald House Charities of Northwest Florida strives to provide the best home-away-from-home and source of a respite for children and the families of children suffering a medical crisis. Since opening its doors in 1984, the Ronald McDonald House of Northwest Florida has been a lifeline of hope for families.
Construction of the new four-story children's hospital began in June on the Sacred Heart Hospital Pensacola campus. The new children's hospital is expected to open in 2019. In addition to the Ronald McDonald House currently on the Sacred Heart campus, the Ronald McDonald Family Room inside the new children's hospital will feature a large, open living room and dining room, full kitchen, shower room, laundry room, computer area, quiet room for families who receive upsetting news and need privacy for processing a diagnosis or making a phone call, and a playroom specifically for patients' siblings.
The new space will also feature three bedrooms and bathrooms to provide overnight accommodations in emergency situations when families need to be seconds away from children who are in critical condition.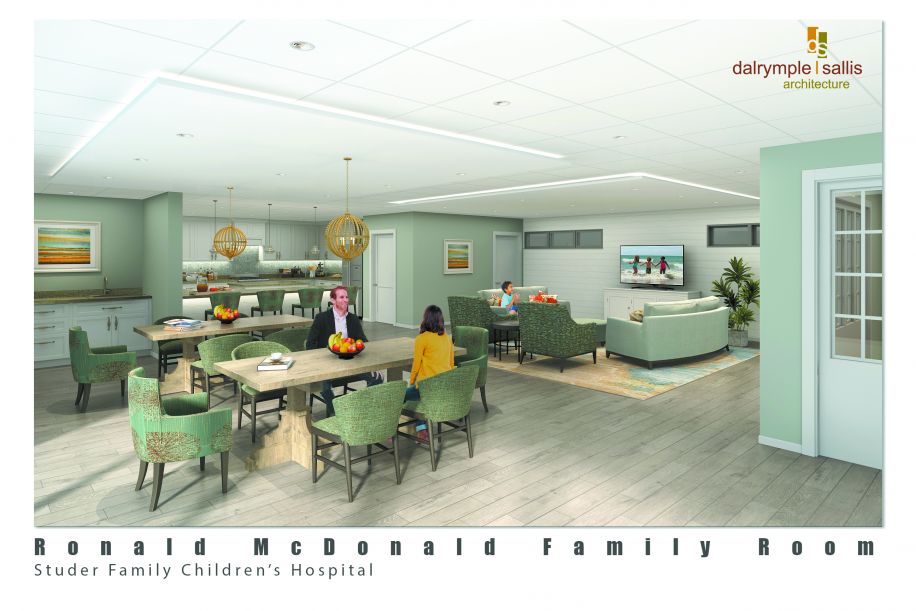 "Ronald McDonald House has been a vital partner of The Children's Hospital since the first House opened in 1984," said Henry Stovall, president of Sacred Heart Hospital Pensacola and The Studer Family Children's Hospital at Sacred Heart. "They provide an integral part in care for children and families."
The Studer Family Children's Hospital at Sacred Heart is a 117-bed facility that serves as the only children's hospital in Northwest Florida. The Children's Hospital offers a wide range of services to meet all of a child's medical needs, from a pediatric emergency room and neonatal intensive care unit to pediatric intensive care, cancer care, rehabilitation and a medical staff of more than 120 board-certified physicians across 28 pediatric specialties. The Children's Hospital provides quality, compassionate care to children, regardless of their parents' ability to pay.
"The new Family Room is the next step in our relationship, and it is a much-needed resource, since the current House is often at capacity. Plus, parents of our most severely ill children – those who have been in a traumatic accident, need emergency surgery, are experiencing medical complications or are undergoing treatment for cancer – often don't want to leave the bedside or the unit," Stovall said. "They want to be steps away from their child. Thanks to the new Family Room, parents will have that peace of mind while being able to tend to their own needs and the needs of other children."
As the regional pediatric trauma referral center and the region's only children's hospital, The Children's Hospital sees patients from across Northwest Florida, South Alabama and South Georgia.
"Having access to specialized care is critical, and our partnership with The Studer Family Children's Hospital at Sacred Heart underscores how important it is to also have a refuge that keeps families with seriously ill children together," said Ronald McDonald House Charities Executive Director Judy Burns.  "Something as simple as a warm meal or a hot shower can provide a sense of normalcy that means the world to our families. We are very proud to work together on a project that will bring comfort and support to many more families and allow them to focus on what is most important – the health of their child."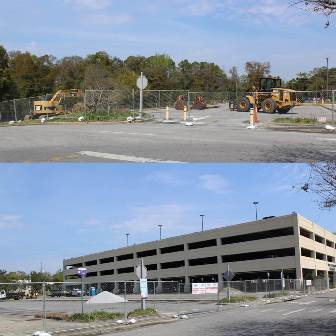 The new 2,800 square-foot family room will be located next to the Neonatal Intensive Care Unit on the second floor of the new children's hospital. The new children's hospital will connect to the front of the existing children's hospital and will include a pediatric emergency room and trauma center, new procedure rooms dedicated to pediatric surgery, an expanded neonatal intensive care unit, a pediatric oncology unit, a medical/surgical unit, observation beds and a pediatric rehabilitation gym.
Upon opening, the new children's hospital is expected to add 100 Sacred Heart jobs for the local community. This growth of healthcare services will also enable recruitment of new pediatric specialists.
While the Studer Family Children's Hospital will maintain the space, the Ronald McDonald House will continue to provide the expert staff and trained volunteers to work within the new facility.
"We are amazing at taking care of high risk, severely ill and critically-injured children, but when it comes to managing the service and comfort of families, we have a partner that knows how to do this better than we do—and that's the Ronald McDonald House," Stovall said. "This place is intended to compliment what's already available at the Ronald McDonald House down the hill, so that in their moment of need or distress, they can have that warm safe feeling."
Stovall noted the new facility wasn't just an amenity, but an absolute necessity for the continued growth of the hospital and the quality of care for their patients and families.
"This new space is in the 'must have' category, not the 'nice to have' category," he added. "Studer Family Children's hospital is the pediatric trauma center for the region, and as the complexity of the sicknesses we encounter goes up, we have to think differently about how we take care of these children and families and what their needs are. These families can go through a set of doors and enter a place that feels totally different from the rest of the hospital. If they need to take a nap or a shower, make a call in a quiet place, or just be alone to compose themselves—whatever the need may be—we will have that available to them 24 hours a day, seven days a week."