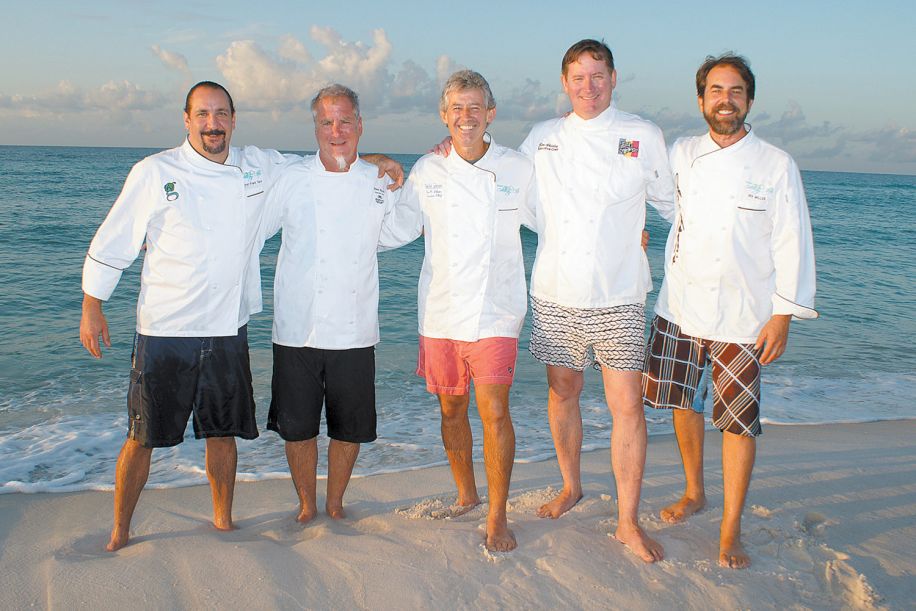 Late September is the perfect time to savor the surf, sand and seafood of our beautiful Pensacola Beach. And this September Pensacola's Celebrity Chefs will spice up the food and crowds at Pensacola Beach's biggest culinary event.
Pensacola's Celebrity Chefs include Dan Dunn of H2O at the Hilton Pensacola Beach Gulf Front, Irv Miller of Jackson's Steakhouse, Jim Shirley of The Fish House, Gus Silivos of Skopelos at New World and Frank Taylor of Global Grill. The chefs regularly represent and promote Pensacola cuisine on a national stage.
Taste of the Beach is Pensacola Beach's annual foodie festival, presented by the Pensacola Beach Chamber of Commerce, which celebrates the beach's talented chefs and their unique coastal cuisine.
"As a coastal community, our beaches and local cuisine create a lasting impression," said Nicole Stacey, president of the Pensacola Beach Chamber of Commerce. "This is an opportunity to celebrate the innovative souls creating those treasured culinary memories, the people behind the scenes — our chefs."
The ninth Annual Taste of the Beach will begin on Friday evening, Sept. 23, with a VIP dinner, and continue all day Saturday, Sept. 24, with cooking demonstrations, chef challenges, sample tastings and a live concert.
VIP Dinner
The party gets started Friday, Sept. 23 when Florida's best seafood meets Florida's best beach as four of Pensacola Beach's top chefs present a special VIP dinner event at the Hilton Pensacola Beach Hotel at 6 pm.
An Evening with Pensacola Beach
Tastemakers will be hosted by Chef Jere Doyle of Crabs We Got 'Em, Chef Dan Dunn of H20 at the Hilton Pensacola Beach Gulf Front, Chef Dennis Moore of Flounder's Chowder House, and Chef John Smith of Hemingway's Island Grille.
As guests arrive, each will get to mingle around the room and sample a selection of hors d'oeuvres and small dishes.
New to the VIP Dinner this year is the Taste of the Beach signature cocktail. The winner of the 2016 Taste of the Beach Bartender Challenge, a cocktail competition amongst Pensacola Beach bartenders, will share samples of the winning drink with guests during a live mixology demonstration on Friday night. VIP guests also will have an opportunity to sample the runner-up signature cocktail.
Chef John Smith will take the stage first to whip up the first course of the night, a creamy lobster bisque. Next on stage, Chef Jere Doyle will present smoked lump crabmeat over greens as the second course. Following that, Chef Dan Dunn will create a favorite Gulf Coast staple — shrimp and grits. Lastly, Chef Dennis Moore will demonstrate and present stuffed quail for the guests to savor. To conclude the VIP dinner, each of the four chefs will present an assortment of desserts for the guests to indulge in.
Dinner tickets are $65 per person and can be purchased on the Taste of the Beach website. Limited tickets are available.
Taste of the Beach
Taste of the Beach opens on Saturday at 11 am with 22 beach restaurants showcasing their signature dishes for $5 each. The festival, which is centered around the Gulfside Pavilion at Casino Beach, amps up the entertainment with chef demonstrations, cooking competitions and live music.
The Chef's Challenge starts at 11 am in front of the Gulfside Pavilion stage. The cooking contest pits six Pensacola Beach and two Downtown Pensacola chefs against each other for the chance to win a cash prize, a trophy and bragging rights for a year.
New this year, Taste of the Beach will present a Team Cook Off at noon. Local celebrities, beach businesses and civic organizations will be invited to compete against each other using surprise ingredients.
The Pensacola Celebrity Chefs will take the stage at 1 pm to present simultaneous live cooking demonstrations, emceed by Cat Country radio personality, Brent Lane. Following the demonstrations, festival-goers with pre-purchased wristbands can sample the chefs' creations. A limited number of wristbands are available for $20 at tasteofpensacolabeach.com. Immediately following will be a meet-and-greet.
The Lectrik Mullet band will entertain the crowd with cover tunes for all ages starting at 3 pm. Musician Tim Spencer will perform from 5 to 7 pm.
Also from 5 to 7 pm, festival-goers can sample more than nearly two dozen beers from six different regional breweries. Wristbands can be purchased on the website for $12.
Tagged as "The World's Greatest 80s Experience," glam-rock cover band, The Molly Ringwalds, return this year to close out the festival, once again, with a free concert at 7 pm.
For more delicious details, VIP event tickets or lodging information, visit TasteofPensacolaBeach.com.