By Gina Castro and Lilly Paradise
It's summertime and the Florida heat is getting serious. If you've experienced the Florida summer heat, even just once, then you know the goal for each of your summer looks should be light, airy fabric with bold colors. Vibrant shades of teal, purple and pink can make just about any skin tone pop. Summer is all about fun, so mix some prints, play around with metallic accessories—just wear what makes you feel good. Whenever new fashion seasons roll around, it's easy to do all of your shopping at the mall. After all, the mall is the only place in town worth shopping at, right? Wrong! There are dozens of locally owned boutiques filled with the hottest summer fashion. You can find chic bikinis, maxi dresses and board shorts in small businesses right here in Pensacola. Small businesses across our state and country are facing financial hardships due to the COVID-19 shut down. One way you can help these businesses is by shopping local. To make shopping locally just a little bit easier on you, we've collected some of our favorite pieces from local stores.
Sobo Boutique Photos by Sarah Coleman Photography 
Sobo boutique offers a girly twist on modern pieces that you can wear day or night. From swimwear to athleisure wear, they've got you covered. Sobo offers curbside pick up and free local delivery up to 10 miles away. Free shipping is available for orders online as well as an extended return policy for up to 30 days. It's time to amp up your wardrobe in the prettiest way possible. To learn more about Sobo, visit thesoboboutique.com.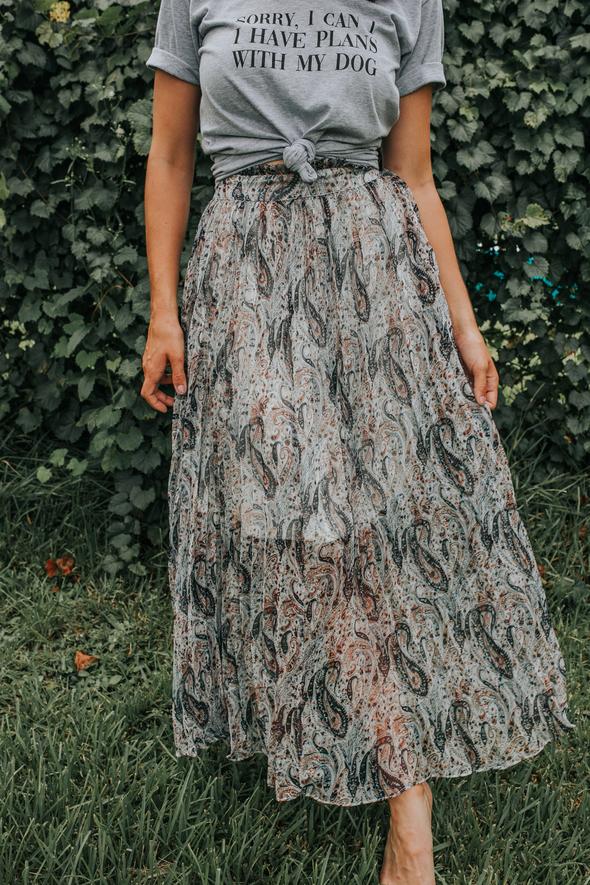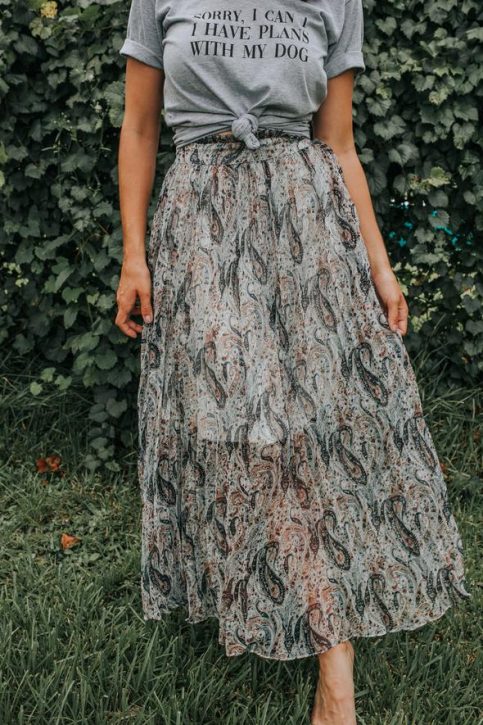 Maxi Skirts
If your vibe is looking like an absolute goddess, then the Istanbul Paisley Skirt is a necessity. Just imagine the light, translucent fabric blowing in the breeze giving your outfit a flare of drama. This skirt is versatile, too. You can partner it with a T-shirt and sneakers for a casual chic look, or wear a white, off the shoulder crop top with a long, dainty necklace for a soft boho look. No matter what you pair this skirt with, it's bound to look perfect this summer.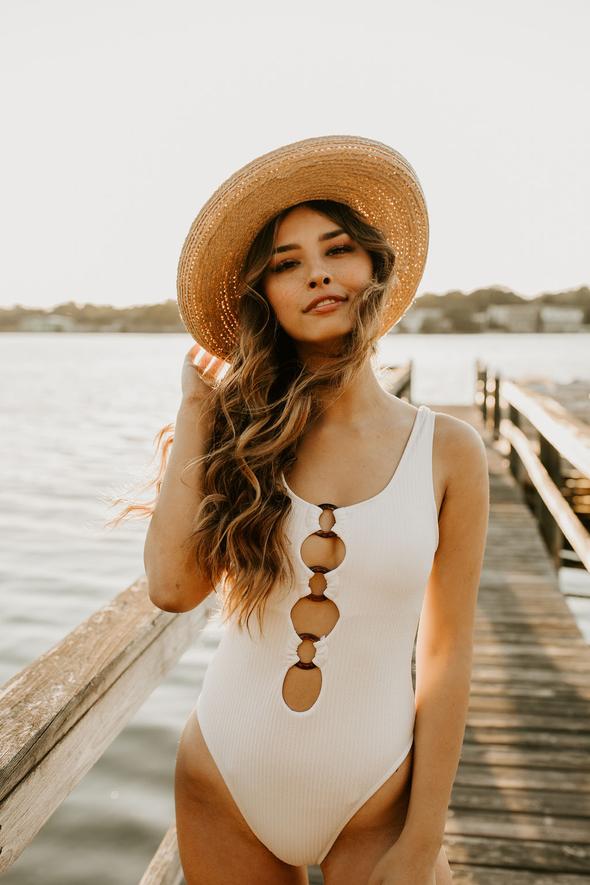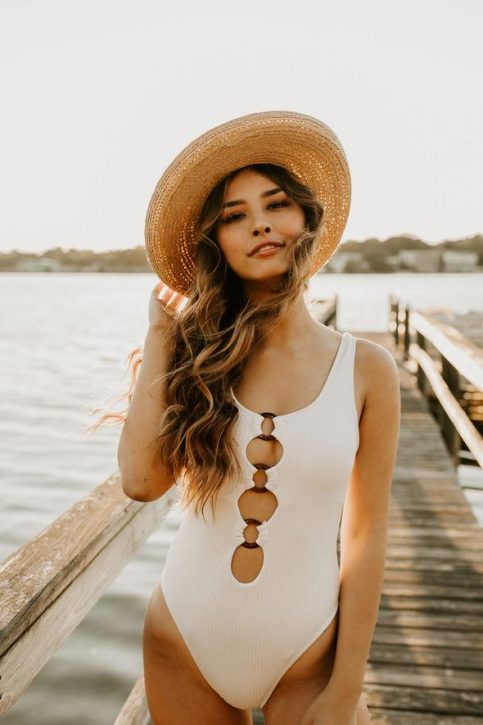 Nudes and Cutouts
If you're a fashionista, chances are you've already picked up on this summer's hottest trend: naked. Scandalous, we know. This trend has been embraced by runway designers from New York to Paris. Over the years, flesh colored tones, or nudes, have become more and more popular in the form of lipsticks, coats, bikinis and everything in between. Now, cutouts have been added to complete the naked look. Sobo's 3 Ring White Tortoise One Piece Swimsuit checks all of the boxes. In this suit, you'll be turning heads.
Ciao Bella Boutique and Salon
Want to feel classy and fabulous? Ciao Bella Boutique and Salon are here for you girl! From maxi dresses to jewelry, to shoes, to perfume, the possibilities are endless. And if you're feeling boujee, you can even get your haircut and colored for only $55. Ciao Bella offers a $5 fee for shipping under $50 as well as free shipping for orders over $50. To learn more about Ciao Bella, visit ciaobellaboutiquefl.com.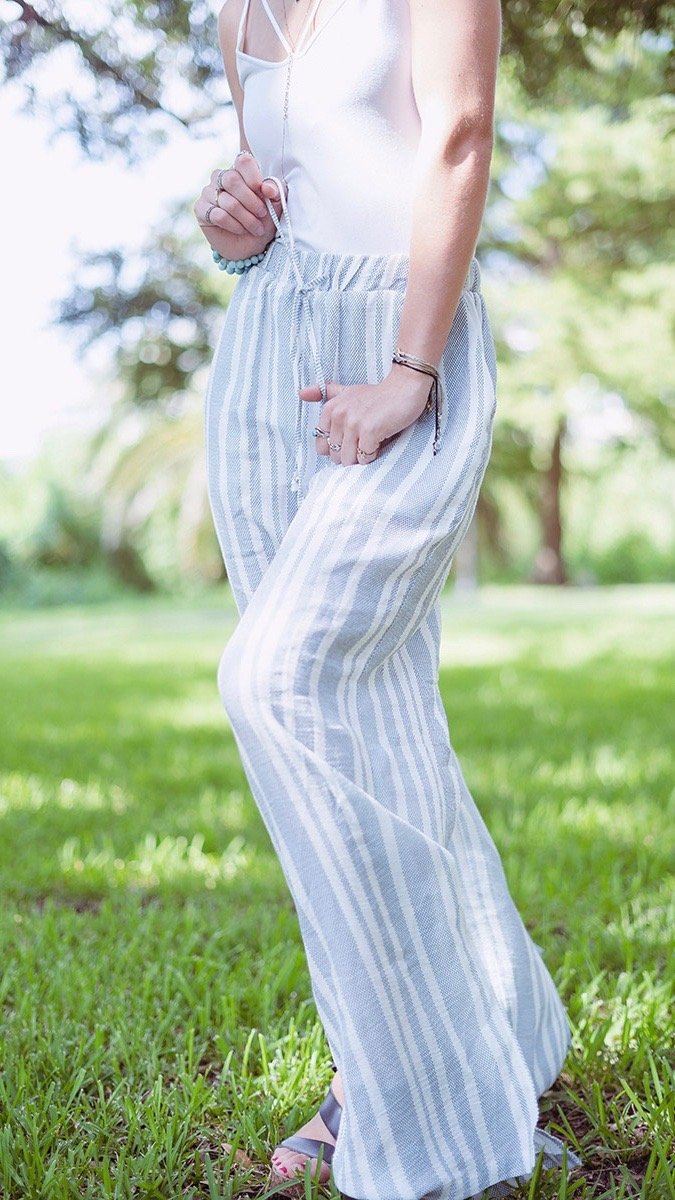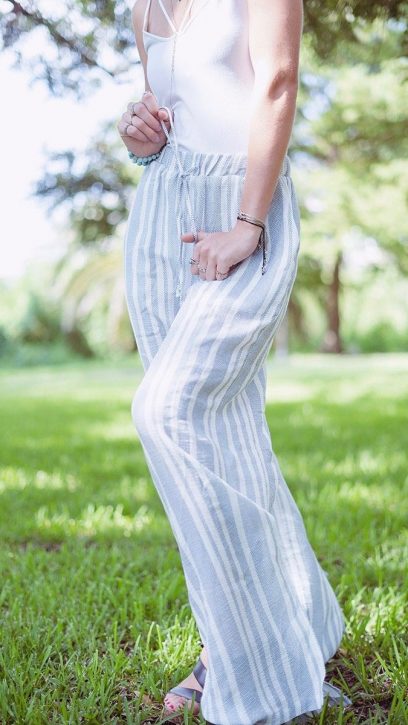 Loose Fitted Pants
Let's just go ahead and say it, wearing skinny jeans in 90 degree weather is just asking for a heat stroke. Light, loose fitted pants like Ciao Bella's Cup of Joe Pants are comfy, cool and fashionable. You can wear these pants with a light tank top, tube top or T-shirt. These pants are perfect for brunch with the girls or dinner after a day at the beach. The best part is they feel comfy as pajamas, yet they pass as summer chic.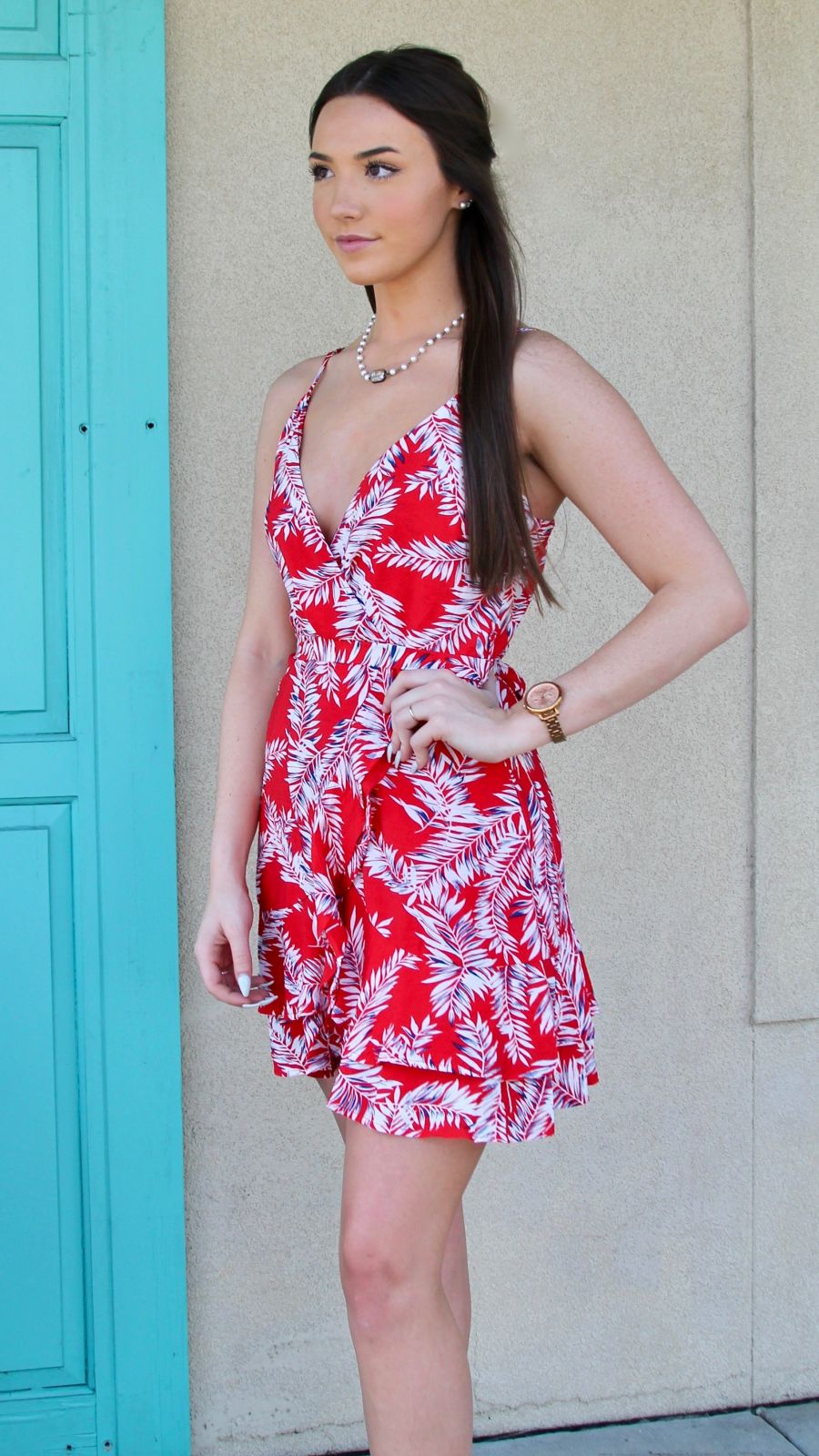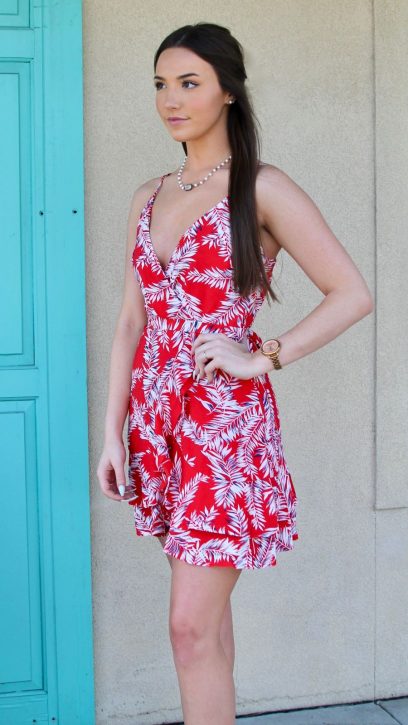 Dressy Beach Outfits
This look is for all you bahama mamas out there. Sure, casual beach looks are cute, but dressy beach outfits take you to a whole other level. Bella's Bon Voyage Dress is a subtle beach glam that can be even more glam with a pair of gold, thick hoops, low heels and an updo. Dressy beach outfits are great for dinner at Pensacola Beach's many restaurants such as Hemingway's Island Grill.
Scout
Scout Boutique has everything you need to add some color to your wardrobe this summer. Located on Palafox street, Scout's mission is to create the closet of your dreams with advanced contemporary pieces. The owner and New York fashion designer, Julia Ussery, has more than 20 years of experience in the fashion industry. To learn more about Scout, visit shopscoutonline.com.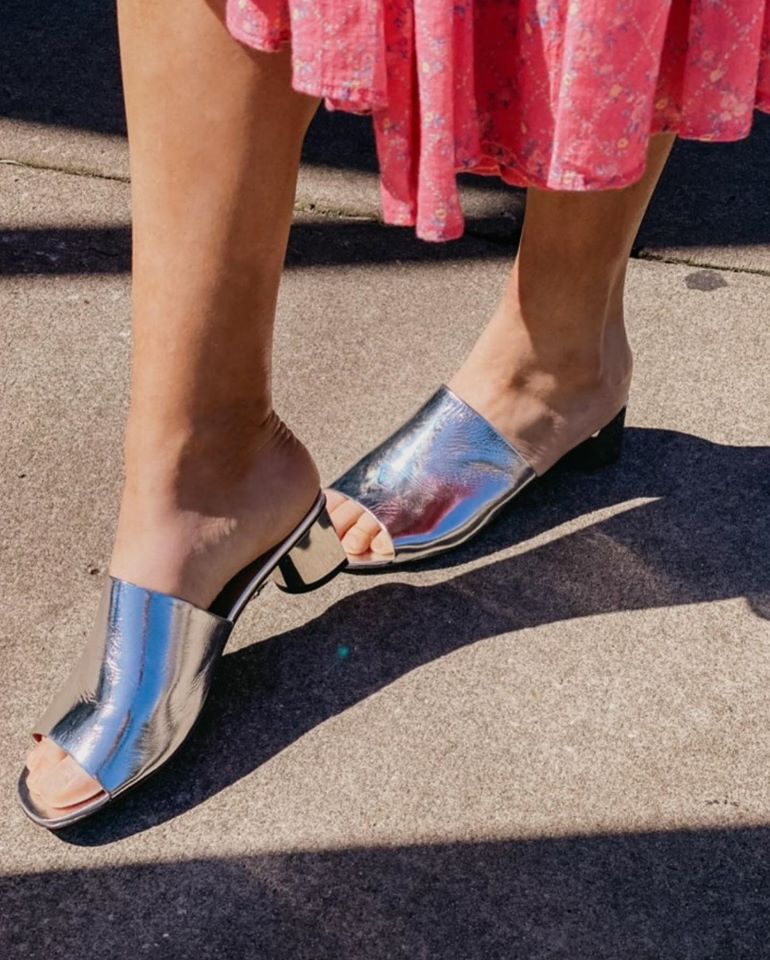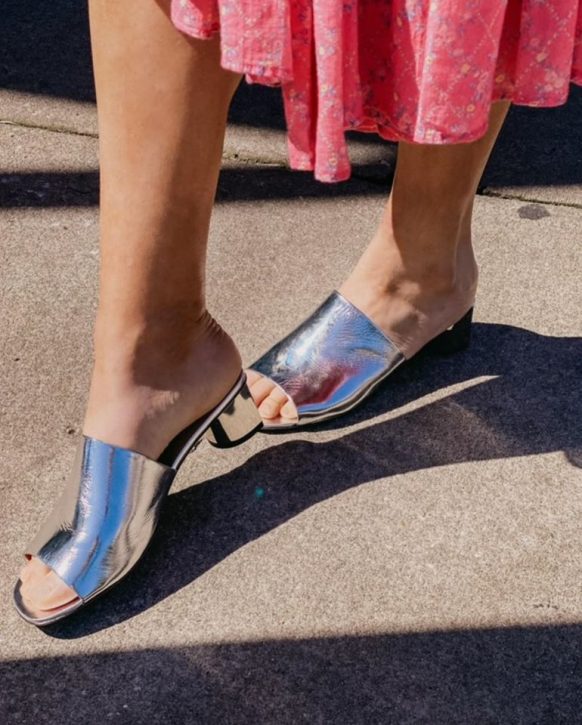 Metallic Accessories
Metallics have been the go-to for Christmas and New Years Eve parties. These shiny silvery or golden looks seem almost made for the holidays. However, metallics were spotted all over the Spring Summer 2020 Fashion Week in New York, London and Italy. Metallics were used as button up shirts, jump suits and accessories. Scout's metallic slides can add a little dazzle to your look. You can make these shoes stand out with a monotone outfit, or have them blend in with flowing pink dress. There is more than one way to accessorize with metallics. You can accent your outfits with wide metallic bracelets or metallic geometric earrings. No matter how you style it, you're sure to shine.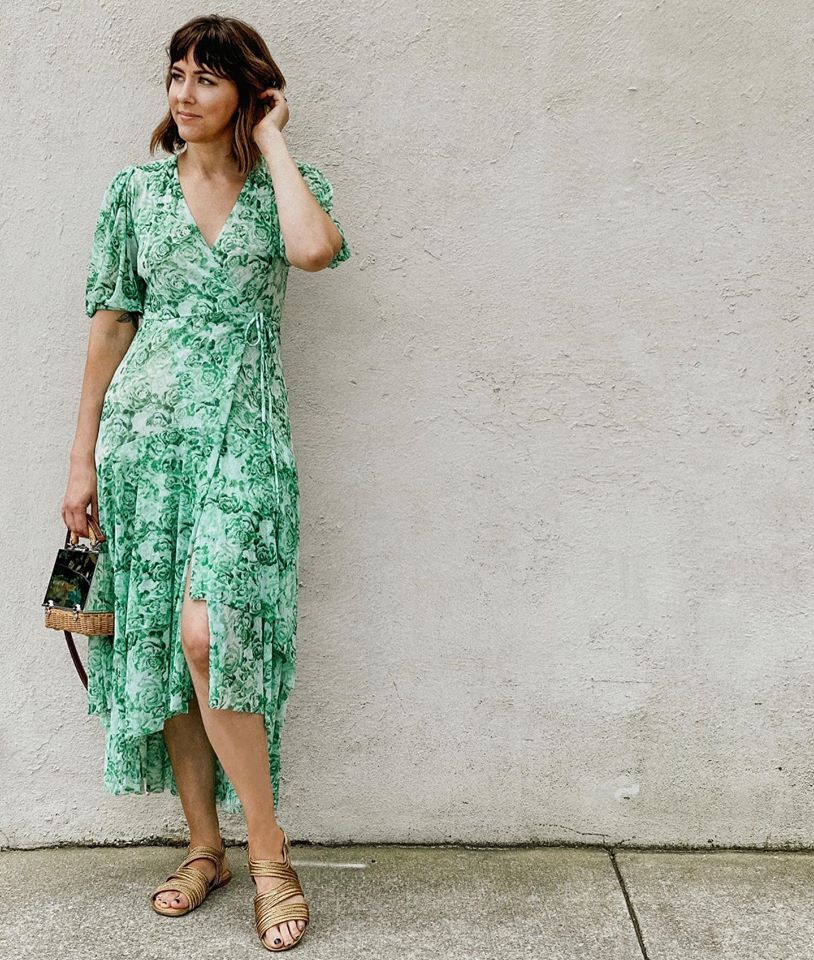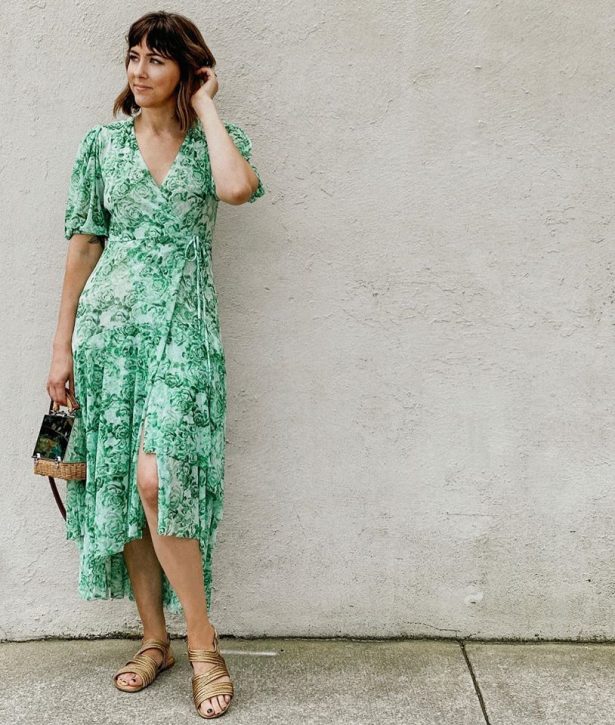 Shades of Green
Shades of emerald and pistachio green were all over the runways this year from leather tote bags to boots to satin skirts. Scout's floral green wrap dress showcases the popular green color as well as the traditional summer floral look. The layers of the thin wrap around dress will draw attention to your body shape while also keeping you cool on hot days. This dress can be kept casual with sandals or turned up a notch with a pair of wedges.
Indigeaux Denim Bar & Boutique
Indigeaux Denim Bar and Boutique has everything you need when it comes to downtown fashion. Not only do they have a great selection to choose from, but you can also find name brands you love at an affordable price. If you sign up via email on their website, you will receive 15 percent off your first order. Free shipping is also available for orders over $75. To learn more, visit shopidb.com.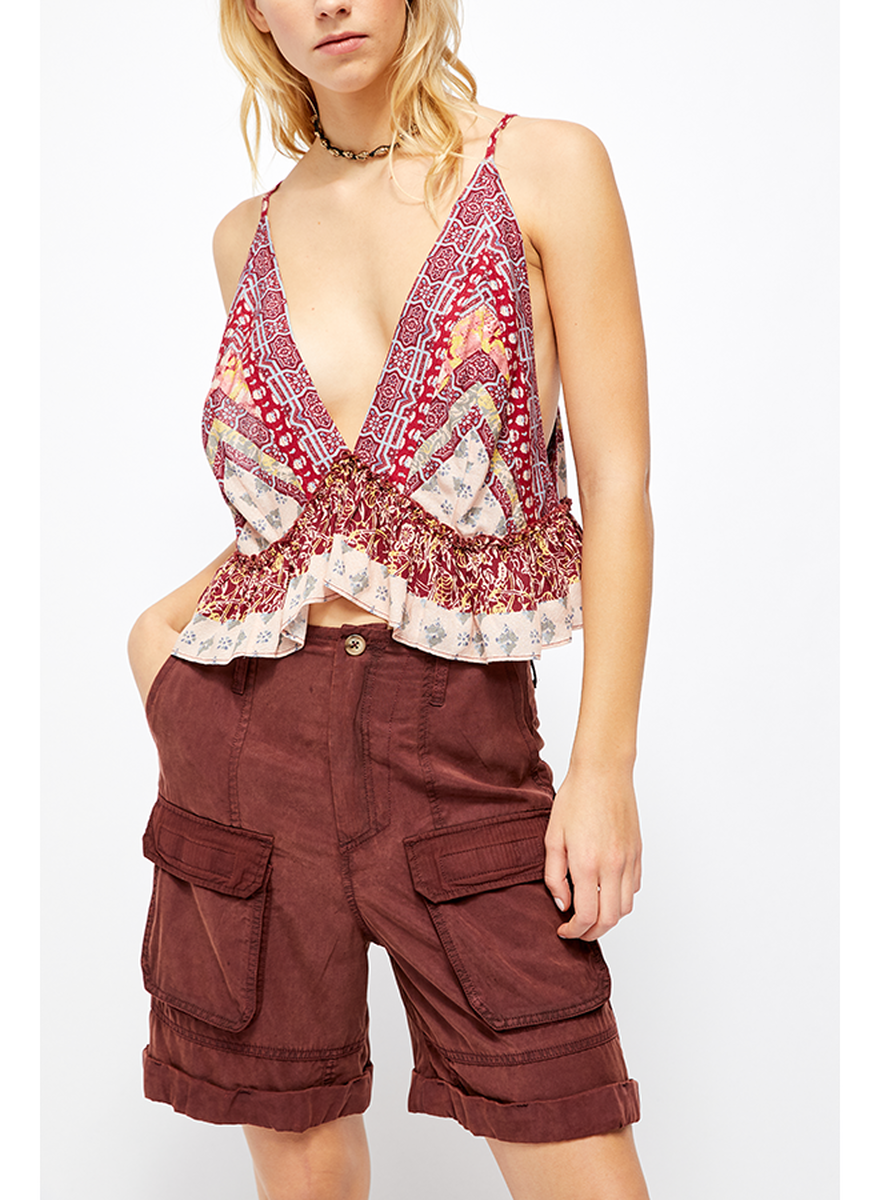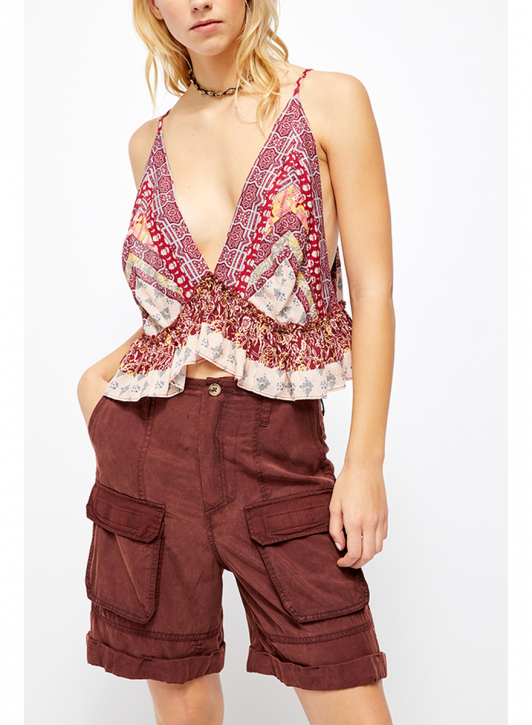 Bohemian Photo by Free People
Summer is the time to play with bold prints and bright colors. Bohemian (boho) looks are hits every summer. Lucky for us, Indigeaux has styles from one of the top brands for boho: Free People. Free People Better Than Sunshine Crop Top is one of our favorite pieces. Its plunging neckline can make any outfit sexy. We'll be the first to admit it. Plunging necklines are a bit intimidating. Just secure the fabric with some tape and rock that look, girl. This shirt would work well with white capris or pants.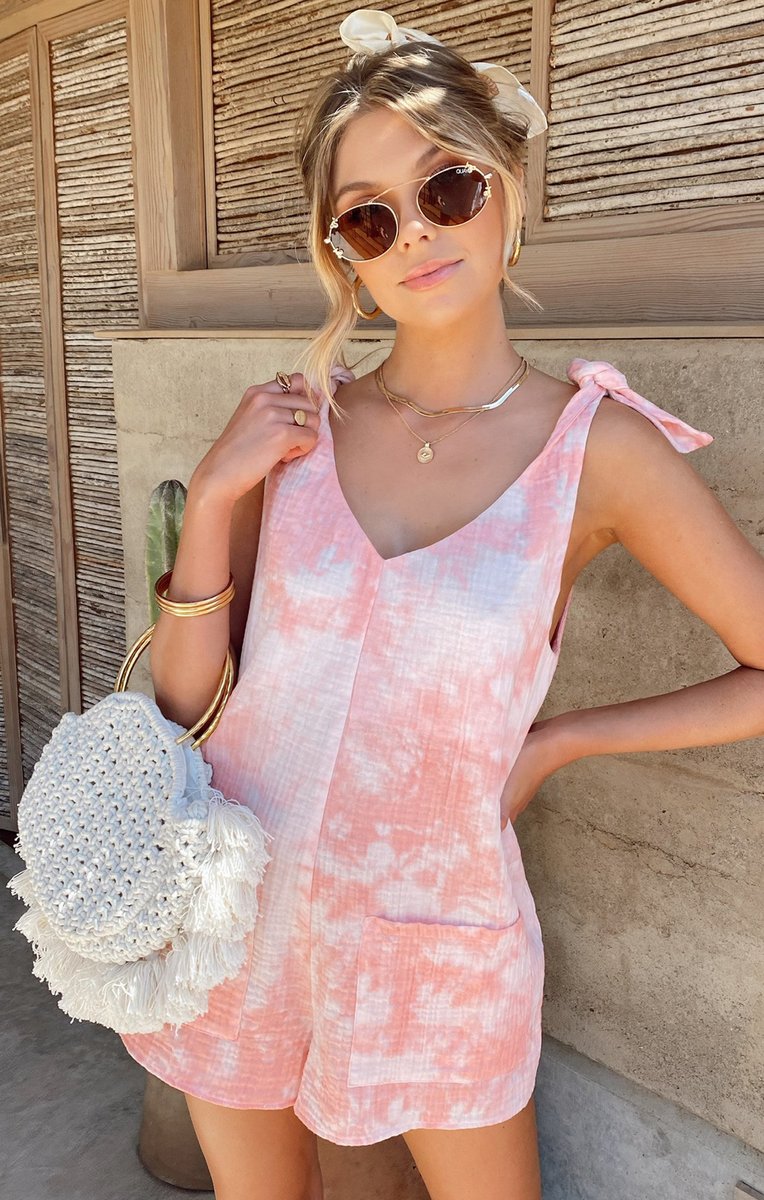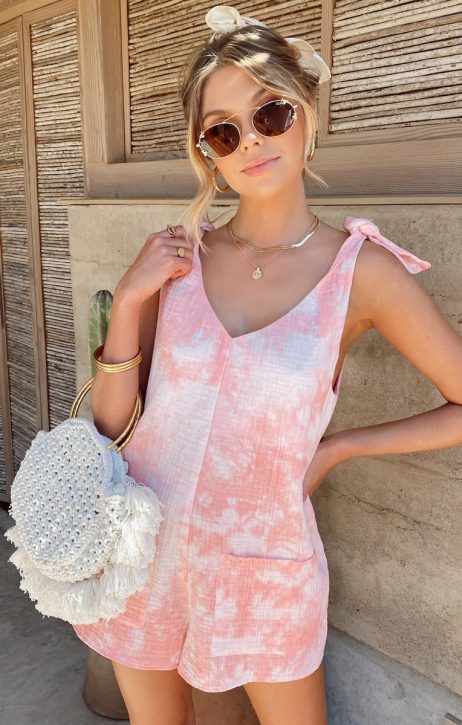 Rompers Photo by Show Me Your Mumu
Soft shades of pink, blue and yellow are always a summer hit. These colors make your skin tone look tanner, and if you've been blessed with extra melanin, it'll make your skin tone pop more, too. That's one of the reasons why we love Indigeaux's Show Me Your Mumu Tilda Tie Romper. Its tie dye print uses light pink and white, which you can accessorize with simple gold or silver pieces. This romper is tied on both shoulders so that you can manipulate the length. Plus, it comes with pockets. Score!
Waterboyz
If you love riding some gnarly waves, you need to shop at Waterboyz. Not only is it a skate park and cafe, but it also offers a variety of surf and skate brands you are sure to love. You can shop in stores or online and return anything you do not like within 30 days for an exchange, some restrictions apply. Free shipping is also available for all Waterboyz T-shirts. To learn more, visit waterboyz.com.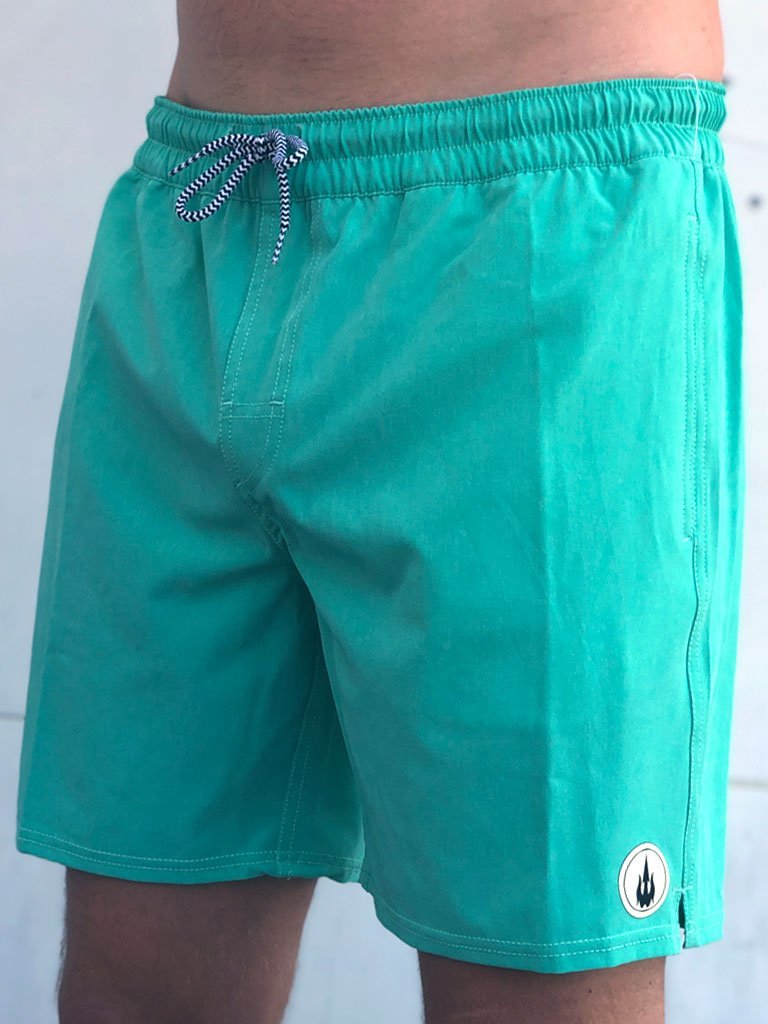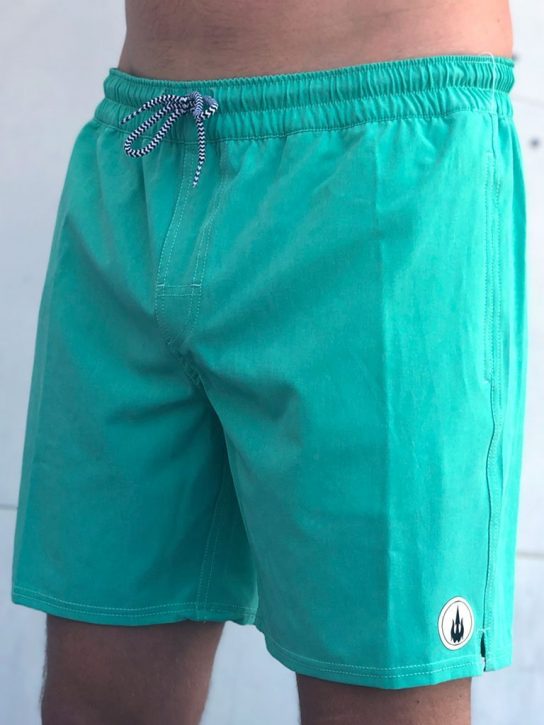 Bold Colors
Who says guys can't play with colors, too? Waterboyz has board shorts in a variety of colors and patterns. Waterboyz Ace Mens Boardshorts in mint will make you send out in the sand, water or wherever you choose to wear them. You can pair these board shorts with a T-shirt and sandals, if you are headed to the beach, or basic sneakers. If you do wear sandals, avoid foam sandals at all costs.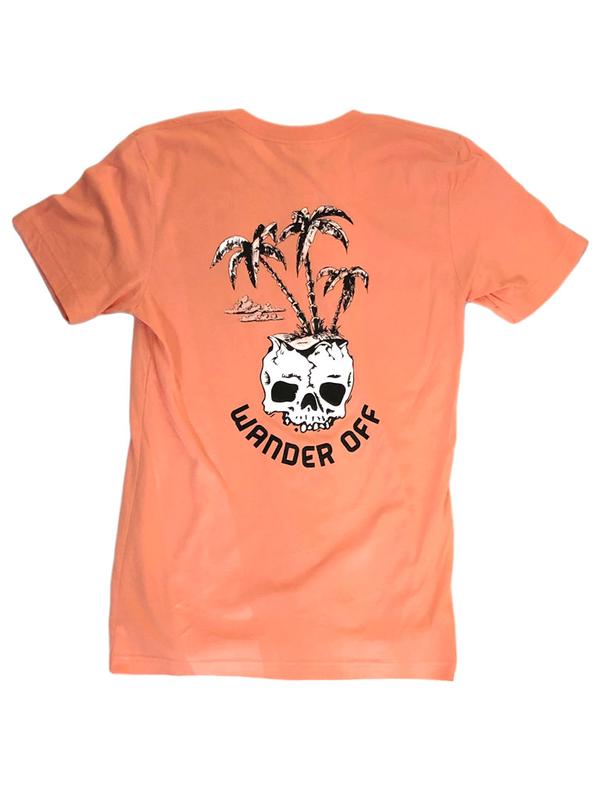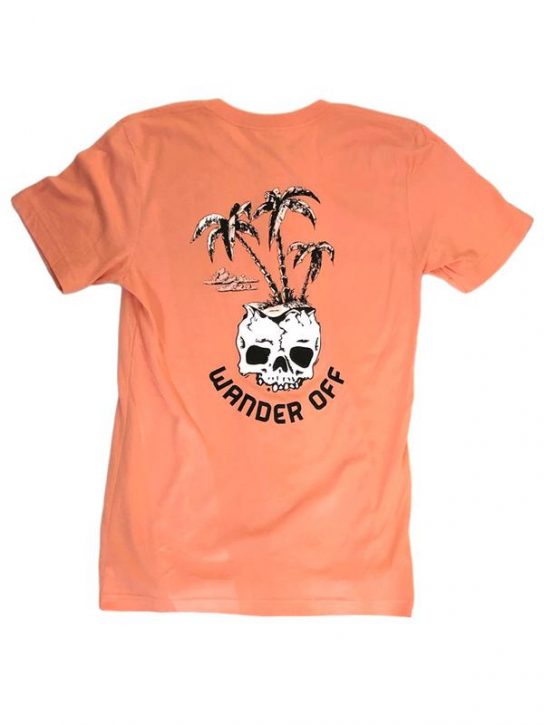 Simple T-shirt
You can never go wrong with a simple T-shirt. These are perfect for staying cool in the summer heat and can match your board shorts, regular shorts or pants. Waterboyz's Wander Off Tee comes in two vibrant colors: sunset and green. Both of these colors are sure to make your skin tone pop.
Gwendolyn-Rose
Gwendolyn-Rose is a high fashion brand of clothing created, designed and sewn by Nester "Whigene" Taylor. Taylor began taking an interest in sewing as a teenager, which has grown into a passion for creating fashion that is a reflection of his love of art. Gwendolyn-Rose clothing is known for its high quality, attention to detail, and unique looks that takes fashion to a more artistic level. This brand creates clothes for both men and women. All of the Gwendolyn-Rose looks featured here are styled by LaTavia Harris. To learn more about this brand, visit his Facebook page @GwendolynRoseLookbook.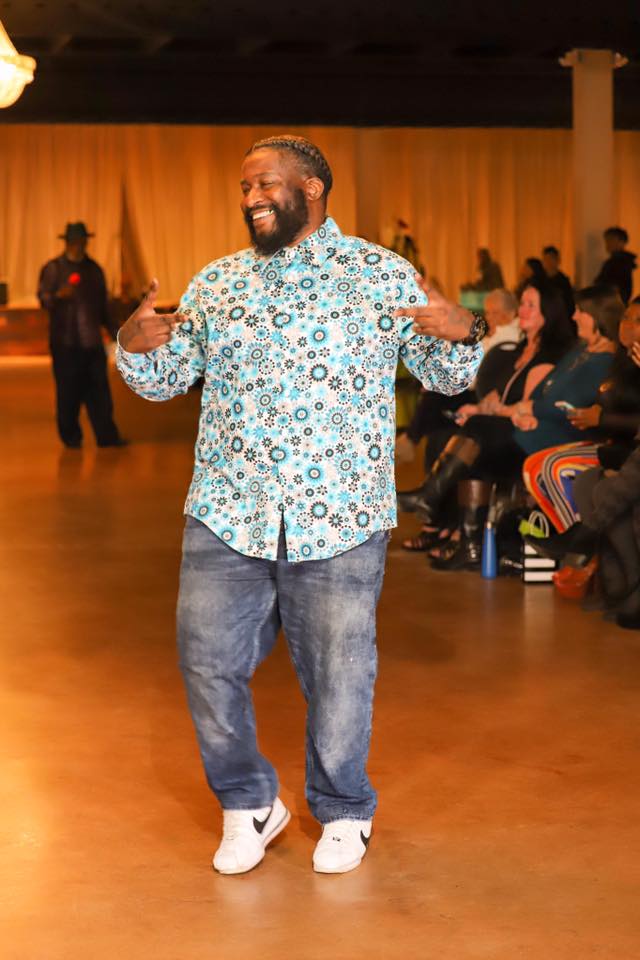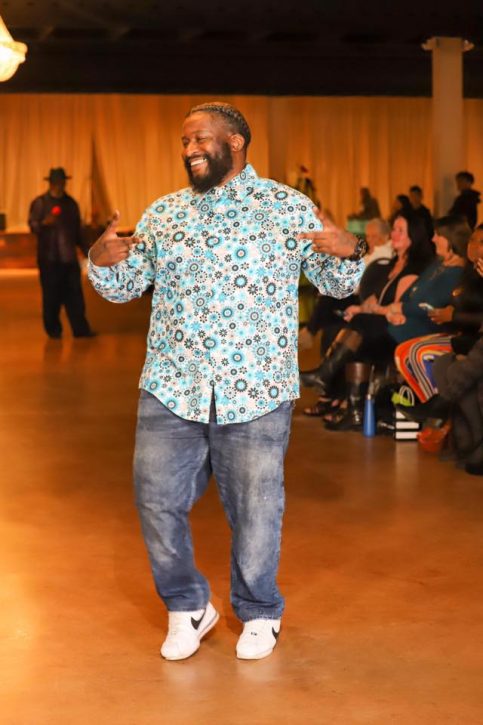 Daring Prints
If you could sum up the Gwendolyn-Rose brand in one word, it would be daring. For some reason, men's fashion tends to be more dull and less, well, daring. However, Taylor believes all clothes could stand to use some more color. We selected two of our favorite shirts from his March 2020 runway show. The first shirt is a button up with circular shapes and shades of blue, which is modeled by Taylor himself.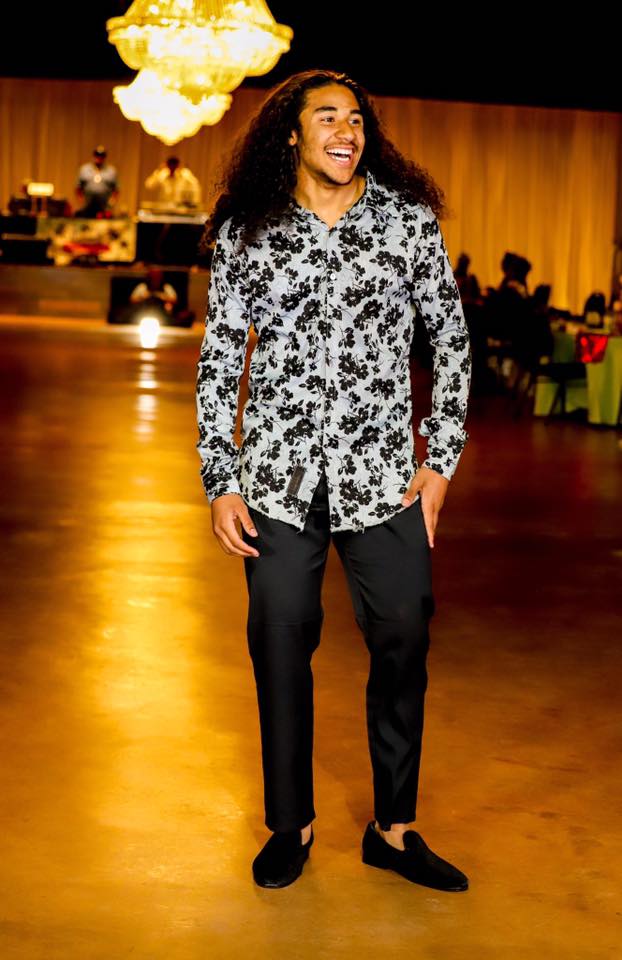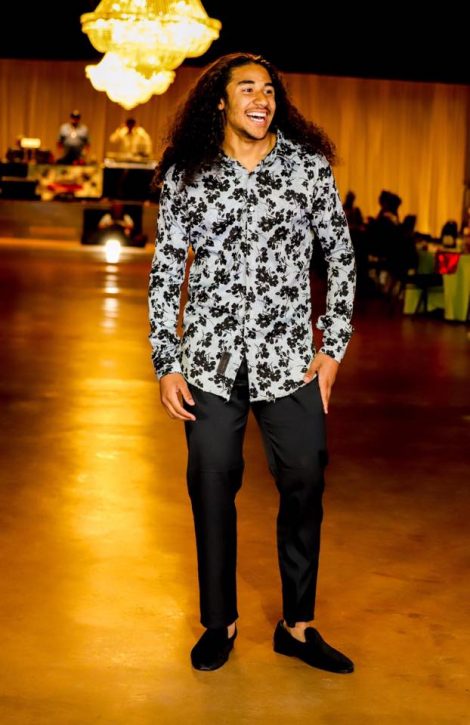 The second shirt is a cool gray with a black flower pattern, which is a great starter shirt for those who want to experiment with prints. Both of these shirts can be styled with a pair of jeans and sneakers, but if that look is too hot for the summer heat, you can roll the sleeves up and partner the shirts with fitted shorts. The lighter shirt, or first shirt, looks best with lighter colored pants or shorts. The floral shirt would look great with either darker or lighter bottoms. A sure way to pull off both of these looks is to look and feel confident.