By Dawn Gresko
If you were born and raised in Pensacola, chances are you've never had the opportunity to understand the true meaning of a "White Christmas." While shoveling driveways has given northerners their fare share of reasons to dislike snow fall, there's no shoveling driveways when you're on vacation; when you're going on a snow escape to one of many areas that might not be Pensacola, but are areas no more than a day's drive away in bordering states like Alabama and Georgia, as well as in states slightly further away like North Carolina and Tennessee. If they aren't coming with you, then tell your family and friends you won't be home for the holidays because you're on a snow escape.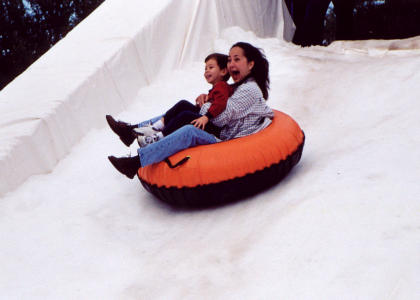 Sarasota Snowfest: Florida
To kick off the list of places to whisk yourself away on a snow escape, we'll start with a location right here in our own Sunshine State: the City of Sarasota has something special in store for the holidays—piles and piles of snow! From Dec. 16 to 18, the annual Snow Fest is returning and coming to a new location at the Premier Sports Campus at Lakewood Ranch—which you can drive to from Pensacola in a little over seven hours. But, what's the trick to getting it to snow in Florida? We won't reveal all of Santa's trade secrets, but we will tell you this: roughly 900 blocks of ice are trucked in (by Santa's sleigh) and they are fed through an ice chipper to creating approximately 70 tons of snow that magically transforms the land. From daily snow fall and sleigh riding to giant snow slides and so much more, there's no shortage of things to explore in this wintery wonderland.
5895 Post Blvd., Lakewood Ranch, FL
snowfestsarasota.com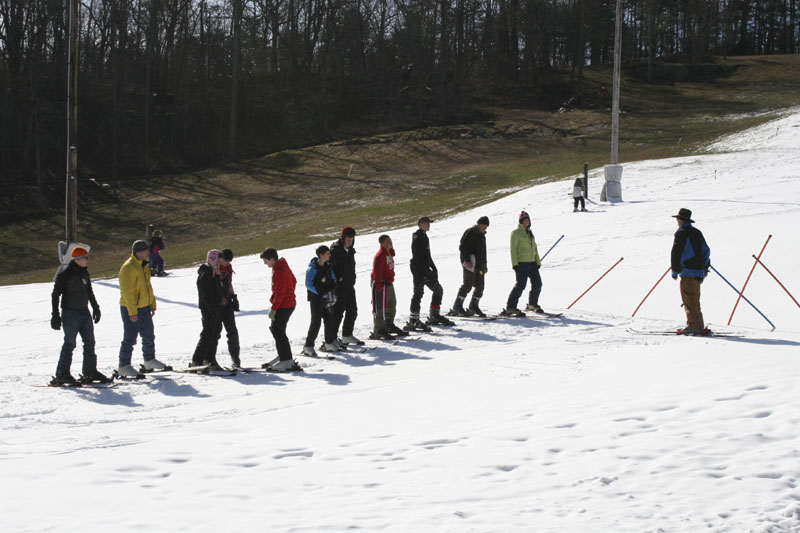 Cloudmont Ski and Golf Resort: Alabama
Our neighboring state of Alabama has some higher altitudes and lower temperatures—some of the perfect ingredients for keeping snow alive. Cloudmont Ski and Golf Resort in Mentone, Ala., gets glittering snow as soon as overnight temperatures drop to 28 degrees or colder, which allows snowmaking to commence. Although the snow may not be authentic, you'll confuse it for the real thing especially when you're surrounded by the lofty, mountain atmosphere. The resort is as unique as Lookout Mountain itself, including two 1,000-foot beginner to intermediate slopes for skiers. Two "pony" lifts will carry you to the top, where the elevation is as high as 1,800 feet with a vertical rise of 150 feet. Enjoy scenic rock formations, white water, and the crisp mountain air this winter at Cloudmont Ski and Golf Resort—a drive no more than five hours away from Pensacola.
721 County Rd. 614, Mentone, AL
cloudmont.com

Stone Mountain Park: Georgia
Adventure awaits you just outside Atlanta, Ga., in Stone Mountain Park—Georgia's most popular attraction that features a wide variety of family activities on as many as 3,200 acres of naturally beautiful landscape. By car, the trip to Stone Mountain Park takes no more than six hours. Once there, there's no end to the array of activities from Avalanche Alley, where you can tube down snowy hills with friends, to the Snow Zone, where you can have fair fights with snowballs, build your very own snowman (or woman), plus construct your own Igloo City. There are ways to enjoy the landscape from afar by taking a cable car on the Summit Skyride to the top of the mountain, and you can visually soak up all the snow while you enjoy a scenic train ride around the mountain, too. While we know snow played a major role in your decision to visit Stone Mountain Park, remember you can also trek through the tree tops on Sky Hike—the nation's largest adventure course, and check out the spray at all new Geyser Towers.
1000 Robert E. Lee Blvd., Stone Mountain, GA
stonemountainpark.com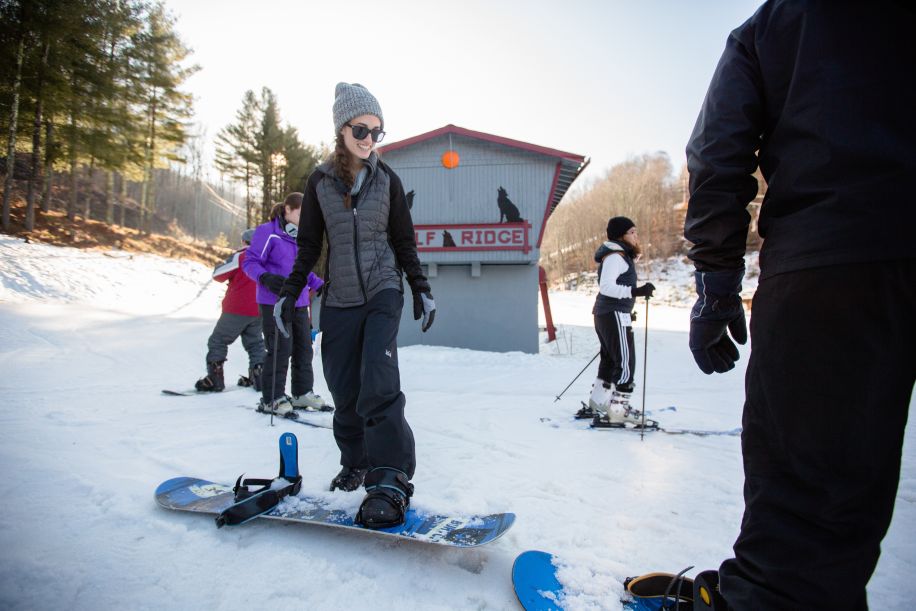 Wolf Ridge Ski Resort: North Carolina
Are you a snowboard or skiing enthusiast, who just so happens to be trapped in the hot box that is Florida? Go the extra mile and visit the beautiful mountains of Western North Carolina to Ski the Wolf! Wolf Ridge, that is. Hop in the car and put on your favorite holiday tunes for a drive no more than eight hours away. The resort is nestled in the Blue Ridge Mountains and Wolf Ridge itself rises to an elevation of 4,700 feet with 72 acres of ski terrain. This family-friendly getaway features as many as 23 ski slopes and trails. Just outside the main resort you can have a day of wonderful winter fun at the Wolf Ridge Tube Run; better than traditional sledding is tubing down a long slope, which is safe for all members of the family. Whether you are a beginner or expert, long-time regular or first-time visitor, you are guaranteed to have a blast at North Carolina's premier snow sport facility.
578 Valley View Cir., Mars Hill, NC
skiwolfridgenc.com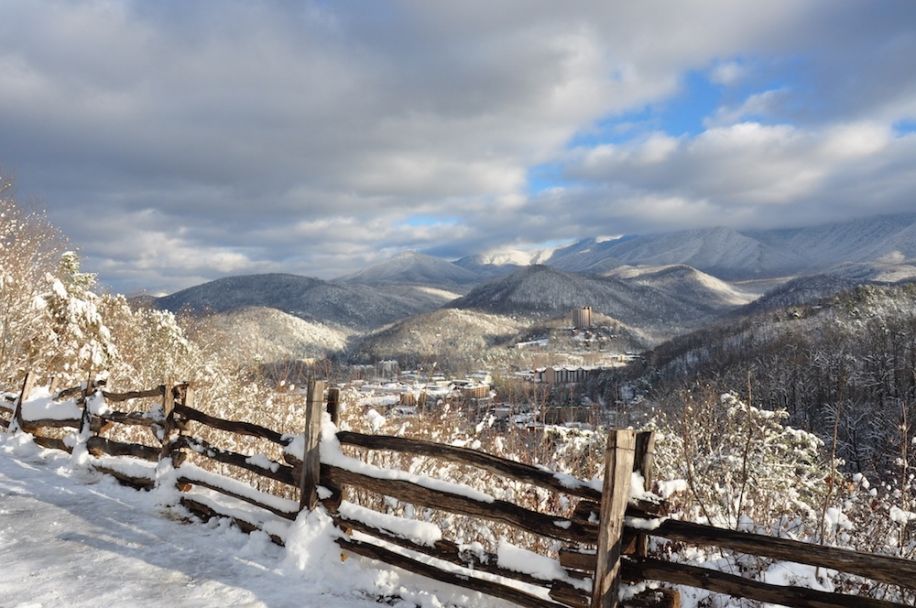 Ober Gatlinburg Resort: Tennessee
Travel to the heart of the Great Smoky Mountains in Gatlinburg, Tn., for Ober Gatlinburg: an amusement park and ski area resort with a top elevation of 3,300 feet. Established in 1962, Ober Gatlinburg contains a 62,000-square-foot mall (Tramway Mall) with indoor amusements including a skating rink called the Ice Arena. Venture outside for an alpine slide, the ski mountain coaster ride, or a cruise inside a chairlift to the top of Mount Harrison. An aerial tram connects to Ober from Downtown Gatlinburg, so hitch a ride on one of America's largest cable cars that departs every 20 minutes. Ober Gatlinburg has ten skiing trails and a terrain park, and it is the only winter ski area in Tennessee. A multi-lane snow tubing hill opened in 2009, where riders can slide down snow chutes on inflatable bobsleds; lanes are 400 feet long with a 50-foot vertical drop. Don't miss a magnificent panorama of the Smokies at Ober Gatlinburg this season!
1001 Parkway Ste. 2, Gatlinburg, TN
obergatlinburg.com