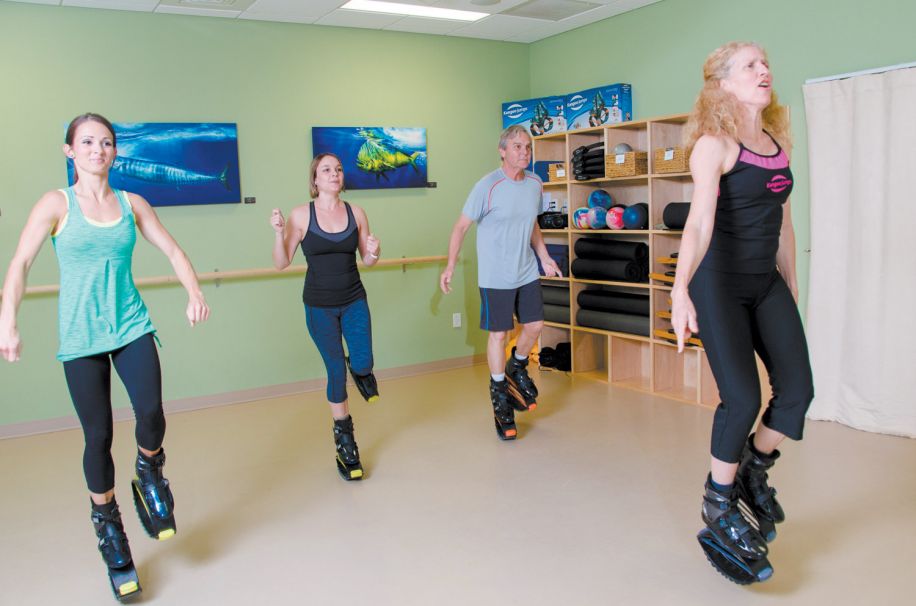 Exploring fun ways to elevate your fitness routine
Spring is in the air, but flowers aren't the only ones who get to show off their transformation in full bloom. If you're slim on motivation, consider the season of renewal as good a time as any to go through your own transformation in body and mind by trying something new in the world of fitness. Pensacola Magazine spoke with Breathe Yoga and Wellness Center, Pure Pilates, and Uru Yoga and Beyond, who guided us through three elevated exercises any person can try, including: circus-like aerial yoga, buoyant Kangoo Jumps, and core-building TRX Suspension Training. The professionals suggested TRX for core work, Kangoo for cardio, and aerial yoga for stretching and toning. So, don't be shy about signing up for something new because all exercises can be adjusted according to your level of experience, and you can opt for either a private or public class. While we're all guilty of making and not keeping those New Year's resolutions of cutting back on junk food and working out on a regular basis, we're here to show you there's more than one way to spring your way to better health.
Aerial Yoga
You don't have to be a seasoned yogi, or yogani, to experiment with aerial yoga. Aerial yoga is a combination of traditional yoga poses done on the floor and postures practiced using a "trapeze," called either a sling or swing, while suspended at waist height. The goal is to distribute your body weight between the fabric and the floor, allowing you to access traditional yoga postures in new and fun ways. The swing is made of the same fabric that aerialists use in the circus, and you get to look and feel like a Cirque du Soleil performer no matter your level of experience.
"Just relax and have fun," said Susan Clark, owner and instructor at Pure Pilates. "You are not competing with anyone, so be present, focus on the moment of the movement, and in the end you will feel a great sense of accomplishment."
For those who might be intimidated by the aerial yoga equipment, don't worry: you won't break the material, no matter how much you stretch out your flying fish or super person posture.
"There is truly nothing to fear with aerial equipment as long as you are mindful during the practice," said Tara Taylor, owner and instructor of Breathe Yoga and Wellness Center. "Aerial yoga can be customized to be suitable for any body type, fitness level, age, or style of practice. All postures are optional and students don't have to do anything I suggest other than breathe."
Practicing aerial yoga has a lengthy list of health benefits, as long as you're willing to soar in a swing at least one day a week. In addition to the benefits of shoulder strengthening and abdominal toning, as well as improved coordination, breathing and flexibility from regular training, aerial yoga reduces back pain, supports the joints, aides in spinal decompression, increases blood flow and flexibility, and relieves stress.
"Each time you practice aerial yoga, you'll learn one new movement or pose," said Rebecca Sathre, owner and instructor at Uru Yoga and Beyond. "It's important to take pride in those small successes and not become discouraged if you can't conquer a complicated pose right away."
Ready to ascend like an aerialist? You can check out the schedule for local aerial yoga classes and find out what's right for you at purepilatepensacola.com, uruyoga.com, and breathepcola.com.
TRX Suspension Training
If you're serious about sculpting your core, look no further than TRX Suspension Training. The system of exercise was developed by a Navy SEAL who wanted his body at peak performance for missions and the training blends the practices of total body resistance exercise (TRX) and suspension training for construction of your core, which includes not only your abs, but your pelvis, back and chest muscles, too.
It's a total body workout that you can literally do anywhere: set up either at the gym, home or at a hotel while you're traveling, or even outdoors if you can find a stable column or tree to which you can attach the resistance bands.
The TRX Suspension Training leverages gravity and your body weight to perform hundreds of exercises with a single training tool—so you don't have to worry about hitting the pause button so you can move to a different piece of equipment.
The exercise isn't as intimidating as it sounds and you don't have to be a Navy SEAL to get your TRX Suspension Training on. All instructors are trained to modify exercises to suit each individual's level. This means changing the person's stance and changing the way the body is angled in relation to the floor and ceiling. Plus, you are in control of how much you want to challenge yourself on each exercise.
"Although we don't have beginner classes, any TRX Suspension Training class can be beginner level with simple adjustments to stance and angle," said Clark of Pure Pilates. "If you get the muscle shake that means you are working hard, which is a good thing!"
If you're wondering who else is doing TRX Suspension Training, the answer is all branches of the US military, as well as Olympic swimmers, men and women's sports teams, and even celebrities Gwen Stefani and Jennifer Lopez.
A few of the benefits associated with the TRX Suspension Training system are developing a strong core, which supports the lower back and improves balance, as well as builds functional strength and the improvement of an individual's anaerobic cardiovascular endurance. Dedicating at least 30 minutes of training for twice a week is a good place to start.
TRX Suspension Training is a low-impact exercise that is easy on the joints and creates balance within the muscular system, which helps in cases of injury rehabilitation. However, you might want to avoid TRX equipment and training if you have shoulder injuries that prevent you from picking up and lifting things.
Looking to build a hardcore core? Visit purepilates.com to find out more on TRX Suspension Training, or keep up to date with class schedules.
Kangoo
Kangoo Jumps is the newest fitness craze and it's everything your inner child could ask for: you get to have the fun of jump rope and bouncy houses, while simultaneously making a responsible adult decision for bettering your health.
"Kangoo Jumps makes you feel like a kid," said Clark. "You're having fun and burning some serious calories at the same time. So, prepare to sweat. It will be a great full body workout!"
The Kango Jumps rebound shoes, or Kangoo boots, are used for exactly what the name "Kangoo" implies: jumping around like the spring-legged marsupial of the Australian Outback—the kangaroo. The rebound shoes are designed to reduce impact on your joints by 80 percent, so they do not do not damage over time from healthy hopping. The shoes have a special Impact Protection System (IPS), which allows the wearer to perform rebound exercises without fatiguing the legs and body from the hard stop of the floor.
Those who utilize the Kangoo Jumps rebound shoes find the shock they would normally experience in an aerobic class is absorbed through the unique design of the shoe instead of in their joints. Positive results from consistent Kangooing include increased cardiovascular fitness, weight loss due to raising the body's ability to lose fat, muscle toning, and in a few cases, improved bone density.
Beginners start off by walking in the boots to find their balance and to get their equilibrium adjusted. After you are comfortable walking, you start jogging and jumping, then you just follow along with the simple and fun choreography prepared by Kangoo instructor Barbara Kielich at Pure Pilates. A good tip to remember is to go at your own pace and listen to your body.
Tired of your old exercise routine, or just looking to make fitness feel less like a chore and more like recreation? Make the hop to Pure Pilates for a Kangoo class, or jump to purepilatespensacola.com for more details.