Pace Center for Girls Pioneers Men Who Cook Cookbook
By Gina Castro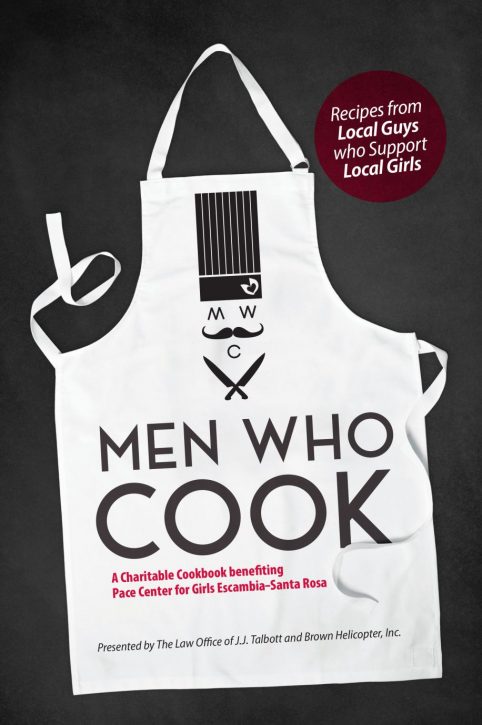 Being a girl is certainly not easy. Juggling beauty standards, gender stereotypes and puberty is a feat alone. But that's not the only issues girls face. Girls are at a higher risk than boys for sexual abuse, domestic violence and sexual assault. In 2017, 9,700 girls were referred to Florida's Juvenile Justice System, representing almost 30 percent of the entire juvenile population. It's clear girls need support. At Pace Center for Girls, that's their mission. Pace is dedicated to providing girls and young women the opportunity for a better future through education, counseling, training and advocacy. With 21 centers and 13 reach programs statewide, Pace helps 3,000 girls each year and changed the lives of more than 40,000 girls since its inception in 1985.
Pace Center for Girls Escambia – Santa Rosa has made a world of difference in the community since it opened in 1994. However, a major factor in Pace's ability to help is funding. Pace has been blessed with donations from local foundations such as The Douglas Family Foundation and The Bear Family Foundation Center for Hope.
Some of Pace's most rewarding programs are not funded by the state. Pace Center for Girls Escambia – Santa Rosa Executive Director, Laurie Rodgers explained that the GED program is completely funded by Pace's fundraising efforts.
"Several years ago, we discovered we had quite a few girls who were over age and really lacking in credits," Rodgers explained. "Instead of just sending them to another GED program, we decided to open one here so they could receive all the other components to our holistic program that helped change their lives. The GED program is 100 percent funded by our fundraising efforts."
Rodgers explained that funding enables Pace to implement programs that can change the trajectory of these girls' lives. One program that accomplishes this is the Reach Program. This program enables Pace to reach out to hundreds of girls each year and provide its gender responsive trauma informed and strength based therapy.
Like many nonprofits this year, Pace has lost a substantial amount of funding due to COVID-19. Each spring, Pace hosts Men Who Cook. At this exciting banquet, men from all over Escambia and Santa Rosa counties serve their best recipes to attendees. The banquet guests purchase tickets, which directly fund Pace, and the chefs donate the food costs and their time to support Pace.
"People get excited about being together and tasting the men's delicious delicacies that they prepare," Rodgers said. "The chefs get really excited about preparing their food, too. It's a great time."
Unfortunately, the event was cancelled, but Pace had a brilliant idea up its sleeve. Pace's board of directors discovered a way for everyone to keep a piece of Men Who Cook all throughout the year: Men Who Cook Cookbook. This exciting new venture binds recipes from dozens of chefs.
"Our amazingly creative board sat in Zooms from home and tried to think of ways we can still have the participation of our very valued sponsors and our beloved chefs," Rodgers said. "We reached out to the chefs and most of them sent us a recipe and a photograph. The sponsors have allowed us to keep our funding that they provided us. Their names are on the cookbook. We're really excited. We've already had a lot of presales and the books are not even done yet."
The cookbook is sponsored by The Law Office of J.J. Talbott and Brown Helicopter Inc. and published by the talented Ballinger Publishing staff. The cookbook includes dozens of original recipes in the following categories: Hors d'oeuvres, soups and salads, entrees, accompaniments, desserts, and beverages and cocktails.
The chefs are a wholesome combination of dads, professional chefs, sponsors and members of the Believing in Girls Society (BIGS). In this 160-page cookbook, you'll find recipes from local restaurants like Fish House, Union Public House and Five Sisters Blues Café. It features recipes from local sponsors, such as Gulf Power Company and Jewelers Trade Shop. There are even award winning recipes like the Finney's Fabulous Jambalaya.
This community inspired cookbook will make an excellent Christmas gift this year. Cookbooks are $40 each. If you buy two, you get the third at half price. To purchase a cookbook, visit pacecenter.org/MWCCookbook. If you're interested in keeping up with Pace Center for Girls Escambia – Santa Rosa, like them on Facebook @BelievingInGirls.